Forza Horizon 4 Season Change: Big, Bad, American Spring
The sun is out and the fresh Spring air once again descends across the UK to mark a new season in Forza Horizon 4. Alongside the recent launch of FH4 on Xbox Series X/S, we're now into the last stretch of Series 28, with a final serving of content before Series 29.
Rounding out Spring is one of the biggest, most American trucks ever to grace UK roads, as well as more Playlist prizes for 50% and 80% completion.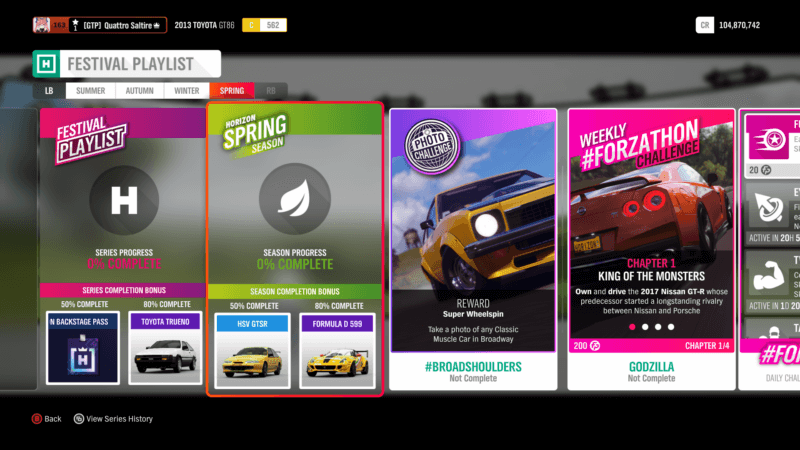 VelociRaptor Bears Its Teeth
Heading up the Playlist prizes is an Australian unicorn: the 1996 HSV GTSR. One of the most exclusive Aussie cars ever built, just 85 units of this race homologation were ever made.
Aside from the big wing and bright yellow paint, the GTSR also hides uprated suspension and a barrel-chested, 5.7-liter V8. Despite having just 310hp, the GTSR demands to be driven hard and will certainly provide you with an exhilarating driving experience.
Alongside the HSV is a modified Ferrari 599 designed for Formula Drift competition. One of the stranger cars in the field, this 599 packs a serious punch beneath the wild bodykit. The 6.0-liter V12 has a pair of superchargers which help boost power past 900hp. Unlike its established drift competitors, the 599 will certainly turn heads.
The final Series 28 Photo Challenge takes you to the quaint village of Broadway. #BroadShoulders is all about photographing a Classic Muscle car in this small village. As for seasonal championships, prizes include the Ferrari 250 LM and the McLaren Speedtail.
This week's big prize is big in more ways than one. American tuning firm Hennessey has given the Ford F-150 Raptor an extra axle to create the VelociRaptor 6×6. As well as becoming six-wheel-drive, the VelociRaptor features raised ground clearance and a worked over version of the 3.5-liter, twin-turbocharged V6. Putting out 600hp, this 6,700lb behemoth is no slouch either.
You can take home the VelociRaptor by winning the "Into The Wilderness" championship.
There's a Showcase Remix event as well for Spring. "Taxi for Takeoff" will have you jumping into Isha's Austin FX4 taxi and racing to the festival against a Deltawing aircraft.
Prizes for the Spring events are listed below:
New Rules
Series: Street Scene
Cars: McLaren
Restrictions: S1 Class, 900 PI
Prizes: 15,000 CR, 25,000 CR, Mclaren Speedtail
Into The Wilderness
Series: Cross Country Series
Cars: Extreme Offroad
Restrictions: A Class, 800 PI
Prizes: 15,000 CR, 25,000 CR, Hennessey VelociRaptor 6×6
Hot Hatch Time Machine
Series: Dirt Racing Series
Cars: Retro Hot Hatch
Restrictions: C Class, 600 PI
Prizes: 15,000 CR, 25,000 CR, Classic Race Suit
The Trial: Quintessential (Co-Op Championship)
Series: Road Racing Series
Cars: Classic Racers
Restrictions: A Class, 800 PI
Prizes: Ferrari 250 LM
Spring Games – Series 28
Series: Playground Games
Cars: Audi
Restrictions: A Class, 800 PI
Prizes: Audi Sport Quattro S1
Astmoor Speed Trap
Season Objective: 203 mph
Swan Dive Danger Sign
Season Objective: 800.5 ft
Royal Terrace Speed Zone
Season Objective: 108 mph
Forzathon Events
Forzathon focuses on a true giant slayer this week: the 2017 Nissan GT-R. Jump aboard Godzilla to get started.
Next test your performance capabilities by taking the GT-R to victory in a Road Racing Series event at the fearsome Goliath. Afterwards, kick out the back end and use precision to earn 3 Drift Tap Skills.
Finally take some brave pills and earn 3 Daredevil Skills to put a wrap on this week's challenges.
Forzathon Shop
Toyota takes center stage in the shop this week, with the 1992 Toyota Supra 2.0 GT as the headline act.
The third-generation Supra was the first to carry the iconic badge on its own after splitting from the Celica. Arguably the coolest generation of Supra (because pop-up lights), the A70 boasts a 2.0-liter, twin-turbocharged straight-six with 206hp. A few tweaks and you'll be pushing supercar levels of power.
At 600 Forzathon Points, the Supra is expensive, but you will get one of the best JDM cars available should you choose to buy one.
Alongside it is the Lamborghini Reventon Forza Edition. This angular supercar was styled to look like a stealth fighter jet. With only 20 units made, its also an extremely rare beast. The mechanicals are lifted from the Murcielago, meaning a bombastic 6.5-liter V12 producing 641hp. This Forza Edition also has a bonus Speed Skills boost.
The Reventon will set you back 350 FP, which is a bargain for one of the rarest Forza Edition cars.
Novelty items available include the Best Mates emote and the Mexican Hat Dance horn.
Source: Read Full Article