Fiat Doblo van review 2023
The Fiat Doblo builds on the class-leading capabilities of its Citroen Berlingo sibling, but offers an extended aftersales – for a price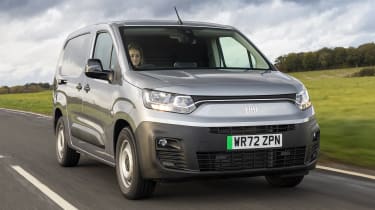 4.5 out of 5
How we review vansPrice£22,879 to £29,725Buy used for less at BuyacarSPECIFICATIONS
The Fiat Doblo may be the Italian firm's take on an existing small van, but because that particular van is already a class leader in many disciplines, that's not a bad thing in the slightest. 
Sharing technology across multiple models is nothing new, especially in the van sector where the previous generation Fiat Doblo had much in common with the 2012-2018 Vauxhall Combo since GM owned both companies at the time. Fast forward to today, and the vast Stellantis group now owns both Fiat and Vauxhall, so it made sense for both brands to continue their commercial partnership. This time, however, they're part of an even larger platform sharing scheme with the Citroen Berlingo, Peugeot Partner, Toyota Proace City, Vauxhall Combo and Fiat Doblo all offering very similar packages. 
It sounds confusing, but it isn't really. All of these vans share the same silhouette, save for different front bumper designs, minor trim level variations, differing options and aftersales back-up. Externally, the Doblo has a smooth nose, and Fiat's latest corporate branding, but otherwise looks the spitting image of a Berlingo – even the headlights are the same. 
Best small vans to buy 2023

The Fiat Doblo comes in L1, Maxi L2 and Crew Van forms, along with a choice between a 1.2-litre petrol, two versions of a 1.5-litre diesel and an electric e-Doblo version with a 136bhp electric motor and a 50kWh battery mounted under the cargo floor. When you add the through-loading bulkhead (another option available with the Doblo's counterparts), there's up to 4.4 cubic metres of cargo space in the Maxi L2 version. 

More reviews

Car group tests

Fiat Doblo vs Citroen Berlingo vs Ford Tourneo Connect
Fiat Doblo vs Peugeot Tepee

In-depth reviews

Fiat Doblo review
Fiat Doblo

Road tests

New Fiat e-Doblo 2022 van review
Fiat Doblo
Fiat Doblo
Fiat Doblo 1.3 Multijet Family

Payload is up to 1,000kg with certain petrol and diesel models, with an additional towing capacity of up to 1,200kg. Even the electric e-Doblo can pull a trailer up to one tonne and carry 800kg in L1 form – that's not far off what's available with the standard Doblo, but with the added benefit of zero-emissions driving.

Respectable fuel consumption and emissions make petrol and diesel Doblos cost-effective vans to run. The electric e-Doblo has a quoted electric driving range of 175 miles (although this will vary according to ambient temperature and payload), meaning less charging downtime for vans operating strictly urban routes. If you have to go farther afield, every version has up to 100kW of charging, meaning you can top up the battery using a high-voltage DC source from 0-80 per cent in half an hour.

MPG, CO2 and Running Costs

14

Pricing for the standard petrol and diesel Fiat Doblo range matches that of the Citroen Berlingo, making it a good value option in the small van class. The electric e-Doblo costs considerably more than the regular petrol and diesel alternatives, although the same is true of all its EV van rivals. The upshot is that while it'll cost more to buy, you'll recoup that back in saved taxes, congestion charge costs, servicing and fuel costs – if you avoid rapid charging. If you want a cheaper electric van, look at the electric version of Toyota Proace City, or, if you don't mind missing out on rapid charging, the basic Visia spec Nissan Townstar is available for even less money.

PartnershipNeed to sell your car?Find your best offer from over 5,000+ dealers. It's that easy.

Rated 'Excellent' Best electric vans 2023

Fuel economy for the petrol (39.7mpg) and diesel (49.5mpg) ranges compares well with the Doblo's closest siblings, and not just those that use the same engines. Still, the Volkswagen Caddy Cargo is even more efficient, with the diesel getting a claimed figure of 58.9mpg. As we've already mentioned, all versions of e-Doblo have a WLTP rating of 175 miles on a full charge. That'll go up if you stick to mostly urban routes and select the strongest 'B' mode for the brake energy regeneration system down by the gear selector. This increases the amount of charge that goes back into the battery when you lift off the accelerator to slow down. 

You can also utilise the Eco mode to improve your range. It pegs power back to 81bhp, limits your top speed and cuts the air conditioning to claw back roughly 10 miles of range – useful if you're getting low on charge and need the extra range. Conversely, select Power mode for the full 136bhp and expect to see roughly 10 miles knocked off your remaining range.

If you're utilising the e-Doblo's rapid charging capability, you can top up the battery from 0 to 80 per cent from a 100kW charger in 30 mins. Most businesses will charge up the van during its downtime from a wallbox, in which case a three-phase, 11kWh charger will take 5 hours to fully charge an empty battery, while a 3.6kWh charger will take 15 hours to achieve the same.

Load Space and Practicality

Thankfully, whether you go for petrol, diesel, or the all-electric e-Doblo in L1, Maxi L2 and Crew Van body versions, they all have the same amount of room inside. With the option of a load-through bulkhead, the Maxi L2 has the greatest cargo capacity with 4.4m3, followed by the L1 at 3.8m3. The addition of rear seats in the Crew Van decreases the capacity to 3.5m3. 

Payload ratings vary from 650kg for the entry-level diesel to 800kg for the L1 e-Doblo (700kg for the Crew Van), up to 1,000kg for the petrol and certain diesel models, and compare well with the best in class. The e-Doblo can tow up to one tonne, which isn't far off the 1,200kg capacity of the standard Doblo. Just be aware that the Nissan Townstar EV can tow an even weightier braked 1,500kg trailer.

All versions of Doblo come with asymmetrically split rear doors. Normally, these open to 90 degrees, but can be unlatched to open to a wider 180 degrees. Standard length L1 has a sliding side door on the near (kerb) side, while longer Maxi L2 and Crew Van models have sliding doors on either side.

Reliability and safety

Unfortunately, there's no Euro NCAP crash test rating for the Fiat Doblo or its siblings. True, the passenger version of the Citroen Berlingo has a five-star rating, but the van version has fewer airbags as standard, making direct comparisons impossible. You must pay extra for even a passenger airbag, which is disappointing considering the Toyota Proace City (the Toyota version of this van) has six airbags as standard. You do get electronic stability control (ESC) and anti-lock brakes (ABS) as standard to try and keep yourself out of trouble, though.

It wouldn't be appropriate to harp on about the Fiat brand's poor 31st place out of 32 manufacturers in the 2023 Driver Power survey because that uses passenger car results rather than van-specific data. Fortunately, the related Berlingo and Peugeot Partner use many parts shared with each brand's passenger car line-up, so the decent 11th position for Citroën and 9th place for Peugeot should be a good guide to the Doblo's dependability.

You can rely on the standard three-year or 120,000-mile manufacturer's warranty if things go wrong. A five-year warranty package with five years of roadside assistance and servicing is available if you're prepared to pay more. That might be a good deal for those planning to keep the van longer. However, it's still not quite as long as the up to 10-year warranty you can get with the Proace City mentioned earlier (provided you service the van annually at a Toyota franchised dealership). 

Driving and Performance

The Doblo has the same petrol, diesel, and fully electric versions as the Citroen Berlingo. The range starts with a 109bhp 1.2 PureTech three-cylinder turbo petrol engine that's fine for the city but may lack the pulling power of a diesel when fully loaded. The two 1.5-litre BlueHDi diesel engines are much better suited to carrying heavy items in the back. Both the 99bhp and 128bhp versions come with a six-speed manual gearbox, with an eight-speed EAT8 automatic transmission reserved for the more powerful BlueHDi engine.

Light steering helps with low-speed driving and parking, and the Doblo should have a similarly tight turning circle to the Berlingo, making manoeuvres just that little bit easier than they would be in a Renault Kangoo.

Decent sound deadening helps to make the Doblo a refined place to be on a long motorway drive. There will be a bit of wind noise around the front pillars and the door mirrors, but that's a criticism of most vans of its type. The 1.5 BlueHDi's six-speed manual gearbox makes the most of the power on offer, and there's no lack of urge to help haul heavy payloads.

The electric motor doesn't provide as much torque as the most powerful diesel model but, because its power is available immediately, it doesn't feel any slower when accelerating away from traffic lights. Switching between the Eco, Normal and Power drive modes, as we said earlier, does affect how much power is on tap, with the latter only really required if you're carrying a heavy payload. There's also a 'B' mode on the gear selector, which increases the strength of the regenerative braking system to recover more energy when you slow down. 

The electric e-Doblo is more relaxing to drive than the petrol or diesel models because there are fewer vibrations and a lot less noise entering the cabin. You'll also be able to concentrate more on your route without having to deal with distracting gear changes. We'd even say the heavier electric version rides better when unladen compared with the regular Doblo, being a touch more settled over bumps and worn sections of Tarmac. It handles similarly tidily, plus it leans over less because the mass of the battery pack is located under the floor between the axles, lowering the vehicle's centre of gravity.

Cab and Interior

The driving position is more upright than you'd find in a regular car due to the standard fit bulkhead behind the front seats. You'll need to pick the Primo model to get the most supportive driving position because it has driver's seat height adjustment and lumbar controls. At least there's reach and rake adjustment for the steering wheel on every version. 

Big windows and mirrors give a good view out of the front, and you can add a reversing camera to the standard reverse parking sensors to aid reverse parking manoeuvres. A surround-view camera system is also available as part of an option pack for a greater field of vision. If you plan on driving on the motorway a lot, you may want to consider adding blind spot monitoring to warn you of vehicles approaching from the side that you might miss due to the solid bulkhead and considerable blind spot.

There are plenty of places around the Doblo's interior to store all your work equipment, including an overhead tray and two covered cubbies atop the dashboard. Two cupholders on either side of said dash are big enough for a morning McDonald's coffee cup. 

As standard, there's an eight-inch touchscreen infotainment screen complete with DAB radio, so you'll never miss the football commentary. Sat-nav is also standard, so you can't use the excuse of being lost. Naturally, there's standard Apple CarPlay or Android Auto smartphone connectivity should you wish to use your own navigation apps or stream music on the go.

Van dimensions

| | | | |
| --- | --- | --- | --- |
| Body style | Height | Width  | Length |
| L1 van | 1,840mm | 1,848mm | 4,403mm |
| L2 van | 1,860mm | 1,848mm | 4,753mm |
| Crew Van | 1,860mm | 1,848mm | 4,753mm |

Load area dimensions

| | | | | |
| --- | --- | --- | --- | --- |
| Body style | Height | Width | Length | Volume |
| L1 van | 1,270mm | 1,630mm | 1,817mm | 3.8m3 |
| L2 van | 1,270mm | 1,527mm | 2,167mm | 4.4m3 |
| Crew Van | 1,270mm | 1,527mm | 2,220mm | 3.5m3 |

Source: Read Full Article