Facelifted 2020 Audi Q5 caught on camera
The refreshed Audi Q5 range will include a new Q5 Sportback model and our exclusive images preview how it could look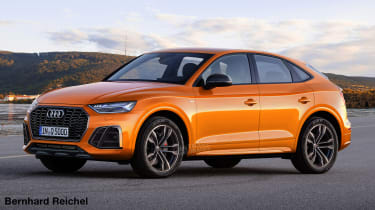 A refreshed Audi Q5 is just around the corner, and when the updated SUV arrives next spring, the changes will come in the form of updated in-car tech, mild-hybrid systems, and a new look.
Audi will also bolster its line-up with the addition of a second Q5 bodystyle; the Q5 Sportback will give Audi a challenger to the BMW X4. Shown in our exclusive images, the Sportback follows the theme of Audi's other coupe-SUV models, so it bears a close resemblance to the standard car at the front, but gets a sloping roofline at the rear.
Best SUVs to buy 2020
Spy shots of the standard Q5 confirm that the fresh car will have new LED lighting tech and redesigned graphics to distinguish it from its predecessor. A different treatment is expected to be applied to the Sportback to further separate it from the range.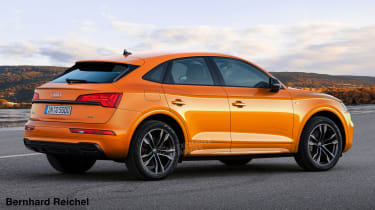 The same goes for the front, where the lights will be split by a tweaked version of Audi's signature single-frame grille; expect the bezel to be slimmer than before and not to fully connect with the lights as on the current car. Hotter versions of the range will also gain an Audi A1-style triple-vent design at the leading edge of the bonnet, in homage to the original Quattro coupe.
Inside, the interior is likely to be perked up with some new infotainment technology. Should it fall into line with the most recent versions of the A4 and A5, the Q5 will sport a larger infotainment screen on top of the dash, and ditch the old MMI click wheel in favour of a touchscreen interface. All the very latest in connectivity, including wireless phone charging and USB-C connections, will likely be available.
There should be some changes under the bonnet, too. While Audi introduced plug-in hybrid models to the range towards the end of 2019 – the 50 and 55 TFSI e mix a 2.0-litre turbo petrol with an electric motor – it's likely that 48-volt mild-hybrid systems will be introduced to trim CO2 emissions throughout the existing four-cylinder petrol and diesel models.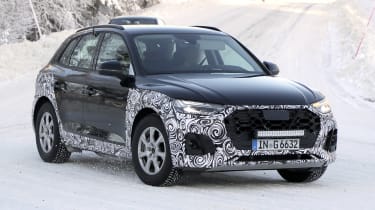 The system is able to recover waste energy from coasting and braking, and redeploy this later – either to reduce load on the combustion engine under acceleration, or to enable quicker reactions from the stop/start system.
The top of the range will continue to be crowned by the SQ5. In 2019, the SQ5 made a switch from petrol to diesel power, adopting the same 3.0-litre turbocharged mild-hybrid V6 used by Audi's S4. Expect the 342bhp, 700Nm unit to continue its role as the fastest version.
Prices for the 2020 Q5 family shouldn't vary drastically from the existing model. To that end, expect to pay around £42,000 for the base model, upwards of £50,000 for the PHEVs, and more than £55,000 for the SQ5.
What do you think of our Audi Q5 Sportback exclusive images…
Source: Read Full Article