DeJong Takes Porsche Esports Supercup Lead as Rogers and Job Win
The USA's Mitchell DeJong has taken the lead in the Porsche Tag Heuer Esports Supercup Championship (PESC) following the second round at Circuit de Barcelona-Catalunya.
Once again it was Josh Rogers who made the early running, taking his second successive sprint race pole position of the year. This came as little surprise, as Rogers has some extraordinary form in PESC qualifying, sitting on pole in 18 of the 22 races since the championship began in its current form in 2019.
More surprising was defending champion Sebastian Job's lowly 16th place grid spot. Job had to endure a pretty torrid weekend during the first round at Interlagos, with technical issues contributing to a meager 9 point haul, and that looked set to continue as he lined up alongside last year's championship third-place driver Alejandro Sanchez.
For the second week in a row, Rogers took a lights-to-flag win in the sprint race. In fact the front four all finished in their starting positions, just as they had a week before, as Rogers lead VRS team-mates DeJong and Charlie Collins home, with his V8 Supercars team-mate Dayne Warren splitting the pack in third.
The man on the move though was Job. An early pile-up in the final chicane, which accounted for Sanchez and Graham Carroll, saw the defending champion break into the top ten, before passing Coanda's Jeremy Bouteloup. That set up a last lap battle with Bouteloup's team-mate Tommy Ostgaard for the vital eighth-place — and what would be pole position in the reverse-grid feature race — which saw Ostegaard drop his 911 in turn five during some pretty robust driving from both drivers.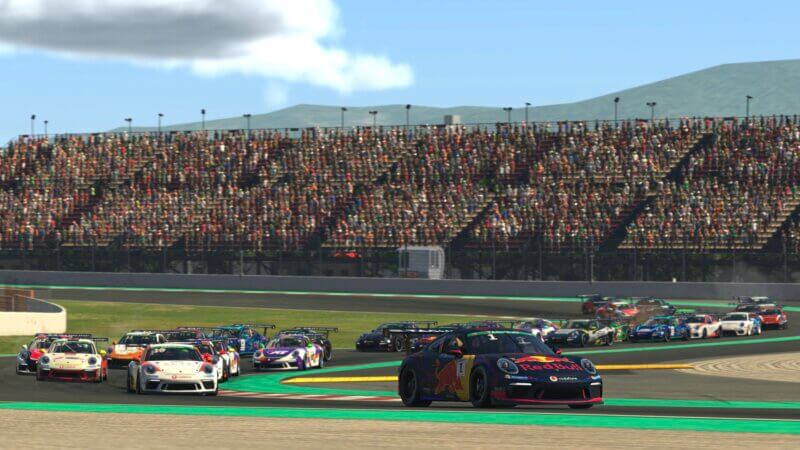 With the advantage of pole position for the feature race, Job was able to put in the kind of performance we saw from him throughout 2020. Once the first corner was out of the way — despite a slide from second-place man Mack Bakkum, who seemed tipped into it by Sindre Setsaas — Job drove away from the chasing pack.
This was helped in part by Setsaas holding up the VRS cars, but that could only last so long as Collins and Rogers wore him down. Rogers hopped past team-mate Collins approaching half distance, but ultimately couldn't wear down the 2.5s lead Job had built.
That gave Job his first win of 2021, and with the feature race victory being worth twice the points, it couldn't have come at a better time. Rogers and Collins rounded out the podium, marking a first PESC podium for rookie driver Collins.
However there was still more championship action further back in the field. With three laps to go, Sanchez — either through extreme optimism or an error on worn tires — barrelled through the turn 10 hairpin, somehow missing DeJong but taking out Maximilian Benecke ahead of the pair. That promoted DeJong back up to fifth, and the overall championship lead.
With four races finished, DeJong is first overall on 124 points. Two-time race winner Rogers is just behind on 118 points, with Dayne Warren on 107 in third. Job's maiden win of the season isn't enough to lift him into the top five after his woes at Interlagos, but 72 points is enough for seventh.
You can catch up with all the action from this weekend's racing below. The next round, from Imola, will take place on January 30:
https://youtube.com/watch?v=TTWFsi49-Ew%3Fstart%3D5945%26%23038%3Bfeature%3Doembed
Source: Read Full Article