Deal of the Day: Top deals on top-selling Ford Puma
Lease deals from £230 per month, big discounts and zero per cent finance on UK's top seller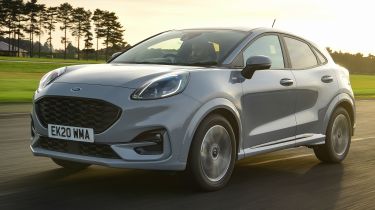 September's best-seller with near £4,000 discount
Zero per-cent finance from Ford
Leasing deals starting at just £230 per month
Ford may have canned the Fiesta, but that hasn't stopped it from claiming top spot in the sales chart so far this year. The Ford Puma is currently the UK's best seller and we're not surprised – it's a great small SUV that looks fantastic, drives brilliantly and comes loaded with kit.
And with some of the deals we've spotted, it's no surprise buyers are snapping Pumas up at a rate of knots. Whether you're looking to buy outright, use a low-rate finance deal or lease, we've found some incredible deals on Ford's superstar SUV.
Top 10 best small SUVs and crossover cars to buy 2023
Ford dealers are no strangers to doing a deal and you can currently get a Ford-backed zero per-cent finance deal over two years on Ford's Options PCP. The nicely-specced Titanium model comes with a mild-hybrid version of Ford's award-winning three-cylinder, one-litre engine that produces 123bhp. Put down a deposit of £5,746 and pay just £270 a month, with a final payment of £14,089 to own the car. There's a generous 9,000 a year mileage limit, too.
If you're happy to use a broker to grab a decent discount, DriveTheDeal is offering £2,756 off that same car with that same finance deal to bring the price down even more. You can get another £500 off that subject to terms and conditions surrounding your current car. And if you want the top-of-the-range Puma, the total discount can rise to nearly £4,000 off a 1.5 ST with Performance Pack.
If you'd rather lease, then that same Titanium model can be yours for four years for £230.76 with £2,269.84 down and a yearly mileage limit of 5,000 miles. That offer's with VIP Gateway through Leasing.com. 
If you'd like to lease something a little sportier, then you can get the ST-Line X with DCT auto box through DreamLease for £286.49 per month over four years with a 5,000 miles per year limit, although the down payment is a little steeper at £3671.88.
As with all our deals of the day, this is a great deal on a car we're happy to recommend and is chosen as a deal of the day by our experts. Terms and conditions will always apply, deals are subject to availability and prices are subject to change.
Get Ford's Options PCP deal or take a look at our previous Deal of the Day…
Source: Read Full Article