Classic Ford F-100 Eluminator pick-up concept powered by new electric crate motor
The concept has 473bhp and four-wheel drive, courtesy of the Mustang Mach-E GT Performance Edition's dual-motor electric powertrain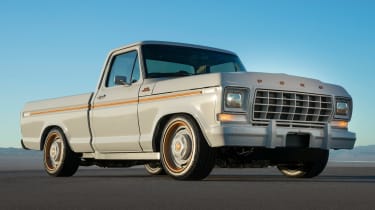 This is the new Ford F-100 Eluminator concept. It's a pure-electric version of the 1978 F-100 pick-up truck, which is powered by the company's new EV crate motor. This drop-in electric powertrain is designed to bring new life to classic Fords, allowing them to participate in the electric age.
Ford's EV crate motor is available to order in the United States now. It costs $3,900 (around £2,800) and features the same 277bhp electric motors found in the Mustang Mach-E GT. Rather strangely though, Ford doesn't yet sell a battery pack to power the motor – although the company says it is looking into it.
Rally-ready Ford Bronco DR revealed with 395bhp V8
The F-100 Eluminator concept has two of these motors (one for each axle), which gives it a rather impressive output of 473bhp and 872Nm of torque. To put that into perspective, that's more than three times the output of the pick-up's original 4.9-litre V8 engine.
The conversion was designed by Ford's Performance division and pieced together by the electric vehicle specialist, MLe Racecars. The pick-up is built around a custom chassis and fitted with a host of suspension tweaks to handle the electric powertrain's extra grunt.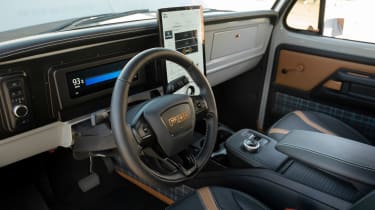 As this is a show car, Ford also fitted the interior with a billet aluminium dashboard and custom seats that have been trimmed with avocado-tanned leather (for some extra eco-points). There's also a bespoke set of 19-inch alloy wheels wrapped in grippy Michelin tyres.
Eric Cin, Ford's global director for Vehicle Personalization, Accessories and Licensing, said: "Ford owners have personalized, customized and enhanced their vehicles since the beginning – from changing looks to bringing the power. 
"Our F-100 Eluminator concept is a preview of how we're supporting customers as they go all-electric and embrace zero-tailpipe emissions performance, even for our heritage vehicles."
The F-100 Eluminator concept isn't the only pure-electric creation from Ford's performance skunkworks. The last time we heard from that team of engineers, they'd built a 1,400bhp version of the Mustang Mach-E, specifically designed for drifting.
Now click here to read our in-depth review of the Ford Mustang Mach-E…
Source: Read Full Article