Cheapest cars to insure in the UK 2022
Looking for a car that's cheap to insure? We've listed cars with the cheapest insurance group ratings on sale in the UK today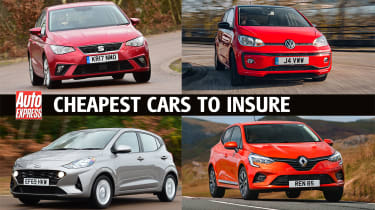 If you are a young or a first​ time driver, car insurance will undoubtedly be one of the biggest costs you will face when getting out on the road. Naturally, finding one of the cheapest cars to insure will go a long way to helping you save those precious pounds. Handily, every car on sale in the UK is categorised into an insurance group that helps to indicate how high your premium may be.
While these insurance groups are a useful tool to help work out how much your insurance may cost, this is just one of numerous factors insurers take into account when calculating your premium, so a Group 1 car may not be as cheap for you as it may be for someone else. Some of these other factors include your location, how the car is used, and any previous claims or convictions you may have.
Top 10 best first cars for new drivers 2022
The Association of British Insurers are the people who determine a car's insurance group. They look at factors such as performance, safety technology, security and cost of repairs, then grade the car by giving it an insurance group rating from 1 to 50 – 1 being the cheapest and 50 the most expensive. The same car model can also vary between groups depending on the trim level and included equipment.
The insurance group rating sticks with a car throughout its life, but premiums will be tailored to reflect the age and value of your chosen model, too.
Read on for our list of the cheapest cars to insure in the UK, ranging from group 1 to 4…
Hyundai i10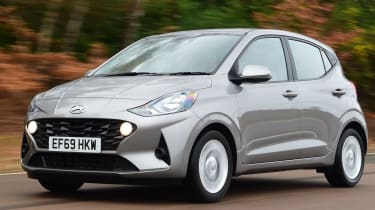 1.0 MPi (67) Auto SE Connect – group 3
1.0 MPi (67) Manual SE – group 4
1.2 MPi (84) Auto SE Connect – group 4
1.0 MPi (67) Auto Premium – group 4
The latest i10 is one of the best looking small-cars from the brand to date. An all-new platform means that this car is slightly longer than its predecessor, resulting in more interior room. The on-board technology has been given a large update, too, with the Connect trim including an 8" touchscreen infotainment system with Bluetooth, DAB, Android Auto and Apple CarPlay.
Kia Picanto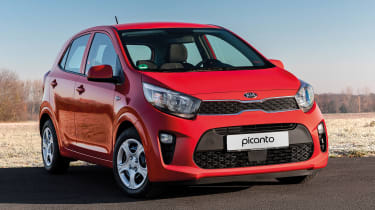 1.0 DPi (66) Auto 2 – group 1
1.0 DPi (66) 2 – group 3
1.0 DPi (66) Auto 3 – group 2
1.0 DPi (66) 3 – group 3
1.0 DPi (66) Auto GT-Line – group 2
1.0 DPi (66) GT-Line – group 4
1.0 DPi (66) Auto X-Liine – group 2
1.0 DPi (66) X-Line – group 4
1.0 DPi (66) Auto X-Line S – group 3
1.0 DPi (66) Shadow – group 4
Kia has undergone something of a design revolution over recent years, and the latest Picanto is a clear example of the brand's bold new era. It retains the compact size and affordable pricing of the previous model, but now features far more technology packaged in a modern and stylish body, making this little city car a genuinely appealing option.
The group 1 66bhp 1.0-litre automatic will be best suited to short distances and city driving, as its 0-60mph time of 16.6 seconds renders this model a bit out of its depth on motorway runs. All Picantos should prove reliable, but even if something does go wrong, Kia's 7-year/100,000-mile warranty should solve it.
Ease of driving should be a given with a car of this size, but to make things even easier, Kia has included hill-start assist as standard across the range, while the '2' trim also includes Forward-Collision Avoidance Assist.
Kia Rio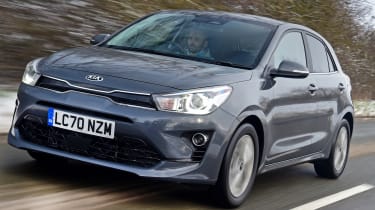 1.2 DPi (83) 1 – group 4
1.2 DPi (83) 2 – group 4
The Kia Rio is a larger alternative to the Picanto but it also finds itself in the lowest insurance groups. A seven-year/100,000-mile warranty comes as standard here, too, but the Rio's larger size makes it far better suited to family use. A 325-litre boot allows the Rio to take on four adults and their luggage in relative ease.
Both trim levels 1 and 2 fall into insurance group 4 and these cars include automatic headlights with follow-me-home functionality and air conditioning. If you want extras such as smartphone connectivity and cruise control, however, you will need to opt for the 2.
SEAT Ibiza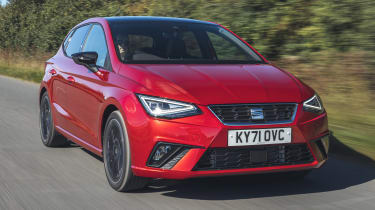 1.0 MPI (80) SE – group 3
1.0 MPI (80) SE Technology – group 3
1.0 MPI (80) FR – group 4
1.0 MPI (80) FR Sport – group 4
One of the larger cars in group 3, the Ibiza is a great option if you are searching for something that's a bit more on the practical side. The Ibiza is only available as a 5-door, so this, along with its overall size, provides easy accessibility and a reasonable amount of room for all passengers. 355 litres of boot space provides a decent amount of room for luggage, too.
The base SE trim level is the only Ibiza to reside in group 3, this includes 15" alloy wheels, a 6.5" touchscreen infotainment system with smartphone connectivity, and air conditioning. If you don't mind moving up to group 4, the FR trim brings sportier credentials such as larger alloy wheels and twin exhausts.
Skoda Fabia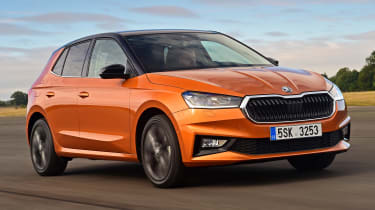 1.0 MPI (79) SE Comfort – group 3
1.0 MPI (79) Colour Edition – group 3
1.0 MPI (64) S – group 4
Although it could be seen as one of the less exciting cars on the market, the Skoda Fabia excels in providing a practical, easy-to-drive supermini that won't break the bank.
The 64bhp 1.0-litre engine isn't the most inspiring, but that isn't really the point as the Fabia is all about being comfortable and simple to use. SE-spec cars are generously equipped and include 15-inch alloy wheels, parking sensors and cruise control, while drivers also benefit from Skoda's SMARTLINK+ system, which allows Apple CarPlay and Android Auto connectivity.
If your time behind the wheel is mostly made up of urban driving and navigating through town and city streets, then the 1.0-litre Fabia could be just right for you, and the cheap running costs will make the solid supermini even more attractive.
Volkswagen Polo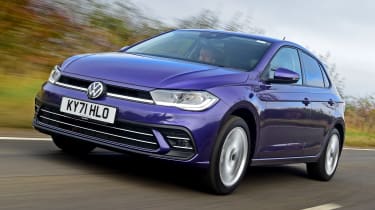 The Volkswagen Polo is a classy supermini with decent levels of equipment and a quality interior. The key downside is a more expensive list price compared to some rivals, but make no mistake, the spacious Polo provides a solid alternative to more premium cars such as the Audi A1 or MINI hatchback.
If you can forgeo outright pace, then the base Life trim stacks up well as a sensible and efficient purchase, and also brings a decent level of kit. Standard equipment includes air conditioning, rain-sensing wipers, LED headlights, and cruise control.
With a claimed fuel economy of over 50mpg (on the combined cycle) and CO2 emissions of around 124g/km, the Polo should also deliver low running costs as well as savings on insurance.
Volkswagen up!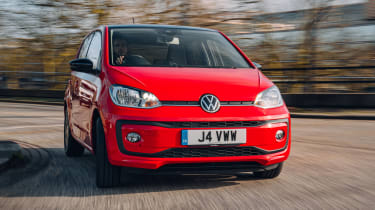 1.0 (59) up! 3dr – group 2
1.0 (64) up! 3dr – group 2
1.0 (64) up! 5dr – group 2
1.0 (64) up! Beats 5dr – group 3
1.0 (64) R-Line 5dr – group 3
The Volkswagen up! is actually rather sophisticated for such a small car. Its 3-cylinder engine achieves up to a claimed 55mpg, and it's a perfectly capable unit both around town and on the occasional motorway trip. This combined with modern styling and a fun driving experience should make this car particularly tempting for the younger driver.
If you fancy an upgrade, the Beats trim level falls into insurance group 3, along with the sportier R-Line, so you won't be lacking for choice.
Source: Read Full Article