Cheapest cars on sale 2020
Not looking to splash the cash and in need of a new car bargain? Then look no further as we list the cheapest cars on sale in the UK right now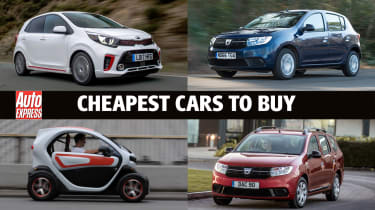 The phrase 'you get what you pay for' is normally used to imply that apparent bargains aren't necessarily all they're cracked up to be. Most of us have been stung by something that looked like a great deal, but turned out to be nothing of the sort. So are there any new cars that fall under the remit of being brand new but also cheap? 
The cheapest brand new cars are a far cry from the rusty part-exchange wheels gathering dust at the far end of your local dealership. Budget vehicles straight from the factory should afford you showroom-fresh metal from respectable dealers, with the added bonus of a proper warranty.
Most economical cars: best mpg cars on sale now
With the cheapest new cars beginning at around the £7,000 mark (before you start haggling for a discount), they still come with a different set of expectations. They'll get you from A to B for sure, but will they be as economical, or as practical, or as well-built as something that costs a few grand more? There's no guarantee.
Manufacturers will often position an entry-level new car as a lure to tempt customers through the showroom doors and into the clutches of the sales team. Punters budgeting for a cheap can then be expertly edged up the model hierarchy to something with more equipment but ultimately more expensive. 
To achieve those low sticker prices, cheap new cars are often stripped of everything bar the basics and they'll sometimes feel a little low-rent next to more expensive versions of the same car just a few steps up the trim ladder. Many buyers will happily put-up with some blanked-out buttons, downmarket trim finishes or even an underpowered engine but others will see the extra outlay needed to secure a few more creature comforts as money well spent. Either way, the cheap car's head-turning sticker price has done its job.
In many instances, the biggest challenge facing cars at the cheap end of the market is the existence of used alternatives offering more kit, a better engine and, often, a more desirable badge for the same money. Again, many people will rather sink their cash into an apparently better car with a few thousand miles on the clock but the appeal of a brand new model with a full warranty and finance facilities not always open to used car buyers is still strong.
So, we've gauged the enduring appeal of the cheap car, now let's get down to business. What are the cheapest new cars currently on sale in the UK?
Cheapest cars on sale in the UK
Dacia Sandero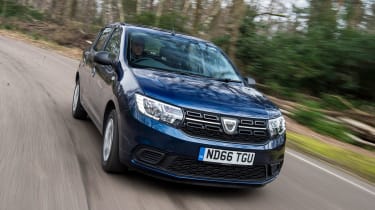 Proudly advertising its Sandero hatchback as the cheapest car on sale for a number of years, Dacia has become one of the car market's major success stories recently. Renault's budget brand has made a name for itself by offering simple, no-frills motoring at rock-bottom prices and buyers have been lapping it up.
The Sandero is currently the UK's cheapest car by a long way but it's a full sized supermini where most of the other models challenging for the title are smaller city cars. The Sandero's simplicity, comfort and surprising practicality win favour with those who are after basic transport with no gimmicks. Top models get Apple CarPlay and Android Auto, touchscreen navigation system and a trip computer. It's the entry-level Access version that dips under the £7,000 barrier and steals the headlines – even if most buyers go for a slightly higher spec model.
The interior is even more spacious than many of the Sandero's supermini rivals, running costs are usefully low and the mechanicals have proven their worth in the past, so the Sandero should be reliable. Dacia is owned by French manufacturer Renault, and the Sandero can trace its roots back to the second-generation Clio, which made its debut in 1998.
This means the car's chassis is relatively old school and shows its age on the road. The build quality is also questionable, but some of the engine line-up uses Renault's latest fuel-saving technology, meaning the Sandero is surprisingly efficient and perky to drive.
Dacia Logan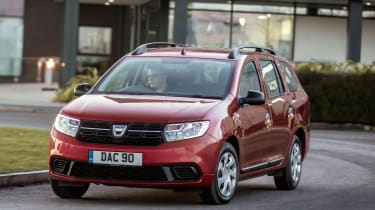 It's no surprise to find another Dacia in our cheapest cars on sale list but what might be shocking is just how much space the Dacia Logan MCV gives you for your money. The Logan is the UK's cheapest estate car with the entry-level Access model coming in at only £8,495.
The downside of the headline-grabbing price is that you'll have to go without basic features such as electric windows, a radio and rear headrests unless you decide to choose them as options. Mid-range Ambience models start at just under £8,700 and have more kit, while the range-topping model in the Dacia Logan MCV line-up, the Laureate, weighs in at around £10,000 and feels a lot more like a small estate car from a mainstream brand.
Despite the bargain basement price, the Dacia Logan MCV is similar to the other models in the Dacia range, in that it's far from unpleasant to drive. It rides comfortably, and the controls are nice and consistent. Just don't expect blistering performance from the 1.0-litre petrol engine. 
The other attraction of the Dacia Logan MCV is its practicality. It boasts a 573-litre boot and if you were in the market for that kind of practicality in the past, you'd have to consider vastly more expensive rivals like the Volkswagen Golf Estate or Ford Focus Estate. Top-spec models got Stepway versions in 2017 following a redesign of the front bumper and the addition of LED running lights. 
MG MG3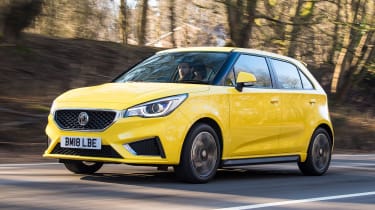 MG's entry into the hatchback market is a decent offering – especially considering its size and generous equipment levels. The MG3 was first introduced in 2013 and it was refreshed in 2018 with exterior styling tweaks, an improved interior and updated infotainment system.
Underneath the facelift, the MG3 retained its 105bhp, 1.5-litre engine (the only engine available across the range) and five-speed manual. While this powertrain feels outdated and underpowered compared to more expensive rivals which utilise turbocharging, the agile chassis and lack of body roll mean the MG3 is good fun on a twisty road.
The MG3 offers more space than the Hyundai i10, Toyota Aygo and Citroen C1 – all of which are more expensive. There are clever storage areas such as a cubbyhole on the dashboard and large door bins – rear legroom is decent and is helped by the MG3's five-door only bodystyle. 
Basic MG3 'Explore' models come with Bluetooth, USB, and aux inputs, all-round electric windows and LED daytime running lights. Go for a mid-range 'Excite' and you get an 8-inch colour touchscreen, Apple CarPlay, rear parking sensors and air conditioning. The most expensive 'Exclusive' versions get cruise control, sport front seats and a rear camera. 
Kia Picanto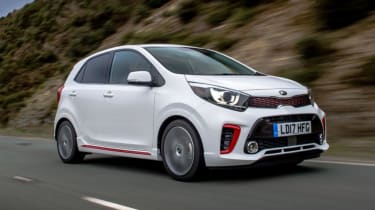 With a third-placed finish in the 2019 Driver Power survey, it's clear owners love their Kia Picantos. It's easy to see why too as the small city cars offer tremendous ride quality and a large kit list which belies its small proportions and cheap purchase price. 
The Kia Picanto shares its running gear with the Hyundai i10 but gets an extra 99bhp 1.0-litre T-GDI petrol engine available in top-spec GT-Line and GT-Line S versions. The base-model '1' is restricted to the 66bhp 1.0-litre with a 5-speed manual transmission, the next model up is the '2' which can be had with 66bhp or a 83bhp 1.25-litre with either an automatic or manual. Then come the more expensive 'Zest', '3', 'Titanium Edition', 'X-Line' and 'GT-Line' which start from £12,650. 
Like most hatchbacks, the Picanto's three-door option has been dropped so the more practical five-door bodystyle is all that's available. With insurance groups starting from four for the base-model '1' and cheap running costs, the Picanto should appeal to young drivers too. 
Renault Twizy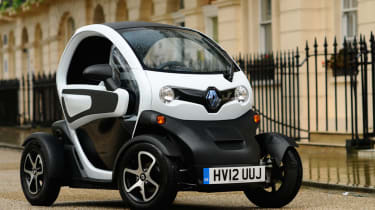 Is the Renault Twizy a car? The tiny two-seater electric 4-wheeler looks like a futuristic motor show design concept and officially it's classed as a heavy quadricycle but you need a car licence to drive one and the entry-level Expression version makes our top 5 cheap cars list with its £10,990 price tag.
The Renault Twizy is just 2.32-metres long, 1.19-metres wide and 1.46-metres high. Its quadricycle classification means it's part-car, part-motorcycle, and it seats its passenger directly behind the driver. Although the sides are open to the elements, optional scissor doors and zip-on windows provide some protection, while a 31-litre lockable cubbyhole that's designed to take a briefcase serves as the 'boot'. Despite all this, a Twizy is going to be completely impractical for most car buyers.
The Twizy is powered by a 17bhp electric motor that produces 57Nm of torque, ensuring silent but nippy performance around town and a modest top speed of 50mph. It can be fully charged in three and a half hours from a domestic power socket and provides up to 56 miles of emission-free driving.
There's a choice of three trim levels, Expression, Dynamique and Cargo – the last being a commercial vehicle version with the rear passenger seat converted into a bijou load area. There's a host of customizable paints and even wraps with animal prints, flags and camouflage available to help your Twizy stand out. 
Dacia Duster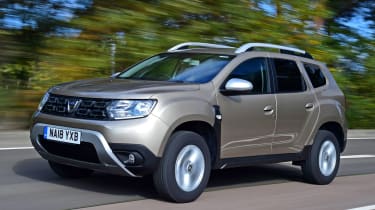 The off-road capabilities of the Dacia Duster are unrivalled at this price point, you'd have to fork out thousands more to get the same go-anywhere ability from another new car. On the road, the Duster is easy to drive but not particularly engaging or refined due to its Mk1 Nissan Juke underpinnings – something that is forgivable given the car's bias towards off-roading. The commanding driving position and light steering mean the Duster is simple to maneuver around town, too. 
The cheapest 'Access' and mid-range 'Essential' models are only offered with two-wheel drive, although they'll be significantly better than most hatchbacks when the going gets tough thanks to a high-level of ground clearance and protective bumpers. The top-spec 'Comfort' model can be had with two or four-wheel drive. 
With space for five adults and a large, 455-litre boot, the Duster rivals cars like the Nissan Qashqai for space. While the entry-level Access model doesn't get much equipment, the top-spec Comfort model has a rear parking camera, cruise control, auto lights and a seven-inch touchscreen with Apple CarPlay and Android Auto connectivity. 
Despite being an SUV, the Duster is surprisingly efficient. The Access and Essential only come with a 1.0-litre petrol but it has a WLTP rating of 52.3mpg. The diesel found in the Comfort model is even more efficient, with a combined 64.0mpg in the two-wheel drive model and 62.5mpg in the 4×4 version.
Want to splash your cash on something a bit more expensive, then why not have a look at our best hatchbacks to buy list…
Source: Read Full Article