Can I buy a car during the Covid-19 lockdown?
National lockdowns in all four parts of UK keep car dealers closed, but here's how you can still buy a new or used car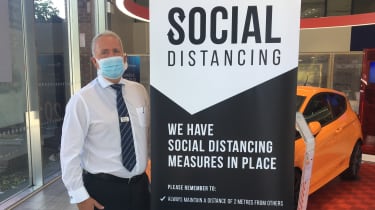 Rising Covid-19 cases have forced England into its third national lockdown, with Wales, Scotland and Northern Ireland employing similar measures.
Car dealerships had already been forced to close under Tier 4 local lockdown restrictions, and it looks as though those in England won't get the chance to reopen until March at the earliest.
Best new cars coming in 2021
The UK car industry is worth more than £82 billion in turnover, and adds £18.6 billion of value to the country's economy as a whole. Both new car registrations and manufacturing took a major hit last year and first impressions suggest 2021 may not be much better.
All hope is not lost, though, as there are still ways to buy new and used cars safely during lockdown in the UK – read on to find out more.
Can I still buy a car during lockdown?
The short answer to this question is yes, but not in the same way you might buy a car traditionally.
The third national lockdown in England means dealers once again have to keep their doors closed to customers, although many had already done this under Tier 4 rules.
Although car showrooms are closed across the country, click and collect services are still allowed. This means cars can be ordered online and collected from car dealerships. Delivery services are also permitted, so dealers can deliver cars to customers' doors.
Going into a dealership to talk to a salesperson, look round a car and go for a test drive, though, is out of the question until restrictions are lifted.
Covid-19: what it means for motorists and the car industry
Can I get my car serviced, repaired or MoT tested?
The Government has confirmed that, as with the second lockdown, car servicing, repairs and MoTs can continue. This means you can take your car to a dealer or garage for any of these services.
It also indicates there's unlikely to be an MoT extension scheme like we saw during the first lockdown, although that hasn't been ruled out either.
Confused over car finance? Check out our handy guide here…
Source: Read Full Article