Budget 2020: fuel duty frozen, plug-in car grant extended, transport investments announced
No rise in fuel duty, continuation of plug-in car grant, plus extra funding for building roads and filling potholes.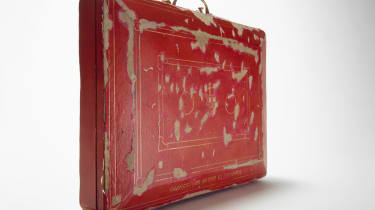 The Chancellor of the Exchequer has announced a raft of transport investments and grants affecting motorists in the first Budget of 2020, chief among which is a freeze on fuel duty for the 10th year in a row, and the extension of the Plug-in Car Grant (PiCG).
Delivering his first Budget in the House of Commons, Rishi Sunak said the tax on petrol and diesel – which is paid on top of VAT – will remain frozen at 57.95p per litre. The PiCG – which reduces the cost of a new electric car by up to £3,500 – will be extended to the 2022/23 financial year.
Company car tax guide 2019/2020: everything you need to know
Electric cars will also be exempted from the "expensive car" road tax supplement, which sees buyers of cars that cost £40,000 or more charged an extra £320 annually from years two to six of a car's life. 
Fuel Duty has been frozen since 2009, and brings in approximately £28 billion a year for the Treasury. Although Sunak admitted he had "heard representations" suggesting duty should increase, he decided to keep it frozen for 2020 as "many people still rely on their cars". Fuel price campaigners maintain, however, that prices at the pumps should come down by 16 pence per litre to reflect falling global oil prices.
The PiCG, meanwhile, has helped over 200,000 people buy a zero or low-emission car since it was introduced in 2011. While only pure EVs are now eligible for the grant, it is seen by consumers and industry as a vital incentive to help people into EVs, and its extension will be welcomed by many.
A £2.5 billion pothole fund was announced for local roads – this funding is estimated to be enough to fill around 25 million potholes in the next five years.
Sunak also announced the "biggest ever" investment in the Strategic Road Network (SRN) of motorways and major A roads. Some £2.7 billion will be spent on building and upgrading 4,000 miles of SRN, which takes around a third of all vehicle miles, despite making up just 2.5 per cent of UK's road network.
Other plans outlined in the budget include the government's intention to push through controversial upgrades to the A303 to eliminate the intrusion of traffic on Stonehenge. The project has an estimated cost of £1.9 billion, and looks set to involve tunneling through areas of archeological interest. Other road upgrades being supported include the A417 in the south-west, the A428 in the east and the A46 in the Midlands, with the full list to be published later today.
Do you think the announcements made in the Budget are good for motorists? Let us know your thoughts in the comments below…
Source: Read Full Article