BMW reveals colour changing paint and new infotainment tech at CES
BMW has provided a glimpse into its future technology at CES 2022, with a 31-inch 8K interior cinema, colour changing E Ink paint and more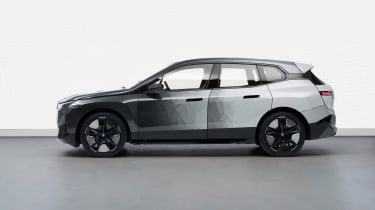 At the 2022 Consumer Electronics Show BMW is showcasing new technologies that could trickle down to its future models. These include a rear-seat theatre set-up with a 31-inch 8K display, colour changing 'E Ink' exterior paint and new features that will be added to the latest iteration of the brand's iDrive infotainment system.
For its new Theatre Screen entertainment set-up, BMW claims to have 'transformed the rear of the interior into a private cinema lounge', and has partnered with Amazon to pair its Fire TV streaming service with a 31-inch panoramic display that folds down from the headlining electronically.
BMW iX M60 super-SUV storms in with 611bhp
BMW has not yet specified which vehicle Theatre Mode will make its debut on, but when selected from the car's My Modes menu the screen is deployed, accompanied by sound effects produced by Hollywood composer Hans Zimmer. The sunblinds for the rear and side windows close and the ambient lighting is adjusted for a more immersive viewing experience, which combines with audio from a Bowers & Wilkins Diamond stereo.
The display is a 32:9 ultrawide touchscreen, which can also be operated via touch panels on the rear doors, while onboard 5G connectivity allows for faster and more reliable content streaming, according to BMW. The marque is set to offer a new 'Theatre' My Mode setting in the second half of this year, but it is unclear whether this will be released alongside the rear Theatre Screen option.
E ink colour changing paint
BMW is also debuting its E Ink paint technology on its iX Flow show car. The vehicle's body panels are covered in segments of ePaper material that change colour when charged with a small electric current, changing the exterior colour or revealing a pattern depending on the settings.
The E Ink surface is derived from eReader displays (like that of the Amazon Kindle), and consists of millions of microcapsules that are a similar width to a human hair. The capsules contain negatively charged white pigments and positively charged black ones; an electrical field causes the desired pigment to collect at the surface of the capsules, changing the colour of the car.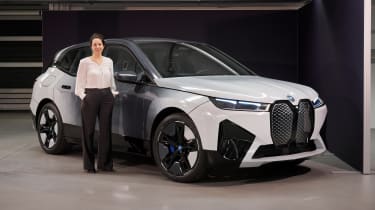 BMW says that this colour shifting car 'offers the prospect of a future technology', so we don't expect it to reach production soon, although BMW is aiming to offer the tech at some point. It's not clear whether colours other than black and white can be achieved with E Ink, however.
The iX on display at CES can change between white, grey and black, along with numerous monochrome gradient patterns. The wheels also feature colour changing inserts, but aside from the aesthetics BMW is also claiming efficiency advantages with its colour changing tech.
By switching from white to black, the car can either absorb more or less heat energy from its surrounding environment, helping to either to warm up the cabin more quickly or keep it cooler in warm weather, thereby reducing power usage from the air-conditioning. Energy is only briefly used to change the colour, too, since the E Ink doesn't require constant power.
New My Modes mood settings
The brand is also showcasing new additions to its My Modes settings that made their debut as part of BMW's iDrive 8 infotainment suite. These use a combination of driving modes, interface themes, sounds and cabin lighting to create specific vehicle 'moods', including Efficient, Sport and Personal settings on its current cars equipped with this feature.
However, BMW has added four new modes – Expressive, Relax, Digital Art and the aforementioned Theatre setting – which will be available with iDrive 8-equipped BMWs in 2022.
Expressive combines a dynamic driving experience with a yellow and dark blue interior colour scheme, while Relax offers a comfort-orientated set-up with a nature-inspired teal interior theme.
The Digital Art mode is the result of a collaboration with Chinese artist Cao Fei, who designed a BMW M6 GT3 art car in 2017. Switching to Digital Art mode reveals space-themed iDrive graphics designed by Fei, which represent "the continuous change of a globalised and interconnected world".
Check out more car news from CES 2022 here…
Source: Read Full Article