Best soft top cleaners 2021
Which of these fabric roof cleaners is best for keeping your convertible's soft top clean?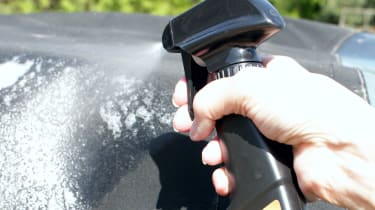 A traditional fabric folding roof is at the mercy of the elements, including rain, bird lime, tree sap and airborne detritus, and so it needs more care than a metal alternative. For a car used regularly and kept outside, we'd suggest cleaning and reproofing a couple of times a year.
Always treat the whole roof to avoid patches, and try the product on a hidden area first to ensure there are no adverse effects. So which combination ensures your rag-top is ready for the better weather? We tried eight to find out.
Best convertibles and cabriolets 2021
How we tested them
We tested on a particularly ill-used hood, which was badly stained and had a large mildewed area. After brushing off loose dust and dirt, we applied the cleaners and proofers as directed, then left the hood outside for eight weeks. This period took in the last of the summer sun, wind, rain and sap, and the first autumn frosts.
We marked cleaning, ease of application and proofer effectiveness at the end, by checking for water beading. Everything was balanced against the best internet price.
Verdict
The Gtechniq and BAS pulled ahead to take first and second place, but there was very little difference between the next five products. Protex just scraped into third by a few points. 
Gtechniq W5 All Purpose Cleaner Concentrate & I1 Smart Fabric V2
BAS Hood Cleaning Kit 
Protex Canvas Cleaner and Waterproofer
Reviews
Gtechniq W5 Citrus All Purpose Cleaner Concentrate & I1 Smart Fabric V2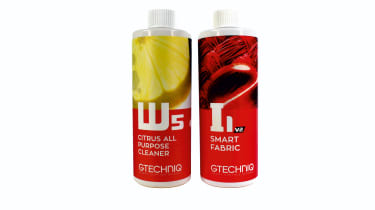 Price: £5.99 + £19.50 (500ml/500ml)
Combined price per litre: £25.49 
Rating: 5/5
Contact: 01604 962 553, www.gtechniq.com
BEST BUY This biodegradable Gtechniq cleaner isn't specifically for hoods, and this year we're looking at the W5 product rather than the W2 of our last trial. It can be used neat for really difficult staining, but this needs care and testing on hidden areas first. 
We used it at a more typical medium-strength 5:1 dilution (which effectively made the price very low). It was one of the best on the mildew and staining, pulling both out with little effort. And the Smart Fabric V2 proofer produced great results at the end of the test, with plenty of beading over the whole area.
Buy now from Amazon
BAS Hood Cleaning Kit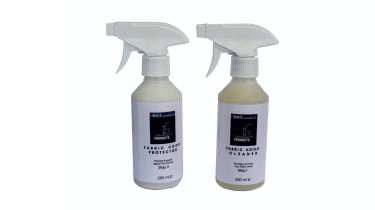 Price: £13.48 (250ml/250ml)
Combined price per litre: £26.96
Rating: 4.5/5
Contact: 01633 873664, www.car-hood.co.uk
RECOMMENDED These 250ml trigger packs were half the size of most others, which means many owners will need to double up when buying. Although they were the second priciest, the overall difference wasn't that great and the kit did include a rough sponge applicator, ideal for using with the cleaner. 
It worked well, shifting the mildew and stain, albeit not quite as effectively as Gtechniq. We applied the hood protector to the dried-out soft-top, and were very impressed with the results after two months. These were on par with the Smart Fabric, with plenty of beading.
Buy now from Car Hood
Protex Canvas Cleaner & Waterproofer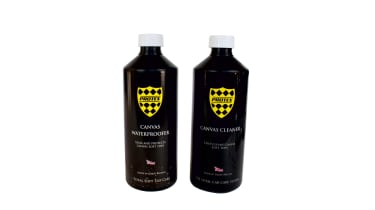 Price: £19.98 (500ml/500ml)
Combined price per litre: £19.98
Rating: 4/5
Contact: 0800 458 4235, www.protexworld.co.uk
RECOMMENDED A new name to the test, the Protex combo scored well in terms of price because it was the cheapest we tested (other than the diluted Gtechniq). Unlike some, it advised the use of a stiff brush to work the cleaner into our dampened, ground-in stains. 
It worked, with good results on the mildew, but getting the stains out was much harder work. We applied the proofer to the hood, and although the initial beading was good, it had faded a little by the end. Overall, the Protex's results were very similar to those of many of the others, but that price saw it rise to the top of the pack.
Buy now from Amazon
Renovo Fabric Soft Top Cleaner & Ultraproofer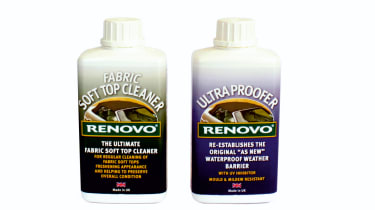 Price: £13.25 + £13.25 (500ml/500ml)
Combined price per litre: £26.50
Rating: 4/5
Contact: 01444 443277, www.renovointernational.com
As with most of the samples, we tried 500ml packs of the Renovo products, although the proofer is also available at £21.95 for a litre. There was no spray nozzle, so we had to use a separate container to brush the liquids onto the roof. Not as easy as spraying, but certainly effective for getting full coverage. 
Its chemical make-up is also different, so the cleaner had to be left for 10-20 minutes to soak in, and needed a little agitation. The mildew and stain came up well, and the beading was still good at the end, but Renovo was not the best.
Buy now from Amazon
Car Gods 54 Helios Soft Top Cleaner & Water Seal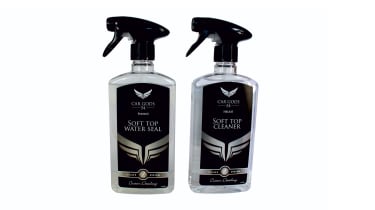 Price: £9.95 + £12.95 (500ml/500ml)
Combined price per litre: £22.90
Rating: 4/5
Contact: www.cargods54.com
In common with most others, the Car Gods 54 products suggested first removing loose dirt with a brush or vacuum. We applied the cleaner to small areas at a time, agitating then leaving it to soak in, as advised. There was no specific time limit, so it was left for two minutes. 
We liked its floral fragrance, and its cleaning abilities were impressive on the staining, mildew and some areas of bird lime, almost equalling the Gtechniq's. After four weeks the proofer was shifting plenty of water, but the amount of beading couldn't match the best we tried.
Buy now from Amazon
Autoglym Convertible Soft Top Clean & Protect Kit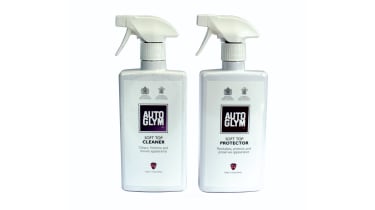 Price: £25.70 (500ml/500ml)
Combined price per litre: £25.70
Rating: 4/5
Contact: 01462 677766, www.autoglym.com
The Autoglym kit seemed to be exactly as tried in previous tests and, as with the BAS duo, it came complete with a sponge applicator. After dampening the hood, we used this to get the cleaner into the dirty areas. It worked well here, although it was better on the mildew than on stains. 
For really tough marks Autoglym recommends covering in plastic and leaving overnight. We applied the proofer as recommended, and found the initial results to be good. However by the end of the test the beading had slowed and dropped behind the performance of our top two.
Buy now from Amazon
Turtle Wax Soft Top Cleaner & Conditioner Kit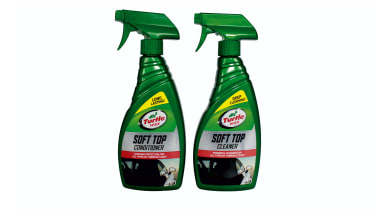 Price: £20.00 (500ml/500ml)
Combined price per litre: £20.00
Rating: 3.5/5
Contact: 0151 530 5980, www.turtlewax.com/en-gb
This new version of Turtle Wax's long-running convertible hood kit mirrored the Autoglym in having a pair of 500ml sprays, but without a sponge or applicator. We used a clean paintbrush to work the cleaner well into the roof. It attacked the mildewed area well, but struggled more with the staining. 
We sprayed on the conditioner, again using the brush where necessary to ensure full coverage. Just as with several of the others here the initial beading performance was good, but after eight weeks its effectiveness had begun to lapse a little.
Buy now from Amazon
Meguiar's Convertible Top Cleaner & Convertible & Cabriolet Weatherproofer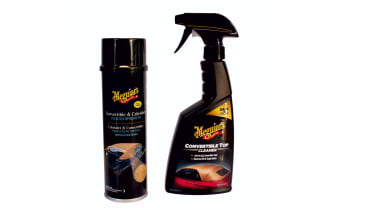 Price: £14.00/£15.00 (450ml/326ml)
Combined price per litre: £37.37
Rating: 3/5
Contact: 0870 241 6696, www.meguiars.co.uk
The Meguiar's pair differed from the others here in that the proofer was in an aerosol can. This made it much easier to apply, although you had to take care not to get it on the glass and bodywork, plus we noted the warnings about flammable heptane. 
The fiddly, fold-out, stick-on instructions were not the most user-friendly, but the trigger cleaner worked reasonably on the initial mildew and stain. The proofer provided decent beading at the end of the test period, yet that price just couldn't be ignored; it was easily the most expensive in this test.
Buy now from Amazon
Never mind keeping the roof clean, why not just buy a new convertible? Read our best convertibles article here.
Source: Read Full Article