Best remote controlled cars 2021
Which off-roader offers the best introduction to R/C fun?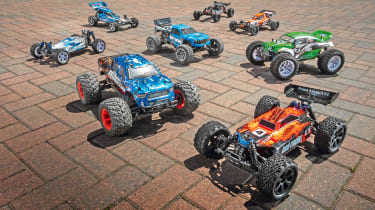 With summer seeming to have finally appeared in the UK, and lockdown restrictions easing across the country, we're all looking for any excuse we can find to get out in the sunshine and enjoy the warmer weather. 
Remote control (R/C) cars are a great reason to do just that, and here we've tested some of the entry points into this fascinating hobby, which can develop not only your driving ability but also your engineering skills.
What we've tested here are ready-to-run (RTR) examples (or very nearly so) of off-road buggies and trucks, which means they're cars that you can take out of the box and begin driving with a minimum of preparation. All the models we tested are electric and ideal for use by relative beginners. 
Crucially, every one of the five brands represented here also offers a strong degree of aftercare. As a result, once you've bought one of these cars, you can repair, replace or upgrade it with go-faster parts with ease. 
How we tested them
Two key points here are value for money and the cars' fun factor. We were looking for models that put a smile on our face right out of the box. Nobody can deny that speed is fun, but it isn't everything, and our favourites had to balance impressive speed with eager handling.
Stable cars make life much easier for novice drivers, because walking over to put a flipped car back on its wheels is a pain. Good ground clearance and traction are also useful if you're going to use one away from smooth tarmac and car parks, because many will want to drive in the garden or other off-road areas. It's also good to have some adjustability, for when the budding racer becomes more adept and willing to experiment. 
We liked sturdy construction, too, with a strong chassis and suspension, plus bodyshells that can stand up to a bit of abuse. Finally, we looked at price at the time of testing.
Verdict
We can honestly say that there isn't a duff car here, and picking a winner was a difficult task. The Traxxas Bandit just pipped the rest, though – it's beautifully constructed, well priced and great fun to drive. We were highly impressed by the FTX Bugsta, which is fast and stable, while close behind was the Tamiya Racing Fighter.
Traxxas Bandit XL-5 iD
FTX Bugsta Brushless
Tamiya X-SA Racing Fighter
Reviews
Traxxas Bandit XL-5 iD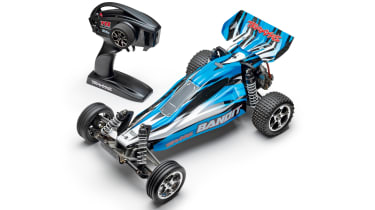 RTR price: £227.99
Contact: www.rctfb.com
Rating: 5 stars
The sense of quality is palpable with this buggy, from the decisive action of the steering servo to the smooth-running motor. It's only two-wheel drive, but it's great on the rough stuff, especially if you build up a good speed – easily done, because this is a quick car. 
It's stable and controllable even at full chat, and it looks great, too. The bundle we had only provides a 12V charger for the battery, but that's a very minor blot. It's well priced for such a premium product, sitting comfortably in the mid-range of this group.
Buy now from Elite Models
FTX Bugsta Brushless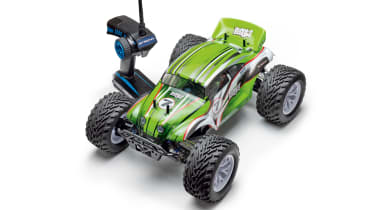 RTR price: £219.99
Contact: www.cmldistribution.co.uk
Rating: 4.5 stars
Brushless motors are the turbocharged power units of the R/C world, so approach this mighty fast Bugsta with some caution, because it's easier to lose control than with some others due to its sheer pace. 
You soon get accustomed to setting off at slightly below full throttle to keep the front wheels on the ground. It has big tyres and long-travel suspension, plus four-wheel drive, so it's great for rougher terrain – provided at least a couple of the wheels can grip it'll pull itself out of any flower bed. Very entertaining, frantic and fun – plus, we love its quirky, bright Beetle-style bodyshell.
Buy now from RCGeeks
Tamiya X-SA Racing Fighter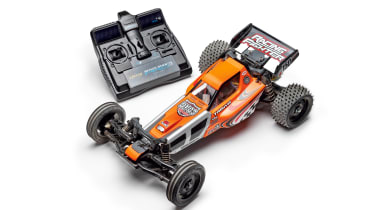 RTR price: £212.07
Contact: www.modelsport.co.uk
Rating: 4.5 stars
This X-SA model is 'expert assembled' rather than fully built, which means some work is required. Installing the steering servo and radio equipment took us around 40 minutes with a couple of screwdrivers and a pair of pliers, so it's not difficult. 
At its base level, this is a quick, stable, controllable and fun buggy, which does well off-road but is also very entertaining on tarmac, and is capable of drifting. Tamiya is the hobbyist's brand of choice, so the range of upgrades is vast, too.
Buy now from Amazon
HPI Jumpshot  Flux Brushless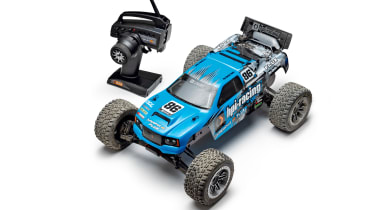 RTR price: £339.47
Contact: www.modelsport.co.uk
Rating: 4.5 stars
Wickedly fast and capable of quite impressive donuts on the right surface, this off-road truck only has two-wheel drive, but it handles rough terrain as easily as any 4WD car here. It's stable when cornering and has a low centre of gravity. 
A real highlight is the gorgeous aluminium chassis, which is solid and provides fantastic protection for the components – including a secure underslung battery compartment. Expensive, but you can see why, given the top-notch construction.
Buy now from RCGeeks
Century UK BSD Prime Baja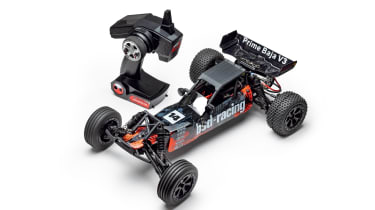 RTR price: £121.99
Contact: www.centuryuk.com
Rating: 4 stars
We last tested this car back in 2018, and very little has changed since. That's a good thing, because we really rated this buggy then and we still do now. Solid construction with a tough framework on top of the bodyshell, unflappable stability and responsive handling make it fun for beginners, and it copes very well with rough terrain, despite only being two-wheel drive. 
A real bargain at just over £120 including a battery and charger, although it can't keep up with some of the other cars here in terms of sheer speed. 
Buy now from Elite Models
FTX Vantage Brushed
RTR price: £121.99
Contact: www.cmldistribution.co.uk
Rating: 4 stars
Despite it having four-wheel drive, this buggy is too low-slung to be a real mud-plugger, although its smooth underside does skim happily across grass. The drivetrain gives it great grip and stability, more than enough to cope with the admittedly fairly modest pace on offer, and you'll struggle to turn this one over even in vigorous cornering. 
As well constructed as the larger Bugsta and a strong rival to the Century BSD Prime Baja (above), this is the perfect starter car for a young enthusiast.
Buy now from RCGeeks
HPI Quantum MT Flux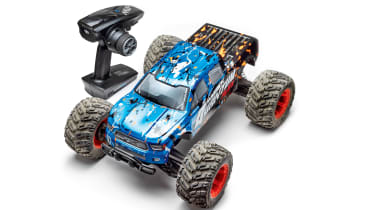 RTR price: £249.47
Contact: www.modelsport.co.uk
Rating: 3.5 star
This is more basic than its 2WD cousin (above), and misses out on the glorious aluminium chassis for a plastic affair – albeit one that's heavy-duty and spacious. It's still plenty quick and takes rough terrain in its stride, thanks to its big wheels and sturdy suspension. It looks great, too. 
For the price it doesn't feel as good value as the other HPI or some of the rival cars we've tested though, and the motor had a tendency to get pretty hot during our testing, despite having a heatsink to help cool it. 
Buy now from RCGeeks
Century UK BSD Prime Assault V2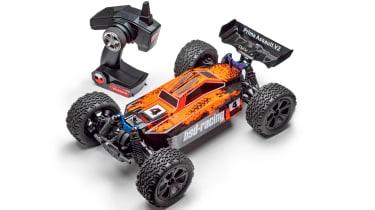 RTR price: £164.99
Contact: www.centuryuk.com
Rating: 3 stars
This 4WD buggy is quick and looks the business, but its construction feels rather less reassuringly solid than the 2WD Prime Baja from the same manufacturer (left). It's rather unstable, too, flipping itself over without that much provocation – and it doesn't have the strong framework protecting its bodyshell that its sibling does. 
For the pace it's well priced and comes with everything you'll need to get going out of the box, but we don't think it's as good value or as much fun as other, slower cars in this test.
Buy now from RCModelz
For the younger racer
HPI BlackZon Slayer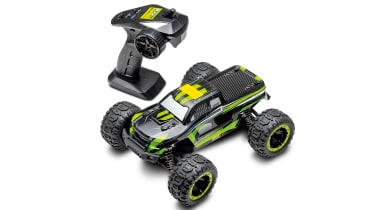 RTR price: £63.99
Contact: www.modelsport.co.uk
Rating: N/A
If you're buying a cheaper car for a younger racer or you simply want something to try before upgrading, this smaller, 1/16th-scale monster truck is amazing fun. With proper suspension and controls. It's less of a toy and more of a miniature version of its more expensive siblings. 
With a USB charger included you could keep going all day with a portable powerbank, too. A simple speed switch on the controller allows you to dial back performance for those who have too itchy a trigger finger, or are still building their R/C skills.
Buy now from RCGeeks
Source: Read Full Article