Best plug-in hybrids 2020
The plug-in hybrid market has grown exponentially in recent years. Here are our top 10 electrified favourites.
Introduction
Mercedes E 300 de
Hyundai Ioniq PHEV
BMW 530e
Volvo XC60 T8
Mercedes E 300 e
Porsche Cayenne S E-Hybrid
Kia Niro PHEV
Mitsubishi Outlander PHEV
Toyota Prius
Range Rover P400e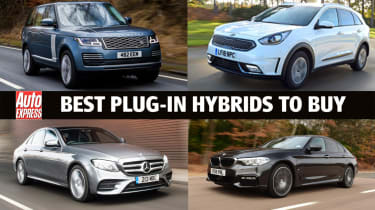 If you're in the market for a plug-in hybrid electric vehicle (PHEV), you're spoiled for choice these days. An increasing number of car makers are wheeling out plug-in hybrid cars with firms such as BMW, Volvo, Porsche, Honda and Mercedes all expanding their electrified line-ups to compete alongside hybrid pioneers such as Toyota and Mitsubishi.
The sheer variety of vehicles that now offer plug-in hybrid ability means, there are PHEV options to suit buyers across the large and mid-size car markets. It also means that buyers have a tougher than ever time choosing the best plug-in hybrid car for them. On this page we aim to help by explaining the market and delivering our verdicts on the best plug-in hybrids you can buy.
• Best hybrid cars on sale
So which plug-in hybrids do we recommend? With so many now on offer, we can bring you a top 10 of the best options, just follow the links to see our favourites.
Top 10 best plug-in hybrids to buy now
Mercedes E 300 de
Hyundai Ioniq Plug-in
BMW 530e
Volvo XC60 T8
Mercedes E300 e
Porsche Cayenne S E Hybrid
Kia Niro PHEV
Mitsubishi Outlander PHEV
Toyota Prius Plug-in
Range Rover P400e
Should you buy a plug-in hybrid?
Plug-in hybrids are proving popular for a number of reasons. As technology improves and more car makers join the fray, the price you pay for a plug-in vehicle is gradually coming down. Then there are the tax implications, with many plug-ins offering far lower VED road tax and benefit-in-kind rates for company car users thanks to their low emissions.
A close second to the low running costs is the fact that this hybrid kit doesn't require you to compromise on the way you use your car. The key is to remember to plug the car into a charging point wherever possible to maximise the amount of electric running you do but if you can't charge the car just reverts to its internal combustion engine. If you think of your car like a smartphone, and get into the habit of plugging it in overnight to charge, then you'll soon see the lower costs that electric driving can bring.
Of course, a big downside of a plug-in hybrid is that if you don't charge it regularly, then you won't be seeing any benefit in lower running costs. Most plug-ins use a small petrol-engine combined with the electric motor and battery pack, so when the battery is flat, it's doing all the work. And with the added weight of the battery, and usually a smaller fuel tank designed to make space for the hybrid system, you can expect a smaller range and lower mpg than an equivalent petrol or diesel car.
How has the plug-in hybrid market evolved?
The first commercially available plug-in hybrid was the Toyota Prius Plug-in. It was very much an extension of the electric drive offered by the standard 'closed hybrid' Prius, and offered a theoretical range of around 12 miles on battery power alone. That was significantly more than the standard Prius, but not an outstanding figure. It was a few thousand pounds more expensive than the standard car, too.
• What is a hybrid?
Since then, we've had plug-in hybrids as diverse as the futuristic BMW i3 supermini, to conventional family models like the Volvo V60 Plug-in, sporty hatchbacks such as the Volkswagen Golf GTE and even supercars like the Porsche 918 Spyder.
Today, there are a number of SUVs and family cars with plug-in ability, and some even keep their 7 seat interior layouts. So there should be a plug-in hybrid to suit all needs while also delivering low running costs – as long as you charge them up, of course.
Have you ever owned any of these plug-in hybrid cars? Let us know your view on them in the comments section…
Get the latest electric car news, reviews and analysis on DrivingElectric.com
Continue Reading
1Introduction – currently readingThe plug-in hybrid market has grown exponentially in recent years. Here are our top 10 electrified favourites.
2Mercedes E 300 deThe Mercedes E 300 de offers a familiar yet cost-effective alternative to mainstream company cars.
3Hyundai Ioniq PHEVThe Ioniq is available as a conventional hybrid, a plug-in hybrid and an all out electric vehicle. But the plug-in is the best all-rounder
4BMW 530eThe BMW 530e will be cheaper to run than a regular 5 Series but it crucially doesn't sacrifice driver engagement
5Volvo XC60 T8We gave the regular Volvo XC60 a five-star review so the plug-in hybrid T8 version has a great foundation for success
6Mercedes E 300 eThe plug-in hybrid Mercedes E 300 e emphasises all the great hallmarks of the regular E-Class with little drawbacks.
7Porsche Cayenne S E-Hybrid The latest Porsche Cayenne E-Hybrid is a great all-rounder and is hard to fault in any single area.
8Kia Niro PHEVThe Niro PHEV isn't the most interesting car to drive, but it's easy to live with and there's decent space on offer.
9Mitsubishi Outlander PHEVThe first plug-in SUV proved the formula worked, and boosted sales for the range
10Toyota PriusThe latest Toyota Prius is the best yet, and the same goes for the plug-in hybrid version
11Range Rover P400eThe Range Rover P400e turns out to be a successful first attempt at a plug-in hybrid from Land Rover.
Source: Read Full Article