Best Lego cars 2021/2022 – cool Lego gifts for car fans
From large scale Lego Technic models to smaller Lego car sets for kids, we've put together the best Lego cars on sale for 2021 and 2022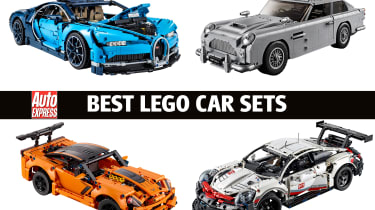 The process of becoming a car fan often starts from a very young age, drawing cars in textbooks, playing with toy cars and of course, building your own Lego car sets. Throughout its long history, Lego has always been keen on cars, whether paying homage to famous brands and models or creating its own unique car designs, the global building block giant has strong links to the automotive world. 
Lego loves cars so much that it's actually the world's largest producer of tyres, beating Goodyear, Michelin and Continental to produce over 700,00,000 tyres per year. Although, it has to be said that Lego's tyres are on a slightly smaller side.
• The life-size LEGO Bugatti Chiron you can actually drive
Lego designers work incredibly hard to try and replicate some of the car industry's most iconic vehicles and transform them into brick form. From the curves of the Lego Creator Aston Martin DB5 to the complex racing aerodynamics of the Lego Technic Porsche 911 RSR, there is a Lego car set to suit every age range and Lego proficiency level. 
Many of these Lego car sets feature intricate working features to mimic their larger metal counterparts. Gearboxes, engines, suspension components and more have all been scaled down to give the most accurate representation of these cars possible in Lego form. Others, place the emphasis more on fun and offer a less challenging building project to younger petrolheads.
A Lego car makes a great gift for anyone who's interested in cars or just Lego fans generally. Spending a few hours pouring over the instructions and coming out the other end with a great Lego replica is always a rewarding, and educational, exercise. That's why we've rounded up our pick of the best Lego car sets currently on sale. Any of them is sure to keep your kids (and you) entertained for hours. 
Best Lego cars on sale now
Whether you are looking for an expensive collector's item or in need of a great present for someone you love, you'll find everything you need in our handy Lego car list…
Porsche 911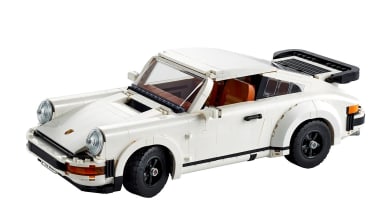 Price: £119.99
Pieces: 1,458 
Dimensions: 10cm high, 35cm long and 16cm wide
Age: 18+ 
Car designs don't get any more iconic than the Porsche 911 and the car's original 1960s creators got it so right that the classic lines remain front and centre on the 911 range of today. This collectors' edition Lego set recreates both the 930 911 Turbo coupe and the Targa model with its removable roof so that builders get the choice of which to create.
The classic Porsche 911 930 from the 1970s with its oversize bumpers and the 'whale tail' rear wing has obvious appeal while the Targa takes a more classy approach with its open top option. On both cars the detail is outstanding with three unique numberplate options and the 911's famous rear-mounted engine tucked away under the boot lid. 
Buy now from Zavvi 
Land Rover Defender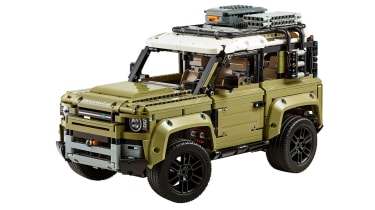 Price: £159.99
Pieces: 2,573 
Dimensions: 22cm high, 42cm long and 20cm wide
Age: 11+ 
The new Land Rover Defender arrived in 2020 and Lego wasn't far behind with its own Lego Technic version. The mighty off-roader is absolutely packed with intricate detail including a 6-cylinder engine with moving pistons, a working steering rack and an all-wheel-drive transmission system with three differentials. It'll certainly be a challenge to build but challenges are what the Defender's all about. 
Buy now from Amazon
Chevrolet Corvette ZR1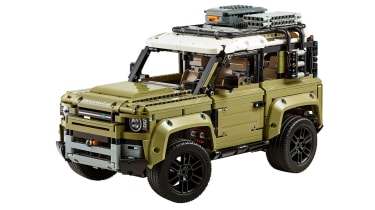 Price: £39.99
Pieces: 579
Dimensions: 3" (8cm) high, 11" (29cm) long and 4" (12cm) 
Age: 9+
The Chevrolet Corvette is one of America's greatest cars so it was only a matter of time before it received the Lego treatment. This 579 piece set is based on the fastest production Corvette ever produced, the 210mph ZR1. 
With its striking orange paintwork and black decals, this Lego set certainly stands out and matches the real car very closely. There's a detailed version of the 755bhp V8 with moving pistons, while the exterior features signature Corvette styling elements including the quad exhaust pipes and bonnet bulge. If you get bored with your miniature muscle car then you can transform your ZR1 into another American icon, a hot rod.
Buy now from Amazon
Bugatti Chiron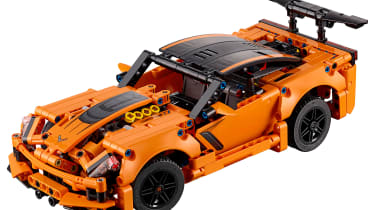 Price: £329.99
Pieces: 3,599
Dimensions: 5" (14cm) high, 22" (56cm) long and 12.5"(32cm) wide
Age: 16+
This 1/8th scale Lego Technic Bugatti Chiron is the biggest and most expensive Lego set on this list. At just shy of 3,600 bricks, this Chiron is quite complex to build but features many authentic and realistic parts, from the W16 engine with moving pistons to an 8-speed gearbox operated by movable paddle shifters behind the steering wheel and a special key which activates the active rear wing needed to access the car's top speed, just like on a real Chiron. 
Just as the real Bugatti Chiron is a masterpiece of technical engineering, this Lego version is a showcase of just how complex and detailed these scale models can be and while it may not be able to reach the real Chiron's 261mph top speed under its own steam, it does cost a fraction of the car's £2.1million price tag. On that basis, you could consider it the bargain of the century. 
Buy now from Amazon
Ford Mustang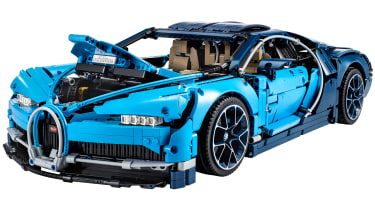 Price: £119.99
Pieces: 1471
Dimensions: 3" (10cm) high, 13" (34cm) long and 5" (14cm) wide
Age: 16+
Is there any car more synonymous with a country than the Ford Mustang and its links to the US of A? The car has been a symbol of American muscle for over 50 years with more than 10 million Mustangs produced. It's even a star of the silver screen after famously featuring in Steve McQueen's Bullitt film.
Obviously, recreating such a beloved car in plastic brick form will always be a challenge but Lego has pulled it off with great success. With white racing stripes, bonnet scoop, GT emblems and five-spoke wheels, this Lego Creator model is instantly recognisable as the Ford Mustang. The Mustang can also be fitted with different number plates, a supercharger, rear ducktail spoiler, side exiting exhaust pipes, front chin spoiler and a nitrous oxide tank to give it a unique modified look.  
Buy now from Amazon
James Bond Aston Martin DB5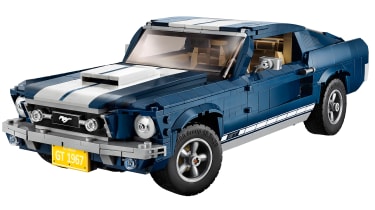 Price: £129.99
Pieces: 1,295
Dimensions: 3" (10cm) high, 13" (34cm) long and 4" (12cm) wide
Age: 16+
When you think of James Bond, you immediately think of gadgets, girls, guns and Aston Martins – not necessarily in that order. In particular, 007 is forever linked to the Aston Martin DB5. This car has featured in several Bond films over the years but arguably its most memorable role was its starring one in Goldfinger. Jam-packed with MI5 gadgets and with that timeless exterior design, it's no wonder why the DB5 is often voted as the best Bond car ever.  
Lego has not only recreated the design but also filled it with all the gadgets as seen in the film, albeit in less-lethal, more blocky, form. You'll find revolving number plates, front wing machine guns, a bulletproof rear shield and even a working passenger ejector seat among many other gadgets. Inside there is a concealable radar tracker and a door compartment containing a telephone as well.
Buy now from Amazon
Volkswagen Beetle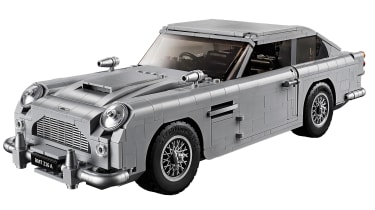 Price: £74.99
Pieces: 1,167
Dimensions: 5" (15cm) high, 11" (29cm) long and 4" (11cm) wide
Age: 16+
The Volkswagen Beetle is one of the icons of the motoring world. Since the first model rolled off the production line back in 1938, over a staggering 21 million models have been sold (just of the first generation alone). Now sadly the Beetle is no more with the last one rolling off the production line in July 2019. 
If you missed your chance to get your hands on the original 'people's car' then fear not as Lego is here to help. The Lego Creator Volkswagen Beetle is a detailed replica of the most popular Beetle with authentic features such as a 4-cylinder air-cooled engine, fully accessible beige interior, white rims with distinctive hubcaps and a unique VW printed brick. As this is a 60's Beetle then there are some period features too such as a cooler box and roof-mounted surfboard for that relaxed American beach vibe.
Buy now from Amazon
London Bus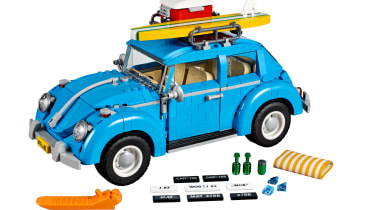 Price: £109.99
Pieces: 1,686
Dimensions: 7" (18cm) high, 13" (34cm) long and 5" (13cm) wide
Age: 16+
Tourists flock from all across the globe to visit London. Taking pictures of the world-famous landmarks, black taxis and of course, the double-decker buses. Based on an old Routemaster bus, this Lego Creator model is perfect for anyone who wants to reminisce about the good ol' days of 1950's public transport.
You can explore the retro exterior styling of the Routemaster with its separate driver's cab, complete with sliding door, panoramic windscreen, opening bonnet and reversible advertising boards. Both the upper and lower decks are detachable to let you peer inside at the period interior including the 'worn-look' bench seating, half spiral staircase and open rear boarding deck. To make this feel like a traditional bus, there is also a forgotten umbrella, newspaper, empty drinks cans and discarded chewing gum. 
Buy now from Amazon 
Porsche 911 RSR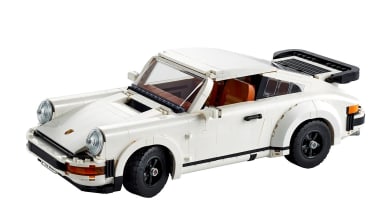 Price: £139.99
Pieces: 1,580 
Dimensions: 5" (13cm) high, 19" (50cm) long and 7" (20cm) wide
Age: 10+ 
This is the Lego Technic Porsche 911 RSR and follows on from the success of the Lego Technic Porsche 911 GT3 from a few years ago. It is a scaled-down version of the Porsche 911 RSR, the mid-engined 911 racing car designed to compete in the FIA World Endurance Championship.
While the Lego Porsche 911 RSR may not boast the impressive 510bhp from the 4.0-litre engine as its mechanical counterpart, it does feature a working six-cylinder boxer engine as well as working steering, all-round independent suspension and a detailed differential. Other features include an accurate replica of the livery, a map of Laguna Seca on the driver's door, and a fire extinguisher located in the cockpit.
Buy now from Lego
If you're looking for something a little lager, check out the best ride-on cars for kids…
Source: Read Full Article