Best four-seat sports cars to buy 2022
If you want a sports car but need the practicality of four seats, there are some great four-seat sports car options out there right now.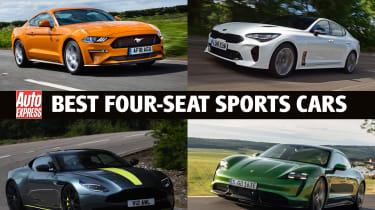 The modern sports car has to be more capable and accomplished than ever before. Today's buyers still want all the thrills of a high-performance machine, but few are willing to compromise on space, comfort and even efficiency, meaning anything less than a well-rounded package will find itself at the bottom of potential shopping lists.
Fortunately, there are plenty of four-seat sports car with cabin space for extra occupants, luggage or both. Where two-seat sports cars are available at a wide range of price points, the combination of performance, space for luggage and four seats tends to attract a higher price point. The cheapest car in our four-seater top ten is the Kia Stinger at £43,000, while the Aston Martin DB11 requires around £150,000 even for the most humble V8 model.
Top 10 best sports cars 2022
Some of the sports cars in our top ten cross into GT territory, mixing bombastic performance with the ability to cover big distances at speed in great comfort. The Mercedes-AMG GT Four-Door and the Lexus LC both combine powerful V8 engines and continent-crushing ability with a strong design theme from inside to out, while there is a less-expensive version of this type of car in the shape of the Kia Stinger GT-S.
More hardcore sports car fans still have plenty of options even with the need for four seats and a space for luggage. BMW's M2 Competition is a compact coupe with a useful boot and rear seats big enough to carry adults, yet is a highly-impressive driver's car with track-ready handling, while Ford's Mustang is a sports-car bargain offering a charismatic V8 powertrain and rear-drive thrills – and all that with plenty of space too.
Even the eco-conscious sports car fan has something to choose from: Porsche's Taycan is the firm's first step into a fully-electric sports car world and combines incredible acceleration and dynamic ability with four seats, luggage space and sufficient range to make it a genuine everyday prospect – although you will need at least £115,000 even for the most basic model.
Despite the continued rise in popularity of the SUV, the sports car has an important role to play as an antidote to high driving positions and a cumbersome feel on the road – cars with sharp looks and an exciting driving experience will always find interested buyers and you can see our top 10 best four-seat sports cars below…
Best four-seat sports cars to buy
Porsche 911
Lexus LC
Audi TT RS
Ford Mustang
BMW M240i
Porsche Taycan
Mercedes AMG GT Four-door
Aston Martin DB11
Polestar 1
Kia Stinger GT-S
1. Porsche 911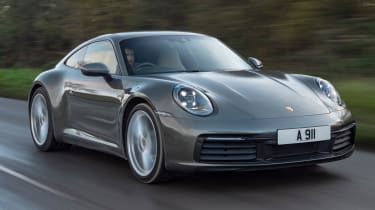 The daddy of practical sports cars, Porsche's 911 continues to set the standard everyone else has to match, yet every iteration improves the mix of power, performance and everyday usability.
The latest generation 992 offers the usual broad mix of engine, gearbox and drivetrain layouts but even the base Carrera model delivers almost 400hp and 180mph+ performance with complete ease, and the efficient twin-turbocharged flat-six engine makes 35mpg or more perfectly possible. Step up to the Carrera S and go for the optional PDK gearbox and you have near-supercar performance from a car that is equally happy trickling through rush hour traffic.
The rear seats are best saved for occasional use or children and the boot space is a relatively modest 132 litres, but given its relatively compact exterior dimensions, the 911 continues to be a sports car for almost every eventuality.
2. Lexus LC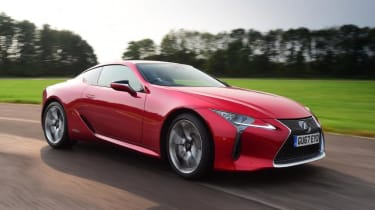 Lexus might not be the first premium brand that comes to mind when thinking of sports cars – other than the spectacular but rare LFA supercar – but the Japanese brand moved into new territory with its LC coupe, and proved that it has the knowhow to create a car that is exciting to drive without compromising on the luxury and comfort that is expected of its products.
The LC certainly wows with its appearance, with a squat stance and curvaceous body that looks little different to the concept car. Inside the LC is high quality too, even if the layout of the cabin itself is behind the class best. Of the two engine options – 5.0-litre V8 and 3.5-litre V6 hybrid – we would recommend the latter, as it is virtually as fast as the V8 yet can achieve well over 40mpg.
3. Audi TT RS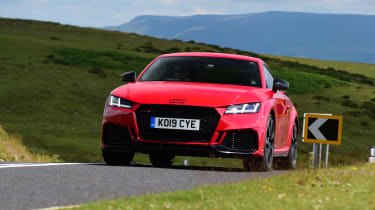 Audi's TT has a well-deserved reputation as a practical and usable sports car, but the high-performance RS version is sometimes overlooked as an alternative to more established brands. The highlight of the package is the spectacular 2.5-litre five-cylinder engine that dishes out 395bhp, and matched to the phenomenal quattro four-wheel-drive system and S tronic gearbox means it can reach 62mph from rest in just 3.7 seconds.
Even with this supercar-like performance, the TT RS is as easy to drive as any other Audi. The cabin is typical of the brand, being packed with technology and finished to a high standard. The rear seats are best suited to smaller occupants, but the boot is generous and can be expanded by folding the rear seats.
4. Ford Mustang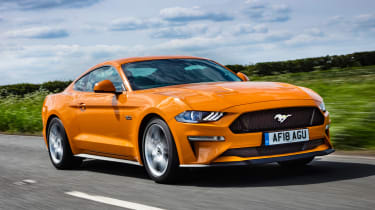 Ford's iconic Mustang finally reached the UK in right-hand-drive form and fans of the brand have not been disappointed by its appealing mix of strong performance, stylish exterior design and relatively low cost. The looks are a big part of the appeal, referencing older models without being too retro, and make the Mustang stand out from the crowd.
The 2.3-litre EcoBoost engine is no longer available, and while it was slightly cheaper to run than the V8 version, it's the latter that provides the genuine Mustang experience. It's also a far more accomplished drive than previous Mustangs, with independent rear suspension giving it the handling to match its performance. In terms of practicality, boot space is a useful 408 litres and the twin rear seats are best suited to smaller children.
5. BMW M240i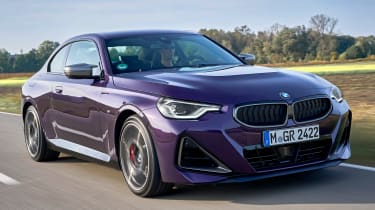 While enthusiasts wait patiently for the next BMW M2, the all-new BMW M240i is a rather impressive stopgap. With a potent 369bhp and 500Nm of torque from its straight-six engine, the four-wheel drive coupe is no slouch and emits a tuneful roar its four-cylinder rivals can't hope to match. Press the throttle and it lunges effortlessly forwards, in the manner only a small car with a big engine can.
Rather than blunting its handling, BMW's xDrive system is well-judged here, improving traction in slippery conditions, but without robbing the chassis of poise or a playful feel. The eight-speed automatic transmission makes the most of the engine's low-down torque, too, so the M240i can be relaxing for more mundane trips.
6. Porsche Taycan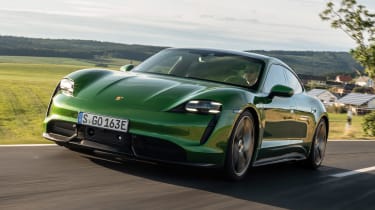 Porsche's incredible back catalogue of sports cars wouldn't be the same without the wonderful engines that have appeared in them, so the first fully-electric performance car to come from the brand has big shoes to fill. Thankfully the Taycan is a revelation, offering the handling precision and searing performance expected of a big Porsche saloon but with all the benefits of a full EV, including the option of 270kW super-fast charging if you can find a super-fast charger.
Although the adoption of battery power means it is not quite as accommodating as the similar Panamera, the Taycan still has a pair of comfortable rear seats in the back and a useful 366-litre boot – as well as additional space in the nose thanks to the lack of a combustion engine.
7. Mercedes AMG GT Four-door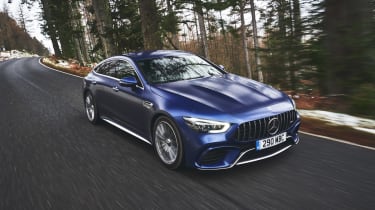 Mercedes-AMG has taken its usual approach to four-door practicality, beginning with a hugely-powerful and character-packed V8 engine, offering either 585bhp or 639bhp in 'S' form. The GT Four-Door is based on the E-Class platform but adds carbon fibre and aluminium to stiffen the structure. The result is a car that handles remarkably well given its size, and the 4MATIC four-wheel-drive system ensures that power remains controlled.
As this is a sporting luxury car, you can expect space and comfort inside – rear passengers will find headroom slightly compromised due to the sloping roofline but this is still a comfortable way to travel. The boot is also big enough to take luggage for four: 456 litres should be enough for most people.
8. Aston Martin DB11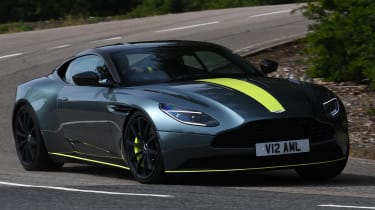 It's not often that an Aston Martin is considered in terms of its practicality, but the DB11 coupe is an example of how the brand is branching out with its newer models and increasing the usability of its sporting cars. The DB11 does not abandon its performance roots however; choose the crackling V8 or the mighty V12 engine and it still has power to burn, with even the V8 model capable of nudging 190mph. It has the handling to match the performance while the ride quality is also impressive, making for a very capable sports car.
Inside, the front seat occupants have good head and legroom as well as easy access through the large front doors. The rear seats are best suited to children or short journeys for adults however, as legroom is in short supply. The boot offers a useful 270 litres however, which should be sufficient for two adults or more.
9. Polestar 1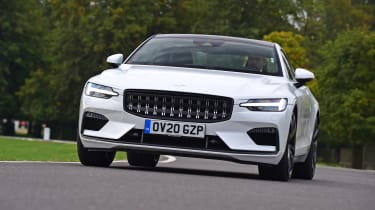 The Polestar 1 launched the Swedish performance brand, acting as a halo model for the fledgling Volvo spin-off. Yet its powerful plug-in hybrid powertrain is unique to the 1, as all other Polestar models are fully-electric. It's no ordinary PHEV, however, with an electric range of up to 77 miles thanks to a 34kWh battery – that's larger than you'll find in a MINI Electric.
Performance is also incredible, with 601bhp and 1,000Nm of torque serving up scorching acceleration, with 0-62mph in just 4.2 seconds. Despite lightweight composite panels the 1 still weighs 2.3 tonnes, yet it feels remarkably agile and engaging when flinging it through a series of bends. However, while the Polestar claims to be a four-seater, its complex drivetrain takes up lots of space, so the rear seats are cramped and the boot is tiny at just 143 litres.
10. Kia Stinger GT-S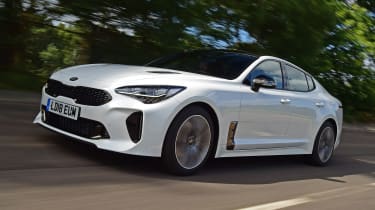 Until recently Kia's performance models have been largely hot hatchbacks, but all that has changed with the arrival of the Stinger. The eye-catching four-door coupe shape is appealing and alongside more sensible four-cylinder engine options, the top-spec GT-S has a strong six-cylinder turbocharged unit kicking out genuine performance – 168mph is possible. It has the handling to match too, with the rear-drive chassis and a limited-slip differential ensuring there is plenty of opportunity for fun.
The Stinger is one of the most accommodating cars in this line-up, with seating for five people and good space for the front and rear rows. The boot is also a generous 406 litres with the option to increase it to 1,114 litres with the rear seats folded.
Now take a look at our lists of the Best performance cars and Best V12 engined cars…
Source: Read Full Article