Best first cars for new drivers 2020
A new car for first time drivers should be cheap, easy to drive and safe. Here are the 10 best first cars

Introduction
1. VW up!/Skoda Citigo/SEAT Mii
2. Kia Picanto
3. Ford Fiesta
4. SEAT Ibiza
5. Hyundai i10
6. Volkswagen Polo
7. Toyota Aygo/Peugeot 108/Citroen C1
8. Skoda Fabia
9. Dacia Sandero
10. Vauxhall Corsa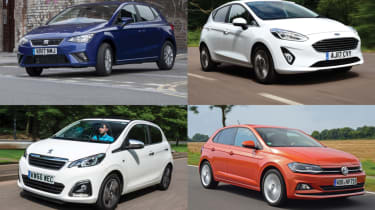 Buying your first car is often one of the most memorable milestone on the passage into adulthood; once you've passed your driving test, the level of freedom you'll have will be unprecedented. However, the cost of buying and running a car can be prohibitive, so the best way to maximise how far your money goes is to get a car that's affordable, economical and with cheap insurance. While many first time car buyers will focus on used cars, buying or financing a brand new car means you'll get a warranty, while also reducing the chances of mechanical problems in the first place.
• Best superminis to buy now
Here we've listed 10 of the best new cars for new drivers. They are small enough to be manageable – new drivers will be able to position them easily on the road – but offer some luxuries to keep new drivers safe and connected, too. They're also good to drive, which will help new drivers to build confidence with every mile.
What to look for in a first car
One of the biggest obstacles to driving is sky-high insurance costs. As a new driver, your lack of experience will count against you in the eyes of an insurer. If you can keep out of trouble for 12 months, you will accrue a no-claims discount which will give you a percentage reduction on your premium. And if you continue to not make any insurance claims, then this discount will only grow over the years. There are even finance deals which include free insurance, although this usually raises the monthly payments drastically. 
One way of boosting a no-claims discount is to fit your car with an insurer-approved 'black box'. This electronic device plugs into your car's electronics and monitors your driving, and you and your insurer can review your performance to see how and where you can improve your driving. Return a good score, and the insurer can further reduce your payments for cover.
• Cheapest cars to insure
Some parents will be in a position to buy their children their first car, and if you're in that enviable situation, then you'll likely want to buy the safest car possible. You need to find the small cars that come with the highest rating by independent assessment organisation Euro NCAP: the higher the score for a car, the safer it is.
Still, buying a new car rather than an old second-hand one will mean it's inherently safer, because kit such as anti-lock brakes and electronic stability control is generally fitted as standard.
• Best city cars to buy now
We'd recommend going for a petrol car over a diesel. There aren't many small diesel cars on sale anyway, and you'll only reap the benefit of their better fuel consumption if you do lots of motorway miles, which is unlikely if you're an inexperienced driver. It's better to go for a small petrol, and if the option of stop-start is available – either as standard or an extra – then that will reduce running costs even more. While the experience of the engine cutting out when you put the car in neutral might be unnerving, you'll soon get into the habit of saving fuel and making your money go further.
If you've got an automatic-only licence then you'll obviously be limited to cars with automatic gearboxes, which tend to be more pricey and in relation to small cars, rarer. Manual cars can also help build driving confidence with greater control over the car's mechanicals. 
Other highlights to look out for when buying a car for a new driver include light steering, good visibility, a responsive engine and brakes, user-friendly controls and a positive gear shift; all of these help a new driver build confidence during their time behind the wheel.
Top 10 best first cars for new drivers 2020
Volkswagen up!/Skoda Citigo/SEAT Mii
Kia Picanto
Ford Fiesta
SEAT Ibiza
Hyundai i10
Volkswagen Polo
Toyota Aygo/Peugeot 108/Citroen C1
Skoda Fabia
Dacia Sandero
Vauxhall Corsa
First Cars on Auto Express…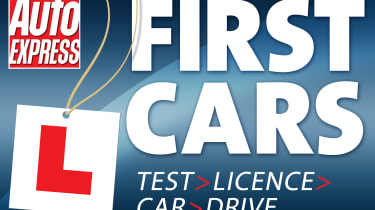 Everything you need to know about learning to drive, getting your driving licence and choosing your first car…
Learning to drive
How to get your driving licence
What is the highway code?
Best intensive driving courses
Passing your driving test
Driving theory test: everything you need to know
Hazard perception test: what to expect and how to pass
Driving test 'show me, tell me' quesions: hints and tips
Practical driving test: how to pass
Driving test pass rates explained
Driving test aids product test
History of the UK driving test
Getting your first car
Best first cars for young drivers
Cheapest cars to insure
Cheaper car insurance for young drivers: our top tips
For all the latest car news, features, tips and advice, follow Auto Express on Twitter and like us on Facebook…
Read more of our best car recommendations… 
| | |
| --- | --- |
| Best city cars | Best superminis |
| Best small cars | Best small 4x4s |
| Best first cars | Best cars for students |
| Best hatchbacks | Smallest cars on sale |
| Best crossover cars | Most economical cars |
| Best low emissions cars | Best tax free cars |
| Cheapest cars to run | Cheapest cars to insure |
| Best car deals | Cheapest cars on sale |
| Best-selling cars | Best car leasing deals |
| New Car Awards | Best used cars |
Continue Reading
1Introduction – currently readingA new car for first time drivers should be cheap, easy to drive and safe. Here are the 10 best first cars
21. VW up!/Skoda Citigo/SEAT MiiThe VW Group trio are cheap to run, spacious, have plenty of tech and are fun to drive
32. Kia PicantoThe Kia Picanto is grown up thanks to a focus on refinement, but should still appeal to young drivers with sporty looks and great handling
43. Ford FiestaThe Ford Fiesta is Britain's best-selling car, and makes the perfect first set of wheels
54. SEAT IbizaThe SEAT Ibiza offers the practicality of Volkswagen Polo, but in a more youthful guise
65. Hyundai i10The Hyundai i10 has become a solid performer in the supermini segment safe handling, plenty of kit and reliability
76. Volkswagen PoloThe Polo is bigger than its predecessor and offers more tech, comfort and refinement
87. Toyota Aygo/Peugeot 108/Citroen C1The Toyota Aygo, Citroen C1 and Peugeot 108 trio offer funky looks and plenty of tech for a low cost
98. Skoda FabiaThe Skoda Fabia offers VW Group refinement and technology in a practical and cheaper package
109. Dacia SanderoThe Dacia Sandero is a budget supermini that gets the basics right with no frills attached
1110. Vauxhall CorsaThe Vauxhall Corsa is an attractive car for young drivers – blending practicality with inexpensive running costs at a cheap price-tag
Source: Read Full Article