Best family cars to buy 2020
Family car buyers are in a good position, whether they need an SUV or affordable hatchback, there is a great family car for everyone

Introduction
1. Vauxhall Insignia Grand Sport
2. Skoda Superb
3. Toyota Prius
4. Volkswagen Golf
5. Ford Focus
6. Citroen C4 SpaceTourer
7. Kia e-Niro
8. Hyundai Kona Electric
9. Skoda Karoq
10. Peugeot 3008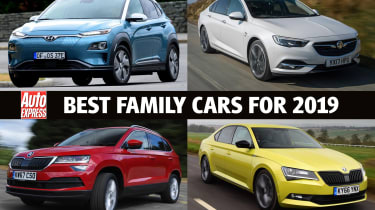 Building the best family car can be more challenging than you might think, given that motorists with children (and the kids themselves) tend to ask a huge amount of these vehicles. That isn't to say car makers are throwing in the towel; if anything, the choice facing buyers on the hunt for a family car is greater than ever before.
Here we've analysed the market as it appears to family car buyers. Looking at hatchbacks, SUVs, MPVs, saloons and estates we've come up with a definitive list of the best 5 and 7-seater family cars on sale right now.
• Best hatchbacks on sale
Family hatchbacks offer great fuel economy and plenty of space in a compact package. The best examples are great all-rounders with a good mix of qualities but many buyers will need the extra space of a large family car or estate here, as a rule, you get more rear legroom, a bigger boot and superior long-distance comfort but you'll pay a bit more and fuel economy might take a hit.
For the ultimate in flexible interior space, you'll want an MPV of 5 or 7-seat capacity but the modern trend in family cars is very much towards SUV and crossover models. With these you get the higher driving position and easier access that comes from the elevated ride height plus light off-road capabilities, should you need them.
Our list includes something for everyone with MPVs, like the Citroen C4 SpaceTourer, and large family cars like the Skoda Superb and Vauxhall Insignia Grand Sport that also come in estate guises.
• Best MPVs and people carriers on sale
Like MPVs, traditional large family models are sliding in terms of popularity but don't let that put you off, as these conventional family cars offer great driving dynamics and many, including the BMW 5 Series and Ford Mondeo, are available with hybrid power for great economy and lower road tax.
The evergreen VW Golf hatchback has been joined by the all-new Ford Focus while the Kia e-Niro and Hyundai Kona EV crossovers are making electrification mainstream and the SUVs are represented by the Karoq and 3008 from Skoda and Peugeot respectively.
Without further ado then, below are our top 10 family cars…
Best family cars to buy in 2020
Vauxhall Insignia Grand Sport
Skoda Superb
Toyota Prius
Volkswagen Golf 
Ford Focus
Citroen C4 SpaceTourer
Kia e-Niro
Hyundai Kona Electric
Skoda Karoq
Peugeot 3008
How to choose the best family car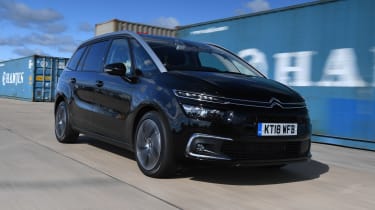 it's important to break down the criteria that a family car needs to cover while considering your options.
How many seats do you need? A four or five-seater might be enough for your family, but there are seven-seaters available if you need them. There are even eight or nine seaters available, too. Take a look at our dedicated pages for the best seven- and eight-seater cars to find out more
• Best 8-seater cars on sale
How often would you use seven seats? It's worth considering how often you'll travel seven-up. If a car is available with seven seats or five seats and a bigger boot, the latter might be a better buy if you won't be using the third row that often.
• Best 7-seater cars on sale
How much room do the seats need to have? If you've got grown-up kids, it might not be enough to simply to have a car with two extra seats in the boot. The smallest seven-seaters will only have room in the rearmost row for small kids, so teenagers could be cramped in the back. And of course, small kids grow, so if you're planning on keeping a car for a long period, that should also be factored in.
How often would the family car be used? If you don't use the car during the week and only need a family car at weekends, then you could go for something that has higher running costs than average just so you get the extra space you need. Likewise, if you're using a family car for the school run, then you're probably better off with something that's a bit smaller, while kit such as parking sensors and cameras will be a bonus.
How much boot space do you need? A conventional hatchback might be big enough, but if not, estate versions of hatches offer a more room. The same goes for larger family cars which are available as estates, while crossovers and SUVs have similar space, but their raised ride height mean they might be harder to load.
What about extras? If you go out and do activities, do you need to carry extra items such as bikes, skis or a canoe? If so, does the car you're looking at have roof rails? If so is the roof low enough that you can lift items up there easily?
This is all worth considering, and once you have an idea of what kind of family car you want, take a look at our top 10 and see which ones we think are the best at the business of being family transport.
Do you agree with our family car selection? Let us know your best family car in the comments section below…
More of our best car recommendations…
| | |
| --- | --- |
| Family cars |   |
| Best hatchbacks | Best crossover cars |
| Best hot hatchbacks | Best family cars |
| Best estate cars | Best MPVs |
| Best 7-seat cars | Best 8-seat cars |
| Best SUVs | Most economical cars |
| Best electric cars | Best hybrid cars |
| Best diesel cars | Best automatic cars |
| Best company cars | Best tow cars |
| Safest cars | Best Motability cars |
| Best car leasing deals | Most reliable cars |
| Best car discounts | Best car deals |
| New Car Awards | Best-selling cars |
| Best used cars |   |
Continue Reading
1Introduction – currently readingFamily car buyers are in a good position, whether they need an SUV or affordable hatchback, there is a great family car for everyone
21. Vauxhall Insignia Grand SportWith plenty of space in saloon and estate forms, the upmarket Insignia Grand Sport makes a great family car
32. Skoda SuperbIt's a cliché, but the spacious and stylish Superb really does live up to its name
43. Toyota Prius Toyota pioneered hybrid technology with the Prius, but the latest version makes for an impressive family car
54. Volkswagen GolfThe Mk7 Volkswagen Golf may be a bit long in the tooth, but it's still a well-rounded family car
65. Ford FocusIt's easy to see why the Ford Focus remains so popular with its agile handling and spacious cabin
76. Citroen C4 SpaceTourerThe C4 SpaceTourer has acres of space and futuristic looks that set it apart from the MPV pack
87. Kia e-NiroWith a near-300-mile range, this electric crossover is a great, affordable way into electric car ownership that's great for families
98. Hyundai Kona ElectricThe head-turning Kona Electric is a stylish electric car with a great range and low price
109. Skoda KaroqIn a highly competitive class, the Karoq stands out as one of the best small SUVs for family motorists
1110. Peugeot 3008A funky French crossover with substance to match the style
Source: Read Full Article