Best electric car chargepoint providers 2020
As the world shifts its focus to electric cars, so does Driver Power. Here we publish chargepoint ratings for the first time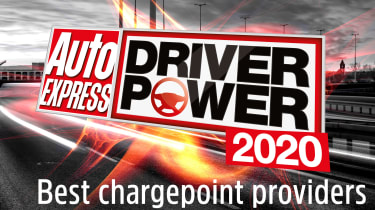 To reflect the constantly developing nature of all things car-related, Driver Power has changed, too. Here, for the first time ever, we bring you a rundown of the best public chargepoints available for electric cars.
Even if you're not an EV owner yet, it's a good idea to keep an eye on which chargepoints are the best, and which could do with more work. That's because the ability to make long trips in an electric car remains a sticking point for many potential EV buyers, so knowing which company gives the best service is an indication of which chargers you should seek out in the future. And, if you're already driving around using Volts and Watts rather than petrol or diesel, the information laid out here is immediately relevant.
• Click here to take our Driver Power survey right now
How the scores work?
We asked EV and plug-in hybrid owners to rank each public chargepoint providers in four key areas: how easy their chargers are to use; how much they cost; how fast they can top up a car's batteries; and how much you can depend on the chargers to work. Just as with our Driver Power new cars rundown, these scores are then used to calculate each firm's position overall.
Scroll down further to read our about the top ten best chargepoint providers in 2020…
The top 10 chargepoint providers 2020
1. Tesla – 92.94%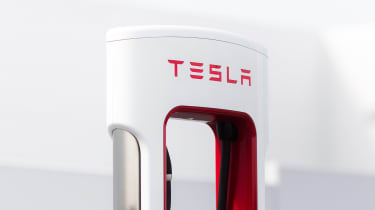 | | |
| --- | --- |
| Charging costs: | 1st place |
| Charging speed: | 1st place |
| Ease of use: | 1st place |
| Reliability: | 1st place |
An astonishing result for Tesla, whose Supercharger network is rated top in every category, and is crowned Driver Power Best Chargepoint Provider 2020 as a result.
It's fair to highlight this is only good news for Tesla owners – current or future – given Superchargers work solely with the Model S, Model 3, Model X, and the Model Y once it arrives. And while some owners got free Supercharging with their Teslas, those who pay still seem happy, while the ease-of-use ranking may be connected to the fact that account details are stored on-board Teslas, so there's no need for account logins, apps or cards.
2. Instavolt – 85.11%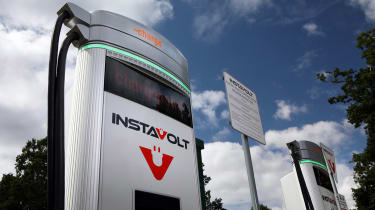 | | |
| --- | --- |
| Charging costs: | 9th place |
| Charging speed: | 2nd place |
| Ease of use: | 2nd place |
| Reliability: | 2nd place |
Reassuringly expensive – that's one way to think of Instavolt. The firm, which offers a single flat, transparent price across its pay-as-you-go network, with no subscription option – is ranked last but one for costs.
Yet it comes second in every other area thanks to its fast, easy-to-use, reliable chargers. And these scores are so good we've given Instavolt our 'Recommended' award, in recognition of the fact that not only does it generate such impressive marks, it's also the best-rated chargepoint provider that – thanks to Chademo and CCS connectors – can be used by drivers of most electric cars, regardless of make.
3. ChargePlace Scotland – 81.36%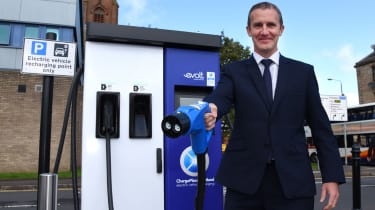 | | |
| --- | --- |
| Charging costs: | 2nd place |
| Charging speed: | 4th place |
| Ease of use: | 3rd place |
| Reliability: | 8th place |
The only government-run chargepoint provider in our countdown, ChargePlace Scotland had just 55 chargepoints in 2013, but now runs over 1,000 across Scotland, including in the Scottish Borders and the Shetland Islands. And if you live north of the border and have an EV, it seems ChargePlace Scotland's chargers are worth trying. The units supply well priced electricity, are pretty fast, and easy to use.
There's no getting away from that poor mark for reliability, though, so it might be worth checking the provider's live status map before heading for some Scots Watts.
4. Shell Recharge – 79.44%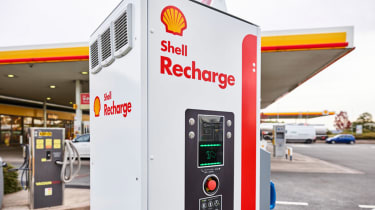 | | |
| --- | --- |
| Charging costs: | 7th place |
| Charging speed: | 3rd place |
| Ease of use: | 4th place |
| Reliability: | 3rd place |
The second oil company here to become involved with EV charging, Shell Recharge is better ranked than BP's Polar network.
But while there may be an element of these firms hedging their bets by rolling out EV charging networks given new petrol and diesel cars face the axe in 15 years' time, Shell's scores indicate the firm is taking its operation seriously. Customers appreciate the network's reliability, and say that its chargers are easy to use and reliable. Shell could consider bringing its prices down, but you don't get to be one of the largest firms in the world by undercharging, after all.
5. Pod Point – 79.24%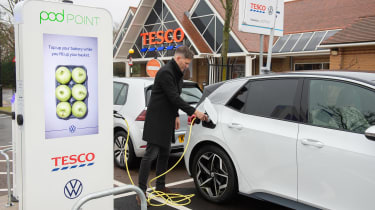 | | |
| --- | --- |
| Charging costs: | 3rd place |
| Charging speed: | 8th place |
| Ease of use: | 6th place |
| Reliability: | 5th place |
Pod Point offers both home and workplace EV chargers, and has around 3,000 bays around the country, many installed thanks to the firm's relationships with supermarkets including Tesco, Lidl and Sainsbury's.
Drivers like Pod Point's prices, and say its chargers are pretty reliable, but charging speeds drag the firm down. While originally a British brand, Pod Point was purchased by French state-owned EDF energy earlier this year. Interestingly, Pod Point offers a 15-minute 'emergency charging window' in case drivers are in dire need of juice but have lost their payment cards or phones.
6. Polar – 79.14%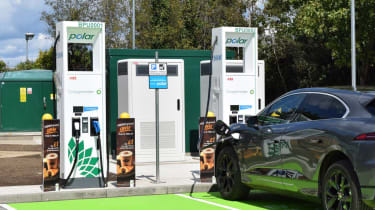 | | |
| --- | --- |
| Charging costs: | 4th place |
| Charging speed: | 6th place  |
| Ease of use: | 5th place |
| Reliability: | 6th place |
One of the big players in UK charging, Polar is owned by BP Chargemaster. It has around 7,000 points, and offers two schemes.
Plus is a subscription service, while Instant is a pay-as-you-go scheme, with more expensive electricity. The firm's pricing is its best-rated score, while Polar chargers are also said to be pretty easy to use. But reliability gets a middling mark and, despite the network including 400 rapid chargers, charging speeds are given a so-so, rather than stellar mark.
7. Engenie – 78.65%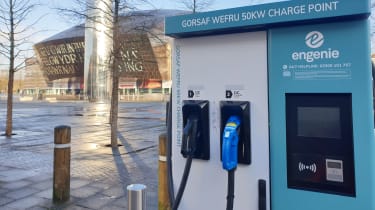 | | |
| --- | --- |
| Charging costs: | 5th place |
| Charging speed: | 7th place |
| Ease of use: | 7th place |
| Reliability: | 4th place |
Not to be confused with GeniePoint's parent company Engie, British firm Engenie also has big expansion plans, intending to install 2,000 rapid chargers by 2024 thanks to a £35m investment.
As it grows, the firm should ensure its charging speeds meet the expectations of owners, and simplify how its units work. However you say Engenie's chargers can generally be depended on, while charging costs are felt to be reasonably fair. And like many chargepoint firms, Engenie is committed to supplying electricity only from 100 per cent renewable resources.
8. GeniePoint – 76.93%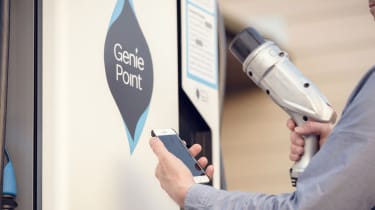 | | |
| --- | --- |
| Charging costs: | 8th place |
| Charging speed: | 5th place |
| Ease of use: | 8th place |
| Reliability: | 7th place |
Originally a British brand, GeniePoint was bought last summer by French energy firm Engie, which plans to have 4,000 chargers up and running this year – a significant expansion from its current 1,315 sockets.
The company finishes halfway up the table when it comes to how quickly its network charges your EV and PHEV batteries, and the reliability of its units is marked down, rather than being written off. However, based on these scores, while the firm is expanding, it should look at how easy its chargers are to use, and the price it charges for top-ups.
9. Charge Your Car – 76.23%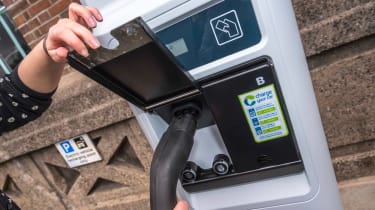 | | |
| --- | --- |
| Charging costs: | 6th place |
| Charging speed: | 9th place |
| Ease of use: | 9th place |
| Reliability: | 9th place |
Charge Your Car (CYC) is a rather unusual chargepoint provider, because while the network is overseen by BP Chargemaster, the chargers themselves are owned by local councils and third-party operators.
That fractured structure, which was set up many years ago, may explain why CYC's reliability, speed, and ease of use could be better, as cash-strapped councils could have had to invest in services other than chargepoints, meaning some chargers may be suffering from a lack of development. There is one glimmer of hope, though, since owners say CYC offers okay value for money.
10. Ecotricity – 64.05%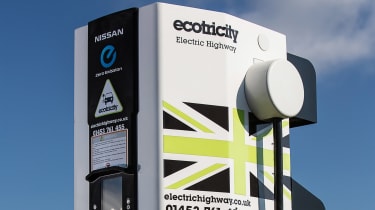 | | |
| --- | --- |
| Charging costs: | 10th place |
| Charging speed: | 10th place |
| Ease of use: | 10th place |
| Reliability: | 10th place |
Ecotricity brings up the rear of our list of chargepoint providers thanks to a poor set of results, finishing last in every one of our four categories. Given the firm has contracts with numerous motorway service station operators, and its 'Electric Highway' is a dominant force in the UK, these marks suggest the firm has the potential to make life tricky for EV owners.
Our detailed data also shows a vast gulf between Ecotricity's category marks and those of the other providers – demonstrated in its overall percentage score above – and indicates the firm simply has to improve.
Click here to read our rundown of the best car manufacturers…
Source: Read Full Article