Best clay bar alternatives 2020
Using a clay bar can be time consuming – we test eight car cleaning products which will do the same job but quicker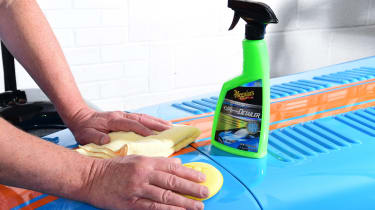 Clay bars are the conventional way to prepare paint for a sealant or wax – but they are time-consuming to use, which has seen the rise of quicker alternatives.
These do the same job of lifting bonded-on contaminants from the paint, but they use a sticky pad or surface rather than a clay. Because they're usually palm-sized rather than the finger-tip pucks of conventional clays, they cover a larger area and speed up the job. They can also be washed and rinsed free of grit when dropped – unlike a clay, which needs to be binned. These cloths, mitts and pads are also generally less fussy about lubricant; you can often use soapy water rather than a pricey detailer.
Best clay bars: 2020 group test
So which of these alternative solutions cleans up? We tried eight to find out.
How we tested them
The heart of this test remains the same as for our clay-bar assessment – effective cleaning. We used each with its preferred lube on a neglected car roof, making two limited-wipe attempts and assessing progress after each with the 'finger in a plastic bag' test. We also factored in price, taking into account each product's usable area. Regular test elements such as storage are not a factor here because they're less sensitive to gathering grit.
Verdict
One of the UK's pioneers of clay alternatives takes the win here with a keen price and top cleaning. If you prefer a cloth, Nanoskin is our choice, while its mitt version completes the podium.
Farécla G3 Pro Deep Clean Clay Mitt
Nanoskin Autoscrub Towel Medium Grade
Nanoskin Autoscrub Wash Mitt Fine Grade
Farécla G3 Pro Deep Clean Clay Mitt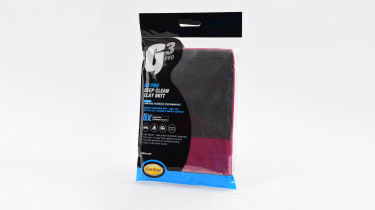 Price: £15
Rating: 5/5
Contact: www.g3pro.com
G3 was one of the first to heavily promote its clay alternative mitt, and the brand has fared well in our conventional bar tests. It showed that same appetite for contaminants here, topping the cleaning tests with the Nanoskin Towel. Unlike with some products, you can feel the embedded particles as you pass over the area, although there's not quite the same friction release as you get when a bar cleans a section. A keen price and ability to use a cost-effective soap and water solution seal the win for Farécla.
Nanoskin Autoscrub Towel Medium Grade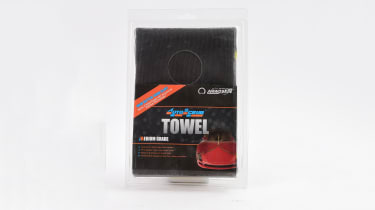 Price: £28.99
Rating: 4.5/5
Contact: www.motorgeek.co.uk
We couldn't separate this towel and our winning mitt on our test car roof, and they were a clear step ahead of all rivals with the exception of the Meguiar's kit. You need to use a detailer with this towel, and must 'break it in' on a window before use to release the protective coating. In just a few seconds the cloth is ready. The cloth can be folded to maximise surface use, which helps to justify that hefty price. Directions are confusing when referring to machine polishers, but this is still a star when used by hand.
Nanoskin Autoscrub Wash Mitt Fine Grade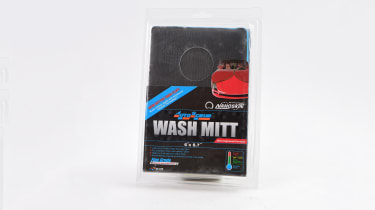 Price: £29.99
Rating: 4/5
Contact: www.motorgeek.co.uk
This is another top performer from American producer Nanoskin. You might think the 'clay' surface from the cloth (opposite) would have been applied to the mitt version, but it is noticeably different. The mitt is much smoother, with a woodgrain-style finish compared with the rougher towel, on which the cloth weave can be clearly seen. It is also used with soapy water, which helps keep the costs down. It can't match the towel, but is still highly effective and comfortable to use.
Meguiar's Hybrid Ceramic Synthetic Clay Kit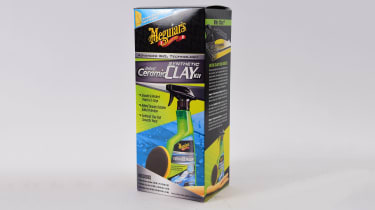 Price: £35
Rating: 4/5
Contact: www.meguiars.co.uk
This is the only kit here, and well worth trying. It combines a clay pad with a high-quality, large, microfibre cloth and 532ml of Meguiar's Ceramic Detailer; this not only lubricates the sponge but also leaves protection. Our ongoing test would suggest that protection is long-lasting, too. The kit looks expensive, yet remove the cost of the extras and the synthetic clay pad is only £10. It is a mere nine centimetres across, which means it takes longer to cover an area. However, it is very effective, almost matching our top two.
Mothers Speed Clay 2.0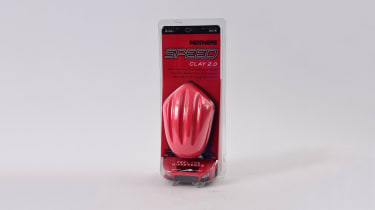 Price: £19.95
Rating: 3/5
Contact: www.motorgeek.co.uk
This takes an alternative approach to the clays and cloths, with a dimpled rubber surface rather than an impregnated coating. It is not sticky to the touch and couldn't match the bite of the top performers here, but it is comfortable to use, with the puck slipping easily into the palm. The cleaning surface area is relatively small so progress is not as fast as with a mitt, plus it is too stiff to easily clean wheels and the like. The shape takes the strain off your hands, and it uses inexpensive car-wash water for lubricant.
Angelwax Glide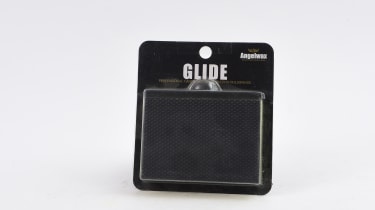 Price: £14.95
Rating: 3/5
Contact: www.angelwax.co.uk
There's a lot in common between this Angelwax solution and Mothers Speed Clay, because it has a very similar dimpled-rubber cleaning surface. This time it is mounted on a centimetre or so of sponge, with a denser, stiffer top that makes it easy to hold. It is more flexible and can be used on tight curves, but on our roof we couldn't separate the two. Similar surface areas mean progress is the same, and the Glide version had the same lack of bite as the Speed Clay.
Pure Definition Nano-Coat Clay Towel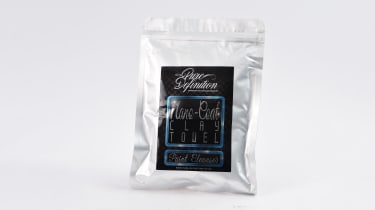 Price: £11.95
Rating: 3/5
Contact: www.pure-definition.co.uk
We were impressed with Pure Definition's conventional clay in our Issue 1,631 test, as were participants in the BBC's The Customer is Always Right, but this towel is not at the same level. What is good are the instructions, which tell you to use plenty of lubrication with the microfibre side of the towel to distribute soapy water before applying a detailer. The coating seemed thicker and smoother than for our runner-up towel, and couldn't quite match its cleaning power despite making good progress.
AutoCare Soft Clay Mitt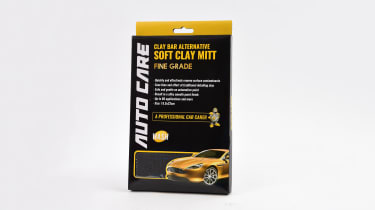 Price: £14.63
Rating: 3/5
Contact: www.amazon.co.uk
You'd be hard pushed to see any difference between the synthetic clay on this mitt and its rivals here, but it lacked the bite of the best. There are a few holes in the moulding yet it's hard to see how these play a role, leaving this product at the bottom of the test table in a very closely matched result. It may be down to the frequent-use fine grade, because it did make progress, but not as much as rivals. Not a poor product, yet there are others which do the job that little bit better.
Source: Read Full Article