Best cars for £20,000 or less
A budget of £20k will get you a good new car, but it could land you a brilliant used one. Here are the best used cars in that bracket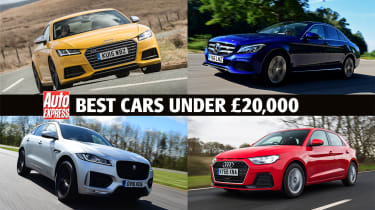 With £20,000 to spend on a car, you can either head to the nearest showroom and buy yourself a new car, or opt for the slightly less predictable but potentially very rewarding used car market. To help you if you decided to go for the latter, we've rounded up the best used cars you can buy for £20k.
While a new car should give you refined performance, great economy and unbeatable reliability, a used one can also do much the same while making your money go that little bit further as well. Thanks to the wonder that is depreciation, you can get a nearly new car for much less and if you're willing to trade a bit of reliability for excitement, there are plenty of cars under £20k to help you get your thrills.
Cars like the Audi TTS offer plenty of power, style and driving excitement, while the example we found was priced at just £19,500.
Buying a used car: your complete guide
For those wanting to combine luxury with lower running costs, the 33,000-mile Mercedes C350 e plug-in hybrid on our list offers the usual C-Class refinement, along with great economy and reduced CO2 emissions.
A test drive and full inspection are a necessity with any kind of car, but especially so when you're forking out up to £20,000 on one that has been in the care of another motorist. A clean service history and visible efforts to maintain a car are always good signs, but always exercise caution if a deal seems too good to be true.
Using a bit of nous and patience, there's no reason why you won't be able to pick up your own half price hero, whatever your tastes and requirements might be. The cars below are just some of the options you may come across in this price bracket…
Scroll down to read more about our half-price heroes – all of which can be bought for less than £20,000 – or alternatively discover what's out there in these other price brackets…
The best cars for under £1,000
The best cars for under £2,000
The best cars for under £3,000
The best cars for under £5,000
The best cars for under £10,000
The best cars for under £15,000
Volkswagen Caravelle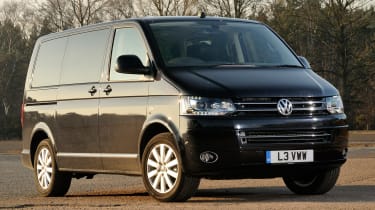 Model: 2.0 TDI DSG SE Tech
Year/reg: 2014/63
Mileage: 82,000
Price: £19,995
Camper-converted Caravelles and Transporters go for big money, and it's a sign of how much demand there is that you'll still pay 20 grand for a six-year-old model with more than 80,000 miles on the clock. That doesn't even get you the kitchen sink – you'll have to fit one of those yourself, along with the cupboards, beds and other amenities for that perfect #VanLife Instagram feed.
Thing is, the Caravelle drives really nicely, with a commanding seating position, plenty of punch, and even the luxury of a DSG automatic. Use it purely as a people carrier and it's spacious and comfortable, too.
Check the latest prices for used Volkswagen Caravelle models on our sister site BuyaCar…
Jaguar F-Pace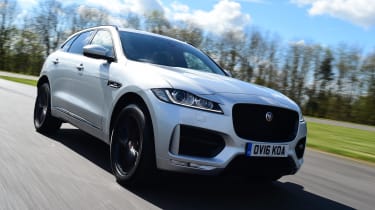 Model: 2.0 Prestige
Year/reg: 2016/16
Mileage: 61,000
Price: £19,970
To dip below the £20,000 mark, you'll probably have to choose an F-Pace with above-average mileage, and you'll also miss out on the smoother, punchier V6 engines. But the trade-off is that you'll get a handsomely styled premium SUV that drives well and has more space than its closest rivals.
That 2.0-litre petrol engine will need a few more revs than the diesel options and it'll consume more fuel, too, so ideally you'll want to stretch beyond our £20,000 limit to find the perfect car. That should also secure an F-Pace with adaptive suspension, which will ride better, although opting for larger wheels doesn't have as big an impact on the car's ride as it does on some SUV rivals.
Check the latest prices for used Jaguar F-Pace models on our sister site BuyaCar…
Audi TTS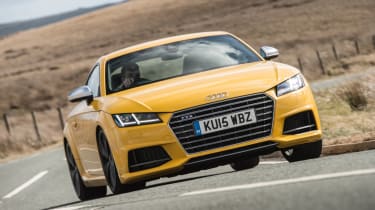 Model: 2.0 TFSI quattro
Year/reg: 2015/15
Mileage: 53,000
Price: £19,500
"The world is your oyster if you're after a sports car at this budget" say our testers. So while the mad money's on a TVR, and for pure driving appeal you might find a Porsche 911, the Audi TTS ticks a lot of boxes. The 306bhp 2.0-litre turbocharged engine delivers a turn of pace to match a modern hot hatchback, and standard quattro four-wheel drive puts every bit of that power down on the road.
TTs have always had striking exterior styling, but the third-generation car's minimalist interior is a stunner too, with jet-like vents and Audi's Virtual Cockpit display. If you need some aural thrills to go with your sports car fix, then high-mileage five-cylinder TT RSs are also in budget.
Check the latest prices for used Audi TTS models on our sister site BuyaCar…
Audi A1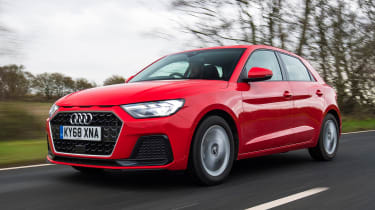 Model: 25 TFSI S line
Year/reg: 2020/69
Mileage: 12,000
Price: £19,200
If you want a supermini from a proper premium brand but you're just not into the retro-modern looks of a MINI, then Audi's A1 is the only real alternative. What might surprise you is that for less than £20,000 you can just about sneak into the latest model, which was only launched in 2018.
This represents a £5,000 saving over new, and there's a lot to like. Visually it's not quite as cohesive as its predecessor, but there's a strong range of petrol engines including this fun 1.0-litre three-cylinder 94bhp 25 TFSI. The interior feels like that of a larger car, while S line trim means 17-inch alloys and sports suspension – that means the A1 is firm, but not punishing.
Check the latest prices for used Audi A1 models on our sister site BuyaCar…
Skoda Karoq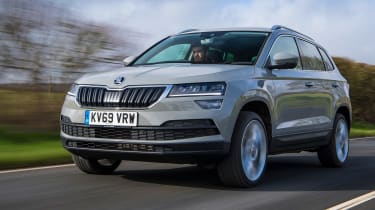 Model: 1.0 TSI 115 SE
Year/reg: 2020/69
Mileage: 4,000
Price: £19,000
The Skoda Karoq is a particularly well judged entrant into the small SUV class. Essentially similar to the SEAT Ateca under the skin, it's about as sensible a family car as you'll find and the model to go for if you don't need the seven-seat option found in the larger Skoda Kodiaq.
Skoda's 'Simply Clever' touches, such as a ticket holder in the windscreen, reversible mats and an ice scraper in the fuel filler are one thing, but a comfortable and logical cabin, easy-going engine range and fine driving manners are another. Some diehard Skoda fans bemoan that the Karoq isn't as fun or as funky as its Yeti predecessor, but the 1.0 TSI engine has more punch than its diminutive size would suggest.
Check the latest prices for used Skoda Karoq models on our sister site BuyaCar…
Mercedes C-Class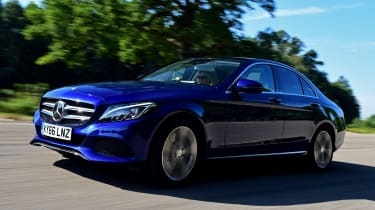 Model: C 350 e Sport
Year/reg: 2017/17
Mileage: 33,000
Price: £18,000
Moving up to the family car class now, and we've found another current-shape Mercedes in the form of the C 350 e. It uses a 208bhp, 2.0-litre turbo four-cylinder and 81bhp electric motor, and it's good for 0-62mph in less than six seconds. More importantly, this plug-in hybrid has CO2 emissions of 48g/km.
The 134.5mpg combined figure will be hard to hit in everyday use, but you'll still get the most from it by plugging it in wherever possible. Otherwise, the usual C-Class benefits remain unchanged: comfort, luxury and a well judged chassis, plus the evergreen cachet of parking a Mercedes on the drive.
Check the latest prices for used Mercedes C-Class models on our sister site BuyaCar…
Citroen C5 Aircross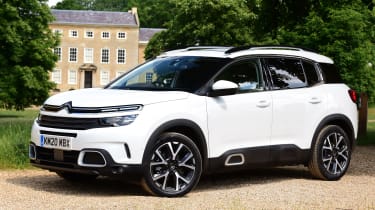 Model: 1.2 PureTech Feel
Year/reg: 2020/20
Mileage: Delivery miles
Price: £18,000
As with the Grand C4 Picasso in the £8,000-£10,000 bracket (Page 44), the C5 Aircross has that Citroen knack of feeling just a little more light-hearted than other cars in this bracket. Characterful styling both inside and out help, plus Citroen's recent (and very welcome) push for cabin and ride comfort at the dismissal of 'sportiness' mean that the C5 Aircross feels more relaxed than its rivals too.
The opportunity to pick up one on delivery miles for less than £20,000 like the one that we found isn't to be missed. What's more, the 1.2-litre PureTech engine has little problem with pulling along the relatively lightweight C5 Aircross while still delivering good economy.
Check the latest prices for used Citroen C5 Aircross models on our sister site BuyaCar…
Mercedes A-Class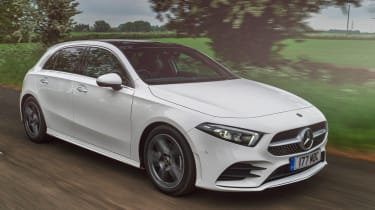 Model: A 180 d Sport
Year/reg: 2019/68
Mileage: 13,000
Price: £17,000
The latest A-Class took the template created by its predecessor and improved it in every way. So there's more refined styling and a cabin design that's as good to use on the move as it is to look at in the showroom. You have to upgrade to higher trim lines for the full effect, but the dual-screen set-up looks great and works well, with buttons on the steering wheel making it easy to navigate.
Ride quality can be a little firm owing to the car's basic rear suspension design, but this diesel is probably the pick of the smaller engines – barely less refined than the petrol 1.3, but a lot more frugal.
Check the latest prices for used Mercedes A-Class models on our sister site BuyaCar…
Source: Read Full Article