Best car polish
Restore a showroom shine to your paint with our best car polish top buys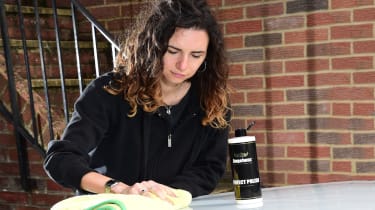 ​Before the detailing revolution, some car care producers used to treat wax and polish as the same thing. That has largely died out as more consumers realised that polishes are designed to improve the finish, while waxes are there to seal in that shine and protect it.
For heavier marks and severely deteriorated paint, more abrasive products should be used. But it's always a good idea to gradually reduce the level of coarseness, just as you would do when finishing bodywork with ever-finer sandpaper.
Best car cleaning tips: the secrets to a perfect finish
How we tested them
There are different levels among polishes and, where possible, we went for the lightest abrasive, as we were looking for the best shine after a set number of passes over our sectioned bonnet. To find the best, we used a pad to ensure even pressure, while control areas were adopted to assess progress and the finish left by our contenders. We also factored in the price.
Results
Meguiar's Ultimate Compound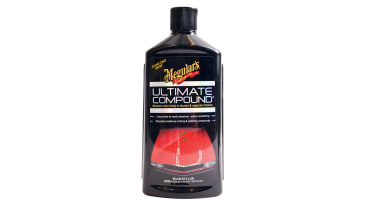 Price: £16
Size: 450ml
Rating: 5 stars
At the low speeds of our rotary machine, a long-time test favourite, Meguiar's coped well and was a match for the new Autoglym Ultra High Definition Polishing Compound, delivering a great finish very easily. You'd need to add pads and a cloth to the kit to match its rival here, but doing so would still bring it in substantially under the Autoglym's price. Ultimate Compound is the pick of the options here.
Buy now from Amazon
Autobrite Direct Cherry Glaze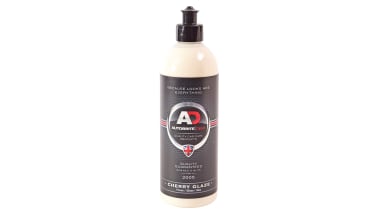 Price: around £10
Size: 500ml
Rating: 4.5 stars
We're normally a bit cautious about using all-in-one products, because they rarely do each of their roles well. Autobrite calls this a polish glaze and wax. We can't vouch for its protective abilities but, as a polish, it's a cracker. Alongside our winner it left the smoothest finish with the least amount of fine marks. It can be applied with a machine polisher or by hand, and buffs easily. It loses here on price, but its protective abilities help justify the greater cost.
Buy now from Amazon
Angelwax Perfect Polish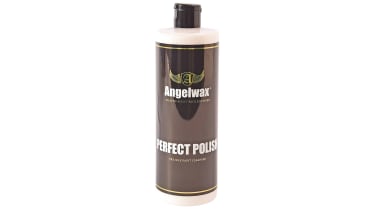 Price: £8.99
Size: 500ml
Rating: 4 stars
In the face of two machine-applied compounds this was like bringing a knife to a gunfight, but Angelwax still fared well. It was a touch behind the leaders and may have struggled at higher speeds and temperatures, but our gentle application suited it.  While not recommended for other than hand application, if nothing else it revealed how much difference a machine polisher can make. 
Buy now from Amazon
Autoglym Super Resin Polish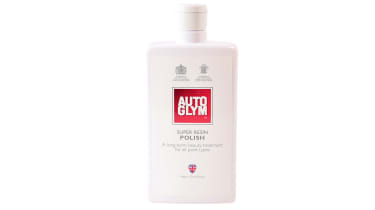 Price: around £14.00
Size: 1l
Rating: 4 stars
For many, this veteran is the go-to polish. It doesn't claim to leave a protective finish, but it did have a revamp a few years ago to improve that aspect. It's another polish that's designed to be used by hand, and it's easy to apply and buff off. It couldn't quite match the finish of the Meguiar's, although it made significant progress on our tired paint and was visibly ahead of other rivals. As always with Autoglym products, it's not the cheapest option, but it does work well.
Buy now from Amazon
Simoniz Diamond Wax & Polish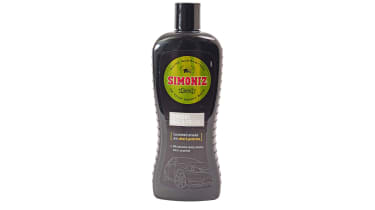 Price: Around £5.00
Size: 500ml
Rating: 4 stars
Combining a wax and a polish in the same product has an old-school ring to it, but this Simoniz product worked well for us. While it was a step behind some rivals, its effect was easy to see next to our control areas. Simoniz calls it a mild abrasive, yet it's good enough to leave a decent finish. A combination of this performance and a cracking price earns it a place among our top four. At a fraction of the cost of most rivals, it's our choice for those on a budget.
Buy now from Amazon
​Autoglym Ultra High Definition Polishing Compound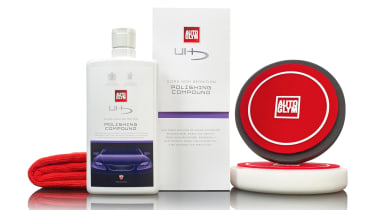 Price: £55
Size: 500ml plus two polishing pads and a microfibre cloth
Rating: 3.5 stars
The kit comes with all you need for the job, but you need to supply your own polisher. And a polisher makes a huge difference to the speed and quality of what can be achieved, which made it tough to separate our contenders. 
This kit works well, with the hard pad doing most of the work and giving a great finish very quickly. There was little between it and Meguiar's. The compound, which isn't suitable for hand application, took a little effort to buff, but the improvement on our test bonnet was impressive. Yet even using Autoglym's prices for the pads and accessories, the compound costs nearly £40, which is hard to justify.
Buy now from Amazon
Want to truly bring out the best results from your polish? Read out list of the best power car polishers here.
Source: Read Full Article