Best bumper shine 2020
Restore your car's black trim with a tough bumper shine protectant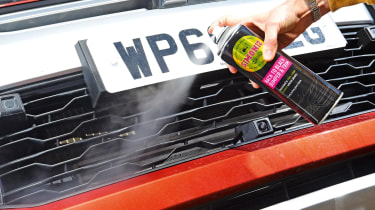 To call these protectants bumper shine is something of a misnomer, given that these days painted bumpers are the norm. But that doesn't mean they're no longer needed, because there is plenty of other trim that still needs to be protected and have its colour restored.
While external plastics have improved a lot since the days when red bumpers turned pink with age, and black ones became prematurely grey, they still need cleaning and looking after. A mitt and car wash will handle the cleaning, but a bumper shine will add the same sort of protection a wax or sealant provides for paintwork.
And these protectants are the long-distance runners of the car care world, with the top performers lasting far longer than the best conventional waxes. We've seen protectants that are still beading water months after the tests have finished, which themselves often run over six to eight weeks.
So which is the one to keep your spoilers and wing mirrors gleaming? We took 15 products and applied each to a length of plastic trim using the maker's instructions. We assessed how easy they were to apply, and the finish achieved. The trim was then left outside for six weeks, and water beading was regularly checked throughout. At the end of the test we also assessed the finish, and took into account price from the maker and online sources.
Verdict
Simoniz Back to Black Bumper & Trim
CarPlan Original Black
Angelwax Enigma Corona
Simoniz Back to Black Bumper & Trim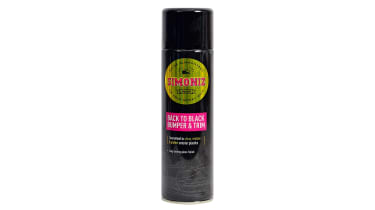 Price: Around £4
Size: 500ml
Contact: www.holtsauto.com
Rating: 5 stars
Various forms of Simoniz's Back to Black have been near the top of our bumper shine test results for years, and this year it wins for the first time since 2013. Its success is based on a top water-beading performance throughout the test, where it was just as strong at the end as it was at the start. It was matched by runner-up CarPlan, but a slightly better starting finish and a small price advantage secured the win.
CarPlan Original Black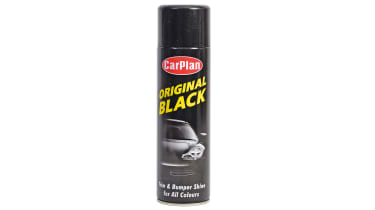 Price: Around £5
Size: 500ml
Contact: www.tetrosyl.com
Rating: 4.5 stars
Much like Back to Black (above), Original Black has been part of our tests for years and is a former winner. The products are also very similar and go on easily, with no need to wipe if applied correctly. Simoniz had the initial edge on appearance, but Original Black was slightly ahead for beading. Both had lost a little of the dark black hue by the end of the test, but they'd done enough to take the top two places.
Angelwax Enigma Corona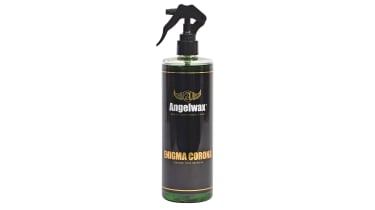 Price: Around £30
Size: 500ml
Contact: www.angelwax.co.uk
Rating: 4 stars
Scottish producer Angelwax has used nano-ceramic technology in this dressing for plastic and rubber. It goes on to a cloth before being applied and buffed off. It's not the fastest water shifter, but the super-dark finish it had at the end of the test was only matched by specialist coatings at several times the cost. Enigma isn't cheap, but it's an impressive performer.
Black Diamond Trim Gel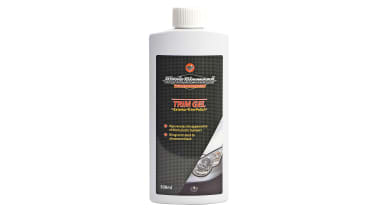 Price: Around £5
Size: 500ml
Contact: www.blackdiamondproducts.co.uk
Rating: 4 stars
Another solid performance from Black Diamond, which adds a gel to our final four. Like Angelwax it needs to be applied with a cloth, worked into the surface and then lightly polished. That's a bit more effort than an aerosol, but you do avoid overspray if it's applied carefully. It couldn't match our top two for beading, but it was at the head of the chasing pack, and left a similar finish at the end.
Also tested
Autoglym Bumper & Trim Gel
Diamondbrite Replenish
Gyeon Q2 Trim
Gtechniq C4
Kenotek Tyre & Plastic Gloss
Meguiar's Ultimate Black
Simoniz Jet Black Trim Restorer
Stjärnagloss Arn Gummi
Stoner Trim Shine
Turtle Wax Wet'n'Black Trim & Tyres Gel
ValetPRO Black to the Future
Source: Read Full Article