Best battery chargers 2020
Which leads the charge to keep you motoring this winter? We test 10 to find the best battery charger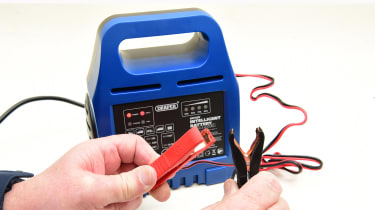 Batteries are the main cause of cold-weather breakdowns, so it pays to have a charger. A good one will not only get you on your way but will also keep the battery in top condition with regular maintenance. Plus, for infrequently used cars, a charger will keep them ready to go when you want.
But choosing a charger is not easy due to the bewildering array of charging modes, battery types and specs, so which is the one to keep you motoring? We went to CTEK's Swedish R&D centre to find out.
How we tested them
We were able to test the complex features and functions of modern chargers thanks to CTEK's extensive facilities, which allowed us to assess more than 80 aspects. At the heart of our tests was the time taken to charge a deflated battery; we noted how this was done, plus the rate, too. We also checked electromagnetic compatibility (EMC) interference to industry standards, sparks during misuse and the operating instructions. Charging modes, battery types and lead lengths and clamps were also taken into account before we factored in prices from a range of online sources.
Verdict
The results at the top were close, but CTEK hangs onto its crown this time, with the MXS 5.0 combining performance, versatility and usability in a safe, cost-effective package. Close behind was Sealey's keenly priced Autocharge650HF, with the Maypole MP7428 completing the podium.
1. CTEK MXS 5.0
2. Sealey Autocharge650HF
3. Maypole MP7428
Reviews
CTEK MXS 5.0 – Best buy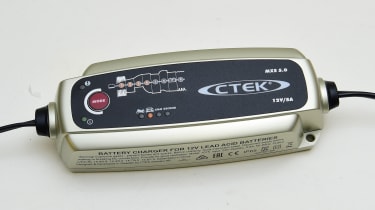 Price: Around £60
Mean current supply: 4.6 amps
Rating: 5 stars
Contact: www.ctek.com
There were faster chargers, but none ticked as many boxes as this CTEK, which delivered close to its five- amp rating. While others fell foul of the EMC and misuse tests, the MXS 5.0 was untroubled and cleared all the hurdles. Instructions are clear, progress easy to follow, and the controls simple to use. The leads could be longer, but we liked the supplied flying lead and the bag to keep everything together. A class act.
Sealey Autocharge650HF – Recommended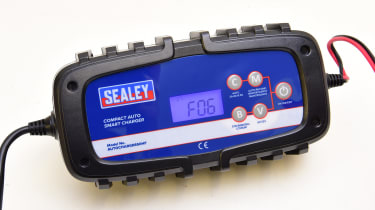 Price: Around £44
Mean current supply: 5.1 amps
Rating: 4.5 stars
Contact: www.sealey.co.uk
If you can't stretch to the CTEK, you get a lot for your money with Sealey's 6.5-amp charger. It's much bigger than our winner, with similar-length leads and good clamps. While it couldn't get as close to its stated rating, the Sealey still managed to beat our winner to the 80 per cent charge point when you could start a car by almost two hours. It was on to take the win, before it lost points for sparks in the misuse tests.
Maypole MP7428 – Recommended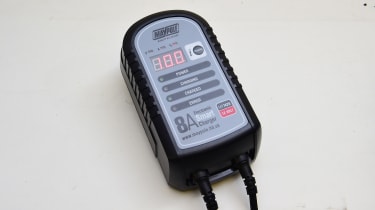 Price: Around £45
Mean current supply: 4.5 amps
Rating: 4.5 stars
Contact: www.screwfix.com
Another keenly priced charger, this time from the Screwfix line-up. If you find chargers baffling this could be for you, because everything is automatic. The only adjustment is to the display, which defaults to voltage, but can also show charge rate and progress. Short bursts of power when charging meant it could deliver just over half its rated eight amps and hit 80 per cent at close to the same time as the CTEK. Problems in the EMC test meant it finished third.
Clarke IBC7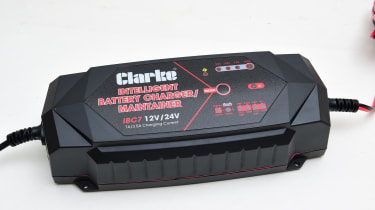 Price: Around £60
Mean current supply: 5 amps
Rating: 4 stars
Contact: www.machinemart.co.uk
This Clarke dwarfs our winner and has usefully longer leads. In the charge test it finished within a few minutes of the Sealey and delivered a similar charge rate, which was a fair bit off the IBC7's seven-amp rating. It cleared the misuse tests but fell foul of the EMC check, and that prevented a higher finish. The instructions had tiny text in the drawings, and the controls could be easier to use.
Ring SmartCharge Premium+ RSC612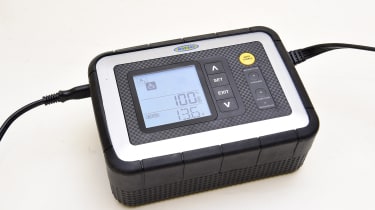 Price: Around £73
Mean current supply: 11.8 amps
Rating: 3 stars
Contact: www.ringautomotive.co.uk
If you just want to get going as quickly as possible after a flat battery, this is ideal. It hit 80 per cent charge in just under 4.5 hours, an hour quicker than the next best, and got close to its 12-amp rating. The SmartCharge can check the alternator and battery state, but you pay for the extra versatility. The clamps had the smallest jaws, causing issues, and this is not the most intuitive unit to use.
Ring Smart Battery Charger & Maintainer RSC804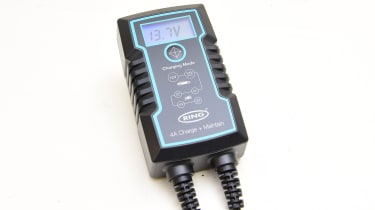 Price: Around £40
Mean current supply: 2.9 amps
Rating: 3 stars
Contact: www.ringautomotive.co.uk
With the joint lowest rating here, it was no surprise to see the small Ring finish last in the charge test, needing more than 18 hours to hit the 80 per cent charge. The basic display shows voltage and charge progress, and the only choice for drivers is between standard and winter modes. Those seeking more detail will also be disappointed by the superficial instructions. It also looks poor value compared with the Sealey and Maypole.
Victron Blue Smart Charger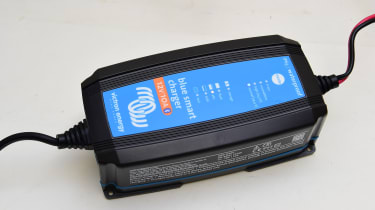 Price: Around £105
Mean current supply: 10.37 amps
Rating: 3 stars
Contact: www.victronenergy.com
Uniquely here, this unit can be controlled and monitored via a phone app, yet there was occasionally some lag in information between the two. It also exceeded its 10- amp rating in the charge test, chasing the Ring in getting to 80 per cent in just under six hours. There's a mode for lithium batteries, but for the other types it works with you'll need to keep the box, because the instructions are patchy. Not cheap, plus it had problems in the misuse tests.
Halfords Smart Plus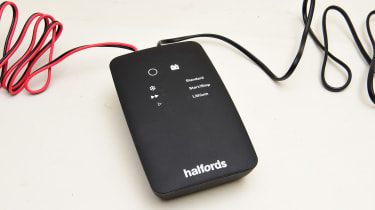 Price: Around £60
Mean current supply: 3.5 amps
Rating: 3 stars
Contact: www.halfords.com
The minimalist design of the display and controls does this Halfords unit no favours, with the lack of obvious buttons and dim light making it hard to fathom. Fortunately, the instructions were one of the best on test, but this does not overcome the lack of a progress display. With a rating of just four amps claimed, the Smart Plus took almost 15 hours to reach 80 per cent – not what we'd expect from a charger at this price. It is pretty versatile thanks to a lithium mode, but that's not enough to overcome the excessive levels in the EMC test.
Draper Intelligent Battery Charger BCIB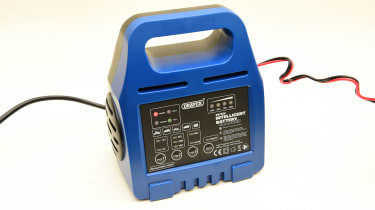 Price: Around £55
Mean current supply: 6 amps
Rating: 3 stars
Contact: www.drapertools.com
There's an old-school feel to this unit, with the large casing reminiscent of the old 'toaster' chargers. There no dust or moisture protection, while most rivals are rated to IP65. It was a way off its eight-amp rating, needing more than 10 hours to charge to 80 per cent. The display and controls are easy to work out and use, yet the leads were on the short side. It cleared the misuse check with no sparks, but tripped up in the EMC test chamber.
Streetwize Car & Motorcycle Smart Battery Charger SWIBC1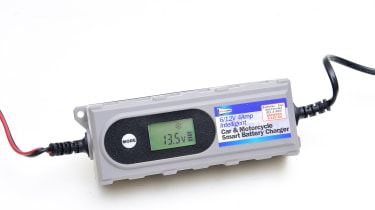 Price: Around £28
Mean current supply: n/a
Rating: Not rated
Contact: www.streetwizeaccessories.com
We were keen to see how this four-amp budget Streetwize would fare against the similarly rated yet more expensive chargers from Ring and Halfords, but it failed before we could set it going on our test battery. A single reverse-polarity test was its undoing, with erratic performance after that indicating the delivery of a very high voltage before going into error mode. We managed to EMC test it before it was damaged, and it failed.
Source: Read Full Article