Best 7-seater cars on sale 2020
We pick the best 7-seat cars that provide the best practicality across a wide range of price points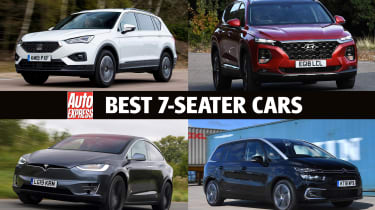 Since the early eighties, British buyers have taken the idea of driving a 7-seater to their hearts, but what's the best 7-seat car on sale right now? Here we round of the top 10, so if you're in the market for a car with extra seats, look no further.
The concept of a 7-seater was pioneered in Europe by the original Renault Espace, but it took almost a decade for rivals to catch on in a big way. Those multi-purpose vehicles (MPVs) offered a safe, comfortable and practical way to transport big families, and have since become favourites of cab drivers up and down the country.
• Best SUVs to buy right now
Remarkably, the MPV market is on the wane today; a victim of the success of the SUV. These models offer much of the seven-seat practicality of a people-carrier in a more stylish and desirable package. SUVs generally sport the same sort of boxy shape as an MPV, which helps to make the most of interior space. However, it's worth bearing in mind that the raised floor necessary for the SUV look and (occasional) four-wheel-drive capability eats into the outright space inside, particularly for those who are travelling in the third row of seats.
But the proliferation of seven-seat SUVs is a good thing for the motorist, because it means more choice. On the one hand, there are models such as the Citroen Berlingo, which are based upon vans for absolute practicality, and conventional MPVs such as the Citroen Grand C4 SpaceTourer. On the other, there is an increasing range of SUVs, some with proper seven-seat capability like the SEAT Tarraco and Skoda Kodiaq; others have a '5+2' layout with the rear seats best suited to occasional use.
Our list focuses on the best choices for carrying seven regularly, and covers models costing a little over £20,000 right through to a £90,000 electric SUV. It goes to show that if you need the space, there's something for everyone.
7-seat SUVs vs 7-seat MPVs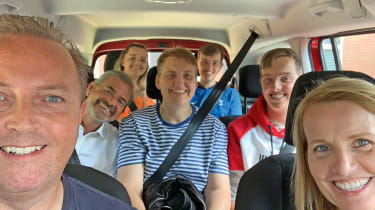 Generally speaking, the needs of somebody buying a seven-seat car are different from most. Practicality and running costs generally come ahead of driving dynamics for those looking for family transport. But the same rules apply whatever car you're buying: do your research, understand your finance options and work out your budget, however you're paying for it.
The first thing to decide is whether you want an MPV or an SUV, or to know which is best for your needs. Generally, MPVs offer more space, but SUVs are more stylish. For most buyers, an SUV will offer more than enough room, andmost have the option of four-wheel drive – ideal if you tow a caravan or live in a remote area. With their square appearance, lower floors and (mostly) higher rooflines, MPVs provide useful extra head and legroom for all passengers.
• Best MPVs and people carriers
Another important consideration is whether you want to go for petrol or diesel. Here the decision is a little more clear-cut. Seven-seaters are generally larger and heavier than your regular car, so diesel will be the better choice for most.In fact, some cars here are diesel only, although you'll also find a number of plug-in hybrids and even a fully electric model. You'll need a home charger to make full use of these though.
You should also check the cars' interior space and build quality. If you have young children, then soft leather trim might not be the best idea. Make sure all your child seats can fit in; while some cars have three Isofix mountings across the middle row, you may not be able to squeeze three abreast. And be sure to check that the boot is big enough with all seven seats in place.
Best 7-seaters cars to buy now
SEAT Tarraco
Skoda Kodiaq
Peugeot 5008
Land Rover Discovery
Volvo XC90
Hyundai Santa Fe
Citroen Berlingo XL
Peugeot Rifter Long
Citroen Grand C4 SpaceTourer
Tesla Model X
Scroll down or click on the links above to read more about the best 7-seat cars to buy right now…
1. SEAT Tarraco
Prices: £28,335-38,605Engine: 1.5, 2.0-litre petrol; 2.0 diesel (150, 190PS)Trims: SE, SE Technology, SE First Edition, Xcellence, Xcellence Lux, Xcellence First Edition, Xcellence First Edition PlusEconomy: 31-47.9mpgCO2: 129-152g/km0-62mph: 8.0-9.8 seconds 
Our choice: SEAT Tarraco 2.0 TDI 150PS SE Technology 
It may be a relative newcomer to the class, but the SEAT Tarraco has taken the top spot, just beating its Skoda Kodiaq cousin. There are lots of similarities between the two cars; both use the VW Group's tried-and-tested MQB platform, feature a near-identical engine range, and are more or less the same size. However, we reckon the SEAT is better to drive, offers greater value for money and is a little more interesting to look at.
The Tarraco comes with two or four-wheel drive and a wide choice of petrol and diesel engines. Seven seats are standard, although the 1,775-litre boot is shy of the Kodiaq's maximum. Regardless, this is still a large family car – one that's perhaps best suited to those who need five seats and a big boot most of the time, with occasional seven-seat capability.
Our preferred model is the 148bhp 2.0-litre diesel with two-wheel drive and a manual gearbox for the best mix of power and running costs. SE Technology trim offers the best value, bringing an impressive kit list that means it's a great all-round family car. 
Click here for our SEAT Tarraco in-depth review 
2. Skoda Kodiaq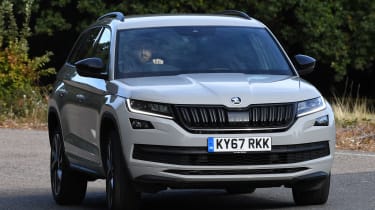 Prices: £25,510-41,985Engines: 1.5, 2.0-litre petrol; 2.0-litre diesel (150, 190, 239PS)Trims: SE, SE L, Scout, SportLine, Edition, L&K, vRSEconomy: 30.1-45.6mpgCO2: 131-167g/km0-62mph: 7.0-10.0 seconds
Our choice: Skoda Kodiaq 2.0 TDI 150 manual 2WD SE
Much like its SEAT Tarraco relative, the Kodiaq is a large family SUV that majors on practicality, space and value.  There's a very similar range of engines available, even lower trims bring a decent level of standard equipment and – while most won't be able to tell a difference – the Skoda is slightly more forgiving on a bumpy road than its SEAT cousin. It's a good choice if you favour comfort over outright poise.
There's a little more space in the Kodiaq than you'll find in a Tarraco, but it's still best considered as a five-seater with the ability to carry two extra passengers when required. The middle row slides fore and aft to adjust passenger and boot space, and the latter peaks at 2,005 litres with all seats folded.
The manual Kodiaq can only be specified in conjunction with four-wheel drive, but it's a strong system that works surprisingly well off the beaten track for a large family car. Those who need a faster seven-seater can try the Kodiaq vRS. It's expensive, but has an interesting character and a 235bhp twin-turbocharged diesel. 
Click here for our Skoda Kodiaq in-depth review 
3. Peugeot 5008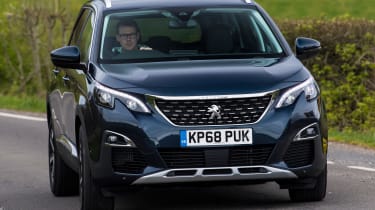 Price: £27,230-39,200Engine: 1.2-litre, 1.6-litre petrol; 1.5, 2.0-litre dieselTrims: Active, Allure, GT Line, GT Line Premium, GTEconomy: 35.2-56.3mpgCO2: 107-129g/km0-62mph: 8.3-11.8 seconds
Our choice: Peugeot 5008 1.5 BlueHDi 130 Allure
The 5008 is a stylish, more luxurious alternative to rivals like the Skoda Kodiaq and SEAT Tarraco. It's a sharp, handsome SUV with a dramatic interior that feels special. It's well equipped, too, with Allure trim adding a 12.3-inch digital dash, 3D sat-nav, climate control, a reversing camera and a safety pack that adds blind-spot detection and lane-keep assist to make motorway journeys a painless experience.
The Peugeot rides smoothly and is just as comfortable as its closest rivals. It doesn't offer the last word in driving dynamics, but few SUVs of this size can; instead, the 5008 concentrates on comfort and practicality. There's a range of diesel and petrol models to choose from, with the majority feeling a little underpowered; the 1.5 BlueHDi is cheaper to buy and run, but isn't the most satisfying to use. Plump for the 2.0-litre version if you like a little extra oomph. 
With the seats in the third row folded there's a 702-litre boot, while the middle row slides back and forth as required to give passengers more space if needed. Getting into those rearmost seats isn't the easiest job, but they're still perfectly usable by adults. Elsewhere, the 5008 has 38 litres of cubby space dotted around the cabin, which is a nice family-friendly touch.
Click here for our Peugeot 5008 in-depth review 
4. Land Rover Discovery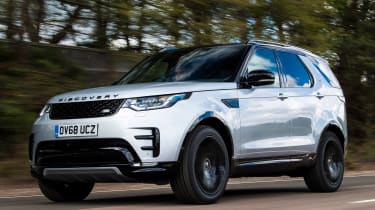 Prices: £47,745-70,760Engines: 2.0-litre petrol; 2.0-litre, 3.0-litre dieselTrims: S, SE, Landmark, HSE, HSE LuxuryEconomy: 23.6-33.6mpgCO2: 194-222g/km0-62mph: 7.5-8.7 seconds
Our choice: Land Rover Discovery SD4 SE 
This is one of our favourite cars on sale, seven-seater or otherwise – and with good reason. The Discovery's modern styling, impressive practicality and unparalleled off-road ability all appeal, along with its impeccable road manners, plush ride, excellent refinement and upmarket image.
It's expensive, but even entry-level S models get a good level of standard kit. We prefer SE trim, though, which features leather upholstery, LED headlights and a suite of upgraded tech. Stepping up the range brings more luxury, while an extensive options list adds driver-assistance and safety systems together into logical packages.
There is a range of petrol and diesel engines, but most will be best served by the entry-level 237bhp 2.0-litre SD4 diesel. It's relatively frugal, given the Discovery's size, yet still offers good performance.
With its third row folded away, the Land Rover has a cavernous 1,137-litre boot. But crucially the Discovery is the best car in its class for seating seven adults in comfort; even those in the very back shouldn't find much to complain about.
Click here for our Land Rover Discovery in-depth review 
5. Volvo XC90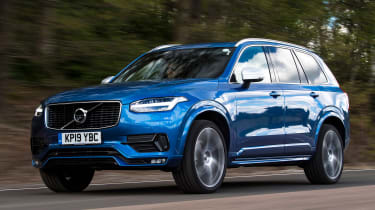 Prices: £52,235-67,045Engine: 2.0-litre mild-hybrid diesel; 2.0-litre petrol (250, 310PS); 2.0-litre PHEV (390PS)Trims: Momentum, Momentum Pro, R-Design, R-Design Pro, Inscription, Inscription ProEconomy: 26.2-113mpgCO2: 55-192g/km0-62mph: 5.8-7.9 seconds 
Our choice: Volvo XC90 B5 Momentum
Classy styling, a luxurious interior and varied engine range all make the Volvo XC90 a great alternative to the Land Rover Discovery, especially if you want a plug-in hybrid SUV.
While the XC90 falls a little short of the Discovery in terms of interior space, it's a very practical car. There's loads of room for five people plus luggage, but the rearmost seats are only really suitable for occasional use. Elsewhere, the XC90 gets a great infotainment system, lots of safety equipment and some of the best seats available in a production car.
Key to the XC90's appeal is its engines. The best choice for most is likely to be the new mild-hybrid B5 diesel with its good combination of performance and economy; at the other end of the price range, the T8 Twin Engine plug-in hybrid is a fast yet frugal choice if you keep its batteries topped up. 
Click here for our Volvo XC90 in-depth review 
6. Hyundai Santa Fe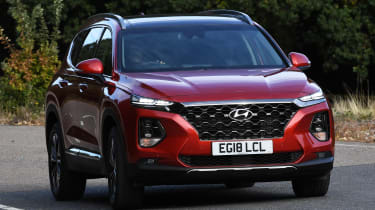 Prices: £33,450-43,320Engine: 2.2-litre dieselTrims: SE, Premium, Premium SEEconomy: 39.8-43.5mpgCO2: 150-164g/km0-62mph: 9.3-9.5 seconds
Our choice: Hyundai Santa Fe 2.2 CRDi Premium 2WD auto
Those who want to stand out would do well to look at the Hyundai Santa Fe, with its bold styling, great build quality and impressive levels of standard equipment. It sits at the top of the South Korean manufacturer's range for size, price and luxury, and is a good match for the likes of the Skoda Kodiaq and Peugeot 5008, but has the added bonus of Hyundai's five-year, unlimited-mileage warranty.
All models get Apple CarPlay and Android Auto connectivity as standard, along with a range of active safety and driver-assistance systems, including adaptive cruise control.
Space is good, with loads of room in the middle row versus its rivals – although as is often the case, the rearmost seats are best saved for children. The interior feels high-quality and is a very comfortable place to spend time, helped in part by the car's great ability to deal with the bumpiest of roads.
There's just one engine – a 2.2-litre diesel with 197bhp – but it's a good match for the car and provides a good balance of economy and performance for a car of this size and weight. Sticking with two-wheel drive will lower the initial asking price and maximise savings in running costs.
Click here for Hyundai Santa Fe in-depth review 
7. Citroen Berlingo XL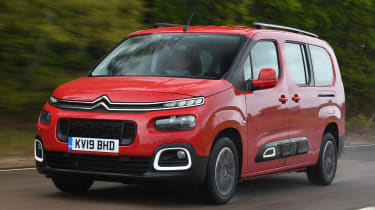 Prices: £21,350-26,650Engines: 1.5-litre diesel (100, 130PS); 1.2-litre petrolTrims: Feel, FlairEconomy: 37-51.6mpgCO2: 115-131g/km0-62mph: 10.7-12.9 seconds
Our choice: Citroen Berlingo XL BlueHDi 130 Flair
When space is your uppermost concern, van-based MPVs are impossible to beat. With a boxy exterior, a fairly low floor and a high roof, they're perfect for large families or those with hobbies requiring lots of space. The Citroen Berlingo XL fits the brief perfectly, but don't think you're simply getting a basic van with seats bolted in.
The Berlingo is based on PSA's EMP2 architecture, which also underpins models such as the Peugeot 308 and Vauxhall Grandland X, so it's more car-like to drive than some rival van-based MPVs. The XL version is around 35cm longer than the five-seater to make room for the third row, and practical highlights include sliding rear doors, decent head and legroom in all three rows, and even a usable boot with 322 litres of room when all seats are in place.
And the drawbacks? There aren't as many as you might think. The interior plastics are more robust than plush, and the driving experience is far from engaging. But while the steering feels remote, the ride is perfectly acceptable and visibility is good.
You might expect a 1.5-litre diesel to feel weedy in such a big car, but it's quiet and perfectly up to the task in most situations. Regular motorway users may want to choose the 130PS engine; the 100PS model requires commitment to make progress.
Click here for our Citroen Berlingo in-depth review 
8. Peugeot Rifter Long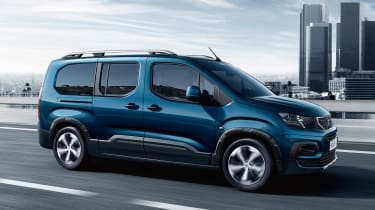 Prices: £22,165-27,915Engines: 1.5-litre diesel (100, 130PS); 1.2-litre petrolTrims: Active, Allure, GT LineEconomy: 37-51.6mpgCO2: 116-132g/km0-62mph: 10.7-12.9 seconds 
Our choice: Peugeot Rifter BlueHDi 130 Allure
If you think the Peugeot Rifter seems familiar, you'd be right – it's mechanically identical to the Citroen Berlingo XL and Vauxhall Combo Life. So close are the three that your choice will likely come down to dealer preference and which brand has the keenest finance.
The 130PS diesel gets the nod, although urban owners might want to consider the 1.2-litre petrol motor. It's punchy and better suited to short journeys than the diesels, while it comes as standard with a sweet-shifting eight-speed automatic.
The main difference between the Rifter and its siblings is Peugeot's i-Cockpit layout. This adds a digital dash and smaller steering wheel, although this set-up won't be to all tastes. However, there's also a remarkable 180 litres of storage space in the cabin; the second row of seats folds into the floor; and the third row can be removed.
Click here for our Peugeot Rifter in-depth review 
9. Citroen Grand C4 SpaceTourer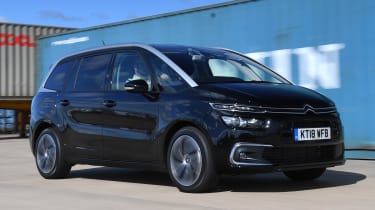 Prices: £26,275-33,070Engines: 1.5-litre diesel, 2.0-litre diesel; 1.2-litre petrolTrims: Feel, Flair, Touch EditionEconomy: 36.5-51.6mpgCO2: 101-126g/km0-62mph: 10.0-10.9 seconds
Our choice: Citroen Grand C4 SpaceTourer BlueHDi 120 S&S Flair 
No other people-carrier can offer the same blend of style, practicality and comfort as this Citroen, and even though it has been on the market for quite a few years, a continual series of revisions has kept it fresh.
Its interior is a particular highlight. The huge amount of glass means the cabin is bathed in sunlight, providing one of the airiest interiors on the market.
The diesels are the better bet because they make shorter work of longer motorway drives, particularly if all seven seats are occupied. Talking of which, a brilliant folding mechanism aids access to the third row. 
Click here for our Citroen Grand C4 SapceTourer in-depth review 
10. Tesla Model X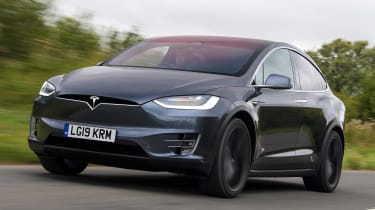 Prices: £73,900-90,500Engines: Electric motorTrims: Standard Range, Long Range, Performance, Performance LudicrousCO2: 0g/km0-62mph: 2.9-4.6 secondsRange: 230-315 miles 
Our choice: Tesla Model X Long Range 
Regardless of whether you consider it an SUV or a crossover, the Tesla Model X is a fine way to transport seven in comfort. Access to every seat is superb thanks to the upwards-opening 'Falcon Wing' doors, which use sensors to ensure they can open sufficiently to allow access in the tightest parking spaces.
The interior is wonderfully spacious, because the EV drive system means there's no need for any compromise in the Tesla's packaging. It's a feeling emphasised by a minimalist interior that shuns buttons and dials for a huge portrait-style touchscreen.
Despite measuring more than five metres in length and 2.2 metres wide, the Model X isn't intimidating to drive. It also features Tesla's AutoPilot driving assistance and superb performance, with 0-62mph times as low as 2.9 seconds. The mid-spec Long Range is our top pick, with an official range of 315 miles and the ability to charge the battery to 80 per cent capacity in half an hour using one of the firm's Superchargers. 
Click here for our Tesla Model X in-depth review 
What's your favourite 7-seat car? Let us know your thoughts in the comments section below…
Source: Read Full Article