Bentley Mulliner's Continental Equestrian Edition Shows Off New Collections Service
If the Bentley Mulliner Bacalar revealed earlier in the week is a bit too extravagant for your tastes, the Crewe-based luxury car brand has revealed a somewhat toned-down alternative.
The Continental GT Convertible Equestrian Edition is more than just a car however. As a one-of-a-kind example, Bentley Mulliner intends the EE to show off the vehicle customization services it offers Bentley customers.
Bentley Mulliner calls the service "Collections". It's one of three specializations at Mulliner, along with the Coachbuilt service we saw with the Bacalar, and the Classic service that restores old cars and creates continuation models.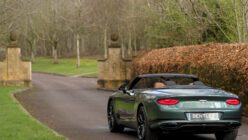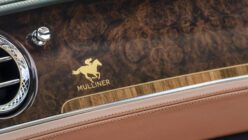 The Equestrian Edition brings together some of the work Mulliner can perform. For starters there's the exterior paint, a specially commissioned color it calls Spruce. Mulliner pairs up the dark green to the Blackline specification, which covers over the chrome brightwork with black gloss. That also extends to the gloss black, 22-inch Mulliner wheels.
On the interior, the EE sports Mulliner's famed diamond quilt stitching. This includes not only the leather seats, finished in saddle hide, but the tweed — a fabric synonymous with the country set — door cards and rear quarter panels.
You'll also find high density stitching, and marquetry in the dash panels. The now-expected walnut burr veneer is mixed with box wood and gold detailing, in the shape of a horse-and-rider motif. That also appears on all four seats.
Bentley Bristol commissioned the one-of-one car, for an unknown customer. However Bentley showcased the car at celebrated racehorse trainer Jonjo O'Neill's Jackdaws Castle. That's 10 miles from the Cheltenham Racecourse that holds an annual equestrian festival and one of the richest national hunt races in the world — which Bentley says inspired the car.
One thing Bentley hasn't noted is the final build price of the car, though given that the standard car can reach $320,000 before Mulliner gets its hands on it we imagine it won't be cheap. However, individuality is the ultimate luxury, and if you have to ask…
Source: Read Full Article