Bentley Continental GT3 to take on Pikes Peak with e-fuel power
Bentley kickstarts its synthetic e-fuel development programme with an attempt on the Pikes Peak record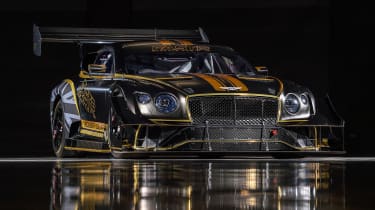 Bentley has revealed that it is returning to the Pikes Peak International Hillclimb in 2021 with a version of its Continental GT3 racer modified to run on synthetic fuel. 
Bentley, which holds records for the fastest production car and SUV to take on the 12.42-mile course, will enter the Continental GT3 Pikes Peak in the Time Attack 1 class – a division for production based racing machinery. 
Volkswagen ID.R sets world record in China
In 2018, the brand claimed an unofficial record for the fastest production SUV up the climb with the Bentayga. While in 2019 the Continental GT took the record in the Time Attack 2 class for production cars – a feat the brand marked with a Pikes Peak special edition version of its grand tourer that had a production run of just 15 units. 
Bentley points out that its new e-fuel racer will be the first of its cars to compete using renewable fuel, and that it looks ahead to a goal of offering synthetic fuels to its customer base in the future. 
The Pikes Peak Continental GT3 is a Continental GT3 chassis with considerable modifications, most obvious to the naked eye being the new aerodynamic package. Typical of a Pikes Peak car, the GT3 swaps out its circuit regulation rear wing for a huge new one, and there's a vast rear diffuser arrangement too. The rear window has been replaced with a double air scoop, while the front end gets a new two-plane splitter.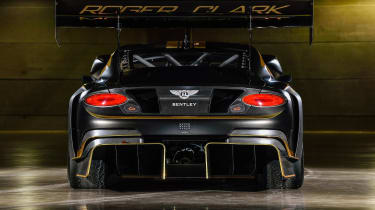 Power is taken directly from the GT3 racer in the form of a turbocharged 4.0-litre V8 with significant modifications of its own. Bentley says it has not yet finalised the final blend of e-fuel the engine will run on, but claims that even at the 9,300ft altitude of the Pikes Peak start line, it will develop "significant" power together with a potential 85 per cent reduction in tailpipe emissions. 
Bentley has committed to becoming a fully electric brand by 2030 but will still produce combustion engined cars for the next nine years. 
The brand claims that more than 80 per cent of all Bentleys ever made are still on the road, and the company's interest in e-fuels is driven by a desire to see owners of combustion Bentleys – classics and yet to be built cars – continue to enjoy their cars after the company goes fully electric. 
Bentley engineering boss Matthias Rabe said: "We are delighted to be returning to Pikes Peak for a third time – now powered by renewable fuel, as the launch project for another new element of our Beyond100 programme. Our powertrain engineers are already researching both biofuels and e-fuels for use by our customers alongside our electrification programme – with intermediate steps of adopting renewable fuels at the factory in Crewe and for our company fleet."
The 2021 Pikes Peak International Hillclimb will take place on 27 June.
Check out the best track day cars you can buy here…
Source: Read Full Article