Banned UK number plates: the 20-plate car registrations too rude for the road
The DVLA has released its bi-annual list of banned UK number plates deemed too distasteful for the road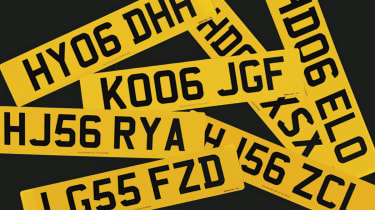 M20 RON, BU20 GER and A20 RSE are just three of the new 20-plate registrations that will never see the light of day, with the Driver and Vehicle Licensing Agency (DVLA) having released the latest list of number plates that are just too rude for the road.
The 69-plate that arrived in September 2019 brought classics such as SH69 TTE, HU69 NOB, DO69 POO, and now they've been joined by the likes of UD20 UGY, NO20 NOB and YE20 WAR.
New car sales 2020: Registrations down 2.9 per cent in February
Deciding which number plates need to be suppressed every six months is something the DVLA takes very seriously. The task isn't left to a computer, but instead is the result of a bi-annual meeting as the Swansea-based public body, where experts carefully examine every potential combination of letters and numbers to ensure nothing offensive slips through.
It's bad news for anyone who wanted to reference narcotics with their 20-plate car: GA20 NJA, HA20 SH and SM20 ACK have all been blacklisted. Meanwhile, Brexiteers wanting to celebrate the UK's departure from the European Union will be sad to see that EU20 OUT, EU20 OFF and EU20 GON are also banned from the roads.
A spokesperson from the DVLA said: "The vast majority of registration marks are made available, but the Agency withholds any combinations of numbers and letters that may cause offence, embarrassment or are in poor taste."
In spite of the every-growing list of banned number plates from over the years – many of which are too distasteful for us to publish – there are still around 50 million private number plates on sale for drivers to buy, costing from as little as £250. The DVLA makes an estimated £160 million per year from sale of private number plates.
Newly banned 20-plate registrations
Here are some other amusing 20-plates the DVLA has elected to ban.
| | | |
| --- | --- | --- |
| AS20 HOL | GO20 HEL | BS20 TRD |
| EU20 BAD | GB20 GUN | NO20 ARM |
| PE20 RVT | BO20 OCK | MU20 DER |
| NO20 JOB | TO20 SRR | MY20 MUF |
| GB20 FKD | BU20 GRD | MU20 GER |
Have you ever owned a personalised number plate? Tell us about it in the comments…
Source: Read Full Article