Banned car number plates: the blacklisted 23-reg combinations revealed
DVLA has released the list of number plate combinations deemed too rude for the road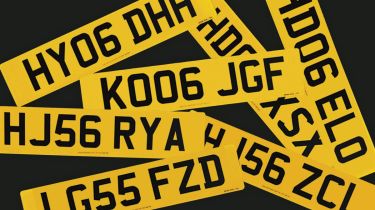 The latest list of banned number plate configurations has been released, revealing which 23-reg configurations the Driver and Vehicle Licensing Agency (DVLA) has deemed too inappropriate for public viewing.
There are certain topical issues that have clearly been thoroughly discussed at the Swansea-based public body. For a start, the ongoing war in Ukraine is clearly forbidden from being referenced via number plate – WA23 RUS, WA23 UKR and YE23 WAR are all banned.
New car sales 2023: seventh consecutive month of growth
Covid-19 appears to still be a touchy subject, with CO23 ONA and CO23 RNA blacklisted. The same goes for Brexit – EU23 BAD and EU23 OFF have been prohibited. Plus, it's bad news for any drug dealers shopping for private plates, as GA23 NJA is also unavailable.
The surprisingly lengthy list was sent to Auto Express following a Freedom of Information request. It features a wide variety of banned 23-plate combinations, many of which need no explanation – including AA23 RSE, BA23 TRD, BO23 OKS, EA23 POO, FF23 KED and PU23 SAY to name just a few.
The topic of banned number plates combinations may seem light-hearted, but it's something the DVLA has to take seriously, holding meetings before each new plate format is released – which happens twice a year – to ensure no inappropriate combinations end up on the road.
UK fuel duty freeze and increased pothole investment announced in 2023 Spring Budget
The criteria for plates to be banned is if they "may cause offence, embarrassment or are in poor taste". The DVLA points out that it's only a small minority of combinations that end up on the suppressed list, with the vast majority of registrations being publicly available.
You can find the full list of banned 23-plate combinations below. Please note that some of these are more explicit than those we've picked out and may cause offence or distress.
Full list of banned 23-reg plates
| | | |
| --- | --- | --- |
| *D23 UGY | EU23 WAR | NE23 RRO |
| *D23 UNK | FA23 NNY | NG23 GAR |
| *N23 GAR | FE23 ATE | NG23 GER |
| *N23 GAS | FF23 GOT | NG23 GRR |
| *N23 GER | FF23 KED | NN23 GAA |
| *N23 GGA | FF23 KER | NN23 GAR |
| *N23 GGR | FK23 RUS | NN23 GAS |
| *N23 GGR | FK23 UKR | NN23 GAZ |
| *N23 GRO | FK23 VAJ | NN23 GER |
| *N23 GRR | GA23 EDD | NN23 GGA |
| *N23 GRS | GA23 LOW | NN23 GGR |
| *N23 GRZ | GA23 NJA | NN23 GRR |
| *N23 GUR | GA23 OMB | NN23 GUR |
| *S23 LAG | GB23 BAD | NO23 ARM |
| *T23 WAT | GB23 BOM | NO23 BLK |
| AA23 HLE | GB23 DED | NO23 COP |
| AA23 HOL | GB23 DWN | NO23 END |
| AA23 NAL | GB23 FKT | NO23 ERS |
| AA23 OLE | GB23 GNG | NO23 FUZ |
| AA23 RSE | GB23 GUN | NO23 GAY |
| AA23 RSE | GB23 HTR | NO23 LAC |
| AA23 RYN | GB23 KLL | NO23 LAK |
| AA23 YAN | GB23 KLR | NO23 LCK |
| AA23 YAN | GB23 KLS | NO23 LEZ |
| AB23 ORT | GB23 MOB | NO23 LKS |
| AF23 GOT | GB23 RUS | NO23 MLF |
| AH23 TLR | GB23 SHT | NO23 MOT |
| AK23 YKE | GB23 UKR | NO23 MUF |
| AR23 YAN | GB23 WAR | NO23 MUM |
| AS23 BOY | GO23 BCK | NO23 PRK |
| AS23 FUL | GO23 BLE | NO23 RUS |
| AS23 FWC | GO23 FUC | NO23 UKR |
| AS23 HLE | GO23 HEL | NO23 UMM |
| AS23 HOL | GO23 HLL | NO23 UUM |
| AS23 OLE | GO23 OMB | OR23 ASM |
| AW23 NKR | GO23 PRC | PE23 ADO |
| AW23 NKS | GO23 PRK | PE23 RVT |
| BA23 TAD | GO23 RUS | PE23 VRT |
| BA23 TRD | GO23 SHT | PK23 YKE |
| BA23 TUD | GO23 UKR | PS23 CHO |
| BJ23 BOY | GO23 WAR | PU23 ES* |
| BJ23 FAB | GR23 OPE | PU23 SAY |
| BJ23 GAL | HE23 OLA | PU23 SUX |
| BJ23 GAY | HE23 REW | RU23 FWF |
| BJ23 GRL | HE23 ULA | RU23 OMB |
| BJ23 LAS | HH23 TLR | RU23 UKR |
| BL23 JOB | HH23 WAR | SC23 OTE |
| BL23 WJB | HS23 ULA | SC23 OTM |
| BO23 LOC | JH23 HAD | SC23 TOM |
| BO23 LOK | JY23 HAD | SC23 TUM |
| BO23 LOX | KK23YKE | SH23 GED |
| BO23 OCK | KN23 FED | SH23 GER |
| BO23 OCS | KN23 FER | SS23 JUW |
| BO23 OCX | KN23 FES | SS23 WAR |
| BO23 OCZ | KN23 FEU | SS23 XRW |
| BO23 OKS | KN23 FEU | TE23 ROR |
| BO23 OKX | KN23 FEX | TO23 ERR |
| BR23 EDL | KN23 VED | TO23 ERS |
| BU23 OMB | KN23 VES | TO23 ERZ |
| BY23 RUS | KN23 VES | TO23 RAH |
| BY23 UKR | KN23 VEU | UA23 RSE |
| CA23 OMB | KN23 VEX | UA23 RYN |
| CC23 EDL | KR23 PLE | UA23 YAN |
| CO23 CKK | LE23 BOO | UD23 UNK |
| CO23 CKS | LE23 BOS | UF23 GOT |
| CO23 ONA | LE23 BOZ | UH23 OMO |
| CO23 RNA | LE23 EAN | UK23 ANG |
| CR23 PLE | LE23 EEN | UK23 RUS |
| CR23 PLE | LE23 ERS | UK23 UKR |
| CR23 PPL | LE23 OES | UK23 YKE |
| DD23 UNK | LE23 OOS | UN23 GER |
| EA23 DCK | LE23 RRS | UN23 RUS |
| EA23 DKS | LE23 RSS | UN23 UKR |
| EA23 DYK | LE23 YAN | UP23 RUS |
| EA23 FWF | LE23 ZAA | UP23 UKR |
| EA23 GAL | LE23 ZAR | UR23 REM |
| EA23 GRL | LE23 ZAS | US23 WAR |
| EA23 HER | LE23 ZAY | UU23 REM |
| EA23 MEE | LE23 ZAZ | UW23 NKR |
| EA23 MME | LE23 ZBO | UW23 NKS |
| EA23 MOT | LE23 ZER | VU23 LVA |
| EA23 MUF | LE23 ZRR | WA23 RUS |
| EA23 NOB | LE23 ZRS | WA23 UKR |
| EA23 POO | LE23 ZZA | WE23 APE |
| EA23 PWP | LE23 ZZR | WH23 EDL |
| EA23 VAG | MG23 RUS | WH23 REE |
| EA23 VAJ | MG23 UKR | WH23 RES |
| EU23 BAD | MO23 EST | YA23 DEE |
| EU23 BOM | MU23 DER | YA23 DYS |
| EU23 FWC | MU23 ERR | YE23 DTH |
| EU23 OFF | MU23 ERS | YE23 RUS |
| EU23 OMB | MU23 ERU | YE23 UKR |
| EU23 RUS | MU23 ERZ | YE23 WAR |
| EU23 SHT | NE23 NOG | YS23 DTH |
| EU23 UKR | NE23 ROO | YS23 WAR |
Now read more of the latest consumer news…
Source: Read Full Article