Aston Martin hints at hardcore Vantage in new image
Darkened image gives hints of Vantage with aggressive aerodynamic package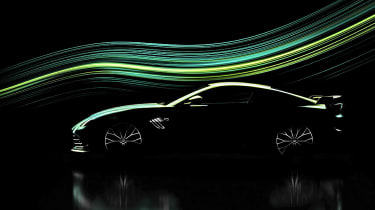 Aston Martin has released a teaser image of what could be a more hardcore variant of the latest Vantage coupé, which will be revealed on Monday. 
The company has yet to release any firm details about the car, but the darkened image suggests it has a unique design of alloy wheels, plus a large rear wing and sculpted air outlets at the trailing edges of the front wings.
Best sports cars 2021
The car in the image also has a similar colour scheme to that of the Vantage that was recently revealed to be the new safety car for the forthcoming Formula 1 World Championship season, replacing the Mercedes models that have been in place for many years.
A standard Vantage has a twin-turbocharged 4.0-litre V8 engine that develops 503bhp and 685Nm of torque, and the power has been uprated to 528bhp for the safety car, so it's fair to assume that the road car's aggressive visual upgrades could come with greater performance.
The downforce produced by the safety car's aerodynamic package is significant; indeed the front splitter alone produces 155.6kg, which is double that of the standard Vantage. This means the aero package in the shadowy image should bring significant benefits.
F1's new safety car has also had both software and hardware tweaks to its gearbox, and it's likely that some of these will be transferred to the hardcore road offering hinted at in the picture.
When revealed, the mystery new Vantage could provide the first tangible link between the brand's F1 involvement and a model you can actually buy. Race on Sunday, sell on Monday, so the saying goes.
Do you own an Aston Martin or something more mainstream? Tell us about it in the Driver Power survey…
Source: Read Full Article