All change at Stellantis: Vauxhall, Citroen, Peugeot and Fiat vans get a fresh new look
A total of 12 new models spearhead Stellantis' bid for greater commercial vehicle success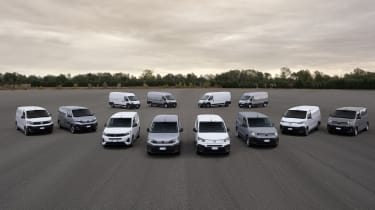 Sales of commercial vehicles make up a third of revenues for the Stellantis group, but the company has plans for expansion by revamping its entire model line-up. Stellantis brands sold in the UK comprise Citroen, Peugeot, Fiat and Vauxhall, while overseas there is also Opel in Europe and pick-up truck specialist Ram in the US, and until now every maker has followed their own product launch strategy. However, now Stellantis is relaunching all brands at the same time under the umbrella Pro One brand as revealed earlier in October.
As well as new models, Stellantis is also boosting its after-sales service with the new Pro One brand, which will offer bespoke services for customers, including tailored finance, connectivity and personalisation offers.
New Stellantis small vans
The small vans belonging to the Stellantis group were due a facelift, and these feature the most comprehensive updates of all the ranges. Under the skin, the platform remains unchanged, but there's a new look for each model. The Citroen Berlingo features a smoother nose with a subtle grille similar to that seen on the recently revealed e-C3 supermini, while the Fiat Doblo has the same smooth nose as before. The Peugeot Partner features a new smoother nose with new headlights, while the biggest change is reserved for the Vauxhall Combo, which now receives a new Vizor grille to bring it into line with the rest of the Vauxhall range.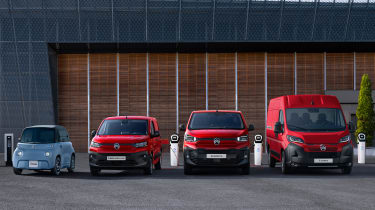 Inside, all four models gain a new digital dashboard, while lower spec versions receive a phone cradle for easier smartphone connectivity. Higher spec variants will add a 10-inch touchscreen with greater connectivity, while a host of safety systems will help these vans to become the safest models in the sector. The only other variation within the line-up will be that the Peugeot version will retain its i-Cockpit layout, with the dials set above the edge of the steering wheel rim.
All versions will be available in two lengths, while crew van and MPV variants will be offered, too. In terms of powertrains, there will be petrol, diesel and electric options (depending on market). Stellantis hasn't confirmed battery specs, but the EVs will offer up to 205 miles of range, an increase of 30 miles over the current versions, while a heat pump is available for the first time. Stellantis has confirmed that the new EVs will be able to travel further, but do so without compromising cargo or payload capacity. 
New Stellantis medium vans
With new models such as the Ford Transit Custom coming on stream, Stellantis has renewed its medium-sized van line-up with new looks and revised cabin tech. As with the small vans, the medium vans (Citroen Dispatch, Fiat Scudo, Vauxhall Vivaro and Peugeot Expert) have new front ends that tie them into their respective manufacturer line-ups, with the Vivaro featuring its own interpretation of the Vizor grille.
Inside, the dashboard adds a 10-inch driver's display, while new touchscreen tech is included. In terms of running gear, ICE and EV versions will appear once again – with 50kWh and 75kWh battery options available – while a hydrogen fuel cell variant will also be offered. Battery models will have around 210 miles of range, while the FCV versions will offer nearly 250 miles of range, as well as refuelling in five minutes.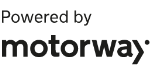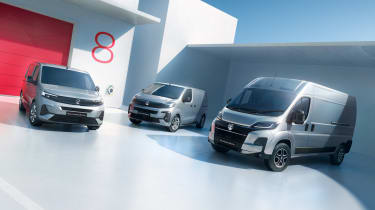 Electric versions of the Stellantis large van see some comprehensive changes. Gone is the retrofit system seen in the Citroen and Peugeot large vans in place of an in-house developed system featuring a 110kW battery for a range of up to 260 miles and a payload of up to 1.5 tonnes.
There will be 150kW charging capability, meaning a 0-80 per cent charge takes less than an hour. Again, 400-volt power take-off will be offered, while a fuel-cell version of the Stellantis large van with a range of up to 310 miles will be revealed later in 2024. As well as a standalone model, the group will also offer retrofit hydrogen systems for existing vans, helping to reduce the cost of switching to renewable energy for customers.
Prices for the revised vans will be revealed before the end of the year, with sales likely to be staggered between now and the end of 2024. Either way, Stellantis has an aim to be fully EV by 2030, but its van line-up should hit this target three years earlier, by 2027.
Is your business moving away from diesel? These are the best electric vans…
Source: Read Full Article