A Quick Spin in the VW ID.4 Leaves Us Wanting More … Time, Buttons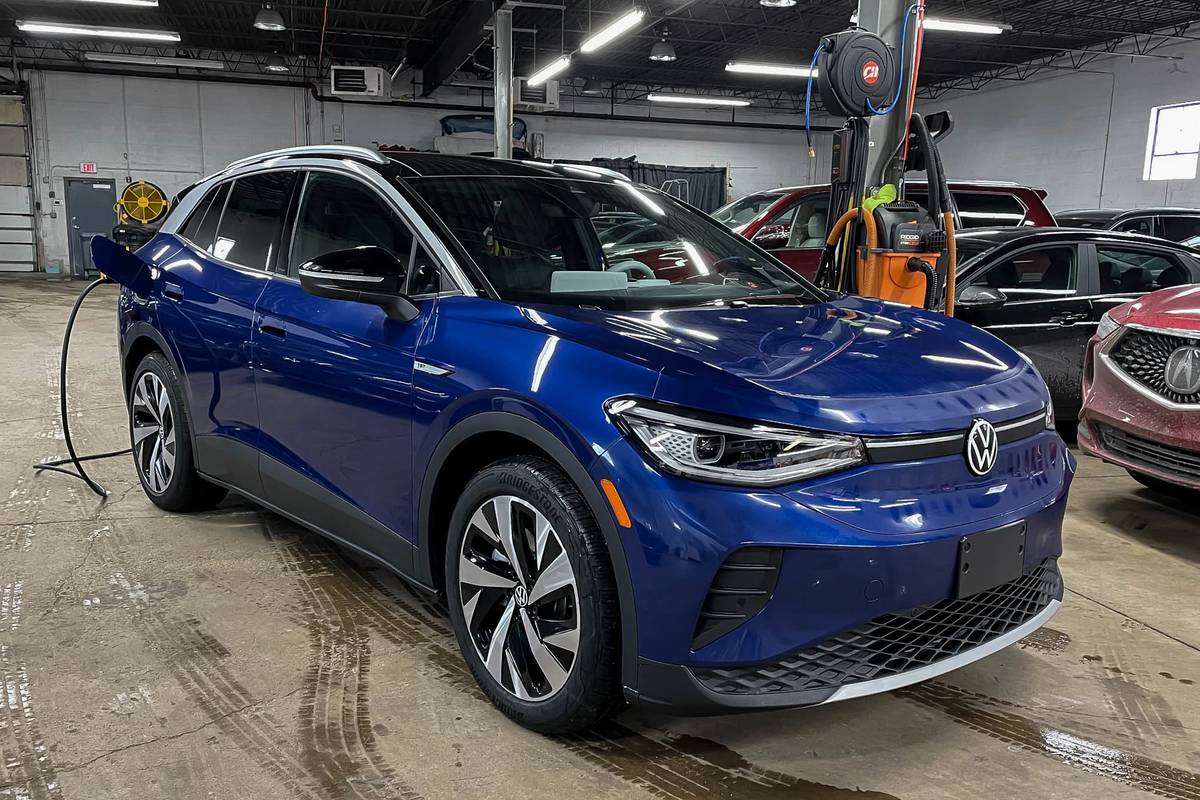 Volkswagen's electric-powered ID concepts have taken the form of buggies, buses, hatchbacks and SUVs, but the time has come for what you can actually buy and that's the 2021 Volkswagen ID.4, a compact electric SUV with an EPA-rated 250 miles of range as of its launch (more battery sizes to come later). We took a quick spin in the ID.4 1st Edition, the current top spec that retails for $45,190 with destination charge before any incentives, like the federal $7,500 tax credit that applies to the ID.4 and eligible buyers. Here's what we thought after a brief time behind the wheel of a rear-wheel-drive ID.4.
Related: What's New With Electric Vehicles for 2021?
My Take:
As coincidence would have it, I was reviewing a 2021 Nissan Leaf Plus with its larger battery concurrently, and the contrasts were stark. The Leaf Plus SL I drove was $45,630 and had 215 miles of EPA-rated range, close to the ID.4, but these two EVs couldn't be more different. The ID.4's ride quality and cabin isolation to road and wind noise is far more premium and luxurious than the Leaf's, which felt like a rickety used car going over railroad tracks. The ID.4 had smooth, well-controlled motions over the same tracks and rough roads. (Note that tire pressure was a little lower than recommended for my drive, which could have impacted ride impressions, but my colleagues have a pretty positive take below.)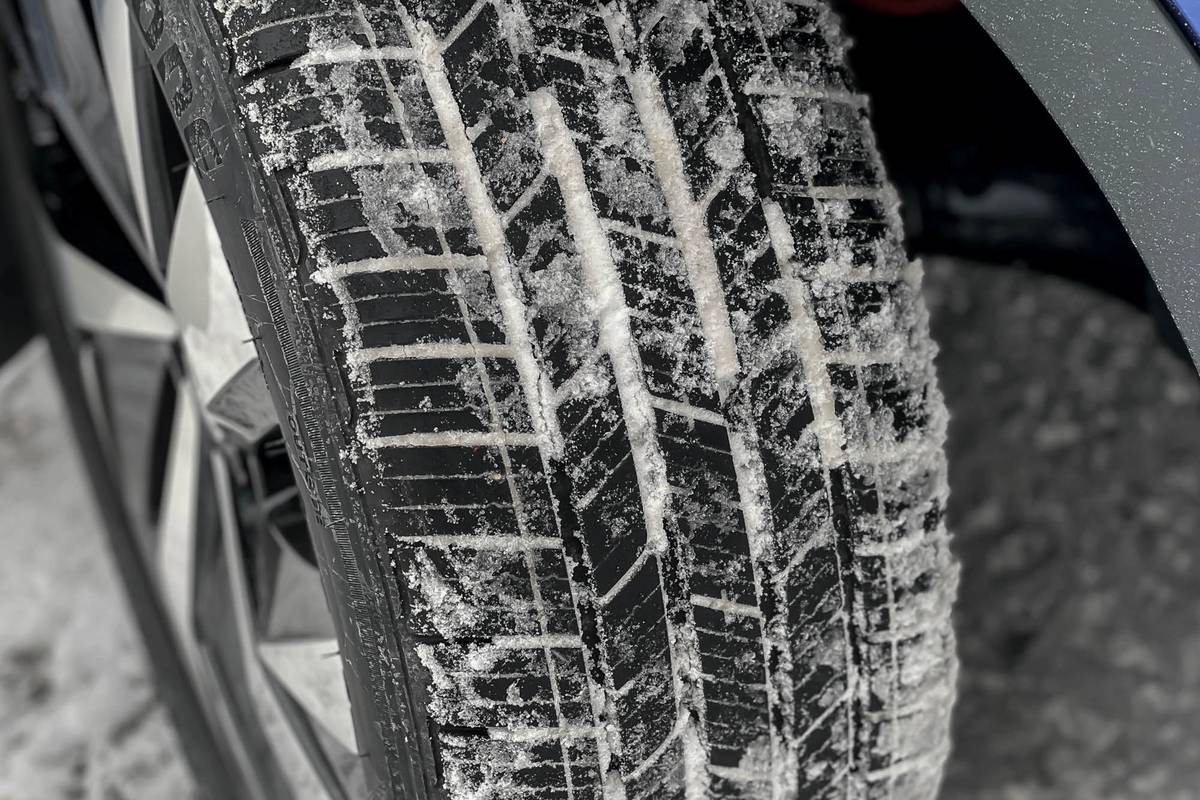 The ID.4 is rear-wheel drive only ahead of a more powerful all-wheel-drive version coming later this year, and I drove it on packed snow where it was surprisingly neutral and grippy. In fact, you don't get much of a rear-wheel-drive feel at all from the car, for better and worse: It leans toward the comfort end of driving versus other VW products, with plenty of steering assist, numbed feedback and comfort vibes all around. What most stood out was its parking lot maneuverability thanks to a tight turning circle; the wheel keeps going and going, and the turn gets tighter and tighter. For only 201 horsepower and 228 pounds-feet of torque, the ID.4 feels surprisingly lively thanks to typical electric car attributes of low-speed torque and no transmission to screw things up — hit the pedal, and all is there ready to go; it runs out of steam at higher speeds, though.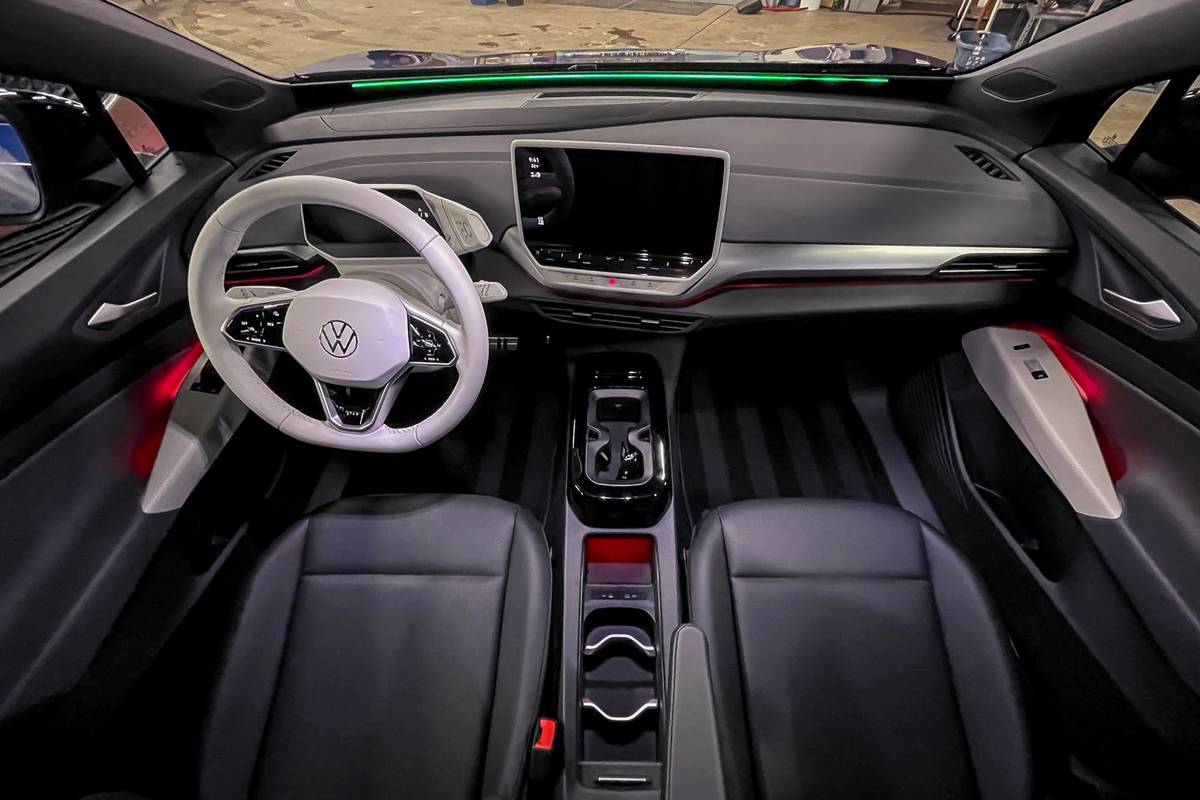 My greatest fear about VW's electric vehicle push was that after churning out fantastic, space-efficient SUVs like the VW Tiguan and VW Atlas (disclosure, I bought one), VW would abandon or deprioritize these family-friendly products in favor of electric runabouts. If the ID.4 is any indication, then that worry was for naught because the ID.4 is plenty usable and comfortable with generous cargo and passenger accommodations. If you ignore all of the goofy touch-sensitive capacitive controls (there are only a handful of traditional buttons inside the car), then it's livable on a daily basis for small families. In fact, to me, its sleek shape and long roof is reminiscent of the discontinued Jetta/Golf SportWagen.
Kelsey Mays, Assistant Managing Editor: 
"We tested the ID.4 in the bitter cold, with temperatures hovering around 10 degrees fahrenheit — the likely culprit behind the tires being about 5 pounds per square inch under the recommended pressure when Joe drove in our quick handoff succession. I was able to get the pressure corrected before jumping in, and the difference amounted to a little more bounciness overall, plus merely average isolation on the highway. I still found damping generous enough for a smallish SUV — certainly better than the unacceptably firm Ford Mustang Mach-E, to name one EV rival, or mass-market alternatives like the Honda CR-V, Toyota RAV4 and redesigned Nissan Rogue.
"I found enough torque in our rear-drive ID.4 to get a little unintended tail action on hard takeoffs, but it stopped short of feeling squirrely, even in these temps. I agree with Joe's prognosis around dynamics. We'll need more time to know for sure, but my initial take is favorable: The ID.4 feels pretty neutral overall, certainly more than most front-drive-based alternatives. And there's modest power overall, with mild (at best) differences in accelerator sensitivity between the driver-adjustable Eco, Comfort and Sport modes. I'll second Joe's point about high-speed power. Highway passing needs most of the rear-drive ID.4's reserves; it feels no quicker than any base-engine compact SUV. On paper, the AWD version has considerably more power, so I look forward to seeing how that plays out.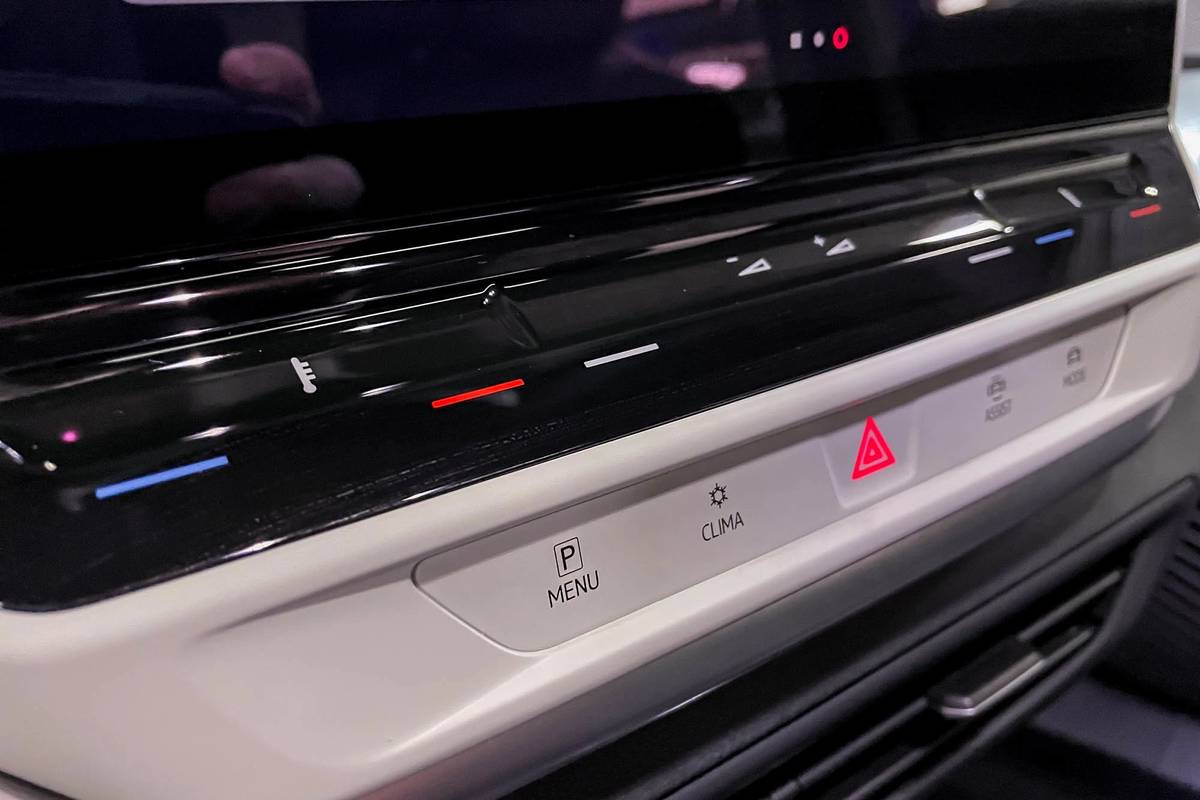 "I also agree about interior space, which — like in the Mach-E — is roomier than the SUV's exterior size would suggest. The low center console enables lots of knee and hip room up front, plus plenty of storage space thanks to an open-box console design. The backseat has cavernous knee clearance and a high enough seating position that VW probably could have dropped the bench an inch to free up headroom, which is a little snug — the only real downside in terms of space.
"By contrast, downsides abound with the user interface. It's disastrous; I can't overemphasize that. Almost everything on the dashboard is touch-sensitive — steering-wheel controls, buttons for the climate and stereo, headlight buttons. It's not just Cars.com editors who hate this; leading consumer studies indicate owners also prefer physical controls. Hell, the front window switches double as the rears, with a touch-sensitive pad to toggle between the two, because VW couldn't bother to install a second set of switches."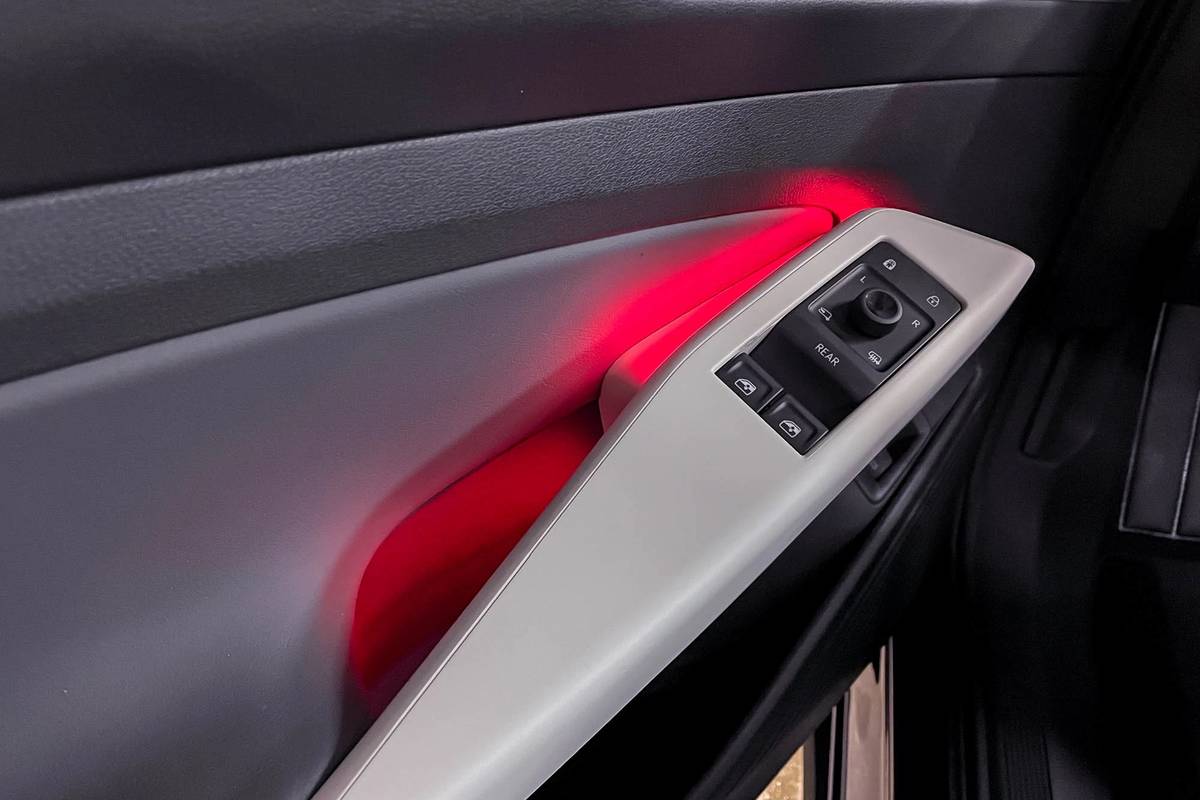 Jennifer Newman, Editor-in-Chief: 
"Could the ID.4 be the electric vehicle, or electric utility vehicle, that gets more Americans out of their beloved gas-powered compact SUVs and into something electric? It's a strong possibility thanks to its familiar yet futuristic exterior and an interior that doesn't ask owners to make sacrifices when it comes to space. 
"Before I got behind the wheel of the ID.4, I sat in the backseat with the driver's seat positioned for someone around 6 feet tall. I had oodles of space for my legs in the backseat, and unlike Kelsey, I didn't have any issues with headroom, but I'm 5-foot-8 and he's around 6 feet tall. With 37.6 inches of rear legroom, it seems that the ID.4's backseat could handle taller adults or rear-facing child-safety seats, though we need to test both scenarios.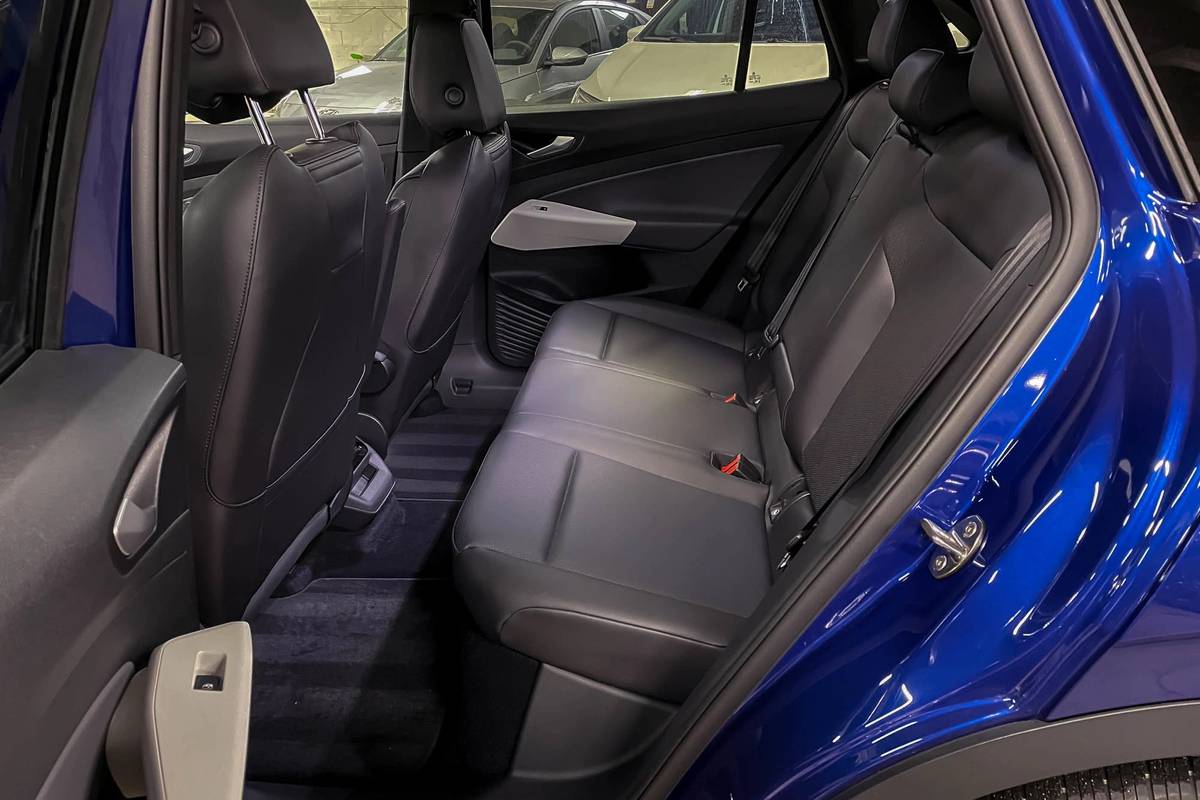 "Another area where owners won't have to compromise is the cargo area, which seemed cavernous with 30.3 cubic feet of cargo space, according to Volkswagen. We'll put that through our independent cargo testing in the near future.
"The ID.4 offered a smooth ride on smooth roads, but when I meandered over to a concrete road and increased my speed to over 40 mph, the road's seams (where two concrete slabs are joined) caused the tell-tale bounciness that Kelsey experienced. It was really noticeable. During my time in it, a snowstorm kicked off and I drove on wet, snow-covered roads that immediately made me a little nervous since the test car had rear-wheel drive, but the ID.4 remained well planted on the slick roads. 
"It's no secret that Cars.com's editors aren't fans of capacitive-touch buttons and panels, and the ID.4 is full of them. My educated guess is an owner would get used to the capacitive touch over time, but for my short time in the ID.4, they were annoying. At one point, I was driving and trying to adjust the front windshield defroster via the multimedia screen because of the snow, and the only thing I managed to do was accidentally turn on the hazard lights with the heel of my hand. I ended up waiting to get to a red light to fuss with the climate system.
"An easy way to get around some of the capacitive-touch issues is to use voice commands. By saying, 'Hello, ID' you'll get a prompt asking 'What would you like to do?' I used the voice commands to adjust the heat among other minor tasks. Some of my colleagues would argue that VW should improve the capacitive-touch system rather than forcing owners to rely on voice commands to navigate simple tasks, and they're right, but the voice commands also offer a gee-whiz factor that owners of an EV want — maybe expect — to see in a new car.
Joe Wiesenfelder, Executive Editor:
"There's no need for me to repeat what the other editors have said pending a complete review, which we hope to provide within a few weeks, but we also shouldn't pull any punches regarding touch-sensitive controls. It's not merely a matter of preference; it's a matter of effectiveness, and they're empirically less effective than traditional mechanical buttons. Our brief time with the ID.4 was the perfect illustration of this because it was 10 degrees out.
"Why does this matter? Because when it's cold out, you're wearing gloves and/or have dry skin that capacitive surfaces like touchscreens or pads don't respond well to. And if you think 'special gloves' are the solution, you should try them sometime. Ditto for voice commands. We want voice control to be as good as it can possibly be; why would we not expect the same for any button technology?
"Volkswagen at least goes a step further with haptic feedback on some surfaces — a bump sensation you feel that confirms your command has registered — but it doesn't change the fact that the correct sensitivity is elusive and seems to vary from person to person and, as noted, with temperature and moisture levels. The flipside of the insensitive cap-touch control is the too-sensitive one, as we've highlighted on recent Mercedes-Benz steering wheels.
"Sorry to have ranted, but this control system managed to rise to the level of our one big takeaway from the ID.4, distracting from everything good about it."
The 2021 VW ID.4 goes on sale in mid-to-late March with 50-state availability, and VW expects the more powerful AWD version to hit dealerships later this year. Stay tuned for our in-depth review once we get more seat time in VW's electric SUV.
Related Video:
More From Cars.com:
Peep Inside the Volkswagen ID.4 All-Electric SUV
Volkswagen ID.4 Gets ID'd for U.S. as Small Electric SUV
Volkswagen I.D. Buzz Concept Preview
Roomzz Service: VW Debuts Tesla-Fighting Electric SUV Concept in Shanghai
Volkswagen ID. Buggy Is Little (But Not Blue) as It Debuts in Geneva
Volkswagen I.D. Vizzion Concept Debuts in Geneva
 Cars.com's Editorial department is your source for automotive news and reviews. In line with Cars.com's long-standing ethics policy, editors and reviewers don't accept gifts or free trips from automakers. The Editorial department is independent of Cars.com's advertising, sales and sponsored content departments.
Source: Read Full Article