2021 Lexus RX 450h Review: The Best RX?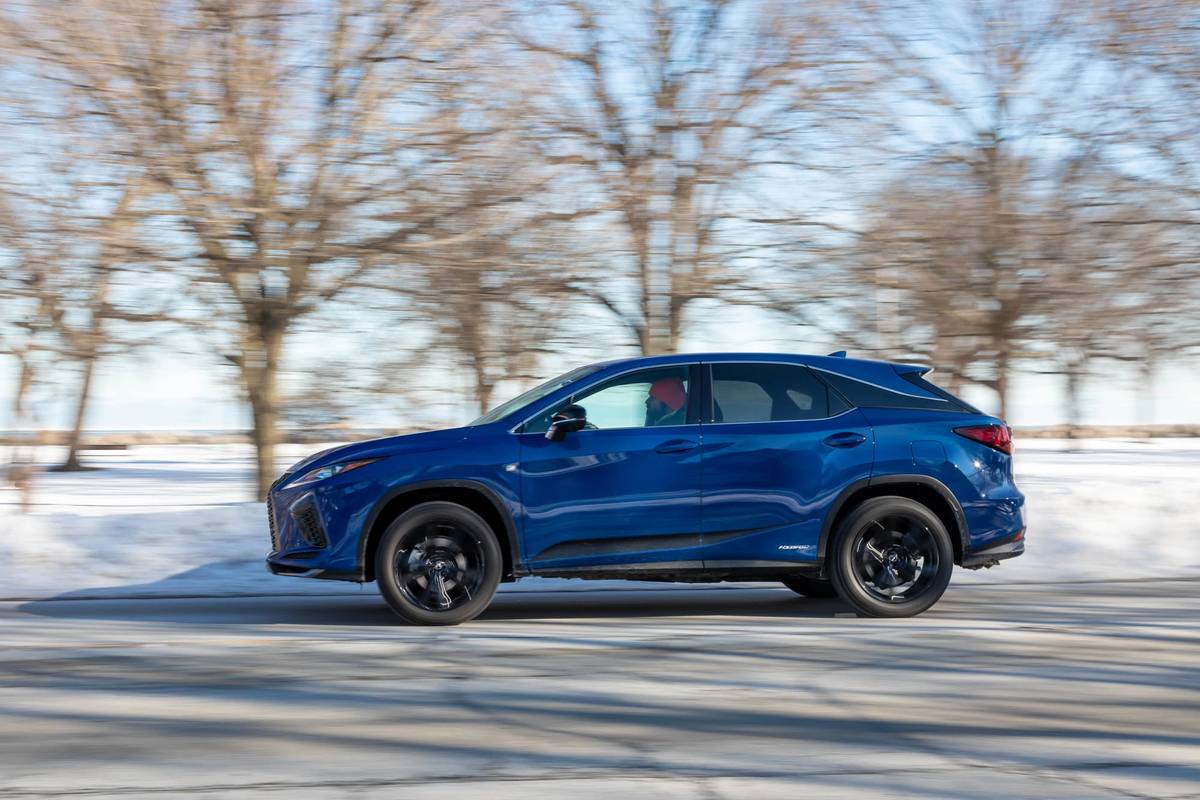 The verdict: The 2021 Lexus RX 450h's hybrid powertrain, quality interior and improved tech make it a solid fuel-efficient family-hauler, despite some minor blemishes.
Versus the competition: A stylish interior and relatively new touchscreen help the RX 450h keep pace with other fashionable hybrid SUVs, and its added fuel efficiency and standard all-wheel drive make a case for it as the best Lexus RX on the market.
Lexus' line of RX SUVs might not be the biggest or most capable on the automaker's SUV roster, but it's certainly the one that put the brand on the map — and the RX is its bestselling vehicle. And of that notable bunch, the hybrid RX 450h version might just be the best.
The big updates to the RX line happened in 2020, when Lexus didn't exactly ditch its much-maligned center-console touchpad controller, but instead gave a choice of two touchscreen displays — measuring 8 or 12.3 inches — that let drivers control nearly everything via the display, not the confusing and distracting touchpad.
Our test vehicle featured the RX's most significant update for the 2021 model year: a new special Black Line edition trim level that adds black exterior accents, including a horizontal black stripe above the rocker panels that's reminiscent of Porsche's GTS trims. The trim also brings 20-inch black wheels, a unique interior treatment and a set of matching Halliburton luggage. We didn't get to play with the luggage set, but it didn't cause an environmental disaster, so we'll call it a win. Our test vehicle's price came to $59,380 as-equipped, including a $1,025 destination fee.
The RX 450h competes against vehicles like the 2021 Volvo XC60 Recharge plug-in hybrid, the redesigned 2022 Acura MDX and its own sibling, the gas-powered RX 350.
Driving
The 450h makes 308 total horsepower with a gasoline-powered V-6 that works with a set of three electric motor-generators and a nickel-metal-hydride battery pack. It's not a remarkable figure, but it's enough to get the SUV going briskly and provide ready passing power, even with a slightly hesitant continuously variable style of automatic transmission (the gas RX 350 gets a traditional automatic with eight gears). The only minor issue I had with the powertrain was a slightly unrefined droning noise.
In fact, the most remarkable thing about the RX 450h driving experience is how unremarkable it is. Besides a powertrain that never leaves you wanting for power, the steering feel is communicative for a mid-size SUV, and the suspension is just this side of firm. An optional F Sport handling package, which was not included on the vehicle we drove, adds an adaptive suspension and retunes the steering ratio. I suspect, though, that this would not make for a vastly different ride or handling experience. The latest iteration of Lexus' F Sport packages, at least on the SUVs, seem to be mostly about appearances. If that's the look you want, go for it (I actually prefer it, aesthetically), but if you don't care for the looks of the F Sport package or are indifferent to them, save yourself the money.
The biggest surprise about driving the RX 450h is its braking — or rather, the fact that I didn't find its brake pedal behavior annoying. Most vehicles in Toyota's hybrid family have a spongy, nonlinear brake pedal feel that can take some getting used to — and lead to some tense moments in higher-speed braking (like when a traffic jam suddenly appears). The RX 450h's brake pedal feel was more linear than I expected, almost like a non-hybrid car. We'd like more of that in your other hybrids, Toyota and Lexus.
Also worth noting: While testing the RX 450h in Chicago, we experienced a heavy snowfall, and the SUV struggled a bit in deeper, heavy, wet snow. That may be down to the efficiency-minded Bridgestone Ecopia tires it wore, which consumers rate 3.3 out of 10 points for winter/snow performance on Tirerack.com. Michelin Premier LTX tires, which are also listed as original equipment on this model and trim level, scored 7.1 in the same category. It's a helpful reminder: AWD is not a free pass when it comes to traction in snow, and oftentimes the tires are the culprit.
We didn't conduct an official fuel-economy test during our time with the RX 450h, but the EPA rates it a solid 31/28/30 mpg city/highway/combined. Compared with competitors, it significantly bests the 2021 RX 350 AWD's 19/26/22 mpg and the 2022 MDX AWD's 19/25/21 mpg. Its 30 mpg combined also tops the 2021 Volvo XC60 Recharge's 27 mpg combined rating, though that vehicle is a plug-in hybrid with 19 miles of pure electric driving range when fully charged. The RX 450h continues a tradition of Toyota and Lexus hybrids offering an electric-only driving mode that functions at extremely low speeds for incredibly short periods, rendering it nearly pointless.
Interior and Cargo
Despite the presence of the dreaded touchpad controller (I'll get to it in a second once I prepare myself), the interior of the RX 450h — and really any Lexus, in my book — is one of its strongest suits. The materials are high-quality, and the knobs and switches all feel first-rate. The test vehicle's two-tone upholstery might not be for everyone, but it still feels nice.
The RX 450h's interior is roomy enough for adults front and rear, and there's so much headroom that adding the optional moonroof, which the RX we drove didn't have, likely wouldn't be a problem. Cargo space is also solid, with a Lexus-measured 16 cubic feet with the backseat in place and 32.6 cubic feet with it folded down. Those are identical measurements to the RX 350, so there's no cargo space penalty when choosing the hybrid.
The touchpad controller, on the other hand … stinks. Its action is imprecise and requires a lot of attention, which really ought to be reserved for, oh, I don't know, driving. I actually prefer the older joystick-based system, because with that one I could at least keep my eyes on the road more and have a better idea of where the cursor was going. But all that doesn't really matter now that the display is a touchscreen. The only time my hand went deliberately toward the touchpad was to hit the Home button, which is located there, not on the display itself. Other than that, I never used it.
The display's graphics are starting to look dated, and the menu structure isn't the most user-friendly one out there, but for now I'm willing to give Lexus a pass because the system is finally at least usable. Another nit to pick, however, is that most functions on the 12.3-inch display use only about two-thirds of the screen, but that's less a problem than a wasted opportunity. Apple CarPlay, Android Auto and Amazon Alexa connectivity are all standard, regardless of screen size.
Safety
The RX 450h comes standard with Lexus' Safety System Plus 2.0, which includes adaptive cruise control, lane departure warning with lane-keeping assist, lane-centering steering, forward automatic emergency braking with pedestrian detection and high-beam assist. Blind spot warning with rear cross-traffic alert is newly standard for 2021 models. Our test vehicle also included an optional head-up display; it was helpful when it wasn't being washed out by the polarized sunglasses I wore.
The Insurance Institute for Highway Safety named the 2021 Lexus RX, which includes both the gas-only 350 and hybrid 450h but not the three-row L versions, a Top Safety Pick for 2021, representing top scores for crashworthiness, crash prevention with other vehicles and a child seat anchor rating. It scored slightly lower for its headlight performance and crash prevention with pedestrians. The National Highway Traffic Safety Administration rated the 2021 RX 450h at four stars overall.
Should You Buy an RX 450h?
If you're deciding between an RX 350 and an RX 450h, the hybrid makes a very compelling case. It offers a similar driving experience, identical interior and significantly better fuel efficiency for a starting price just $1,250 higher than an AWD RX 350.
In terms of price and efficiency, the RX 450h also makes a strong case — at least on paper — compared with competition outside the Lexus family.
Ultimately, the RX 450h's strongest argument is that it offers the benefits of a hybrid without most of the penalties and annoyances of the usual "unique" hybrid experience.
Source: Read Full Article