2021 Infiniti QX80 Review: Don't Rock the Boat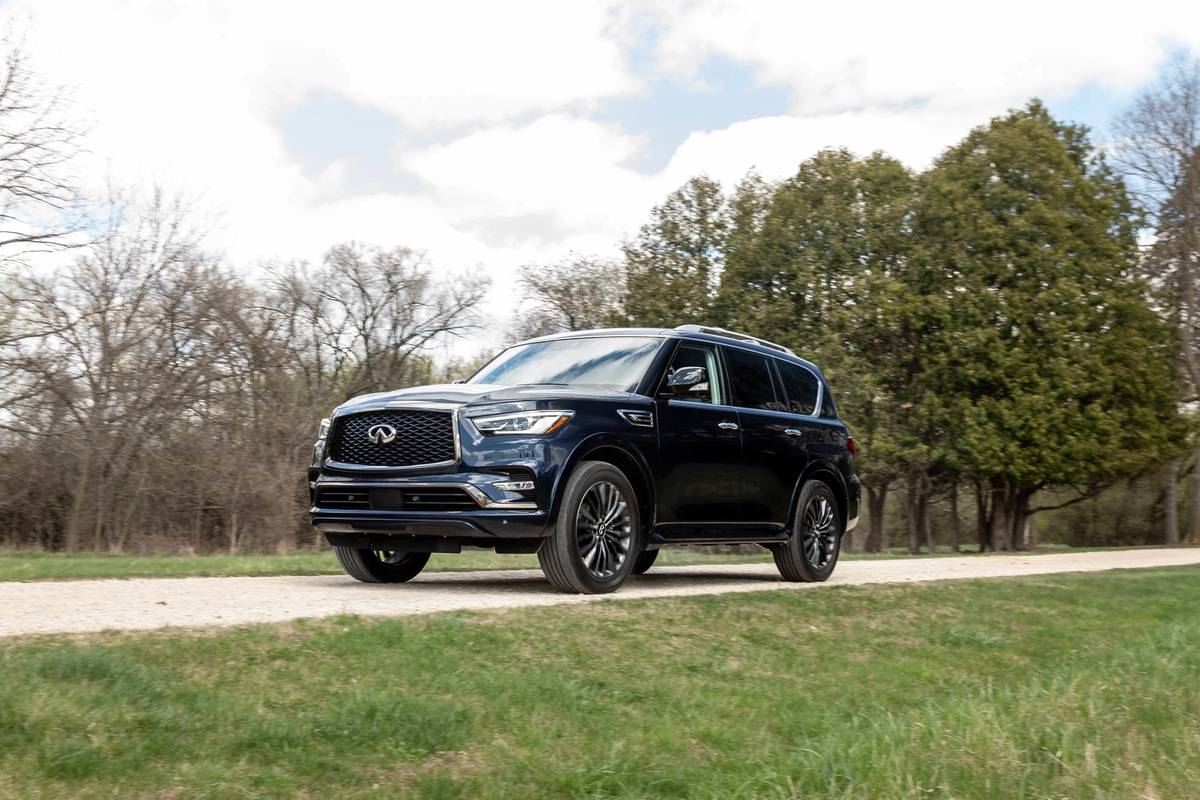 The verdict: Infiniti's QX80 flagship feels ancient in almost every way, but the throwback experience can still be enjoyable — if going old-school is your goal.
Versus the competition: The QX80 lags nearly every competitor in ride and handling and interior technology; it's even been surpassed by the related, and more affordable, Nissan Armada, which was updated for the 2021 model year — a treatment the QX80 desperately needs.
Building three-row, body-on-frame SUVs used to require a fairly simple formula: Take a truck frame, chuck a big V-8 up front, and give it a cushy suspension and rear- or four-wheel drive. The game has gotten more complex now, with luxury brands adding things like high-tech interiors (Cadillac), turbocharged V-6s (Lincoln) and 10-speed automatic transmissions (Lincoln, Cadillac, GMC). Infiniti, unfortunately, missed the memo.
Related: 2022 Infiniti QX55 Review: Satisfyingly Premium, But Not as Sporty as It Looks
Like a professional sports team that eschews advanced analytics, the QX80 manages to be occasionally competitive with rivals like the Cadillac Escalade, Lincoln Navigator and GMC Yukon Denali, but it feels like it's fighting with one hand tied behind its back.
The Land Yacht Before Time
The QX80's driving experience is one of its standout attributes — for good and ill. I found it enjoyable, but I also drove a 1997 Toyota 4Runner for more than a decade; I guess you could say old-school SUVs are right up my alley.
Hit the gas pedal in the QX80, and the 400-horsepower, 5.6-liter V-8 under the hood roars to life. While the QX80 won't set any speed records, accelerator response is immediate, and acceleration feels impressively brisk for a roughly 5,700-pound three-row SUV. The seven-speed automatic transmission shifts smartly, dropping gears when you need passing power and upshifting when it can in a (mostly futile) attempt to conserve fuel. Braking is also impressive for a large SUV: It takes a while to slow this much mass to a stop, but the firm brake-pedal feel inspires confidence.
The QX80's ride and handling and steering, however, are atrocious. Steering is vague, with far too much power assist; it feels like you're piloting a boat. The QX80's suspension eats potholes and expansion joints for breakfast, lunch and dinner, but turns and successive bumps elicit significant body roll. The QX80 feels every bit like a big SUV. The Escalade, Yukon Denali and Navigator have better ride and handling; domestic luxury brands have figured out how to handle road imperfections with almost unnervingly little body roll. But here's the thing: Yes, the Navigator, Yukon Denali and Escalade are all better at this, yet I kind of like when a big SUV feels big. It's a throwback to a simpler time.
Another throwback to a "simpler" time is the QX80's fuel economy. Our mid-level QX80 Premium Select with 4WD is rated 13/19/15 mpg city/highway/combined using premium gas. You know what else gets 15 mpg combined on premium? The 797-hp Dodge Charger SRT Hellcat Redeye Widebody. Just some food for thought.
That said, the QX80's rivals don't do much better. Four-wheel-drive versions of the 2021 Cadillac Escalade and GMC Yukon Denali are both rated 14/19/16 mpg on premium, while the 4WD 2021 Lincoln Navigator does only slightly better at 16/20/17 mpg. The Navigator can use regular gas, but it reduces the SUV's rated output. The Escalade and Yukon are also available with a diesel engine, rated 20/26/22 mpg with 4WD.
On a positive note, the QX80 can tow up to 8,500 pounds when properly equipped, giving owners the chance to tow one boat with another. If you're going to pull a heavy trailer, it'll be worth having a trailer brake controller, though you'll have to go the aftermarket route to get one — the SUV doesn't have one, though it is wired for one. (An integrated trailer brake controller is available on the 2021 Armada.)
Time Capsule Interior
The fact that the Armada is more modern than the QX80 is more of an issue for me than the Infiniti's trucky ride and handling. For 2021, the Armada received an updated interior with a new touchscreen display and a much cleaner and better organized set of physical controls. The QX80, on the other hand, has a dual-screen multimedia system that's felt dated for a while now — even though it was updated for the 2020 model year.
The graphics on the screens are dated and sometimes hard to read, and the lower screen is easily washed out by sunlight. The dual displays feel especially unnecessary knowing Infiniti's parent company, Nissan, makes a single-display system that works well. At least Apple CarPlay and Android Auto are standard.
The QX80's physical controls are also something of a mess, with buttons, knobs and dials all over the place. We're very much pro-physical controls here at Cars.com, but the QX80's layout leaves a lot to be desired. Like the screens, it's all the more frustrating because Nissan has done a much better job in the Armada. It's weird that the flagship model from Nissan's luxury brand didn't get the first crack at the latest technology updates.
The Lincoln Navigator's interior, by comparison, uses nicer materials and better tech, and the layout is mostly better than the Infiniti's, save the push-button gear selector. The Cadillac Escalade's interior also blows the QX80's out of the water, especially its screen. One could argue that the Escalade's 16.9-inch organic light-emitting diode touchscreen, digital instrument panel and a touchscreen panel to the left of the steering wheel also make up a multiscreen setup, but the quality and execution are leaps and bounds ahead of Infiniti's aging system.
On the bright side, the seats in the QX80's first two rows are well padded and quite comfortable, even for longer trips. In our test vehicle, a large console between the second-row captain's chairs made those the best seats in the house.
Where the QX80 falls flat is the third row, which is hard to get to and a hard place to get comfortable. Access is hampered by that second-row center console. The best option is to tumble a second-row seat forward, take a big step up (perhaps too big for smaller children or anyone with mobility difficulties), then clamber to the third row. Once back there, anyone adult-sized will think of nothing but leaving: It's cramped, with minimal legroom and headroom, and a low seat bottom that's likely to leave passengers' knees uncomfortably bent.
Safety
Advanced driver-assistance features including forward collision warning, automatic front and rear emergency braking, adaptive cruise control and blind spot intervention, all of which are standard on the QX80. Infiniti's Around View 360-degree camera system is also standard. The resolution of the 360-degree and backup camera images is somewhat worse than competitors', but not so bad that the features aren't useful. Infiniti's Smart Rearview Mirror camera system is also standard, allowing drivers to see what's behind them when the traditional mirror's view is obstructed.
The National Highway Traffic Safety Administration gave the 2021 QX80 a four-star overall rating, with five stars in side crash tests but three stars in front crash and rollover tests.
See how the QX80 performed in our Car Seat Check.
More From Cars.com:
2022 Infiniti QX55: 5 Things We Like (and 4 Things Not So Much)
Which Cars Have Self-Driving Features for 2021?
Redesigned 2022 Infiniti QX60 to Get 9-Speed Automatic Transmission
2021 Infiniti QX50: 5 Things We Like and 3 Not So Much
2021 Infiniti QX50 Review: Pretty, Flawed
Should You Buy a 2021 QX80?
Well, it depends. Do you want a modern, carlike ride that belies the sheer size of the SUV you're driving? Do you want the latest in-car technology? If you answered yes to both those questions, the QX80 probably isn't for you; you'd likely be happier with a Lincoln or Cadillac (or a Ford Expedition, Chevrolet Tahoe or GMC Yukon). If your answer to just the second question was yes, may I suggest the 2021 Nissan Armada as a more affordable and modern choice? Or if you answered yes to only the second question but don't need three rows of seats, meet the Ram 1500.
Part of what makes the QX80 appealing is its premium cachet, available at a more affordable price. Our mid-level trim with 4WD and a few options cost $79,490, including destination charge. That's less than a 4WD base version of a Navigator or Escalade, but a few thousand dollars more than a 2021 GMC Yukon Denali.
Logic may dictate choosing a more affordable full-size SUV, or a more luxurious or better-driving one. But if there's something about the QX80 that makes it the one for you, I'll be with you in spirit whenever you lean into a corner.
Related Video: 2021 Cadillac Escalade: Review
Cars.com's Editorial department is your source for automotive news and reviews. In line with Cars.com's long-standing ethics policy, editors and reviewers don't accept gifts or free trips from automakers. The Editorial department is independent of Cars.com's advertising, sales and sponsored content departments.
Source: Read Full Article