10 Biggest News Stories of the Week: 2021 Chevrolet Silverado 1500 Falls to Ford F-150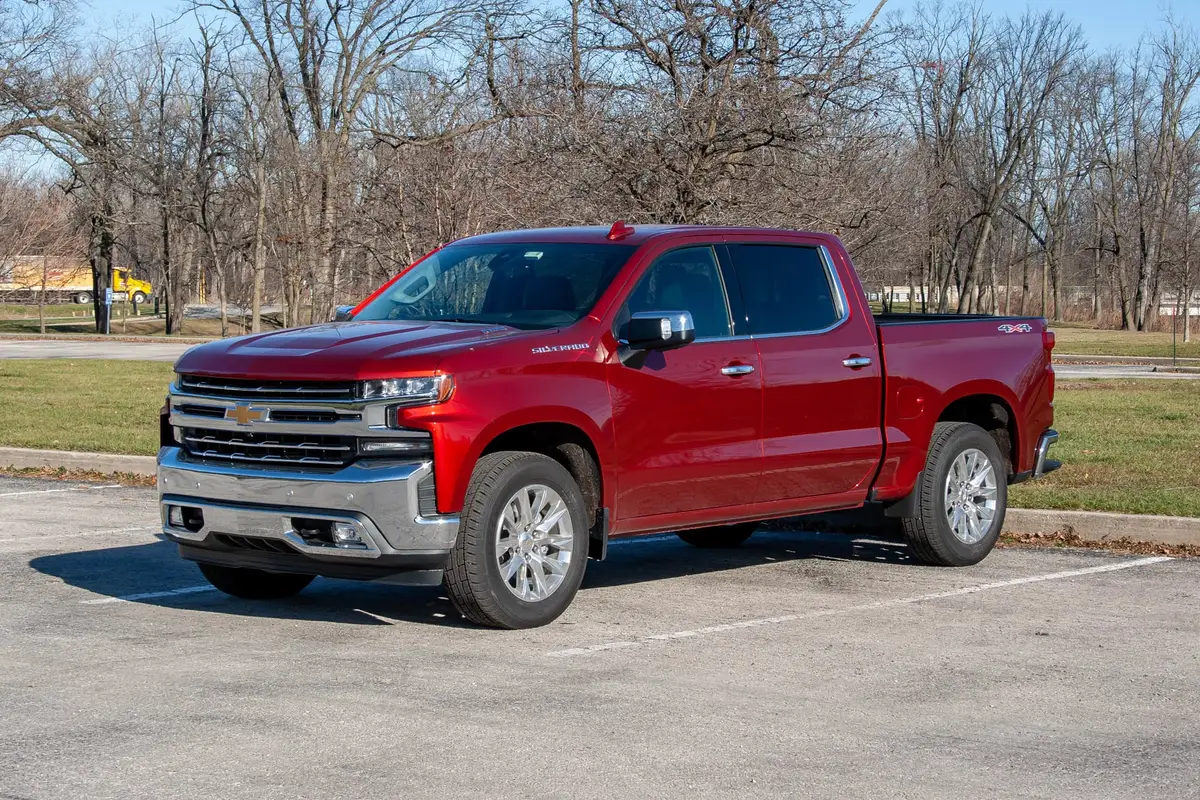 The car-shopping conversation these days tends to center on Americans' ongoing obsession with SUVs — but, lest we forget, pickup trucks will likely remain  the most popular vehicles on the road. The three top-selling models last year were the Ford F-Series, Chevrolet Silverado and Ram pickup truck. And the mid-pack finisher in that group, the Silverado, is also the mid-pack finisher on the past week's countdown of Cars.com's most popular articles.
Related: 10 Biggest News Stories of the Month: Cadillac Escalade, Ford F-150 Battle for Best of 2021
In this week's fifth-place finisher, we run down the laundry list of the things we like and don't like about the 2021 Chevrolet Silverado 1500. Last redesigned for the 2019 model year, the Silverado stands up against its Detroit Three pickup rivals in driving refinement but gets outclassed by those trucks' more luxurious appointments.
In our rapid-fire roundup of pros and cons, the Silverado shines in its breadth of options, engine choices and cab sizes; its torquey, fuel-efficient turbo-diesel 3.0-liter six-cylinder powertrain; its well-mannered ride and precise handling; its trailer-towing prowess; and its trim-for-trim value across the entire lineup versus the Silverado's competitors. On the other hand, the Silverado can't quite keep up with the posh cabins in higher-end trims from Ford and Ram. Its ride is challenged by larger bumps when nothing's on the trailer hitch, too, and its brakes' spongy response doesn't exactly inspire confidence on urgent stops.
For the full rundown on the new Silverado's assets and liabilities, follow the link below to the No. 5 news story of the week.
Much like the Silverado fell to the F-Series in sales last year when you include heavy-duty versions of both trucks, so too did it fall to its Ford foe on our weekly countdown of most-read stories. Cars.com's coverage of the 2021 F-150 it purchased for its long-term test fleet continues to generate reader interest, as three related articles return this week to hang onto a big chunk of real estate in the rankings. A rundown of what exactly we got for our roughly $78,000 F-150 purchase lands at No. 3; a recounting of the several malfunction warnings we experienced shortly after purchase checks in at No. 8; and our report on the surprisingly premature rust on our F-150's underbelly clings on at No. 10.
Rounding out the top five stories this week are Cars.com's roundup of the most fuel-efficient SUVs you can buy right now in categories like gas-only, hybrid, plug-in hybrid and battery-electric; a checklist of six things you should know before taking the plunge into hybrid ownership, from weird acceleration and braking feel to significantly varying mileage; and our roundup of every vehicle you can buy with self-driving features for the 2021 model year.
Beyond all that, we have headlines on the Kia Forte, Hyundai Elantra and much more, so don't stop till the digits double. Here are the top 10 news stories Cars.com readers couldn't get enough of in the past week:
1. What's the Most Fuel-Efficient SUV?
2. So You Want to Buy a Hybrid Car: 6 Things to Know
3. We Bought a 2021 Ford F-150: See How Much We Paid
4. Which Cars Have Self-Driving Features for 2021?
5. 2021 Chevrolet Silverado 1500: 5 Things We Like and 3 Things We Don't
6. 2021 Kia Forte Vs. 2021 Hyundai Elantra: Which Should You Buy?
7. Are Extended Car Warranties Worth It?
8. Our 2021 F-150 Had Problems After 9 Days, 242 Miles
9. Should I Pay Off My Car Loan Early?
10. See the Rust Under Our Brand-New 2021 Ford F-150
Related Video: 2020 Chevrolet Silverado 1500 Midnight, Rally Editions: First Look
Cars.com's Editorial department is your source for automotive news and reviews. In line with Cars.com's long-standing ethics policy, editors and reviewers don't accept gifts or free trips from automakers. The Editorial department is independent of Cars.com's advertising, sales and sponsored content departments.
Source: Read Full Article