What I learnt after having an accident with my Tata Nexon
I believe that there will be people on the road who will make mistakes, not everybody knows how to operate their vehicle properly.
BHPian thehelmetguy recently shared this with other enthusiasts.
Last year, my family bought a Tata Nexon. It was our first car and I had childlike excitement, I literally left no stone unturned while researching about the car and made sure it meets our requirements before finalizing it. Back then I didn't even know how to drive, but I was thrilled by the idea of having a new car and was truly happy when it finally arrived. I felt grateful to have such a beautiful piece of machinery in my garage and whenever I passed by my car, I used to admire it. Little did I know it was the beginning of a new journey.
I wanted to become a good driver, because I knew very well that "Driving is a responsibility and not a right". I enrolled myself at a driving school but I couldn't learn anything other than the location of ABC pedals and gears and a bit of steering control, but I still got my driver's license. I was in no way ready for the Indian roads and the idea of driving a brand new car was still very intimidating. I wanted to drive but I didn't know what to do.
I told my girlfriend about the same, she is my partner in every crime and she didn't know anything about driving either. But I am very relaxed when I am with her, I am less worried and far more confident. So slowly we started practicing a lot, we used to drive early mornings and in the underground parking lot. Finally I got a hang of my car and I felt confident enough to start hitting the roads in peak traffic hours. Now I could sense the control I had on my car and I could really appreciate its driving dynamics. In the coming few days, we explored the entire city, I was truly happy and used to grin like a child whenever I used to drive. All these beautiful experiences were created by my Nexon so I wanted to treat my car well. I made it a point to follow every driving rule and remember every route that I drive on, as I said earlier I wanted to become a "Good Driver".
The incident:
A month back on April 25,2022. Something happened that literally shook me. It was a Sunday evening, and I was driving with my girlfriend on one of the beautiful roads of my city averaging at a speed of 60km/hr. All of a sudden a biker with a female pillion decided to go across the road so as to take a cut without even seeing the rear view mirror. The biker was a young lad and I don't know why he decided to take such a risk when the speed of traffic was very high. It was an extremely insensible move and I knew it could result in something bad. The biker was going across from left to right and I was in the rightmost lane. Whenever something like this happens with me, I give the other person a chance to correct their mistake. I believe that there will be people on the road who will make mistakes, not everybody knows how to operate their vehicle properly. Everybody will learn someday. Also, I was very well aware about what would happen if he gets hit by a car at such a speed.
So it was a similar situation that day. I slowed down my vehicle and honked allowing him to pass. And then the worst possible thing that could have happened that day happened with me. The biker could have easily made the cut but I don't know again what got into his head that he stopped his bike in front of my car. And now I had to come to a complete stop on a high speed road. Seconds later, a truck came and hit the backside of my car. We were not hurt as both of us were wearing seat belts and thanks to the build quality of the car, we felt nothing more than a bump but the backside of the car was damaged. Both the truck driver and the biker ran away from the spot.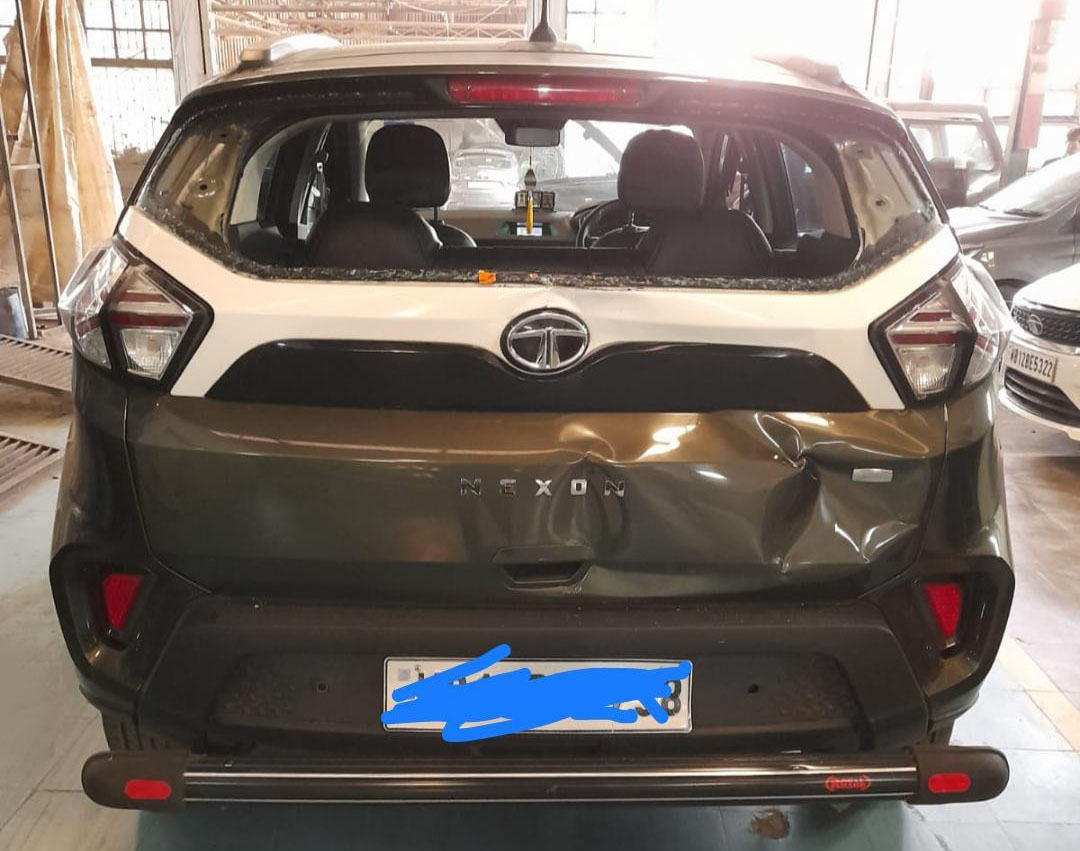 Everything happened so quick that I didn't even have the chance to process it. A traffic cop was standing near us, he saw everything but did nothing. All he said was go to the nearest police station and report it. When asked if he could call someone there and explain to them the incident or give us his contact number because he was an eye witness of the accident, he simply refused. We went to the station mentioned by him and they send us to another station saying the area where the accident happened doesn't come under their jurisdiction. I was in no position to drive, tears were rolling down my eyes, but still we went to the other station and there to my surprise they said the original station only had the jurisdiction (clearly lack of empathy on the part of the officers, I was with a female and just had an accident but they were least concerned). Now again I went to the police station where I had gone initially, finally I met a nice traffic cop. He listened to our story, and asked me what I wanted to do. I did not file a case because I couldn't see the value in it. He gave us a "Panchnama", MCR-Motor vehicle Collision Report and then we left the station.
On the journey back, I could not understand what had just happened. The simple question that came to my mind was "Why me?" I was at a controlled speed, in my lane, not doing anything stupid. Why it had to happen, my heart sank a little. There was no way I could avoid it. There was a probability that I could have saved my car if I had not slowed down but things could have taken a bad shape, I might have hit the biker because if somebody is coming across the road, there is simply no way to judge their speed and decide whether you will be able to pass the vehicle or not. If one is lucky, one might do it but if the luck runs out, a deadly accident is waiting.
I dropped my girlfriend, came home parked my vehicle and informed my parents. The next morning I took the car to authorized service center since it was a new car. It had zero dep insurance cover from HDFC ERGO so I only had to pay for the file charges and some consumables. My experience with Tata ASS was nice and the claim process was very smooth. The car was back in a few days and hardly any sign of damage was noticeable. Still whenever I think of that evening, it makes me sad.
So what did I learn from this accident ?
Don't drive after an accident, call your friends, family, relatives or any other driver but don't drive yourself because the thoughts after the accident can seriously impair your judgement on the road. Get yourself back to safety first.
Install a dash cam, a video footage can be really important in case of an accident.
Keep a valid insurance otherwise the repair bills in an accident can seriously burn your pocket.
Don't give up on driving, one doesn't give up on things they enjoy doing.
Since this is my first post, kindly correct me if I make any mistake unknowingly. Looking forward for future interactions. Till then drive safe, wear a seat belt and as "TheHelmetGuy" says wear a helmet when you are on a two wheeler.
Check out BHPian comments for more insights and information.
Source: Read Full Article