Went to book the Crysta, bought an Innova Hycross: Initial impressions
The ride quality is better than Innova Crysta. I did not feel any single pothole inside the cabin. This car just glides over undulations on the road.
BHPian Paritoshkalra recently shared this with other enthusiasts.
The car hunt:
The car hunt had started in 2021 since I had made up my mind to purchase a spacious automatic car.
In 2022, I had sold my Honda City V i-Vtec 2014 since it was a manual car and I wanted go for an Automatic SUV/MUV. I also own an Elite i20 Sportz 2017 which a pretty decent car and I plan to keep it for additional 4-5 yrs.
To cut the long story short, I considered TATA SAFARI XZA (without sunroof variant) & XUV 700 AX7 Diesel AT. I had rejected the Tata Safari since it was quite heavy to maneuver, and its steering was heavy in city speeds. I booked XUV 700 and I was getting delivery on 2nd Nov 2022. One day before the delivery date, I found that the PDI was not done properly and XUV 700 had paint defects. Mahindra dealer (United Mahindra, Mathura Road) corrected those issues but there were clear coat spray remains all over the body, bonnet and front bumper including headlights. The XUV had become coarse as a sandpaper. I found this on my delivery date i.e. 2 Nov 2022. Mahindra was completely unprofessional and was not able to handle this unsold brand-new car. I rejected that XUV 700 straightaway and took my booking amount refund from Mahindra.
After rejecting Mahindra XUV 700, I straightaway went to the nearby Toyota showroom to book Innova Crysta. Soon, I came to know that Hybrid Innova will be launched in few days. I made a decision to consider buying the latest Toyota vehicle. I asked the SA(Mr. Chanchal) at Thirty-Six Toyota to stay in touch as soon as the booking starts.
Innova Hycross – a D2 segment vehicle:
Yes, you read it right, the huge dimensions of Hycross makes it a D2 segment vehicle. Its longer and wider than an Innova Crysta. Its wheelbase is longer than both Fortuner and Innova Crysta. I had booked the car on Hycross launch date i.e. 25th Nov 2022 by paying 50k. After a lot of follow-ups with my dealer – Thirty-Six Toyota in Faridabad, I was able to get the delivery of this vehicle on 1st March 2023, I bought Toyota Innova Hycross VX Hybrid 7-seater. It certainly has the SUV DNA. It's less MPV'ish in character since it drives and feels like a SUV.
I bought this car on my birthday i.e. 1st March 2023, Thanks to Thirty Six Toyota & Mr. Chanchal for making this delivery possible on the promised date.
I was lucky to get this car 1 day before the recent price hike. This car costed me 28.2 lakhs on road (at launch price). However, today, its price is 29.5 lakhs on road.
Choosing the right variant:
The decision about buying VX version was because of the fact that I required a car without sunroof. I had the budget of 33 lakhs(ZX) but still I bought VX because I am not a fan of leather seats and sunroof since we have to deal with extreme climatic conditions in India. Sunroof reduces the headroom inside, makes the car heavy and to an extent, makes the car unsafe as well. I have seen many buyers complaining about broken Panoramic Sunroof. For me this is a un-necessary feature.
On the looks front, I am missing only 2 things in VX:
Wheel Arch Cladding. I plan to add this as soon as there is any information available about addition of Wheel Arch Cladding.
Fog Lamps. These are available as a part of accessory as per Toyota. Currently, they are out of stock. Once available, Fog Lamps will be the first thing I will add to my vehicle.
Mileage:
Till now, this car has comfortably delivered a mileage of 20kmpl in the city under heavy traffic and 18.3 kmpl overall on my recent long drive of 600kms. This is a really good mileage considering the fact that the car had 6 passengers and a bit of luggage too.
Suspension:
Toyota has done a wonderful job with the suspension on this car. I was amazed by its ride quality. This car rides like a proper SUV. Its ride quality is better than Innova Crysta. I did not feel any single pothole inside the cabin. This car just glides over undulations on the road. There is no vertical movement on higher speeds on the highway.
My Hycross is shod with Apollo Apterra Cross Tyres (215 60 R17) and they are offering me an extremely good ride. The Tyre Pressure is 35 psi for the front set of tires and 34 psi for rear set of tyres.
I am very much satisfied with the recent long drive of 600kms yesterday. This car is a highway cruiser and at the same time, offers an easy ride during a traffic jam. The cabin is well-settled. We were 6 people in the car and none of the persons complained from any of the rows. The AC is excellent and the ride comfort of seats in VX is simply superb.
Overall, I would rate the comfort, ride quality and suspension of Innova Hycross 10/10.
The steering:
The car is nimble to manoeuvre. Thanks to its steering which comes as a huge improvement over Innova Crysta. Taking U-turns and moving the car in the city is now a breeze.
Power on offer:
It's a powerful machine, all you need to do is know your car characteristics and choose the right Power Mode based upon the situation. If you do that, this car is extremely powerful on any kind of road conditions.
Cabin experience:
There is complete silence in the car since the cabin is well insulated. There are 12 cup/bottle holders in this car, and everything is in reach. I really liked the cup holders provided under the AC vents. Its extremely easy for the driver to sip a can or a small bottle of cold drink without removing the eyes off the road. The position of this cup holder on the dashboard is well within reach for the driver and it also does not obstruct the view at all.
The seats:
The seats in VX are like a SOFA and they offer better comfort than seats on MG Hector ! The Cushioning is supportive, neither too soft, nor too hard. Believe me, I have driven SAFARI, HECTOR, XUV 700 for reference and fabric seats of HYCROSS VX score above them all. These fabric seats on VX do not cause sweat and are very comfortable. I do not plan to apply any sort of seat covers in future. The original fabric quality is very good and seem to be long lasting too. For cleaning fabric seats, I use vacuum cleaner and sometimes 3M Drycleaning foam on my existing secondary car (my elite i20 has fabric seats since past 6 yrs and they look as good as new). Additionally, the seats on Hycross offer a very good back support and under thigh support as well. You sit high above the ground and get commanding view of the road while driving. You can feel that you are riding a D2 Segment SUV.
Space on offer:
Space is the USP of Hycross. There is no other SUV/ MUV/ SEDAN/ CAR in India under 50 lakhs on road which offers such kind of space for all the occupants. There is ample headroom (specially in VX) (ZX loses out 2 inches of headroom space due to sunroof). This car has ample legroom even in 3rd row. Recently on the trip, we were 6 people in the car and the occupants kept on switching the places to experience the ride in all the rows. My family members rated the comfort on 3rd row to be as good as its on offer in the 2nd row. That is the best compliment I received from my family members. They were quite happy sitting in the 3rd row. They had a lot of legroom in the 3rd row seats. 2nd Row of Hycross 7 seat variant is like a sofa. You can enjoy, relax and sleep during long journeys (wearing seat belts all the time). There are absolutely no complaints from elders in my family to move in and out of the car. They feel this car is better then a sedan and hatchback we have owned in the past.
The AC performance:
The air conditioning in this car is excellent as it has Toyota DNA in it. Its fast to cool the cabin and every seat occupant has his/her own AC vent. Everyone is in control of their respective AC vents and there are no complaints in this regard.
Fit & finish:
A lot has already been commented about the fit and finish of Hycross interiors. However, I would like to say that everything is functional and works like a charm. One thing which I did not like about this car is the quality of leather which is used on the steering. I expected a better gripping leather quality on a steering. However, rest other things are fine for me. Only an owner can tell you about the actual fit and finish of this car. Just visiting the showroom, looking at the quality of plastics and commenting will not help anyone. For example, Alcazar and Creta have decent fit and finish of steering and dashboard but the center console divide between the driver and co-occupant tweaks and squeezes with a lot of sound. Such a case is not there in Hycross. Whatever is provided by Toyota in Hycross is pretty is functional and works immaculately.
Night drive experience:
VX version does not come with Fog lamps, and I really missed those since all my previous cars had fog lamps. The headlight alone was not sufficient for my liking. Although its throw was wide enough and it covered the road nicely but it was certainly not confidence inspiring. I plan to add Fog Lamps as soon as its available at the dealership.
Intelligence on offer:
Based upon my recent experiences, I came to know that this is an intelligent vehicle. Although my VX Hybrid does not have ADAS but the best feature I liked about this car is that it turns on the 360-degree camera automatically when it senses that you are running in low speed with heavy traffic around. This intelligent feature improves the overall driving experience. The Blind Spot Monitoring available in this car is additional feature which acts like a cherry on the cake. The Front Sensors also help a lot as this car is as huge as a Fortuner in dimensions and such assistance from the available functional features on this car makes it an all-round package. This car is stable on high speeds and easy to drive in heavy traffic too. A lot has been said in reviews about the quality of 360 degree camera, however no one noticed that this camera functions automatically during the need of the hour and its quite functional.
Iinfotaiment:
I mainly prefer to use wired Apple CarPlay since it charges my phone and I can use Google Maps in Full Screen mode. The music is played by SPOTIFY and voice commands via Siri works like a charm. If I use Android Auto, it splits the screen into 2 parts, SPOTIFY on the left and Google Maps on the right.
The sound quality provided by the 6 speakers in Hycross VX is sufficient to my liking. I am not an audiophile. I tried doing a bit of tuning on the BASS and TREBLE front, However, I found that the default settings provided the best hearing experience coupled with Spotify which already enhances the overall audio quality in any car.
Even wireless charger is not required in VX since one would use wired Apple Car Play or wired Android Auto and it makes no sense to buy a Wireless charger for additional 10k as an accessory.
The car has ample amount of charging sockets(12V), ports (USB and TYPE C). All the occupants can charge their respective phones without an issue. The practicality and ease of use makes Hycross a thoughtful purchase.
Driving modes:
The Hycross offers majorly 3 driving modes – ECO, CITY and POWER modes:
ECO Mode is preferred during cruising continuously on high speeds, during parking and while moving in a tight traffic jam.
CITY Mode is useful while moving in the city with speeds of around 40-80 km/hr. Its makes the overtaking easy and makes the car nimble and responsive.
POWER Mode is occasionally useful on high steep/ mountain roads and while overtaking on high speeds. However this mode is useless while cruising on higher speeds continuously. (Eco mode has to be preferred in that case as it offers smoother driving experience)
EV Mode – Additionally there is an EV mode also on offer. This mode is helpful during parking at home or inside the parking lot in malls. I have felt that the car is automatically in EV mode at lower speeds so this mode is not much used.
Note: Remember this is an E-CVT. The driver needs to be knowledgeable enough to use these driving modes wisely to extract maximum mileage and pickup depending upon the traffic and road conditions.
Road presence:
The Hycross commands immense road presence and it's a head-turner. Cars and SUVs will slowdown to see this huge vehicle on road. Driver sits high above the ground, bonnet is completely visible and it gives you a king of the road experience.
I am impressed by its ride quality, easy to move characteristics and functional features on offer. Overall, I am satisfied customer after buying Innova Hycross VX. It offers a lot of value and delivers an unmatchable experience. This is a car which is laden with future proof Hybrid technology, gives a decent peace of mind for 15 yrs in NCR and offers an excellent overall package.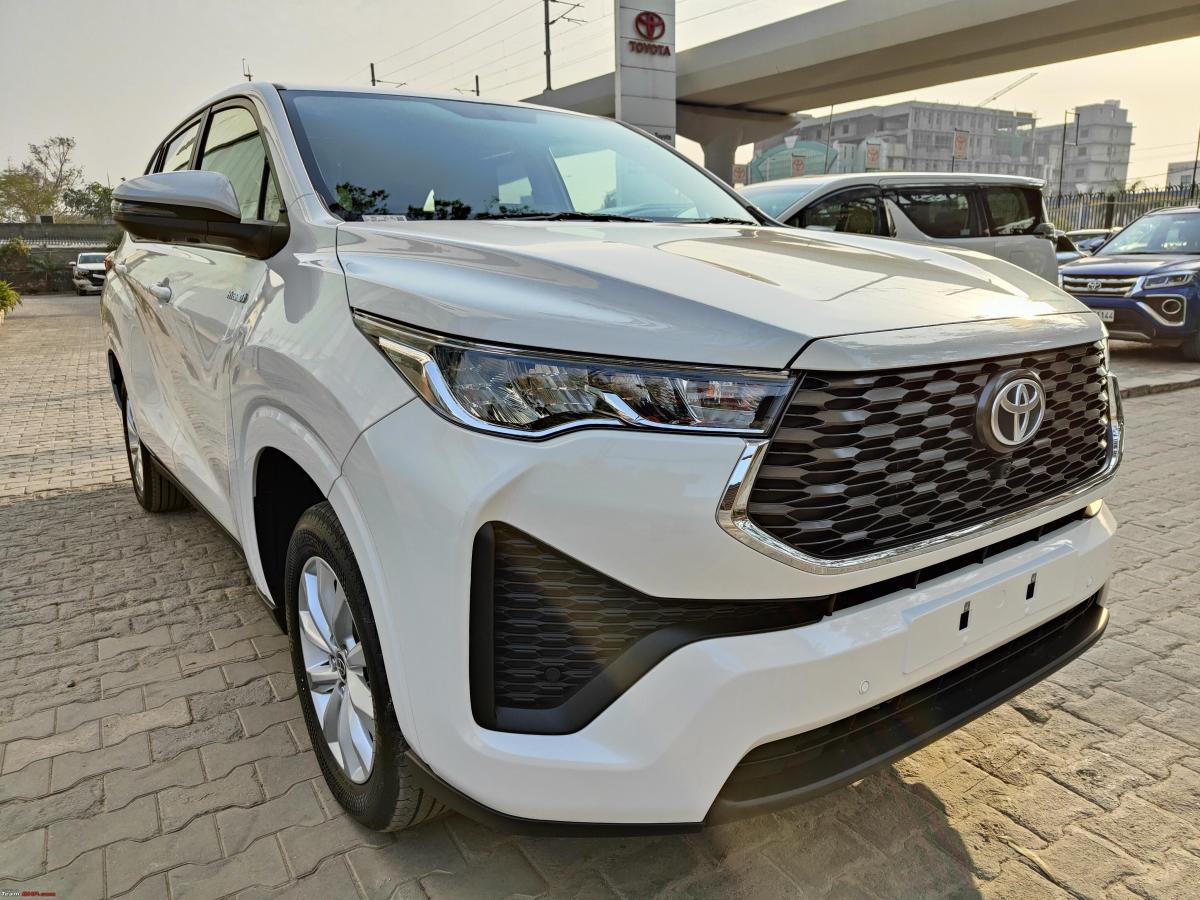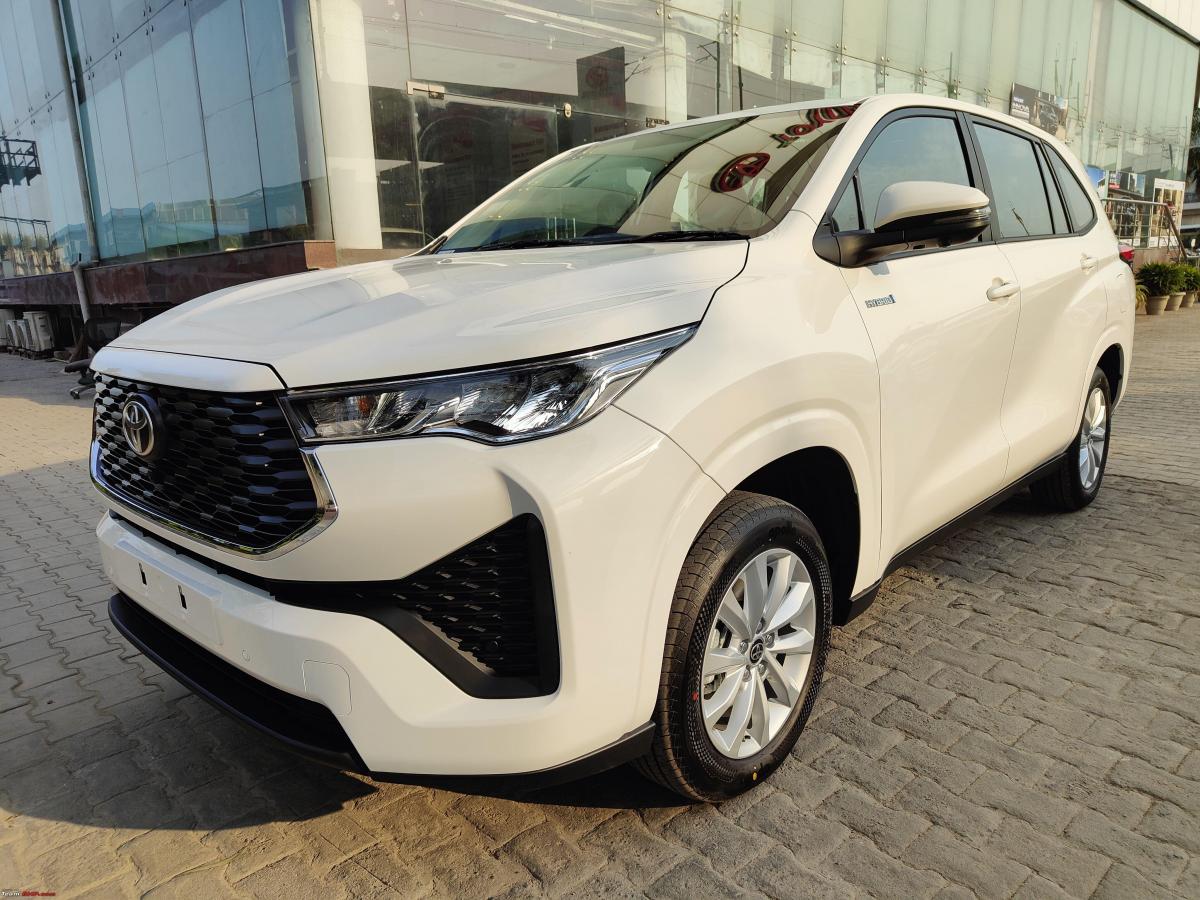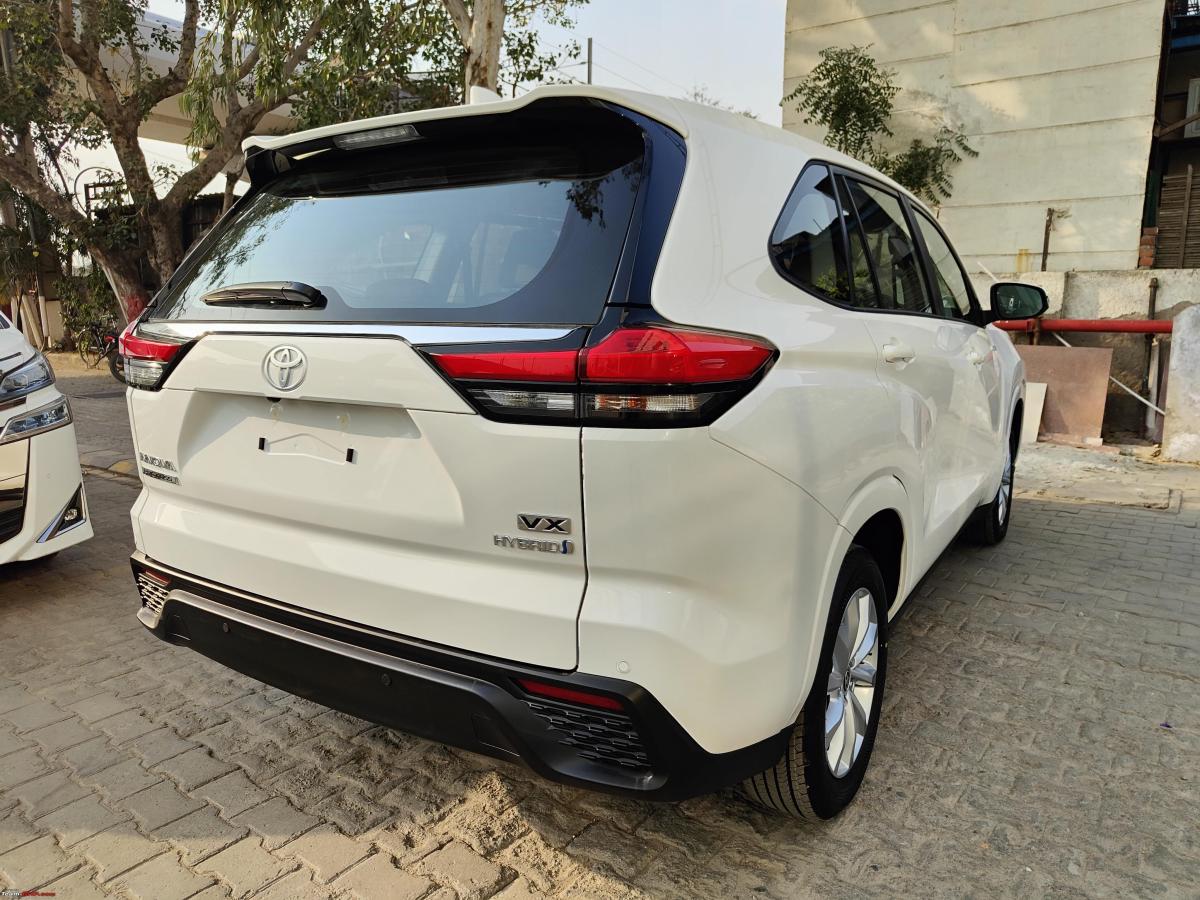 Check out BHPian comments for more insights and information.
Source: Read Full Article