Vibrations on my new Gixxer SF 250: Why it took almost 1 month to fix!
What could and should have been a fairly simple process, has been drawn out into a messy episode.
BHPian neil.jericho recently shared this with other enthusiasts.
When Indian motorcycle enthusiasts think of over-engineering, supreme refinement, and two-wheelers that will outlast them and can be passed down to their children, they usually think of Japanese products. While Indian companies have come a very long way in the last 20 years (TVS and Royal Enfield are flying the flag with pride!), it is often the Japanese motorcycles that enthusiasts turn to, for peace of mind motorcycle ownership.
Given Suzuki's tremendous success with its 155 cc motorcycles, I honestly expected the Gixxer 250s to be more of the same. After all, I know several Suzuki Gixxer 155 owners who have easily crossed 1,00,000 kilometres on their bikes, without any complaints and are confident that their motorcycles can do another 1,00,000 kilometres more, without skipping a beat.
A quick recap
In case someone is new to this thread:
I purchased a new, leftover 2021 Suzuki Gixxer SF 250 in June 2022 from Aluva Suzuki.
There were zero issues in the first 6,000 odd kilometres. The bike was used mostly for solo touring on South Indian highways. Typically, I shift early (around 5,000 RPM) and my highway cruising speeds are in the range of 90 to 100 km/h (indicated). I haven't even tested the top speed of this motorcycle yet, because I have never felt the need to.
Slowly, I started noticing that un-Suzuki-like vibes were creeping in. Very quickly, the vibrations started becoming more prominent across the rev range. They spread through the handlebar, footpegs, tank and rear of the bike.
In parallel, a friend who also owns a Suzuki Gixxer SF 250 in Kerala, happened to message me about the vibrations on his motorcycle. They were exactly the same as what I was experiencing, while I was on my ride to Munnar and Kodaikanal.
While returning from Kodaikanal, the vibrations were so noticeable that I was left with tingling feet, every time I took a break. This was certainly not what I signed up for when I bought the Suzuki Gixxer SF 250.
Concerned, I took the motorcycle to Aluva Suzuki, which is easily the most highly recommended SVC in Cochin (technically, its outside the city). The technicians tightened the chain and the foundation bolts. I didn't see them refer to any service manual or use a torque wrench. That improved matters by quite a bit (reduced the vibes by around 40%). However, there still were vibrations in the motorcycle.
The team at the newly opened Suzuki superbike showroom in Cochin (just a few kilometres away from where I stay) asked me to bring in my bike so that they can do the needful on the vibrations issue.
After 1 1/2 days of work, they dropped the bike back at my place. While the bike was still idling, I held the handlebar and immediately knew that the problem of excess vibrations was not resolved. This is without me even sitting on the motorcycle. I mentioned the same to the service advisor, who rightly asked me to ride it over the weekend and give my firm feedback. He said that the issue of excess vibrations was sorted.
Meanwhile, my friend who is based out of North Kerala, had booked an appointment at Apco Suzuki in Calicut. The technical team connected the vibration test tool to his bike and found that while there were vibrations at 5,000 RPM, it was within Suzuki's tolerance level. I explained all this to my service advisor and asked him to check if the tool was at their SVC in Cochin. I also sent my service advisor several links regarding this problem, including TBHPian SubodhRage's thread ("Free" Hassles at the Suzuki Motorcycle After Sales-Service, Delhi).
That is where we left off. Now, hold on to your popcorn, because things are about to get a lot more interesting.
Recent Developments
Within the first 10 seconds of riding the supposedly fixed motorcycle, I knew that not only had the team at the Suzuki superbike showroom failed to reduce the vibrations, but they had also incredibly managed to increase vibrations everywhere! The bike idled roughly. There were tremendous vibrations through the footpegs, and overall, the reintroduced buzziness simply drained all the enjoyment of riding this motorcycle, out of me. This truly was an amazing feat of technical expertise and obliviousness!
Immediately, I took the bike back to the same Suzuki Superbike SVC and explained that they have made things worse. The showroom manager sat on the bike and confirmed that there were far too many vibrations, especially through the footpegs.
The service advisor wanted me to ask my friend to get the details of the service advisor and technician in Apco Suzuki, as well as the name of the vibration tool. Imagine the cheek! I told him that it was his job to pick up the phone and find out all these details from Apco Suzuki.
My motorcycle doesn't qualify for the recall that was initiated by Suzuki.
While he was calling around to crowd-source a vibration test tool, the Suzuki SVC in Thrikakkara confirmed to my service advisor that last year, another Gixxer 250 had come to them, with the exact same complaint. Sadly, nobody thought it worth asking the Thrikakkara SVC team what was done to resolve the problem!
If you thought that it is time to finish your popcorn, think again. There was another 2022 manufactured black Suzuki Gixxer SF 250 in the service centre. The bike had only 3,757 kilometres on the odometer. It vibrated a lot worse than mine did! The owner didn't complain about vibrations. The service advisor and the lead technician hadn't identified the unmissable problem of massive vibrations on that bike! It was only because they wanted to benchmark that bike against mine, did they realize that it was a lot worse. I won't be surprised if they let sleeping dogs lie in that case
Finally, the service advisor admitted that when he handed over the bike to me, there still were noticeable vibrations on the motorcycle. His defence was that the bike was smoother than when I gave it to them, so he thought that it was enough. Sadly, they made the problem worse before giving it back to me and were oblivious to it. That speaks for the level of (?)competence in the technical team.
I had to explain that this was supposed to be Suzuki's biggest motorcycle dealership in the state. If a fly-by-night mechanic and his apprentice, did a half-baked job and said they couldn't do more, I can understand that they are at their wits end. But this lackadaisical attitude of "we did something, the customer should stop complaining and be happy" is not expected from a Suzuki dealership. It certainly isn't expected from Suzuki's #1 motorcycle dealership in Kerala. God bless anyone, including potentially me, who is planning to buy a Suzuki Vstrom 650, Katana or Hayabusa.
Based on my count, there are 5 motorcycles with the exact same issue:
And this is without me going out into different Suzuki ownership groups and hunting for others with the same issue.
Next Steps
The superbike SVC has promised to borrow the vibration test tool from the Thrikakkara SVC. I don't know what purpose it will serve because we all are in agreement that the motorcycle has vibrations everywhere. The question is what is going to be done to resolve this problem?
Final Thoughts
I'm really surprised by how unrefined the motorcycle now feels, in such a short ownership period. 5 1/2 months and 7.3K kilometres of riding is nothing for a typical Japanese motorcycle. You could even say that the engine is only opening up, with such limited riding. And yet, the problem of excess vibrations in the motorcycle, across multiple ownerships (as documented above), is both unexpected and appalling. If this is how bad the Suzuki Gixxer SF 250 feels at this early stage, how terribly will it fare, when it gets to 50 K kms on the odometer? As I've said before, if I wanted to tour with vibrations, I could have taken my Royal Enfield Continental GT 535, instead.
Secondly, I don't know how Suzuki has remained oblivious to the issue, for this long. Granted, the 250s barely sell, but in the span of a few days, if I was able to identify 5 different motorcycles with the exact same issue (without any real effort, mind you), then surely Suzuki, with its gargantuan reach, should have found many more such cases from across the country.
Lastly, the technical teams appear to be completely untrained and grossly under-equipped to deal with these problems. I will have to forward this post to some high-ranking Suzuki officials, in the hope that it gets them to put the required resources towards resolving what appears to be a widespread issue. A technical solution will benefit multiple Suzuki 250 owners, not just me or my friend. If that approach doesn't work, I will write to Suzuki's customer care email ID and see if they can bring in the right technical expertise.
As it stands, with the newly introduced vibrations, that too from Suzuki's biggest motorcycle showroom in Kerala, I cannot take my motorcycle for the extensive touring that I had planned this month. I never thought that I would say that about a Suzuki product.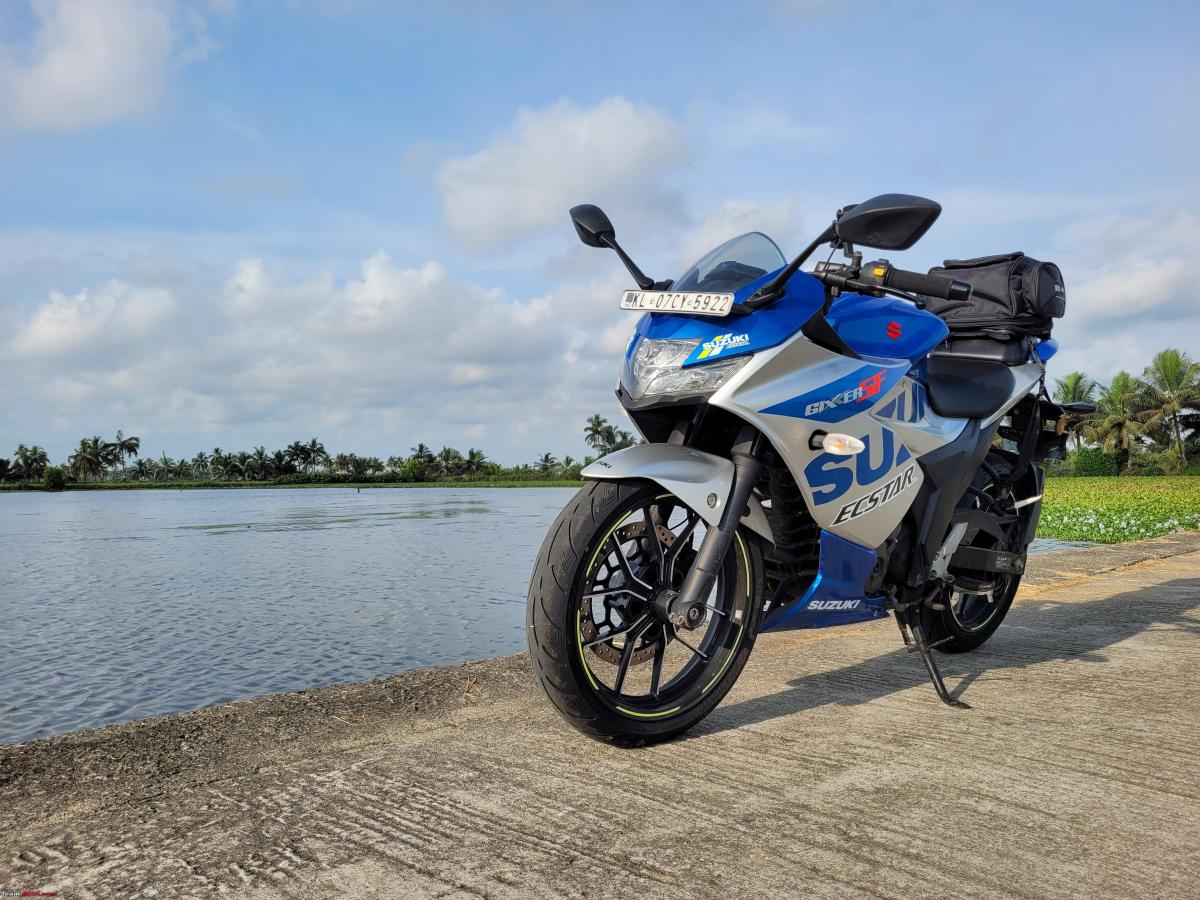 An update by BHPian neil.jericho on 8th December 2022
Current Situation
Once again, my motorcycle is not part of the 199 motorcycles that were officially recalled by Suzuki. This is as per the confirmation from the service advisor.
Number of phone calls from the SA or showroom manager after I left their showroom on Monday: Zero
I had to then reach out to a senior person in the company, to ask for the right technical expertise and inputs from different Suzuki channels, to be provided. We agreed that I will leave the motorcycle at the superbike SVC and I will only collect it after the issue is resolved, once and for all. That got things in motion.
I forwarded the video from TBHPian Thatautoguy46 which was shared by TBHPian DRIV3R, with different people in the Suzuki ecosystem.
The service advisor wanted me to bring the motorcycle to the Thrikakkara SVC for their mechanic to ride the bike and see if the vibrations were similar to the bike that they worked on earlier, as mentioned in my last post. I said that it's not possible for me to go to SVC hoping for them to match my symptoms.
I dropped the motorcycle off at the superbike SVC (7th of December).
Now that the team has started asking around, they found that the complaint of excess vibrations has come up in 3 different customer bikes, in other districts. As I mentioned before, this isn't a one-off issue with my bike.
Talking to the mechanics about this issue was so disheartening. Their thinking is completely sandboxed and along the usual, afraid of my own shadow lines. Some of their points were:
If the issue is identified as the balancer gear drive issue, the SA will order for the part. It will take a minimum of 20 days to arrive. After that, they will need 1 – 2 days to install the part and test everything. No explanation of what it will take for them to triangulate the issue and arrive at the decision to order the necessary part(s).
I sent a lengthy email to Suzuki India, explaining the entire situation.
Next Steps
Right now, there is no concrete action plan from the technical team. There isn't even a flaky plan from the technical team. Nobody has told me what they will do next when they will do it when I can expect to get an update when the parts (if required) will be ordered when I can get my motorcycle back etc. I was only asked if they can take it to the Thrikakkara SVC, where the vibration tool is present.
If I think back to the beginning, I told the superbike SVC about the existence of the vibration tool, informed them about the recall for the 250cc bikes, shared multiple links from the internet and even told them the potential solution (Thatautoguy46's video, though sadly it does appear to have only been a temporary fix). The superbike SVC team was clueless from day 1.
That brings me to the 3 fundamental issues which I am grappling with:
Having owned a Royal Enfield which has not been completely niggle free, I have had the opportunity to interact with different gentlemen from the company, who have put in genuine efforts to resolve the issues and ensure customer satisfaction. There are clearly defined processes in place behind the scenes, that keep the colossal ship sailing. I don't see anything close to that in Suzuki. There is zero accountability. The only communication that happens is when I call them. Barring one gentleman who is reaching out behind the scenes, nobody else seems to be interested in resolving this problem.
Secondly, mechanics and service advisors that are in over their head, seems to be the norm across different cities and towns. In Kerala, it is a well-known fact that Suzuki's after-sales service is its biggest weakness. The technical team doesn't appear to be escalating it internally through the right channels, to get the required help to address this issue. If I didn't have the time or the inclination or access to this forum, to learn about this issue, I doubt whether the team would have had any clue on where to start looking. At least now, we have narrowed it down to one potential cause.
Lastly, Im no mechanical engineering expert but it appears to me that the improper positioning of the balancer driver gear, is a far more widespread issue than Suzuki either a. understands or b. publicly acknowledges. Alternatively, there is some other issue which is causing this vibration, which has not been identified or diagnosed, which is also causing excess vibrations in these engines at such an early stage.
Closing Thoughts
6 months ago, if you had told me that I would be banging my head against a wall due to mechanical issues with my GSXRRR 250 and company apathy, I would have laughed heartily. Well, now the joke is on me. As wonderful as the Suzuki Gixxer SF 250 is, there is no reason for it to degrade in quality this early in its lifetime, much less at any point in its lifetime. I can't think of any other motorcycle in the market today, that will degrade this badly, this fast.
As a customer, I believe that I have done everything that can possibly be done, to help the team at Suzuki. Now the ball is in their court. Let's see what they do, or more likely, won't do. Either way, my motorcycle is off the road as of yesterday, 7th December 2022. That puts an end to my plans of riding to Yercaud and Ooty this week and my subsequent plan of touring through Karnataka, starting next week. Thanks, Suzuki.
Anyways, once again, thanks to all the members of the wider community, both on and off the forum, for your support and input, including a friend who very kindly offered me his Honda CBR250 for the solo touring that I planned to do. Hopefully, Suzuki pulls up its socks. For now, it's goodbye to the GSXR 250. Who knows when you will be ready to return home?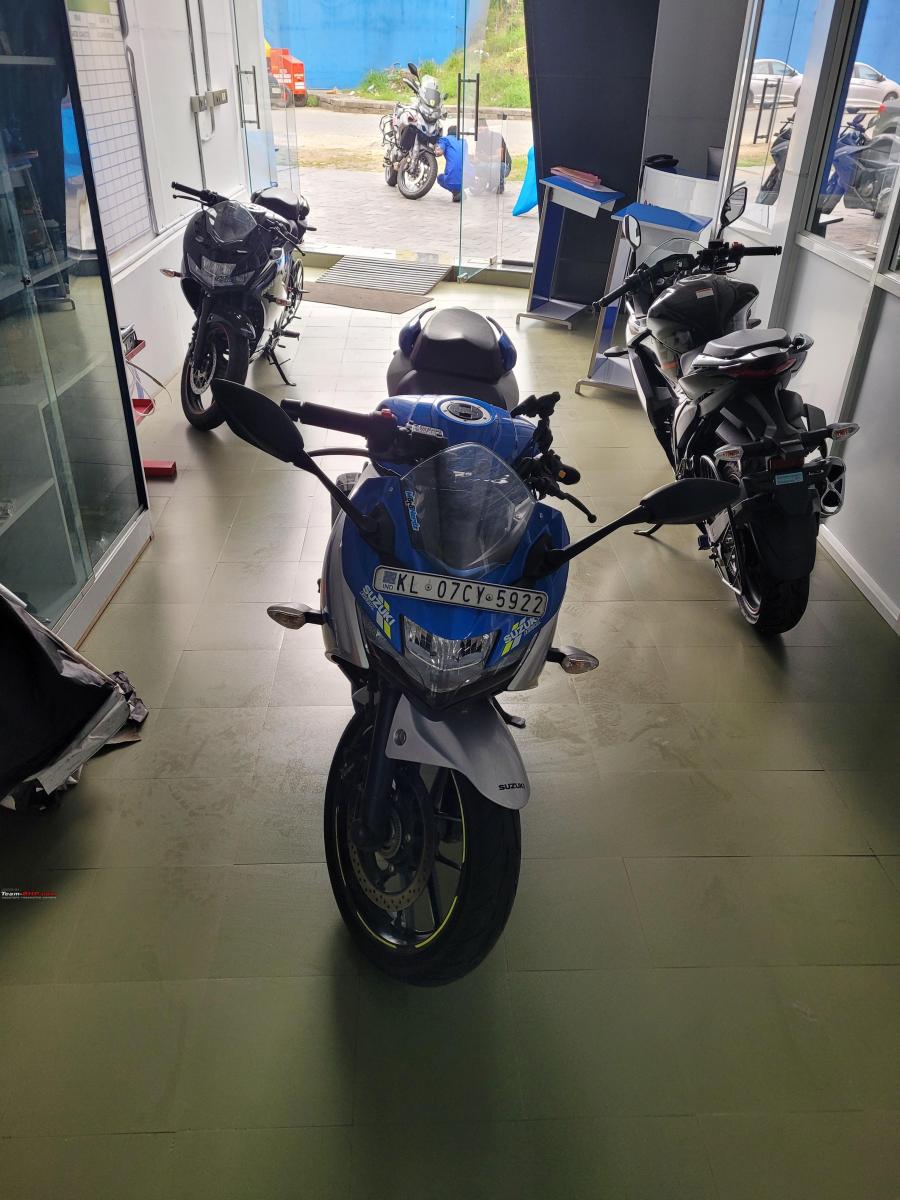 Another update by BHPian neil.jericho on 16th December 2022
My Service Advisor informed me that their team had followed all the steps recommended by the central Suzuki technical team. I was asked to come to check if the excess vibrations issue on the motorcycle was resolved.
As per the showroom manager and the service advisor, below are the steps that they were instructed to take:
Check suspension mounting and balancing
Check swingarm alignment is correct on both sides
Check the front sprocket
Check chain slack
Perform wheel balancing for the rear (wasn't needed, as I had balanced the wheels at the tire change which was at 5K kms) and wheel bearing lubrication
Torque everything as per OEM specification
This is the same SOP that they followed for TBHPian dheer4's motorcycle.
Sadly, the vibrations are still evident in the handlebar, footpegs, tank, seat and rear section. This was confirmed by the service advisor and showroom manager.
Since the issue is not resolved, the motorcycle continues to remain in the Suzuki SVC. I have sent an email confirming that I am not taking delivery of the motorcycle since Suzuki hasn't fixed the problem with my motorcycle.
As of now, I don't know what the next steps are.
Meanwhile, some interesting points came up in my discussion with the SVC team.
Now that they know the exact symptoms to look for, they are finding it in all the other Gixxer and Gixxer SF 250 motorcycles.
Apparently, another motorcycle with less than 2,000 kilometres on the odometer, had the exact same vibrations.
Even the brand new Gixxer 250 in their showroom has similar vibrations.
The VStrom 250s don't seem to have the issue. (Again, it's a very low seller in Kerala, so the sample size is negligible)
However, I remember finding vibrations in the brand-new VStrom 250 test-ride motorcycle. I went back to my post on the VStrom 250 thread to see if I had made a mention of it. Sure enough, below is what I had written on the 2nd of June 2022.
The facts leave me with more confusion than clarity. What I am certain of is that:
What I cannot understand is how an engineering juggernaut like Suzuki was unable to rectify the problem for a motorcycle that has been in the market for a few years Well wishers have already suggested that Suzuki seems to be incapable and/or unwilling to rectify what seems to be an obvious fault in the 250cc platform, and hence, it might be best to just sell the motorcycle immediately. There are a lot of other motorcycles in the market that comes with refinement and reliability.
For now, like everyone else who is glued to this thread, I'm waiting and watching.
Once again, the ball is in Suzuki's court.
After multiple other updates over the course of December 2022. BHPian neil.jericho on 3rd January 2023 shared this:
Day 24 Update (December 31st)
I received a call from the Service Advisor in the evening. He was happy to share that the motorcycle was finally ready to be picked up! Since I had other commitments, I could only pick it up on Monday (2nd January).
Taking delivery of the motorcycle
The SVC team was quite happy to hand over the motorcycle to me. Below is a list of parts that were changed as part of the warranty claim.
There was another Gixxer SF250 in the SVC, which had come in for service. That bike had run 16.x K kilometres. The team connected Suzuki's (in?)famous vibration test tool to the motorcycle, to show me how it works. I was expecting a fancy device which was connected to the ECU and which shows the readings on a mobile app. Instead, all I got was two metal bars, bolted onto the motorcycle. The motorcycle is then revved in neutral, thereby transferring the vibrations to the metal bars. It all comes down to resonance. If the vibrations are excessive, the two metal bars will collide, thereby producing a sound.
Basically, this is a Japanese chai cup vibration test.
For all the Suzuki fanboys who believe that the vibration issue is limited to barely any 250 motorcycles, this particular 16.x K kms run motorcycle had terrible vibrations in the handlebar, footpegs and seats. As with almost all other Suzuki 250 owners, he too has gotten used to the vibes and hasn't complained about it.
Initial Impressions
I didn't get the opportunity to ride my bike for an extended duration. What I did notice was that:
Let me put in a few hundred kilometres to see how the engine has settled in. I have some exciting riding plans for this weekend and will need to drop the bike off for its service, in the coming week.
Thanks to the folks at the Suzuki showroom and from the non-service division, who helped to get the required approvals and finish the work in 24 days. Without their support, it would have taken at least 1.5x longer, if not more. Probably more.
Meanwhile, I am yet to get a reply from Suzuki India, to any of my emails So much for their customer support!
Check out BHPian comments for more insights and information.
Source: Read Full Article