TVS offers a way to get genuine spares without having to visit dealers
A boon for any TVS owner who knows how painful it is to get his hands on spare parts.
BHPian vijai recently shared this with other enthusiasts.
I have seen that the parts manual is pretty easy to acquire for their premium offering before, but this has come as a surprise to me.
In case you do not know, India has its own Right to Repair law and many companies are signing up to provide customer service under this law. We have a portal for customer complaints as well when a manufacturer doesn't comply with the law. I do not want to get into the details of how effective it is, but it is indeed a step in the right direction.
That being said, TVS is now not only offering better accessibility to parts, but the catalogue seems extensive – to ordering the last bolt you need to finish your engine work. All this, without having to visit the showroom or taking their help to fix your vehicle. Now, I do not know their stand on warranty when you do the work yourself, but with TVS having offered over-the-counter purchases for years and now making it online, it's a very positive step in my opinion.
So, what am I talking about?
It is their new online portal, where you can order any part for your bike (cannot find scooters yet) with a pictorial representation of what is available along with their part numbers. You order and it's delivered to your home – a boon for any TVS owner who knows how painful it is to get his hands on spare parts. Showrooms literally take eternity get them for you.
The website is not fully functional yet, but a person named Venkatesh recently placed an order for his RR310. The website is still largely buggy – not a great customer experience – probably why it's not advertised yet. All the screenshots below are his.
Bike selection: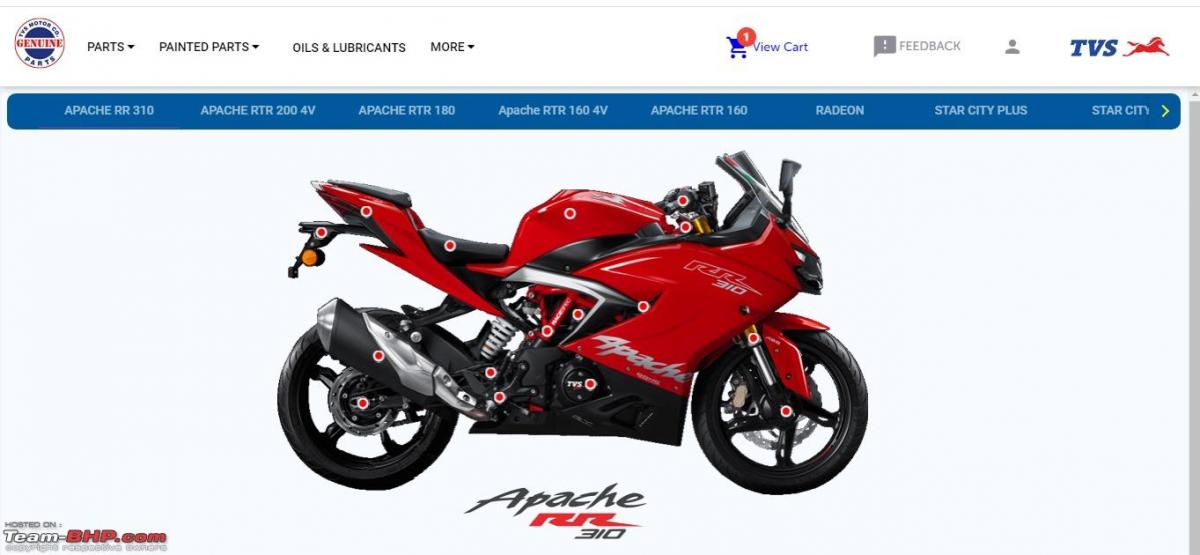 Login: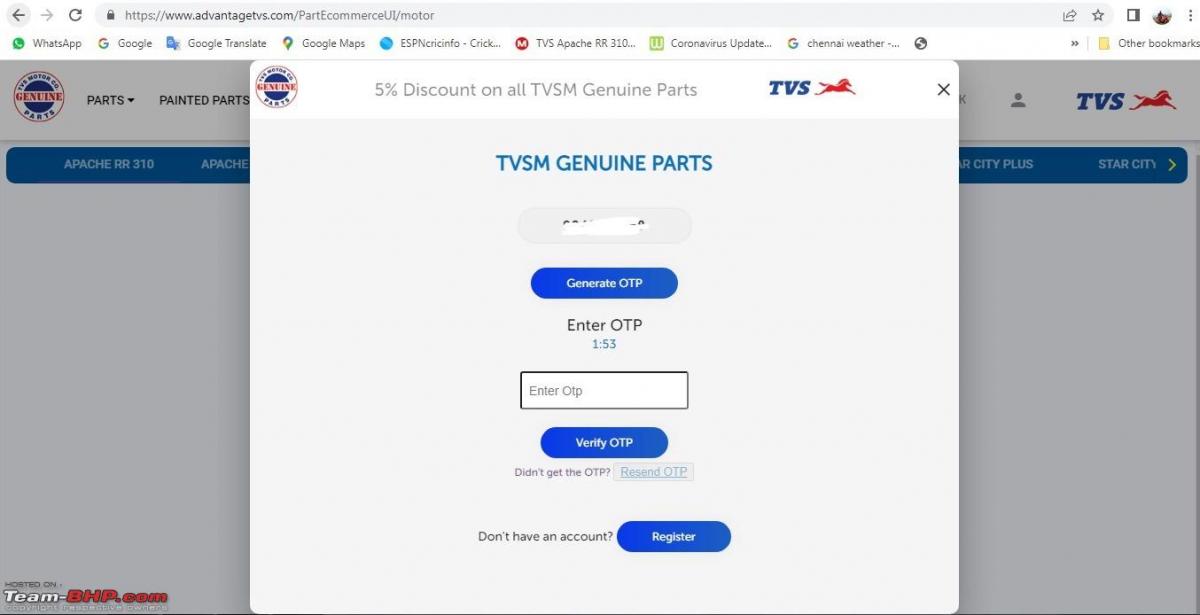 Click on the image that has the part you need and the list opens. You also have to select the location on a bike's picture to choose the part you need that opens up this pop-up menu. e.g: you click on the engine area to choose parts for the engine: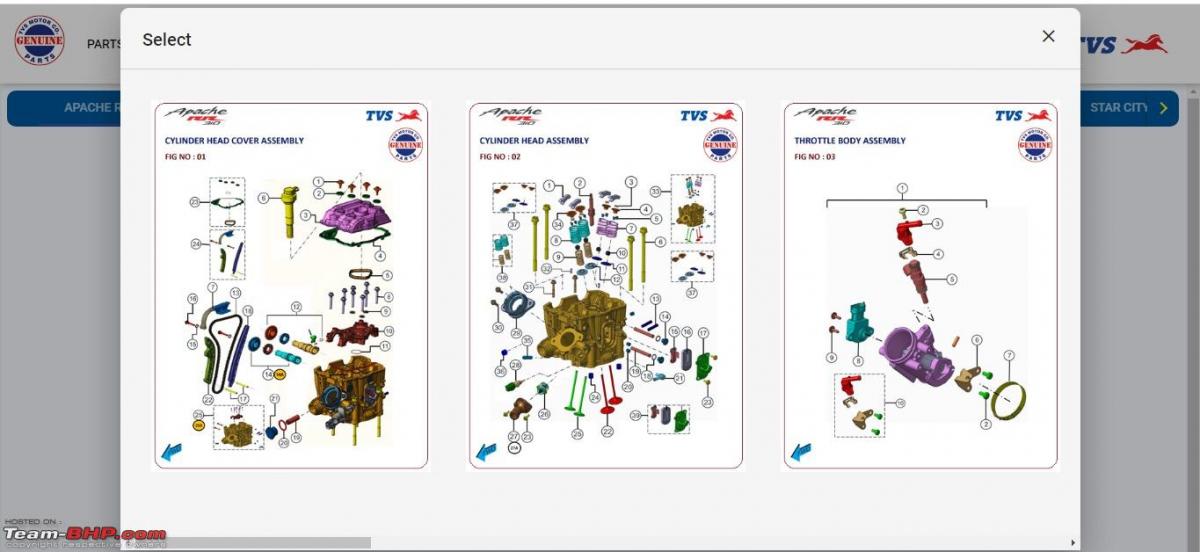 Part list along with reference image: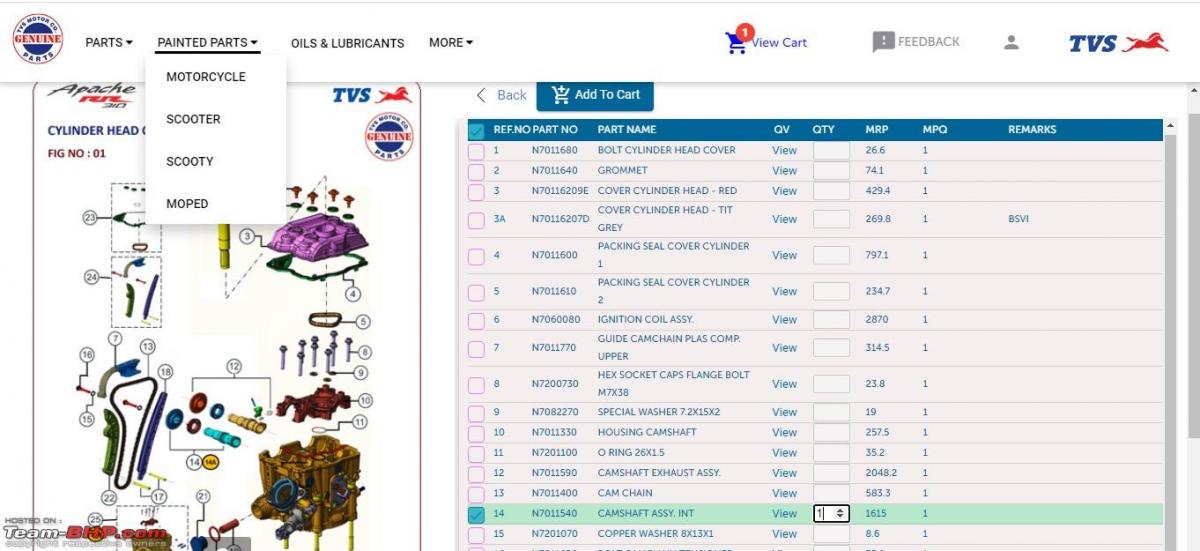 Checkout page:
Delivery address:
Order history:
Order status:
Here's what BHPian Sheel had to say on the matter:
This is a laudable effort by TVS. I wish more manufacturers (2 wheelers / 4 wheelers & Commercial vehicles) come up with this. This way, pilferage (at garage / ASC level) and counterfeiting can be eradicated.
Here's what BHPian nithishsaba had to say on the matter:
This website has been in existence since 2021 if I remember correctly. I ordered parts for my RX100 self-start conversion project and the parts arrived within 3 days. As far as I know, no company in India has this good spare part website.
Here's what BHPian MotoBlip had to say on the matter:
Looks like the website is access restricted to dealers only, maybe others who have ordered could clarify.
Here's what BHPian FURY_44 had to say on the matter:
I believe I was one of the first ones to order from this website, way back in 2021, even before the site was published online. I had come across the website during a Google search and gave it a chance by ordering parts for my RR310. I had ordered basic items like Air filters and Oil filters, I was apprehensive about the website. Surprisingly, the items were home delivered 4 days later, with a 5% discount on MRP as published on the site.

I went on to make two more orders in March 2022 and March 2023. However, despite the successful payment processing for these orders, they were both automatically canceled a few days later and the amount was refunded to my account. I couldn't help but wonder why TVS would go through the effort of publishing this website if they were not going to process orders from retail customers, which defeats the purpose altogether.

I tried to log in to my account now with my verified number, I am unable to do so.
Check out BHPian comments for more insights and information.
Source: Read Full Article