Truck carrying LPG cylinders hits my Mahindra XUV300 while overtaking
My wife had stopped the car at a gradual right turn because a Toyota Etios was parked on the left shoulder of the road facing the opposite direction of the traffic.
BHPian Vijin recently shared this with other enthusiasts.
It's a little unfortunate to report that we were involved in a minor accident a couple of weeks ago.
This happened on my way from Hyderabad to Trivandrum. I drove from Hyderabad to Bangalore alone, spent the night there, then went to Trichur to visit my in-laws, picked up my wife and kid, and continued south to visit my parents in Trivandrum.
26/03
About 90 kilometres north of our final destination, my wife offered to drive the rest of the way. She is a novice and has done some highway trip drive sharing in the past, though not much on Kerala highways.
If you are unaware, the majority of Kerala's highways are only two lanes with a mix of continuous and broken white lines separating traffic in both directions. We were approaching 40kmph on a gradual right turn with a continuous white line prohibiting any overtaking. A white Toyota Etios was parked on the left shoulder of the road, but it was facing the opposite direction of traffic. My wife had slowed and came to a complete stop when she saw this car waiting in the opposite direction because she was unsure what the Etios guy was going to do next.
Then, seemingly out of nowhere, a truck carrying LPG cylinders decided to overtake us and re-enter the lane as quickly as possible. He was almost there, except for the crash bar on the back end, which caught our front right side.
We were stunned for a split second as we heard the thud and a screech and felt a sudden jerk. We usually travel with our seats belted and our child in his car seat, resulting in nil impact inside.
I saw the truck driver realise what had happened and come to a halt a few metres ahead of me. I also noticed that my wife was in shock, but that my child was sound asleep and safe. When I regained my composure, I noticed that traffic was piling up behind me. I asked my wife to drive ahead and park on the shoulder just ahead of the Etios, who was noticing all the commotion. I assured her that everything would be fine and that I would take care of all that.
When I got out of the car, I noticed damage to the right front cladding, tyre, alloy wheel, wheel arch garnish, and front bumper. The front bumper was broken and was hanging a little, the DRL, fog light, and front parking sensor on the right side became non-functional. The sidewall of the front right tyre was torn, the alloy wheel was scratched, and the wheel arch was ripped open.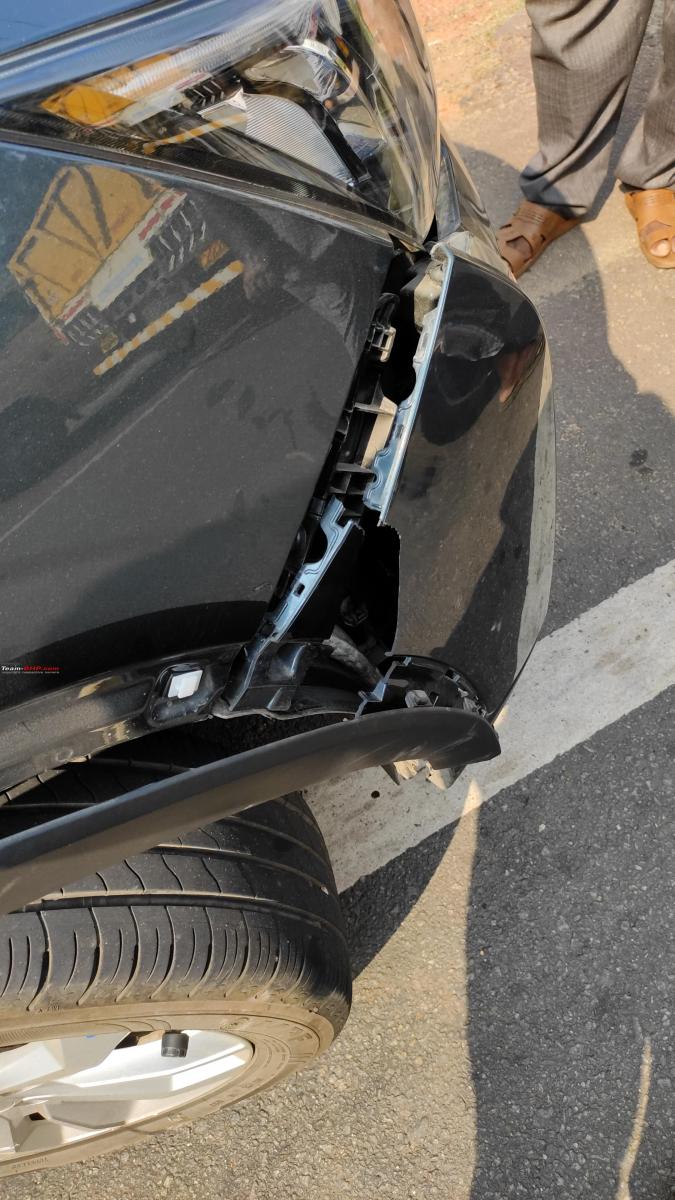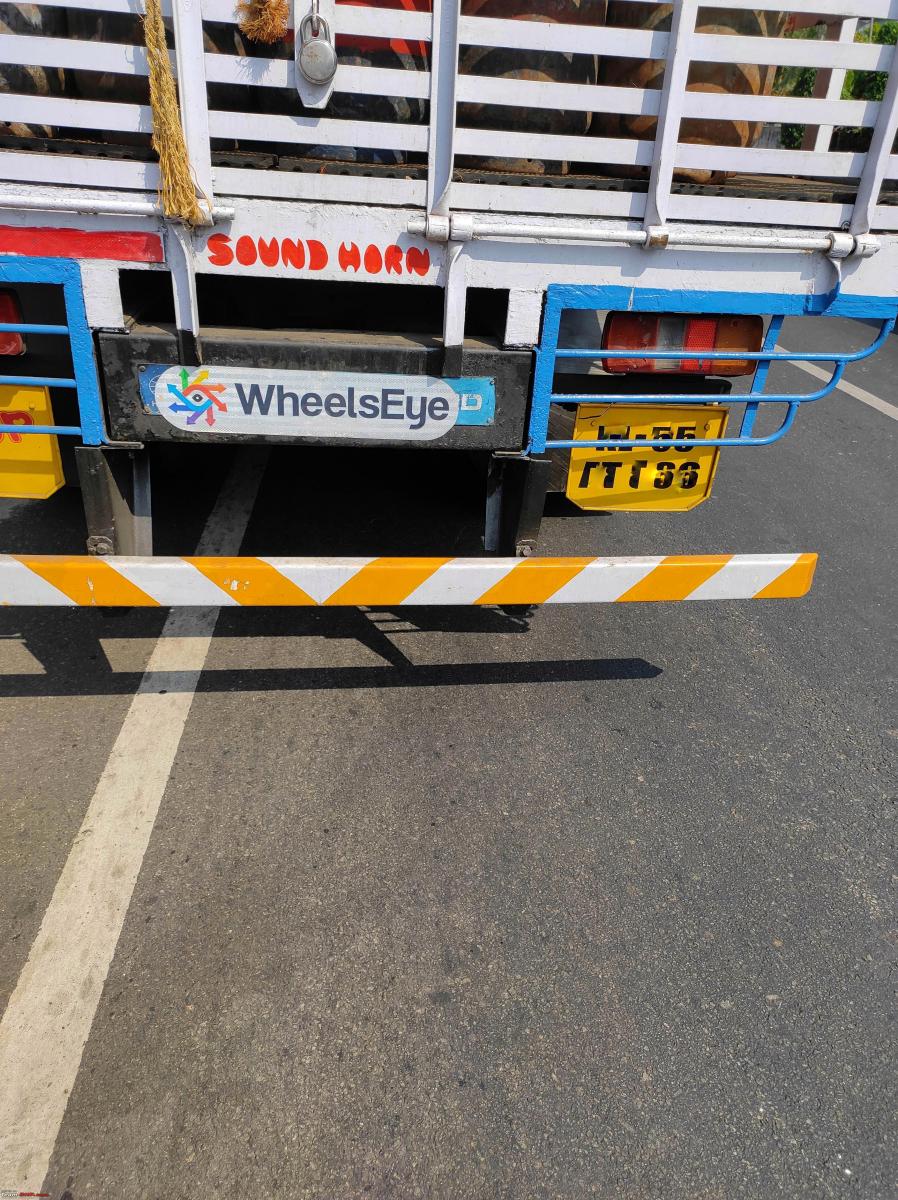 The rear crash bar
I then opened the bonnet and was relieved to see that there had been no impact on the inside and that the majority of the impact was cosmetic.
Guilt set in for the Etios guy, who rushed out of the car, gathered the crowd and started yelling at the truck driver. Meanwhile, I quickly dialled a known SA from MASS at Eram Mahindra, Trichur, and sent him a few clicks to get a rough estimate. He assured me that with my insurance, I might have to spend around Rs.2K, but the final bill could be well over Rs 30K.
Due to the commotion, my son had awoken and began crying, and the crowd was on the verge of calling the police. I just wanted to avoid any complications and unnecessary time waste. The Etios driver and his friend demanded that the truck driver pay a substantial amount of money or we all go to the police, while the truck driver offered 1.5K.
To calm everyone down, I quickly agreed to take the money and demanded that he assist me with the hanging bumper situation so that I could drive until the next ASS. He quickly tied things up with metal wires, and I discovered we could proceed.
I quickly thanked everyone, dispersed the crowd, and continued my journey at a slow pace, assuring my better half that I would have done the same thing in that situation and nothing would have been different.
Sunday, March 27th
MASS was working on Sunday due to a trade union strike scheduled for the 28th and 29th of March. I went to Trivandrum SS Mahindra, and they gave me an estimate of Rs. 43k and asked that I return the vehicle on Wednesday. Furthermore, they mentioned that the alloy wheels might need to be replaced and that they are experiencing some delays in receiving parts these days. I proceeded to pay an advance amount and requested that an order be placed immediately.
Wednesday, 30/03
I drove back to MASS, parked the car, and went to the nearest United India Insurance office to file a claim. (I have both of my cars and a two-wheeler insured with United India because I have a relative who works there. The only flipside is that none of the ASS has cashless transactions with these guys).
31/03
An insurance approver arrived, gave the green light, and a work order was given. I asked around and was told that there had been quite a few delays due to accidental repairs in this service centre and that some follow-up might be required to speed things up.
01/04
After a few follow-ups with the claims team and store management at SS Mahindra, I realised that these guys are severely understaffed, and my case may be delayed as a result. My work order was reflected in the Mahindra portal after a few follow-ups. My delivery date, on the other hand, is set for 11/04.
08/04
It appears that they are still waiting for parts such as alloy wheels and tyre arch garnish. They claim to have completed all other tasks.
The scarcity of electronic parts is understandable, but the scarcity of metal and plastic parts baffles me. I've had similar repairs done on my previous Maruti and Hyundai vehicles, but I've never seen such a long wait, Mahindra!
I'll wait a few more days, hoping to put this episode behind me; fingers crossed!
Update
10/04
Called SS Mahindra because this was the delivery date that had been promised. However, SA informed me that DRL would not arrive until the following day. I proceeded to escalate the situation using the Mahindra Withyouhamesha app. My order was placed on 27/03, almost 15 days ago.
11/04
Called the SA again in the afternoon; his manager took the call and informed me that the vehicle was ready and that I could come in. When I arrived at the centre around 4 p.m., no one knew where the file pertaining to my vehicle was. They made some excuses and told me that a resurvey by an insurance agent was necessary. When I mentioned that I had only come because I had received confirmation to come and collect, the perplexed SA asked me to wait in the customer lounge while they sorted out the paperwork.
Meanwhile, I called the insurance surveyor and inquired about the resurvey part. He stated that it is not required, and he had already updated that to the one of SA here. He also made a few follow-up phone calls. After nearly an hour of waiting and still no response from the ASC team, I went in again and expressed my displeasure with the lack of respect for my time. After some time, they generated the bill and handed me the vehicle. I also discovered one of the TPMS sensors was missing, and SA promptly followed up and returned it.
Finally, on my way back home, I got a call with a request to sign a customer satisfaction form, I asked them to WhatsApp me (Probably to close the loop on the escalation done by me). Though the repair appears to be done to my satisfaction, the delay and less than professional customer service left me unimpressed.
Check out BHPian comments for more insights and information.
Source: Read Full Article