Took my Kia Seltos IMT on a 2435 km road trip across 7 states in 4 days
Before starting the journey, I had browsed hotels in probable stay locations to get an idea, which helped me call the ones in the shortlist before reaching the location.
BHPian [email protected] recently shared this with other enthusiasts.
I love to travel and prefer road trips whenever possible. But this was not something I had thought about before pandemic. This period gave me a lot of time and YouTube had many great travel stories. Our very own Team BHP and BHPians have even more epic travelogs which I have been following since the last 8 years. This planted the seed in my mind about cross-country drives which was limited to regional ones till now. All this cumulated into me planning and executing this trip from the land of tea (my native) to the city of Nizams (my workplace).
I did this Guwahati to Hyderabad Road trip recently and wanted to log down the experience for the benefit of all. I didn't take the coastal route (WB>OD>AP>TS) primarily due to two reasons. Firstly, I have done the Telangana-Andhra Pradesh section multiple times and secondly there are reports of road widening in Odisha leading to longer travel times. Also, I wanted to explore the route suggested by google, parts of which may not have been covered here in the forum. Before embarking on this journey, I looked for information in Team BHP but couldn't find much. Also let me apologize for lack of pictures (I regret it now) as I was enjoying the journey and usually don't have the habit of taking out the phone and clicking. My cousin joined me in this trip from Bagdogra and we shared driving duties.
States and Highways covered:
Assam AS (NH27)
West Bengal WB (NH27>NH317>NH27)
Bihar BH (NH327>NH27>NH22>NH922>SH102>NH319>NH19/AH1)
Uttar Pradesh UP (NH19/AH1>NH35>NH135)
Madhya Pradesh MP (NH135>NH30)
Maharashtra MH (NH30>NH34>NH44)
Telangana TS (NH44)
Total toll – Rs. 3580 for 2435 Kms which comes to around Rs 1.47/km.
As noted below in details this is not uniform and some sections seemed to have higher toll than others. That said, I believe our road infrastructure has improved tremendously over the years and only going to get better in the future.
The ride – Seltos HTK+ iMT (P):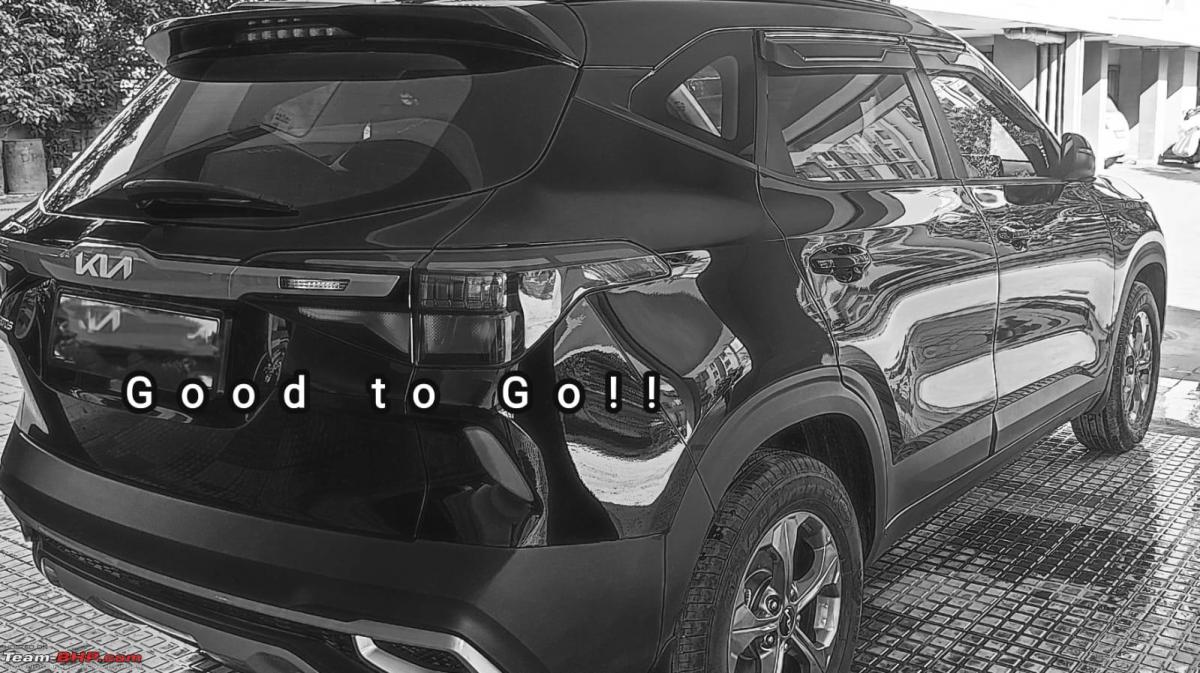 Day 1:
Guwahati to Bagdogra ~ 480 Kms.
Time taken ~ 10 hours
Tolls – Day 1 – Rs. 610/- for 480 km.
Assam [Rs. 350 for 265 Km] – NH27(Madanpur – 125, Galia – 45, Dahalapara – 85, Patgaon – 95).
West Bengal [Rs 260 for 210 km] – NH27(Guabari – 45), NH317 (Rangalibazna – 75), NH27 (Husludanga – 60, Panikauri – 80)
The route:
Started from Guwahati (NH27, Guwahati bypass) around 7:20 am. Had tanked up the previous night. Regular early morning traffic. Made decent progress and reached Bongaigaon around 10:30. Had a 15 min break and started again. Traffic thinned (only trucks) out around Gossaigaon. Roads around the border with WB can give you nasty surprises with sudden deep potholes. I was warned before so was careful but still hit a few. Refuelled before crossing into West Bengal. The car took around 16 litres indicating around 16.28 KMPL tankful to tankful. Continued onwards bypassing Alipurduar town through the peripheries of Buxa Wildlife Sanctuary via NH317. This is one of the most beautiful drives through undivided roads. Had lunch in Madrihat near the gate of Jaldapara national park in a dhaba around 1:30 pm, which is located after the Hasimara airbase, well know now due to the presence of Rafale jets. Service was quick and food was good. Tasted the Rosogollas made of Jaggery, and they need special mention. Continued onwards and joined back NH27 in Dhupguri and reached Bagdogra via Jalpaiguri around 5:30 pm. Crossed two major rivers in the day i.e. the Mighty Brahmaputra and the Teesta. Stayed in Orbit Hotel near the airport as my cousin was arriving next morning to join me. Booked this hotel by calling directly and got it for 2300 with breakfast, which was cheaper than online. This hotel has ample private parking space which was my precondition. If you are coming from Fulbari side the location this hotel is just before the flyover ends. Had an early dinner and called it a day.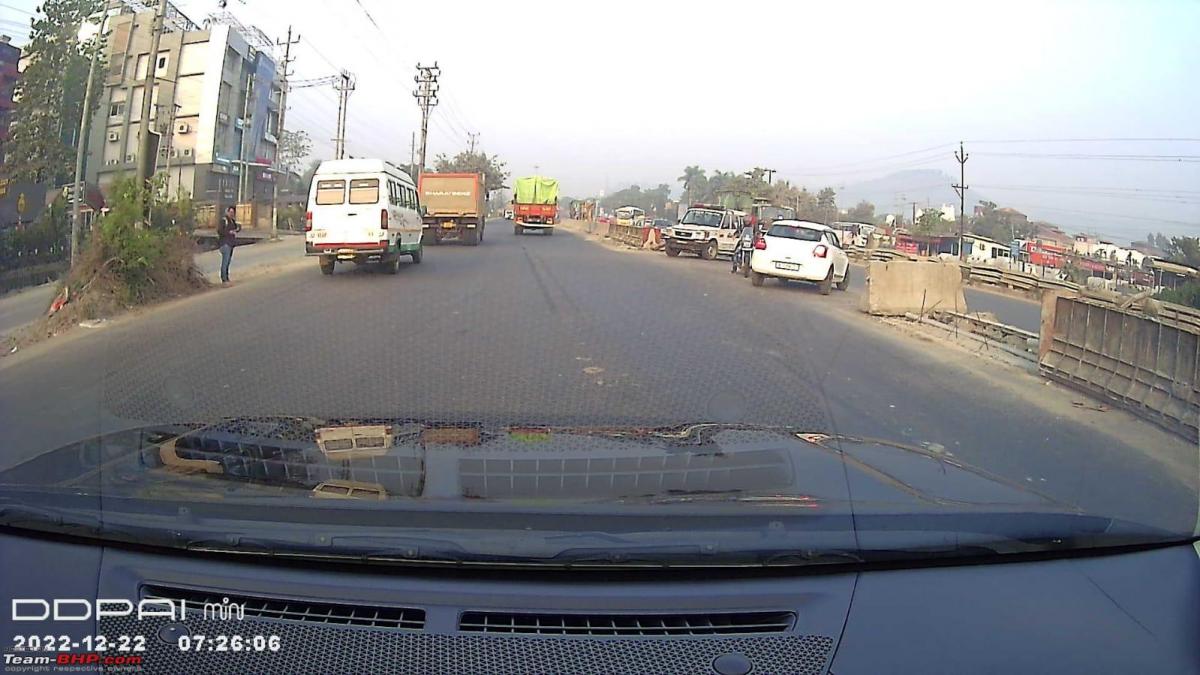 Start from Guwahati – NH27/Guwahati Bypass, Six Laning in progress.
Near Assam-West Bengal Border, need to be careful, deep potholes.
NH317 Though undivided, but very scenic route.
Day 2:
Bagdogra to Muzaffarpur ~ 380 Kms
Time Taken ~ 8 hours
Tolls – Day 2 – Rs 555/- for 380 Km.
West Bengal – Nil
Bihar [Rs 555 for 350 km] – NH327 (Khaikhat – 65), NH27 (Hariabara – 130, Asanpur (after Koshi Bridge) – 100, Raje (Before Darbhanga) – 130, Maithi – 130)
The route:
My cousin was supposed to land at Bagdogra airport at 9:30am with targeted 10 am start. As luck would have it, he landed only at 12:15pm and we could start only around 12:30 pm from airport. Took around 50 mins to cover ~30km to cross into Bihar. And this started the 100 kms of torture in NH327 which took a little more than 3 hours till Araria where we re-joined NH27. Stopped for a late lunch near Forbesganj (Vatika Restaurant). Though a little spicy they served excellent roti, dal tadka and tea. We stopped for a good 45 mins to recoup from the hellish experience. After this, the roads are in great shape, and we covered the remaining 280 kms in less than 5 hours of which the last 45 mins was spent navigating the narrow lanes of Muzaffarpur, which google took us through. We encountered a lot of fog (I would rather say smog, as our throats felt sore when we opened the sunroof to let the cool air come in, probably due to stubble burning) in the last couple of hours. We stayed in The Grand Hotel in Muzaffarpur, which is basically the top floor in a mall. Selected the place as it had covered parking with security. Again, we booked this on the go via phone call which got us a better price than online option.
Basically, before starting the journey, I had browsed hotels in probable stay locations to get an idea, which helped me call the ones in the shortlist before reaching the location. Also, since we were calling around 6pm we got good deals given that rooms are "perishable items" if you look from the hotel sales perspective. Since we were two guys, we could take the risk and we didn't want to limit ourselves by prebooking as thing don't go as planned in these long trips. For families with ladies and children this may not be the best option.
Initially our plan was to push till Aarah, but the delayed start made it difficult, and smog made the driving difficult/unsafe. We had checked in by 8:30 pm and called it a day after a meal at the restaurant in the mall, which was good. The hotel cost us Rs. 2500 without breakfast (which anyways they serve at 10 am from mall food court and wasn't convenient for us). We refuelled in between, around 100 kms before Muzaffarpur. The car consumed 33.76 litres after 465 kms indicating a tankful to tankful for 13.77 KMPL, mostly due to the NH327 conditions and some spirited driving to make up time later in NH27. This was the worst number in this whole trip.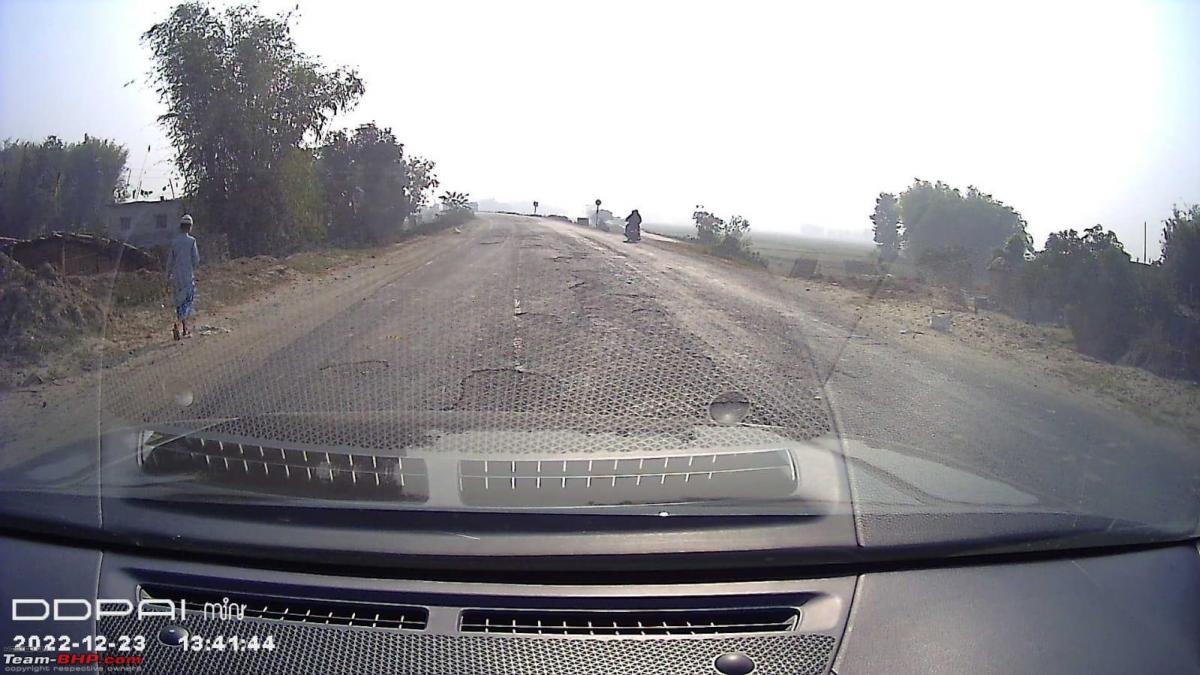 NH327 in Bihar, work in progress, worst roads in the whole trip.
Much needed break for lunch after getting into NH27 from NH327.
Continue reading on BHPian [email protected]'s road trip for BHPian comments, insights and more information.
Source: Read Full Article