Took delivery of a preowned BMW X5M50d: Impressions after first 500 kms
The tall SUV gives me low flying airplanes vibes with the high driving position, excellent visibility.
BHPian utkarshmohan86 recently shared this with other enthusiasts
There is a necessary prelude to this post. Which is, why would I swap my sharp, agile, (in my humble opinion, the thinking man's E39 M5) F30 Alpina B3, for a large blunt diesel 'locomotive'?
I will dedicate a separate post to that topic as well as a wrap up of my Alpina's ownership. But to give you a preview, it was the ground clearance as well as some exotic car quirks, which make you laugh through the lens of heady automotive journalism but make you weep when you have to deal with them.
Without further ado, this is introducing a car that has been on my radar ever since I read Autocar's review of this crazy tri-turbo diesel engine thirteen years ago, albeit in a 5 series (the F10 M550D). I have never owned a diesel car and something about the prospect of 740NM and a monstrous SUV has had my curiosity for over 10 years.
I have always had a soft spot for the X5, as had my wife and when I came across a one owner example at a reasonable depreciation (remember we live in Singapore, the land that makes petrolheads weep and then empty their bank accounts anyway), it was a punt I had to take.
We got our white on beige 2015 Example with about 98,500km on the clock and have done about 500km over the first five days. Here are a few photos (some mine, some the dealers) followed by my initial thoughts.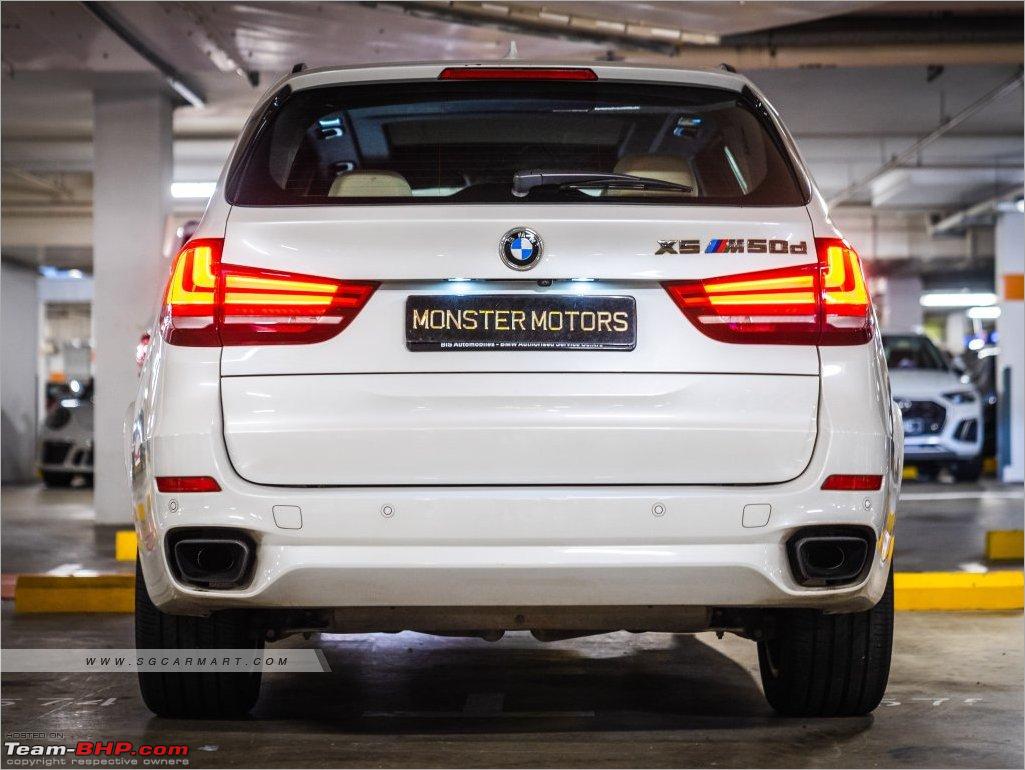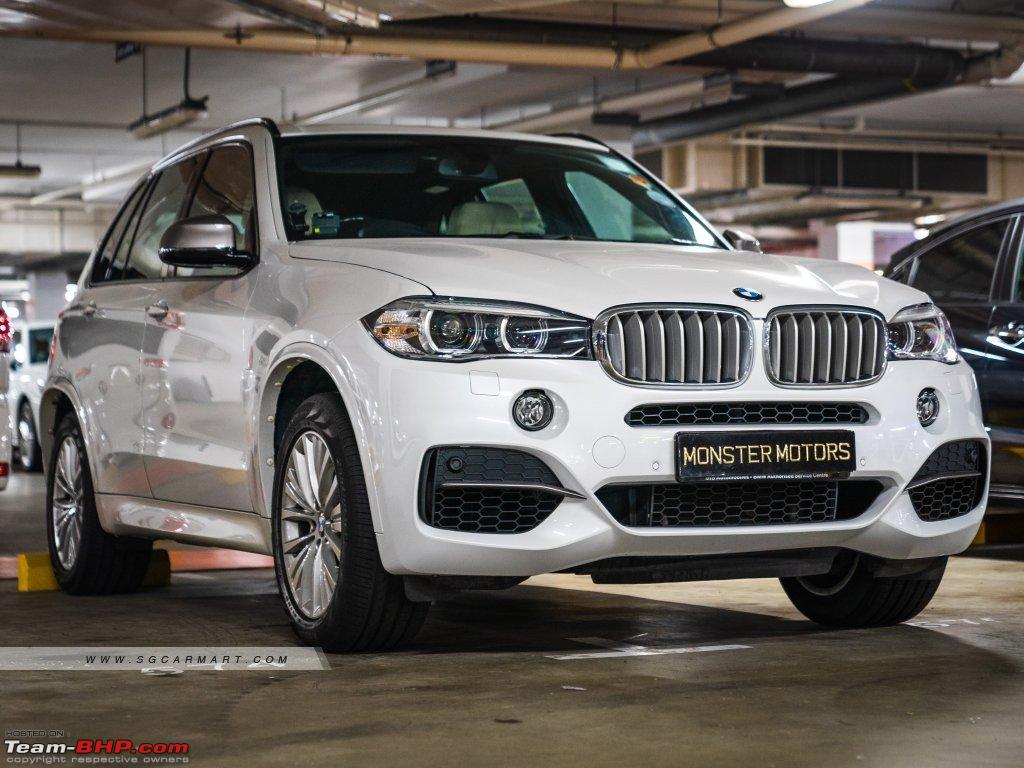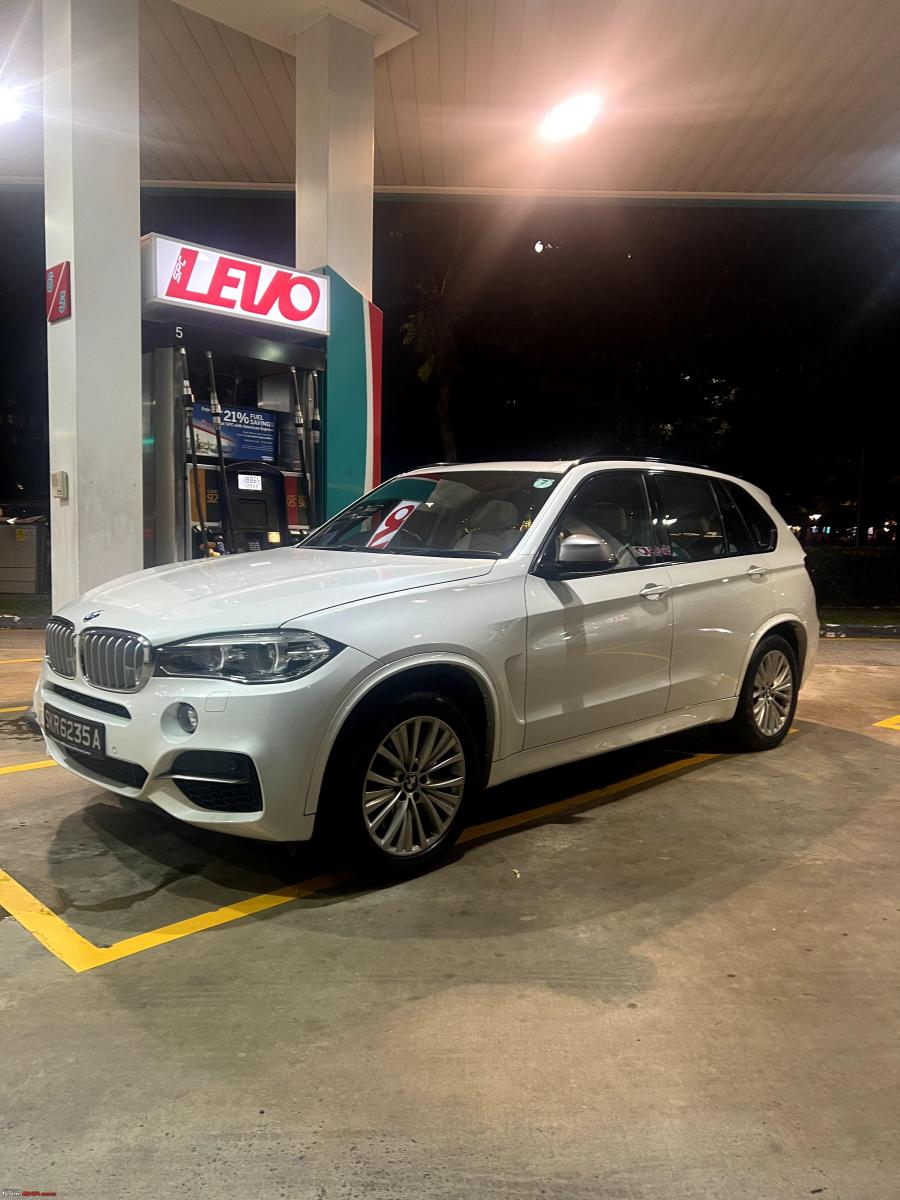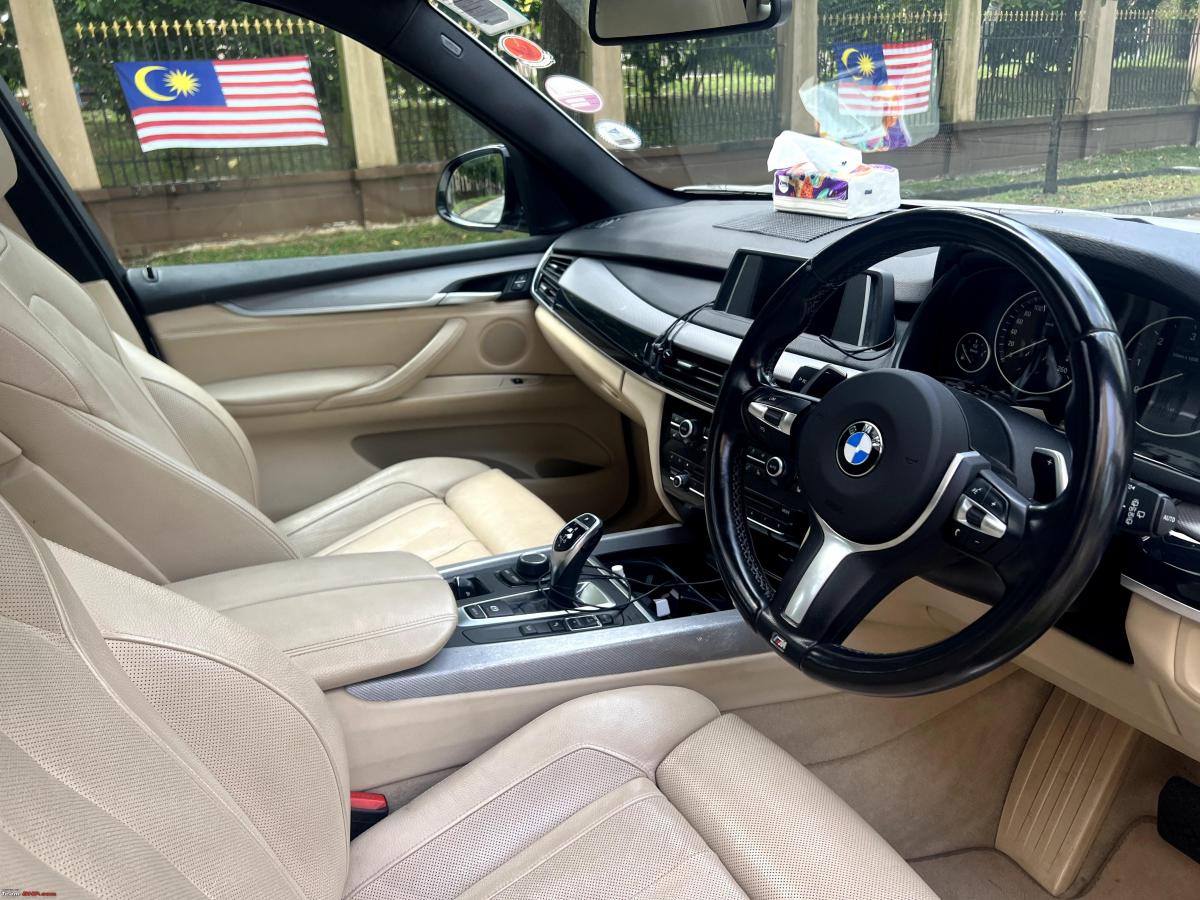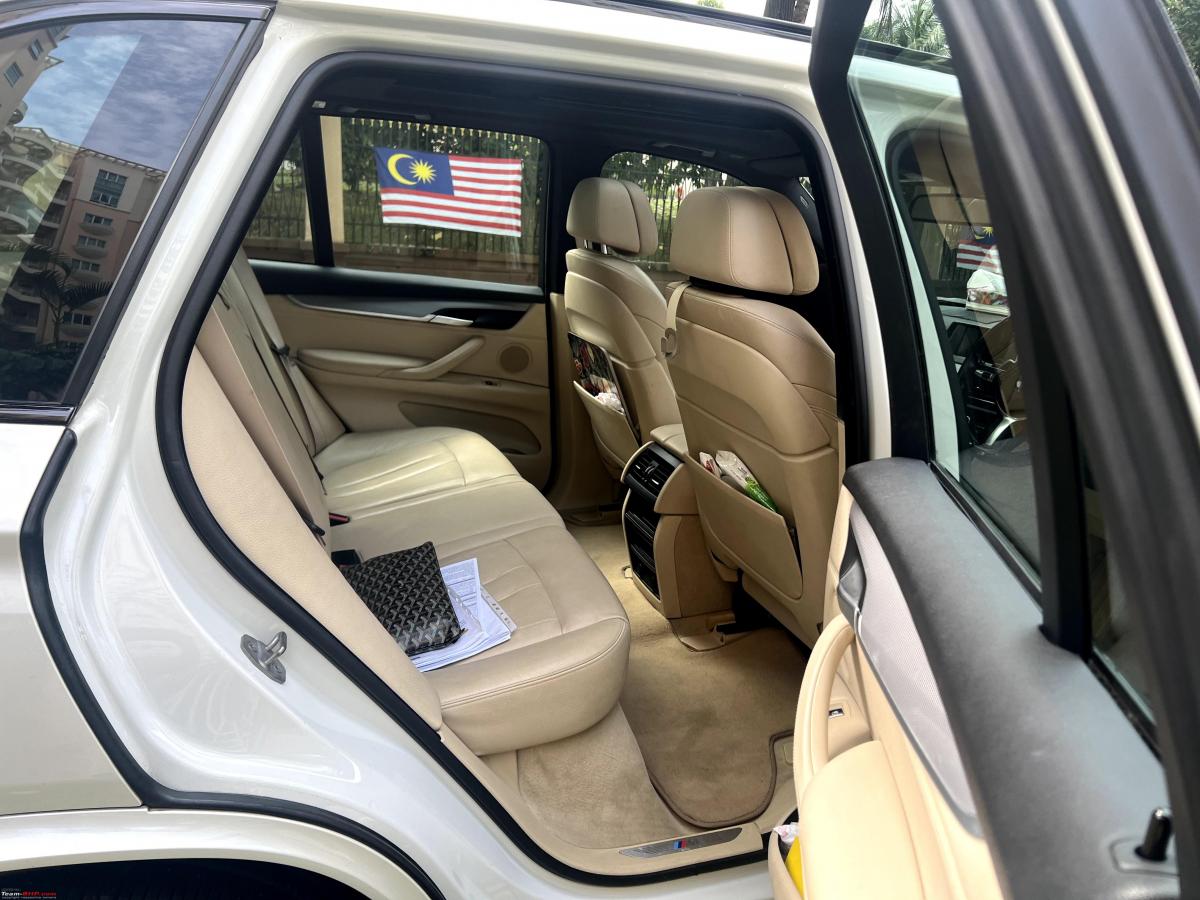 The Positives:
'TORQUE'- The capitalization is necessary and then some. If the Alpina felt like a rocket, this makes you feel like Dr Strangelove strapped on it. For city driving as well as slipping in and out of expressways, this is best way to access performance and the large size makes it giggle worthy.
Fun to Drive' factor. I wasn't sure I would like an SUV given my proclivity for that low slung driving position (which, if you wonder, only BMW's truly seem to achieve). The X5 M50D feels nothing like a sportscar (don't let the marketing or M badges fool you) but is none the worse for it. If a sporty saloon or coupe gives you race car vibes, flat as a pancake even across corners, the tall SUV gives me low flying airplanes vibes with the high driving position, excellent visibility, even a touch of controllable roll. You ride on the monster, taming it with your arms and right foot, not in it.
'Brakes' These deserve a worthy mention as one would not enjoy a fast car without this confidence. The best brakes I have experienced on any car SUV or not.
'Security' Singapore has a fair amount of rain and sporadic water logging (which only lasts for minutes thanks to excellent drainage but can catch you up) and my Alpina was a different animal depending on the number of clouds in the sky. This car doesn't care about clouds, moons or planets. It just goes. There was an Ad in Singapore calling it 'Quattro country'. I think it should be X5 country.
The Negatives:
This is not the fault of the car as such. In general I find BMW interiors don't wear as well as other competitors like Mercedes or Volvo. Though it is a one owner car, the light beige interior has a touch of wear and will need some TLC. The biggest visual issues are some scratching on the aluminum trim from the previous owner's dogs, some wear on the drivers seat right side and door mats that need replacing. I will sort these over the next few weeks.
Diesel clatter and refinement. Remember I have never owned or driven a diesel car for an extensive period of time before and almost only owned nice straight smooth 6 cylinders. So the clatter at idle especially is something I am having to get used to. It gets better at speeds but at traffic lights, I actually let the start-stop cut in, rather than feeling the engine
The carelessness of the last owner for the past few months. It was 3000km overdue for a service ( I got it done immediately). There is one part that needed ordering though, the sensor to help determine the air-fuel mix. The car is running a little rich currently, but this should be sorted in a few days.
If you can't tell, I love the car so far. New car prices in Singapore have gone to the stratosphere due to combination of factors that deserve its own post, so I have been looking out for a used car that can be a keeper and the X5 M50D is a candidate. Early days but we'll see.
For those of you who prefer the medium of moving picture to complement the letters on your screen, here's a video as well. I'm no Clarkson (or Watson) but at least you'll get to see more of the car:
I'll make a more detailed post (and video) once I have done a month or two with the car. Also this is more the wife's car, so I'll get her insights as well.
Source: Read Full Article