The Ram Rebel TRX Will Look Like This
We haven't heard much news about the Ram Rebel TRX, FCA's Ford Raptor fighter, since its concept debut in 2016 at the State Fair of Texas. In 2018 we got confirmation that the dirt-crunching truck will go into production, but we didn't get too much besides that. Today, Allpar.com posited more details that it claims are from FCA insiders.
Starting with powertrain, the original concept came with a supercharged V8, but only sported a paltry 575 hp. Allpar insiders say the production truck will house a full 700-plus-hp Hellcat motor under the hood. Also like the Hellcats (and the Jeep Grand Cherokee Trackhawk), the TRX will get an eight-speed transmission. It will also offer a towing package, so it won't just be for trail riding.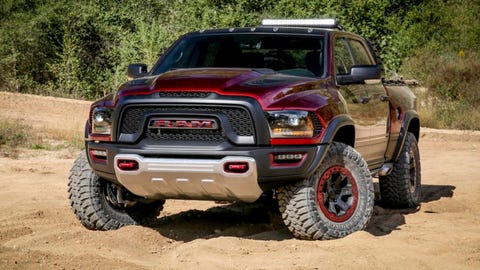 The look, which some Ram fans were worried about, will stay true to the concept and will look a lot like the Drive For Design flyer above. That means hood vents, fender flares, tow hooks and a wilder take on Ram's current design language.
Lastly, the interior, like the Challenger Hellcat and Jeep Trackhawk, will get premium materials and technologies, including the 12-inch Uconnect infotainment screen. Also look for leather, exterior cameras—hopefully forward facing—and a premium sound system.
Check out our past Ram Rebel TRX coverage here for details.
Source: Read Full Article