The Best Electric Vehicle Chargers for Your Car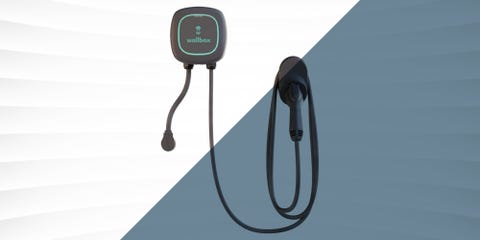 As plug-in electric vehicles become a significant piece of the automotive market, public and commercial charging infrastructure struggles to keep the pace. Even in densely populated cities, charging stations tend to be sparsely distributed.
Luckily, home charging methods have come in as a more convenient solution. Though they don't charge as fast as dedicated stations, home chargers allow owners to plug in the car in the evening, and just forget about it until the next morning.
What to Consider
There are two basic types of plug-in charger available for sale in the United States: 120-volt "Level 1" chargers and 240-volt "Level 2" quick chargers. Many countries run on a 240-volt power grid already, and only need a basic cable adapter to quickly charge their cars.
The United States, however, is on a 120 grid, which can take dozens of hours to charge a large battery. For faster performance, voltage and costs both increase. Level 2 charging requires specific outlets, fitting NEMA 6-20, 6-50, or 14-50 plugs. These may be found on dryer hookups in laundry rooms, or in some garages.
Outlets may also need to be custom-installed, or an electrician can hardwire the device to a home's power line. Universal mount chargers are compatible with just about any modern electric vehicle, except for Tesla's. An SAE J1772 adapter will have to be purchased separately to fit their proprietary charging port.
480-volt fast chargers also exist, performing similarly to Tesla's trademark Superchargers. The catch is that they have specific power requirements, demanding installation of a dedicated power line by experienced electricians. For these reasons, 480-volt chargers are much more likely to be found in commercial applications than in any individual home.
In addition to voltage, each charger has a specific amperage rating, or a few selectable amp settings. Generally, a higher amperage will charge a battery faster. However, small batteries won't take as many amps as large ones. For instance, a Chevy Volt is limited to about 15 charging amps, while a Tesla Model S can take 80 on a 240-volt line. The Tesla will charge much faster on an 80-amp circuit than a 15-amp one, but the Chevy will take just as long with either. Be sure to consult your car's manual for recommended energy specs.
Also be aware that electricity can be very dangerous in inexperienced hands. If you have any additional questions or concerns about the installation and charging process, it's best to consult a professional electrician.
How We Selected
Popular Mechanics has picked these charging devices based on personal technical knowledge, as well as review input from publications like Consumer Reports, Inside EVs, and AutoGuide. We also select a wide range of available features and prices to suit a variety of needs and budgets.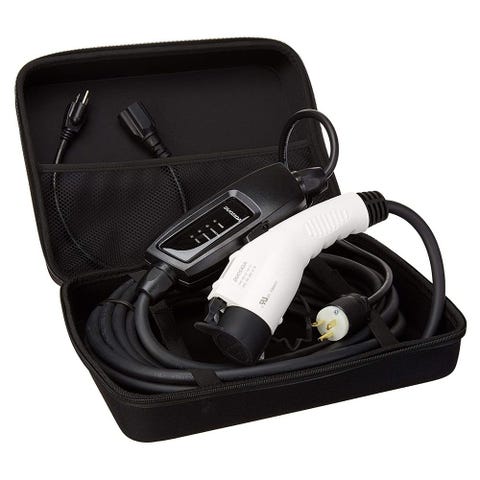 Key Specs
Voltage: 120 volts/240 volts (NEMA 6-20 plug)
Amperage: 16 amps
Cable Length: 25 feet
This rudimentary charging cable comes with a 240-volt dryer plug, as well as an adapter to fit it to any grounded 120-volt household outlet. Additional features are lacking, but it does come with a 25-foot cable in case you need to reach a long distance from your power source.
It's also weather-resistant, which is something we want out of any long-term charging source. The only display is four small indicator lights for Power, Connected, Charging, and Fault.
Current is limited at only 16 amps, which means bigger batteries will be slow to charge even with a 240-volt connection. This device would be best suited to lower range EVs and plug-in hybrids. It could also be handy to keep in your trunk as a backup in case you accidentally stray too far from fast charging options.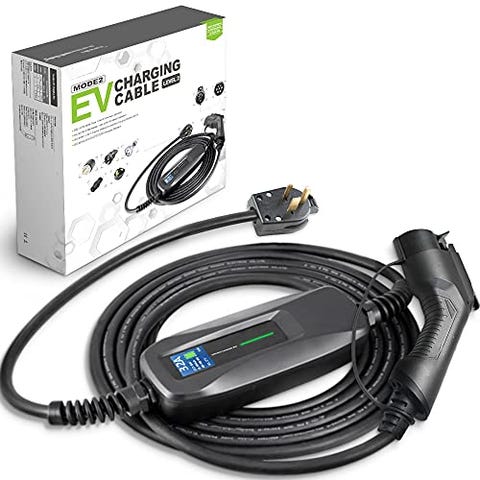 Key Specs
Voltage: 240 volts (6-50 or 14-50 plug)
Amperage: 16/32 amps
Cable Length: 26 feet
While still on the cheaper end of Level 2 chargers, this Morec device offers better amperage than the Duosida option. They claim it will charge eight times as fast as Level 1. It's also weather-resistant.
The charger can plug into a 6-50 outlet, with a 14-50 version available for a slightly higher price. Cable length is very long, with a button to switch between 16- and 32-amp modes.
Also on the housing is a small LCD display, which shows off current voltage, amperage, car battery level, charge time, and device temperature.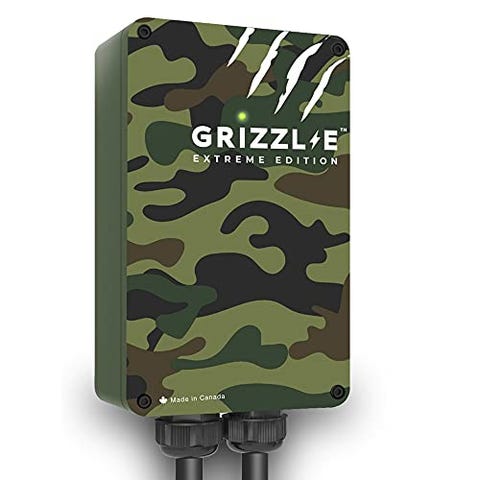 Key Specs
Voltage: 240 volts (6-50/14-50)
Amperage: 16/24/32/40 amps
Cable Length: 24 feet, box to car; 1.25 feet, box to outlet
This 40-amp unit comes not only with a cutesy name, but with a convenient mounting kit to tidily stow its 24-foot cable on a garage wall. Both 6-50 and 14-50 plugs are available, along with white, black, and camo color options. It's rated not only for weather resistance, but also fire resistance and surge protection.
The Canadian manufacturer provides a three-year service warranty. The Grizzl-E box comes with no display other than a single power indicator, but thankfully selects the correct amperage output automatically. Other automated features include a shut-off function in cases of extreme temperature, and one that allows it to resume charging once power is restored after an outage.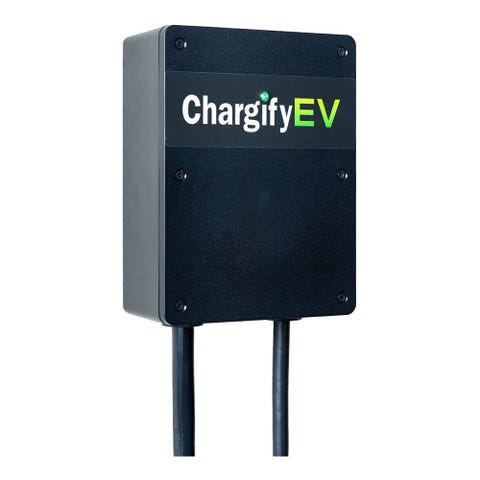 Key Specs
Voltage: 240 volts (14-50)
Amperage: 40 amps
Cable Length: 24 feet, box to car; 1.5 feet, box to outlet
This wall-mounted box unit is similar in size and shape to the Grizzl-E, but also comes with an accompanying smartphone app to monitor charging info and settings. It requires an ethernet cable to connect to a home's network, as there is no built-in wireless on this version.
Safety features include surge and ground-fault protection, while amperage is fixed at 40. The ChargifyEV is manufactured in the United States, and includes a three-year factory warranty.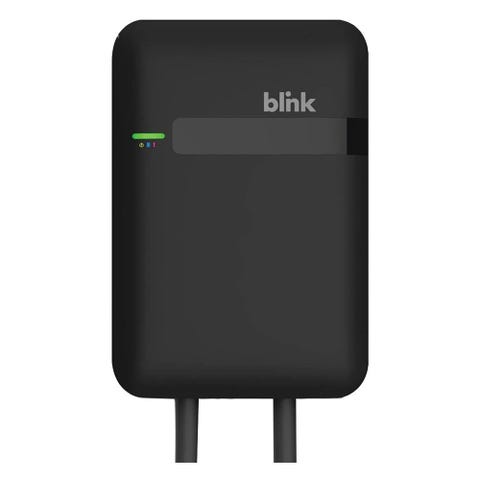 Key Specs
Voltage: 240 volts (6-50)
Amperage: 32 amps
Cable Length: 25 feet, box to car; one foot, box to outlet
This thin wall-mounted charger sports a sleek matte black finish.
The low-profile body does also mean that there are only a few LEDs for display options. The commercial version of HQ-150 can connect to the internet through either cable or an optional SIM card. The retail model, however, is missing this functionality.
Amperage peaks at 32, and can automatically adjust itself for smaller batteries. The body is weather and heat resistant, operating in temperatures from -22 degrees Fahrenheit, all the way up to 122 degrees. If you purchase this product, Blink will throw in a one-year warranty, plus a $50 voucher that can be redeemed for use at one of their commercial fast charging stations.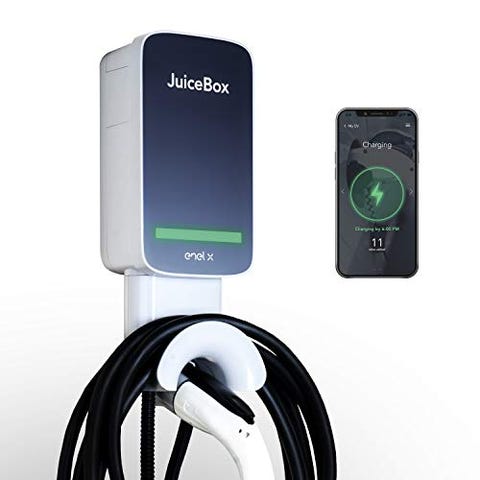 Key Specs
Voltage: 240 volts (6-50 or hardwired)
Amperage: 6-40 amps
Cable Length: 25 feet, box to car; two feet, box to outlet
The JuiceBox has a lot going for it, with an adjustable 40-amp capacity, integrated cable storage, and a security locking mechanism. The box is app-controlled via built-in Wi-Fi, so there's no need to mess with ethernet cables or SIM cards.
The app monitors battery status, gives estimated charge times, sets amperage, and schedules future usage. You can also pair the JuiceBox to an Amazon Echo device to easily activate it using voice commands in your home.
Power can be supplied by either a 6-50 outlet, or a hardwire kit option. The charger is also weatherproofed, with three-year warranty included.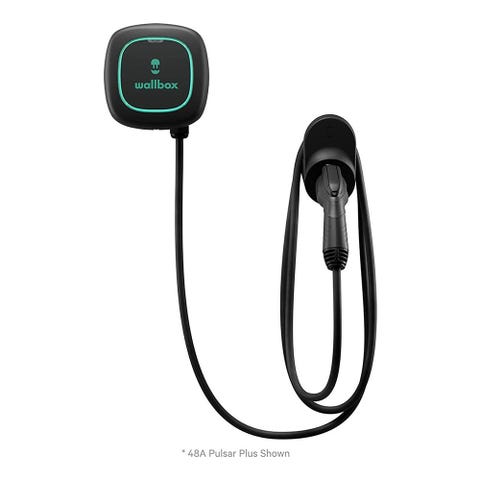 Key Specs
Voltage: 240 volts (hardwired)
Amperage: 16-48 amps
Cable Length: 25 feet, box to car; one foot, box to outlet
This Wallbox Pulsar packs plenty of features into a small package, including smartphone controls through both Wi-Fi and Bluetooth. When not connected to a network, the base can auto-optimize charge settings.
Multiple versions of the Pulsar can even wirelessly sync to each other, allowing two or more vehicles to charge efficiently at once without risk of tripping circuit breakers. It boasts a 48-amp max output, the catch being that it's hardwire only, requiring a professional installation in just about every case.
The device is also weather-resistant and watertight, with a three-year manufacturer warranty.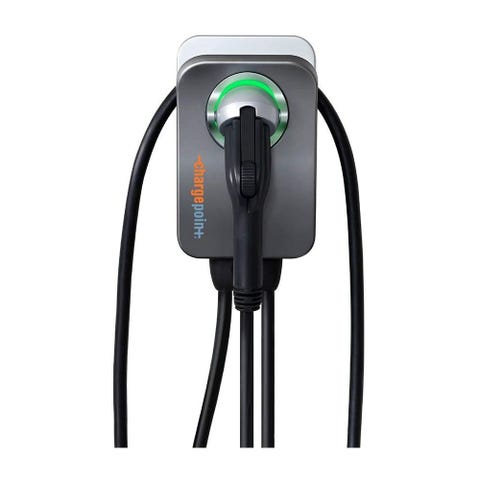 Key Specs
Voltage: 240 volts (14-50 or 6-50)
Amperage: 16-50 amps
Cable Length: 23 feet, box to car; one foot, box to outlet
This ChargePoint unit is rated up to 50 amps, making it the most powerful consumer-grade wall charger we could find. The manufacturer claims it will charge nine times faster than a 120-volt cable at max settings.
The product is available with both 14-50 and 6-50 plugs, although the 6-50 version currently appears to be marked up to absurdly high price, thanks to supply issues. Like most chargers at this price point, it can be controlled via app, using built-in Wi-Fi. It also supports Amazon Echo voice commands.
The charging box sports a sleek silver design, with a green LED ring. The charging plug also clips directly onto it for easy storage when not in use. This device is both weatherproof, and Energy Star rated for high efficiency.
From: Popular Mechanics
Source: Read Full Article