Tata Harrier Kaziranga Edition: 31 observations in 1 year of ownership
My wife says that the passenger seat comfort of this SUV is nowhere close to that of the Renault Duster AWD that we had previously.
BHPian subuiyer recently shared this with other enthusiasts.
Took delivery of the Harrier Kaziranga KZA+ exactly a year ago, replacing Duster AWD as my primary vehicle. Having done two long drives recently (link) and the ODO crossing 18.5K, here are my experiences (and opinions) in no specific order. Some points are perhaps a repeat of what others have already said and the T-BHP review, nevertheless, here they are.
The build is rugged and sturdy – metal parts, high-touch plastics, seats, buttons, etc. The ruggedness gives a sense of built to last, but let time and statistics speak. However, the build is not refined or polished – panel gaps, rough plastic edges, etc. +ve is no rattles, yet!
Seat comfort – Okay-ish. I have done nearly a dozen 500+ KMS / 10+ hrs drives in the past three months. Only a faint hint of hip pain cropped on 3rd consecutive day of 500+ KMS drive. However, my wife's verdict is passenger seat is nowhere as comfortable as the one in the Duster AWD previously owned. She struggles with back pain on 4-hr drives, even with breaks. Height adjustment for the passenger seat is sorely missed. Headrest angle adjustment is needed, but a good neck support pillow also helps.
Armrest – mixed feeling. Good to have, deep cooled storage, difficult to reach charging ports. Sliding the top would have made it more usable / comfortable for drivers.
Driving position – Earlier I believed there was only 'one' ideal position for me. In the past few months realized that was naïve, now my driving position depends on factors such as – avg speed, traffic, urgency or relaxed. Powered seats help find the right one quickly each time.
Left leg position – I have habituated to two positions for the left leg 1) sole on the dead pedal position 2) semi-cross position where the edge of the sole is on the floor with the heel touching the seat edge. Subconsciously take the #2 position and sadly that has also resulted in marked pain in the left ankle when walking. Dead pedal size and angle are not perfect, but the GFX mat has helped. I don't face the problem of my left knee touching the dash as many others have reported.
Seats covers – the light Beige coloured faux leather seat fabric is surprisingly easy to keep clean. No stains, yet!
Ventilated seats – why weren't/still aren't ventilated seats standard in all vehicles sold in India? The ones in Harrier can be more powerful. Sometimes I felt even on #3 level the blower was not strong enough. Also at #3, it is the noisiest thing in the cabin.
IRVM – Dimming function is good, mirror should have been 2-3 inches wider to help see D pillar to D pillar. I am 5'6 and in a higher seating setup find the vertical upward most swivel position of the IRVM insufficient. I need to bend my head down to be able to view the rear reflection properly. +ve of that is lesser headlamp reflection.
OVRM – large and gives a good view. Large but surprisingly lesser wind noise than expected at 3-digit speeds. The button to fold / unfold them electronically is unreliable and in a tight situation prefer to fold manually.
Glass areas and visibility – the car has a large glass area, which provides excellent views in all directions to the driver and passengers. Flip side, a lot of heat enters the cabin on a sunny day – shades are vital. All glass keeps the UV out as per my photochromatic specs. Large A-pillar creates a blind spot for drivers. Driver-side window glass is single press up and down and I like that passenger ones are not one-touch. Cleaning the glass takes effort and some acrobatic abilities. Also, with so many stickers for society, office, groups, PUCC, fastag, etc., glad to have a large windshield.
Steering – Nice to hold and I have developed different holding positions for one-hand, two-hands, slow-speeds, high-speeds, broken-roads, unpredictable obstacles (2/4 legged ones), etc. Now one of the edges (stitched) is starting to pinch into my thumbs. May go for a cover rather than tinker with the original leather/stitching. Hydraulic steering takes effort to turn and to hold a straight line, but this hasn't bothered me.
Horn and horn pad – takes far too much effort, this alone will put off many drivers – unable to sound the horn with just the thumb or fingers, takes a good thump with the palm heel. Stock Hella horns work well for me.
Sunroof – have fully opened it exactly 3 times in a year and all when stationary. This includes twice by kids on delivery day (which doesn't really count). The third time was when I was testing if there was indeed an auto 'everything' close function when locking the car and it did not work for me. Have opened the cover a few times during drives and the additional light has helped lift the mood in the cabin each time.
Infotainment – have learned to live with the niggles. The most irritating is when Android auto refuses to connect/display the map when I am approaching critical turns/lane changes. Un-pairing/Repairing brings everything back but is not convenient. I really wish TML provides an option to replace with the newer 10.25 inch seen in 2023 models, even if it is at additional cost. Meanwhile, I have added a mobile holder for exigencies. Have Gaana and Spotify subscriptions, both have worked well so far.
Controls and switches – I like that most often used controls are mechanical and built to last e.g. volume, AC temperature, toggles, etc. I would have preferred a switch for the DRL too, as I tend to drive with DRLs off most times.
DRLs – very bright normally, to the extent it's common for new Harrier drivers to forget to switch on their headlamps in the dark (the auto-headlamp function helps). Flip side (my view), the DRLs tend to attract attention, sometimes attention you don't want/need.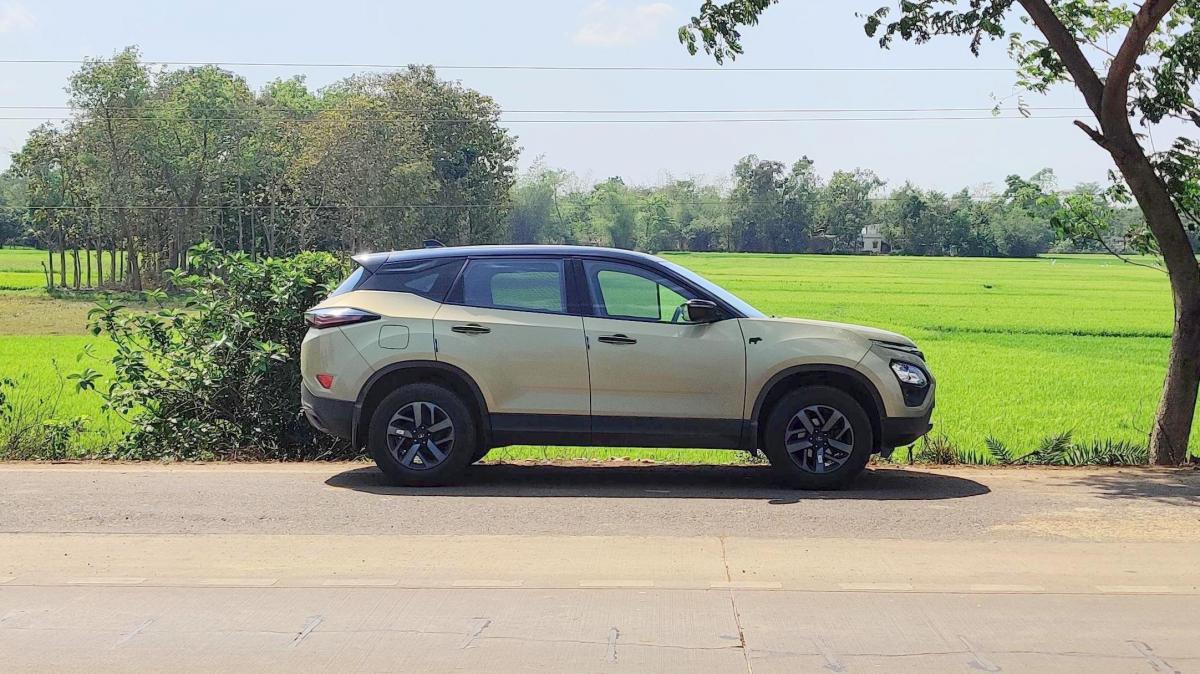 Grassland Beige Colour – This may be my most controversial comment yet. I am now convinced that this colour indeed poses a challenge for others to judge the vehicle size/speed from a distance. More than a dozen times, I have seen people clearly mis-judge the distance to/from the Harrier at highway speeds. This is only on clear days and when the Sun is overhead (10 am – 3 pm), few times even with the DRLs ON. Didn't face that with the Brown or Silver coloured vehicles with no DRLs I owned earlier. I may have contributed to an increase in my next insurance premium.
Engine + auto box – The MultiJet 2.0 mated to 6-speed auto box is bliss. Post ~5K ODO, I am finding the smoothness is remarkable once the machine has warmed up. Even more after the engine oil change at 3rd service. My baseline is the K9K and the U2, so view could be skewed. Then again, a couple of others who drive petrols, brought up the smoothness – felt good.
Tyres – 17 inch Apollo Apterras provide decent grip and comfort for a sedate driver that I am – don't recall any tyre spins or skids. Road noise is bearable at 80-120 KMPH. Been on Sammrudhi (entire), Purvanchal (small section) and other concrete roads at up to 120 KMPH, without any alarm. Had a puncture recently near Guwahati – entire Hex M16 bolt was pulled out. Had to open the tyre to patch up from the inside. Lacking TPMS – didn't really feel the need.
Ride quality, NVH and handling – clearly a driver's car, but passenger comfort is not lacking. Heavy steering and dimensions not-withstanding, it has felt pretty good to drive. NVH is surprisingly good. Most times we cannot hear much else other than the horns and the reverberations from large diesel engines like buses or trucks nearby (resonance), besides our own road/tyre noise. Everything else is kept out. I suspect the matting (aka lamination) is +vely contributing to this.
Doors – too heavy for my liking. Family struggles to work with them. Everyone struggles with the boot lid weight and getting it to shut the first time. When parked at an angle, wife usually needs me to walk across to close/open the passenger side door. The width between the external door metal surface and the interior trim is a lot, not sure how much is necessary and wasted space, but +ve is 'in a tank' like feeling – a feeling that was reinforced recently when stone hit both passenger side doors. Didn't think aftermarket damping is needed.
Speakers – OEM speakers are good enough for me including the settings. Never felt the need to exceed volume level 5. For phone calls the volume level is different, around 12-14. I am not an audiophile.
Voice commands – I have taken an effort to learn a few Android auto voice commands. Nifty ones like calling someone's work or mobile, looking for petrol pumps or restaurants on the way, etc. Find it helpful. Harrier commands (like opening the sunroof) not tried yet.
Hill Ascent / Descent – hill ascent is becoming universal. Hill descent is very comforting in the hills, works <40 KMPH only.
Cruise Control – On the Sammrudhi and Purvanchal expressways, it was a lifeline. Everywhere else is unusable in our traffic conditions.
Locking/unlocking – Still getting used to wireless key and frequently walk out with keys in my pocket. I love the fob sensors and the timed auto door locking. Gripe is the loud double beep each time the boot lid is lifted.
Mileage – better than expected so far. Using TtT method getting 16-17 KMPL avg with 80% highway runs at 80-100 KMPH and the rest bumper-to-bumper city traffic. Lifetime low of 11 and high of 21. The MID shows 1-2 KMPL higher. I am a sedate driver.
AC – good enough for the cabin size and Indian summer. Auto, but would have loved dual zone control. Also, for rear blowers on B pillars, most people struggle getting the vent angle right and just complain ac isn't cooling enough.
IRA app – first year is free and then paid I was told. It has limited functions and the most useful I found are the 'I am here' horn / lamp, GPS position on the map and intrusion alert. Also the trip history records every movement of the vehicle. Functions are nowhere near a Hyundai, where you can remotely start engine / AC or open/close windows, etc.
TMSC app – this is free, though haven't used it much. I can see summary of my previous services and reminders for upcoming services, insurance, etc. Basic stuff.
Service – 1st and 2nd services are just checks and washing/cleaning. I only topped up DEF in those services. 3rd service is the first proper one with engine oil change, other fluids topped up, brake check and cleaning, tyre rotation, etc. Smooth experience so far. I do my balancing and alignment at trusted local FNG every 5K.
Overall, I hate that TML prefers to stay behind the curve in bringing much-needed features and then adds them to newer editions than mine. But the Harrier has still surprised me and my family mostly in a pleasant way. I am looking forward to holding on to this car for at least 5 years.
Check out BHPian comments for more insights and information.
Source: Read Full Article