Stirling Moss, the \"Uncrowned Champion,\" 1929-2020
Stirling Moss, known as "The Uncrowned Champion" after his stellar career in the golden age of Grand Prix racing, has died at the age of 90 after a long illness.
Moss had a remarkable driving record of 212 wins out of an equally remarkable 529 races in every form of road racing there was at the time, from sports cars to Grand Prix. He won the 1955 Mille Miglia in a Mercedes 300SLR with journalist Denis Jenkinson navigating. He won the Nurburgring 1000 KM in an Aston Martin DBR1/300, and he won more Grand Prix races than almost any one of his contemporaries.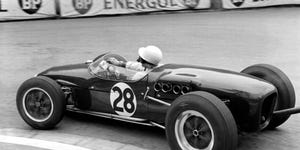 A proclivity for British cars in his early career, and a sometimes a too-gentlemanly approach to competition, meant he never won the F1 title, nor did he ever win at Le Mans. Unlike more modern drivers, Moss would never drive in an unsportsmanlike fashion, let alone take out a teammate, as a couple F1 champions did to win their titles. Moss was, from the beginning and throughout his life, a gentleman.
More to come.
Source: Read Full Article