Some interesting customer stories from a former car salesman
This guy and his brother came to the dealership and simply asked 1 question – how quickly can you deliver a Honda City VTEC?
BHPian 14000rpm recently shared this with other enthusiasts.
Preface
To sell is human and humans sell all the time. Consciously or subconsciously. Admittedly or unadmittedly.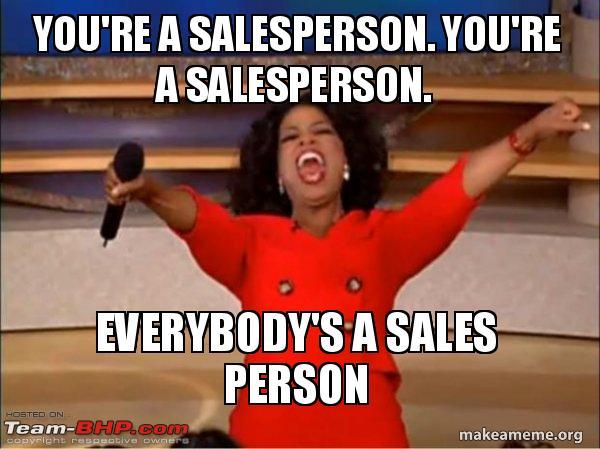 Selling, as I've learnt from books and years of experience, is about building relationships. Relationships that can be yours to keep beyond the transaction that brought you to the table.
My 1st job, contrary to what I'd imagined, was as a car salesman. Cut to 21 years later, I'm still a salesman albeit in the IT Industry.
Different people have different ways of building relationships but mine has always been by narrating stories about key excerpts of life. It has always helped me break communication barriers when building new relationships. Quite early on I'd realized that nobody relates an individual for their sales pitch. It is and always will be the stories they narrate to each other.
As I recollect my most-told stories, I realized that they are all from my time selling Cars. This thread, therefore, is a collection of some of these stories.
Notes:
If you like reading, stick around. Got some interesting bits and bobs to share.
If you are expecting a long list of Dark Secrets of the car dealerships and what goes on inside, this is not the thread. These are stories. Stories from my life.
There are no photos and is definitely not TLDR-friendly.
Bag full of money
My 1st job ever, back in 2002, was at a popular Honda dealership in Bangalore. I was still in training along with a few others and we were all on the 2nd floor overlooking the showroom floor in what could be called a 'Bullpen' but really it was just a few tables with phones to make cold calls.
One fine day, a very simple and humble-looking person, a farmer actually, walked into the showroom and enquired about a golden beige Accord, which was displayed on the showroom floor, with a Sr. Sales manager (SSM) who was on the floor. The SSM looked at him, quickly made some judgment that he'd be a waste of time and just said "Go there and pick up the brochure and price list".
Farmer – "ok saar but I can't read. Can you please help?"
The SSM called out to one of my fellow trainees to come down and help him. He was given the details and off he went. No questions asked, no discussions about trim, spec. Nothing. At that point, even I was sure he wouldn't come back.
So wrong we all were.
Shockingly, this Farmer came back a few days later with 2 duffel bags with the exact amount for a top-spec Honda Accord in Golden Beige. He dropped the bags at the cash counter and said "Can I get the keys to the car please"?
Now this was completely unexpected. The SSM, who suddenly showed up claiming his "customer" snapped back to reality to realize the MD of the dealership had promised this particular showroom car to his friend who was still putting together the money with bank loan et al. Even he couldn't resist the immediate liquidation of inventory and had it re-assigned to its new owner, the farmer.
The car drove away leaving us all picking up our jaws from the floor.
This story was being discussed in disbelief for the next few weeks and eventually, out of curiosity, my friend and I decided to take his address from the dispatch team that takes care of registrations and pay him a visit.
Turns out, he already had 2 other imports in his driveway parked behind the Accord alongside several buffaloes. Apparently, he got rich selling his land to developers who were cashing in on the ITPL boom in Bangalore.
21 years later I still find it amusing.
Some bought Hondas and some bought VTECs. This was around about the time drag racing was becoming popular in Bangalore and the outer ring road, which used to be quite empty those days, often became an unofficial drag strip. The fraternity mostly had Zens with Esteem engines, Esteems, some M800s and some other Jugaads.
One such drag race enthusiast decided that enough is enough and he needed a VTEC. Rich guy. Didn't like the result of that day's drag race and immediately drove over to the dealership. I happened to be there in the showroom that day. This guy and his brother- the VTEC brothers, who looked like the Salamanca cousins, simply asked 1 question- how quickly can you deliver a VTEC? Just like that.
There were hundreds of City 1.3s on order and in transit but 1.5 VTECs were not made in high volumes initially. Eventually, it turned out that these guys were friends with the MD of the dealership and they managed to locate one in some other city that could be loaded on a truck and delivered by Friday of the week.
Come Friday the car, a special edition black 1.5 VTEC with gold badging all over, reached the dealership and precisely 1 hr. later, got picked up.
Being an automotive engineer, I had to ask about the Mods being planned and with that conversation, I made good friends with my new customers.
Met them at many Drag events after that and through them, met Ranjith Sunder Murthy (RSM) who had been out-dragging everybody with his 700bhp Silver Supra. Had some great banter with him and the rest of the drag racing fraternity and learnt a lot thanks to the VTEC brothers.
Good times, Good Conversations.
Everybody wanted to be friends with RSM and it's obvious he wouldn't remember me ever but the VTEC brothers did recollect me and became customers later in life as well.
Videsi Boys with Videsi memories
I was still in the Honda dealership when I had a US Return NRI prospect for the Honda City. While probing, I realized he and his wife had been driving Honda Civics in the US and the City, therefore, was somewhat of a memory of the good times of their American life. This was not even a deal that needed selling. They came, they saw, they paid and bought. I merely had to facilitate the transaction and deliver the car. Period. How smooth is that? I didn't even have to go through the usual "how much discount are you going to give" cycle.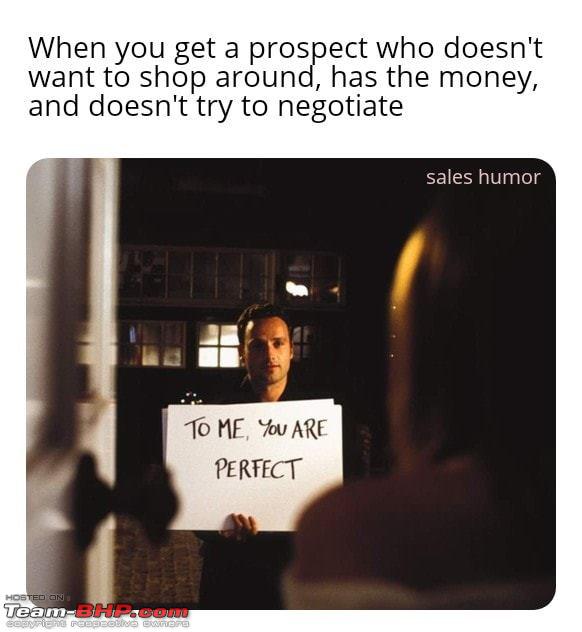 Come a few weeks later, the car was up for delivery and the man broke his hands doing whatever it was he was doing that I don't recollect. I had to drop off his new car at his house. He had just then purchased a villa in a gated community and was pepped up about how he and a bunch of his friends were living in the same community in the US and how he had convinced some of them, who were also returning, to buy adjoining Villas. Subconsciously he was rebuilding his life of the US in Bangalore. Cars, Neighborhood, friends et al.
Unbeknownst to him, he had been a salesman all along. He just didn't admit it.
And what did I do? I merely cajoled him to refer me to all his returning friends and recommend the Honda City. Given his positive experience, he was more than happy to do so and he continued to be a salesman in denial.
Refer he did but I didn't stay in the Honda dealership for long to convert them. Passed them on to other colleagues.
Continue reading 14000rpm's more such stories for BHPian comments, insights and more information.
Source: Read Full Article