Simon Pagenaud Earns Michigan iRacing IndyCar Challenge Victory
Who had an IndyCar podium featuring the reigning Indianapolis 500 winner, a Bathurst 1000 winner and a two-time Daytona 500 winner on your Bingo card?
During the iRacing enhanced coronavirus shutdown, anything is possible, so collect your winnings before the end of the weekend.
Team Penske veteran Simon Pagenaud survived a first lap melee just past the start-finish line and utilized an off-sequence pit strategy to win the third race in the iRacing IndyCar Challenge on Saturday afternoon from the virtual Michigan International Speedway.
Pagenaud took his No. 22 Chevrolet Dallara to pit road on lap 46 of 85, which allowed him to make it to the finish without having to conserve. At the same time, a group of drivers that included Alex Palou, Ryan Hunter-Reay and Zach Veach had pitted several laps earlier and were trying to conserve their way to the end.
A caution never came, which would have bought them track position and the fuel needed to make the finish, and each dropped like metaphorical flies over the final five laps.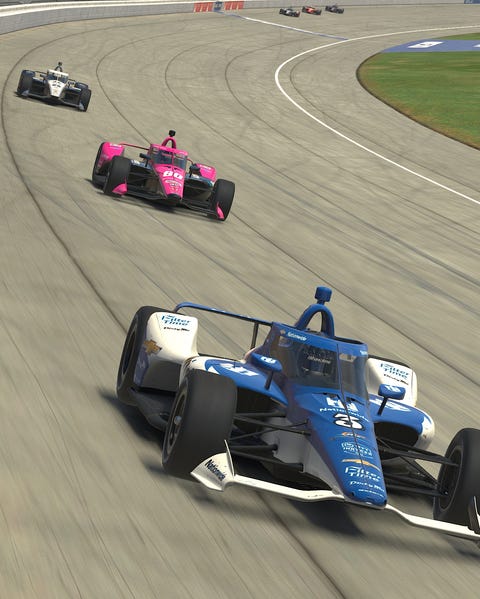 Pagenaud took the lead with four laps remaining in the Chevrolet 275 when Veach was the last to come down pit road. The unorthodox podium included Supercars ace Scott McLaughlin and NASCAR legend Dale Earnhardt Jr.
Graham Rahal and Will Power completed the top-five.
Pagenaud was quick to credit Earnhardt, making his first official appearance in a digital IndyCar, and real-life engineer-strategist Ben Bretzman for the triumph.
"It was so hectic throughout the week in practice (sessions) that I decided to just actually hang with Dale because he has so much experience in this kind of (pack) racing in general. We figured out that we were actually saving fuel and tires really well. It helped us to do only one stop.
"At the end I was a bit stressed out, I must say. I was very stressed because I don't feel as much in control. Ben was telling me the fuel code, the fuel level, how much to save fuel (and) that I was fine. He was telling me basically not to race people around me, which is very difficult. It's a very different space awareness. That's what I'm struggling with the most.
"But, yeah, today was a very stressful day, very intense, very intense."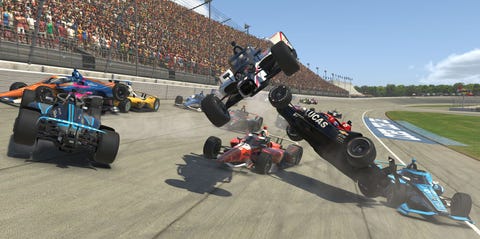 The race started off very tense with a first lap crash that mimicked the inaugural and controversial U.S. Grand Prix from Memorial Day Weekend in 1996.
The melee began when Arrow McLaren SP driver Oliver Askew appeared to lose control of his Chevrolet Dallara from eight place, connecting with several other cars around him. His car flipped and the crashing collected several drivers including Marco Andretti and Robert Wickens.
Pagenaud was able to avoid damage and cruised to victory.
The 2016 IndyCar champion had been an iRacing subscriber since 2008 but hadn't logged on much until the coronavirus shutdown. He is taking the process so seriously that he is even racing in his firesuit.
"Watkins Glen was my first race back in a while," Pagenaud said. "Especially at this level, it's taking me time to train. I'm training five hours minimum a day right now. I want to be competitive. That's my nature. I want to win races. When IndyCar announced this official iRacing, I wanted to be myself and I wanted to go out there and do the best I could.
"Winning is the most satisfying thing that I know. Being able to do what we did today to me is why I train so hard. It's why I do this."
It was the second consecutive 1-2 finish for Team Penske through three official iRacing IndyCar starts as McLaughlin and Power finished 1-2 last weekend at eBarber Motorsports Park. McLaughlin is the championship leader of the six-race series with Power right behind him with three consecutive top-5s.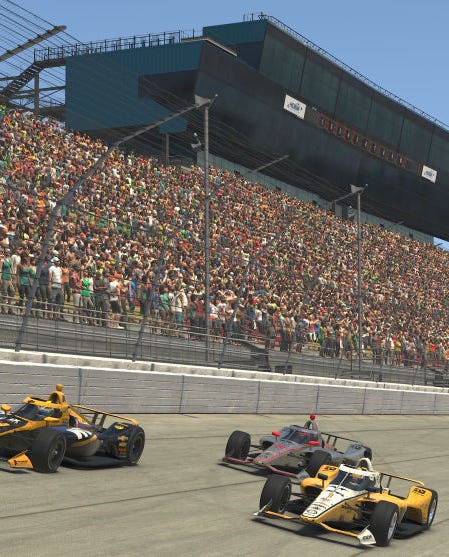 "It really worked out good for saving fuel and managed to pass Dale Jr. with a few laps to go," McLaughlin. "I never thought I'd say that, but it was a lot of fun racing him and really proud of putting the Snap-On car on the podium."
As for Earnhardt: The NASCAR Hall of Fame nominee had spent all week getting acclimated to the iRacing IndyCar model but felt the podium result was attributable to fortune more than his drive on Saturday.
"There was a lot of luck involved," Earnhardt said. "The start of the race was a little bit odd. We'd been starting much quicker much earlier off of turn 4 in our practice races. I think the rest of the field behind the leaders were anticipating going around that same area.
"The leaders chose to roll a little closer to the start-finish line. Everybody kind of got banged up there, accordioned into each other. Someone ran into the back of me… With the damage we had, the car would burn the right front tire really quickly, so we didn't have the pace that we had in the practices to run with the leaders."
Earnhardt said he sort backed into the one stop strategy. He had saved his one allotted quick repair anticipating a caution that never came. He ran out fuel coming to the start-finish line.
"We ended up frustrating some guys because their strategy didn't work out well in the fastest car, the best sim racers didn't finish where they should have," Earnhardt said.
He anticipates competing next week in an unannounced oval.
"I had a good time," Earnhardt said. "I was really thankful to be invited. Really appreciated the opportunity to be a part of this. I really became a huge fan of the series, even more of a fan of the series last year when I went to the Indy 500.
"The guys, it's fun to getting to know them. They all have such wild personalities, different personalities. So much complexity to the stars in that series. It's kind of fun getting to know who they really are.
"I think in sim racing, much like any kind of console gaming, PC gaming, whatever, that's going to bring out your real personality, the good and the bad. It's kind of fun to see some of those guys really kind of come out of their shell."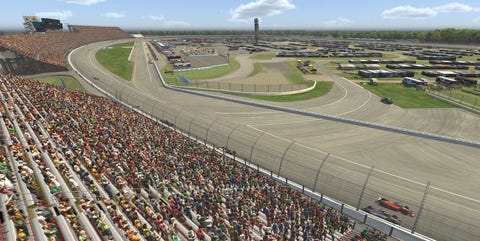 The complete results from the Chevrolet 275 can be found below.
1. Simon Pagenaud
2. Scott McLaughlin
3. Dale Earnhardt Jr
4. Will Power
5. Graham Rahal
6. Jack Harvey
7. Alexander Rossi
8. Ryan Hunter-Reay
9. Ed Carpenter
10. Alex Palou
11. Zach Veach
12. Kyle Kaiser
13. Conor Daly
14. Sage Karam
15. James Davison
16. Dalton Kellett
17. Felipe Nasr
18. Tony Kanaan
19. Marcus Ericsson
20. Sebastien Bourdais
21. Felix Rosenqvist
22. James Hinchcliffe
23. Santino Ferrucci
24. Josef Newgarden
25. Pato O'Ward
26. Robert Wickens
27. Max Chilton
28. Colton Herta
29. Marco Andretti
30. Scott Dixon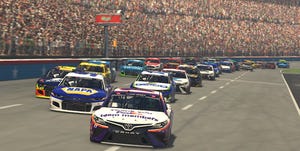 Source: Read Full Article