Screen goes dead on a brand new XUV700: Issue faced by other owners too
An immediate restart didn't help, but a 30 mins break for lunch did the trick.
BHPian shifu recently shared this with other enthusiasts.
My first niggle! My car is less than a month old and has run about 1k km. While driving this morning, suddenly the screen became this. An immediate restart didn't help, but a 30 mins break for lunch did the trick. It seems to be working fine after that.
Anybody has faced a similar issue? I will be going to the service centre sometime this week but wanted to check here first as generally, folks here are more up to date on the niggles than folks at M&M.
If anybody has a clue, please help! TIA.
BHPian zeus_700 recently shared this with other enthusiasts.
Guys
Don't worry enjoy your XUV700.
There are issues and I think they will continue to be there. Though none of them is major and we can live with it till Mahindra gives a permanent fix. Most of the issues I have noticed are software glitches and Mahindra's service advisors or CoTek does know the head or tail of it.
Following are the issues that I have highlighted within a month of ownership and only the first four of them are resolved.
Infotainment issue – System blackout on day 1
Music playing on the radio at loud volume at ignition on
Music player displaying different track posters for most songs
Sunshade (roll shade)was open twice when the vehicle was in locked condition
Brake pad noise while releasing brake from standstill
AdrenoX app not displaying metrics of trip
AdrenoX app displays different places of parking
AdrenoX app throws false door open notification while driving
AdrenoX app displays false notifications such as lights on and doors open even after being locked.
AdrenoX app logging out on its own often
Drive mode does not pop up at a time when switched on from the dedicated switch
The Key did not come out on two occasions even after the vehicle was in P mode
Believe me, the infotainment system blackout happened on day 1 right after performing Pooja for the vehicle. Since I was expecting niggles in the fresh product I did not get any shock. Called up the dealer immediately and they said they can pick up the vehicle the next day morning to sort out the issue. I didn't want some random drivers to abuse the vehicle hence decided to go to the service centre myself but the issue got sorted on its own in 30 minutes. Updated the software only in the first service and most recently updated the software with Android auto-update.
But for this and a few others as listed above it has been a great experience owning this vehicle. Kudos to Mahindra for all their efforts. I am a little disappointed with the product packaging, especially the AX5 variant but the mechanicals are very good and I will give a thumping 9/10 for this beast.
Attaching a pic of the infotainment system blackout. Get your software updated and have fun with your beast.
Cheers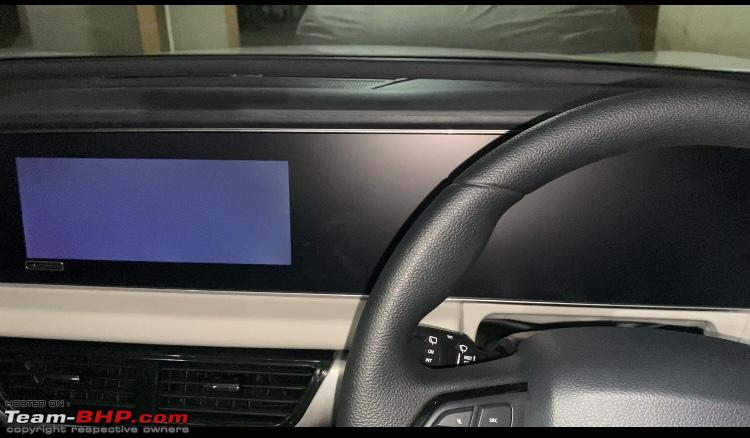 Here's what BHPian Tanmay007 had to say on the matter:
I've seen several people over on FB groups face screen related issues. These seem to have been resolved with a software update. Are you on the latest update?

As for a workaround, you need a hard reboot of the infotainment system, the fastest way to do that is to disconnect the battery for about 5 mins and connect it back.
Check out BHPian comments for more insights and information.
Source: Read Full Article