Road trip in Hyundai Kona EV: Overall experience & things I learned
Just as we were entering the hotel lane, we saw a Tata Nexon EV being parked & the owner getting out to plug in the charger.
BHPian bgt_titan recently shared this with other enthusiasts.
After successfully completing a trip to Nellore (in 2021) and then Bidar recently (June 2022), I was very confident of the ability of my Kona EV to undertake long-distance intercity travel. While looking for an opportunity, I received the news of my friend purchasing a new Jeep Compass. He requested a travel plan to take his new car on a long drive. After many discussions, the final destination decided was Udupi.
The original plan was that 2 of us will travel from Hyderabad to Bengaluru in the Kona, and then 3 other friends who live in Bengaluru would join us and then the 5 of us would travel down to Udupi in the Compass. The backup plan, in case all of us wouldn't fit into the Compass (we weren't sure if 3 of us could sit in the backseat comfortably), was that we would take the Kona to Udupi.
Once the plans were finalized, I reviewed all the chargers on the route (using Tata Power app, Zeon app and Relux app). The whole route was clearly charted out, and we were eagerly looking forward to the trip. Now, of course, nothing ever goes according to plan. The following is an account of the trip and how I managed to in equal parts scare and delight my friends with the Kona. Interested? Read on…
Day 1 – 28 July 2022
4:45 AM – Location – Home, Hyderabad; Range – 350 Kms; Distance to next charging point – 284 Kms
The car had been fully charged the day before, I had also cleaned it up and it was ready for the trip. I had to pick up my friend from his place (31 kms from my home), and then drive to Matsya Amazon Kitchens (outside of Kurnool – distance of 253 Kms ; total distance 284 Kms ; use the Zeon 50 KW charger or the Tata 30 KW charger). After stopping there for breakfast and completely charging the car, drive to Nexus Shantininekatan mall in Bengaluru (distance of 330 Kms ; use the new Jio BP 60 KW fast charger). Jio BP app provides contact details to reach out for support, and in preparation for the trip, I had actually contacted the person supporting the charger. He confirmed that the charger was up and running and that if I should encounter any problems I could also call him for support. Factoring in charging time, the expected arrival at my friend's place was ~4:00 PM. So far, so good.
A small change in the plan was that a relative of my friend in Bengaluru would also join us in Hyderabad and travel to Bengaluru to support in the babysitting of my friend's kid. Not a major deviation, but meant that we would now have to increase our trip by 5 kms. Still, considering that the buffer range after reaching Kurnool was ~70 kms I wasn't too worried.
Started off from my place at exactly 4:45 AM, and reached my friend's place by 5:20 AM. After picking up my other friend's nephew, we got onto the ORR by 5:45 AM and then were on the Bengaluru highway by 6:15 AM. The skies were cloudy, it had rained the last few days continuously, and we were looking forward to fabulous weather throughout the drive. Cruise control was set to 80 KMPH and I was getting consumption rates of 11.0 KWH/100Kms.
After driving for about 60-70 Kms, we decided that we should try increasing the cruise speed to 90-95 KMPH and check if it impacted the range or utilization. Not seeing any major impact, we continued with the cruise set to 95 KMPH. Skies continued to be beautiful, with an occasional rain burst as well. Roads were very good. Interesting observation was that we saw at least 2-3 restaurants that had car chargers set up in the parking, and we did discuss if they were functional and which service provided supported them.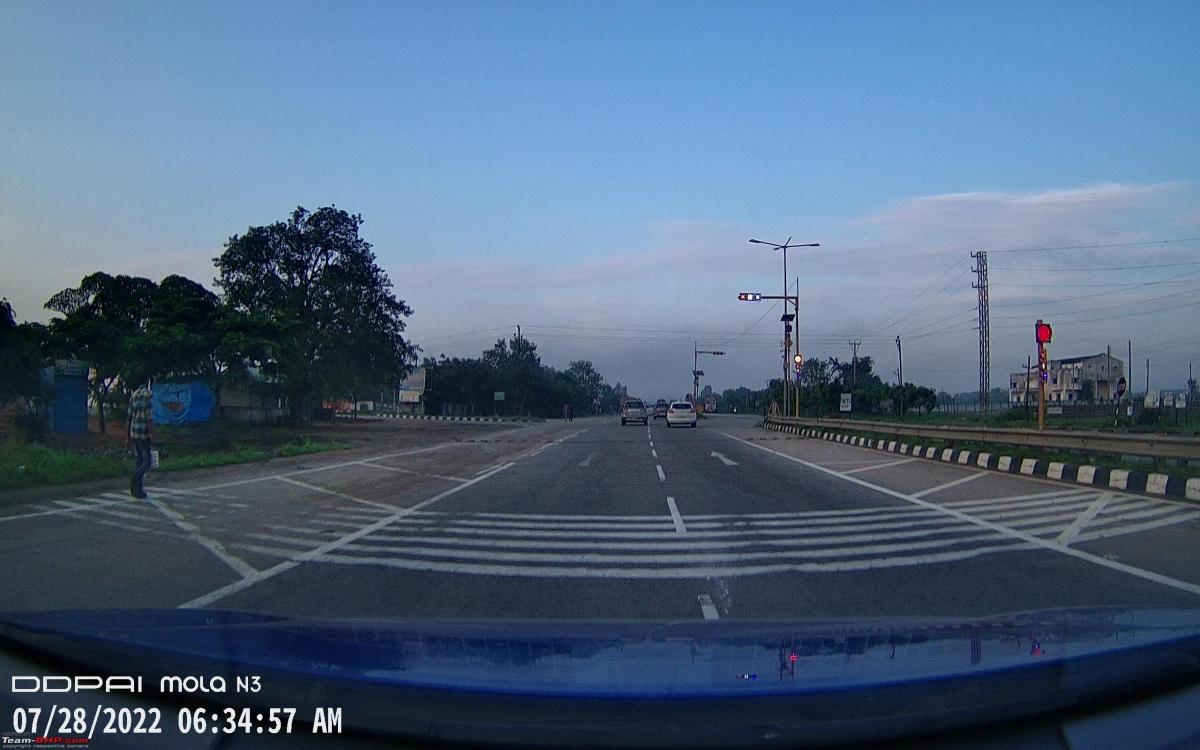 Beautiful start to the day
First sign of trouble was when the Zeon app showed that the 50 KW fast charger at Matsya Amazon kitchens was offline. It had been offline before but was quickly back online. But this day, it stayed offline for more than a few days. Tata power charger was still available. We reached the Sakapur toll plaza (~130 Kms) by 7:20 AM, and were feeling very hungry. This was almost halfway to the charging station. But, only then we read the information on the maps. The hotel's opening hours were from 11:00 AM. Did that mean there would be no breakfast?
We called the hotel and a very sleepy person answered and confirmed that they don't serve breakfast and would only open after 11:00 AM, but the chargers were functional. We were very hungry and decided to stop at Kurnool for breakfast. My friend wanted to try Uggani (local Rayalaseema speciality), which meant we had to stop at Kurnool. We decided, rather than waste time stopping for breakfast and then again stopping for charging, we would charge in Kurnool using one of the 2 Tata power chargers that were along the highway just after entering Kurnool. Charge it to 80%, get a range of 280-300 Kms, then stop at Anantapur and charge again to 80% and then drive down to Bengaluru. This way, we didn't have to wait the extra 45 minutes for charging from 80% to 100%. That was the plan anyway.
The target was now a Tata power charger at Sasya Autocars Kurnool (Renault showroom). Google maps told us it was on the right side of the highway, and that it was closer to the city center than the other one at Sasya Isuzu Kurnool. We reached Pullur toll plaza (just outside Kurnool) by 8:23 AM. Now, as we were getting closer to the city we started looking to the right side of the road to find the Renault showroom. There are many flyovers under construction at Kurnool, and we had to slow down. My passengers and me started looking to the right searching for the Renault showroom and the charger. We didn't find it, we followed the navigation from Google maps and took a U-turn under Bellary junction flyover. Maps took us to a rainwater-filled lane and told us we had arrived. There was no showroom and no charger.
We were confused, and decided to drive a bit further. We didn't find it. Only then did it strike us, that maybe maps could be wrong. Only then did we look to the other side of the road, and realized that Google has the location wrong. We had actually crossed the Renault showroom, but all of us were so intently looking to the other side of the road at that moment that none of us had even looked at this location. Laughing about it, we took another U-turn and reached the charger by 8:40 AM.
After plugging in the charger, the first thing I did was to edit the Google maps location and also share pictures to support the location change. We walked down to a hotel (Radha Krishna) we had seen at the Bellary Junction. It was a walk of <1 Km, but unfortunately, the restaurant didn't have Uggani. We had idli, dosa and puri and the food was pretty good. The toilets were also clean. While having food, we called up a friend who lived in Kurnool. He was originally supposed to join us but due to an unplanned event at home had to drop out a couple of weeks ago. We let him know of the location of the car charging and requested him to meet us. After breakfast, walked back to the car and our local friend arrived. We spoke for a while and used this time to let the car charge up to 90%. Total time spent for charging was 1 hour and 15 minutes for 30 KWh.
10:00 AM – Location – Sasya Renault, Kurnool ; Range – 310 Kms ; Distance to next charging point – 108 Kms
We started from Kurnool at 10:00 AM with the next charging point set as Hotel Blue Moon Hampi Delight between Gooty and Anantapur, a distance of 108 Kms. We were making good time and felt that we could do a brief top up here and be in Bengaluru by 3:00 PM for lunch. The skies continued to be overcast and roads continued to be good with the only difference being the appearance of a few speed breakers on this stretch between Kurnool and Anantapur. Cruise was set to 95 KMPH, and we arrived as planned at Hotel Blue Moon Hampi delight by 11:25 AM.
So far, we were lucky that there were no cars already charging or waiting to be charged. I was periodically reviewing the Tata Power app as well to check the status of availability of the chargers. The hotel was good, but it seemed to be lacking customers. There are facilities for kids to play, and this could be a good place for families to make a stopover. We did wonder why the place was so desolate without any customers. We understood the reason within an hour. We set up charging and went to have a brief snack. The toilets were decent. After enjoying some Golisodas, we returned to the car and closed the 30 minutes charging session (11 KWh).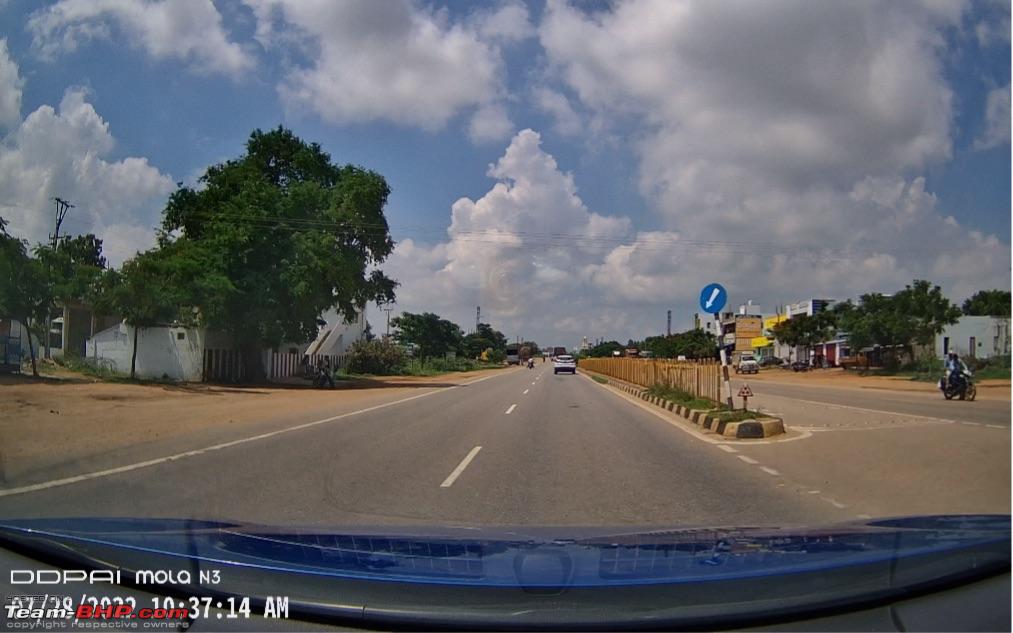 Chasing clouds
12:00 PM – Location – Hotel Blue Moon Hampi Delight, Miduthuru ; Range – 290 Kms ; Distance to next charging point – 265 Kms
We set off exactly at noon, and I called the person supporting the Jio BP charger at Nexus Shantiniketan mall to confirm the working status of the charger. He was very helpful and also shared the number of a support technician in case I had any issues. Feeling very confident, we set off.
So far, with the exception of the short trip between Kurnool and Anantapur, I was in the driving seat. I had now returned to the driving seat for the last leg between Anantapur and Bengaluru. As we neared Anantapur, we were completely shocked.
A few years ago, this stretch was notorious for not having any restaurants. Today, there were so many restaurants and so many different cuisines to choose from. With this many choices available, no wonder that people weren't going to Blue Moon (~44 Kms from Anantapur). We were in for a further pleasant surprise. After you've crossed the Kia factory (~62 Kms from Anantapur), there are a few rocky hills that are generally barren and look very desolate. But due to the recent rains, the whole place was now covered in green and looked beautiful. As the clock crossed 1:00 PM, I was feeling a little tired and decided to add some adrenaline to the drive (just for a bit to ensure I don't feel drowsy).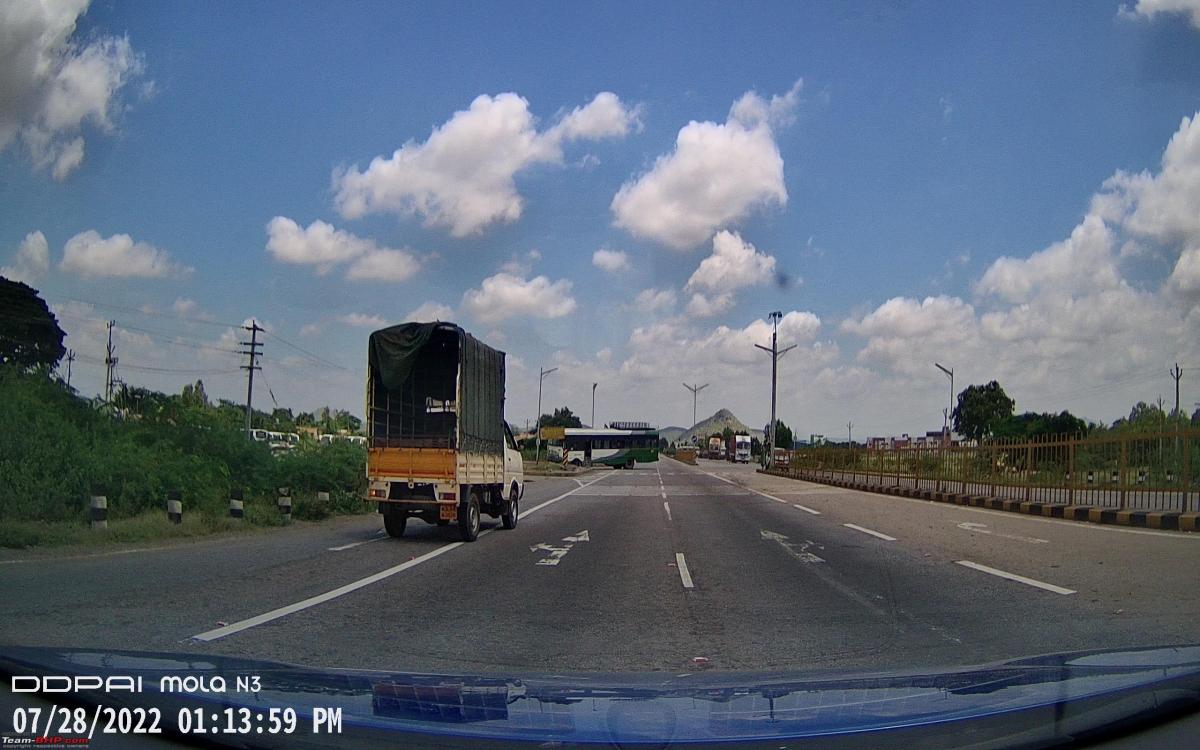 Skies clearing up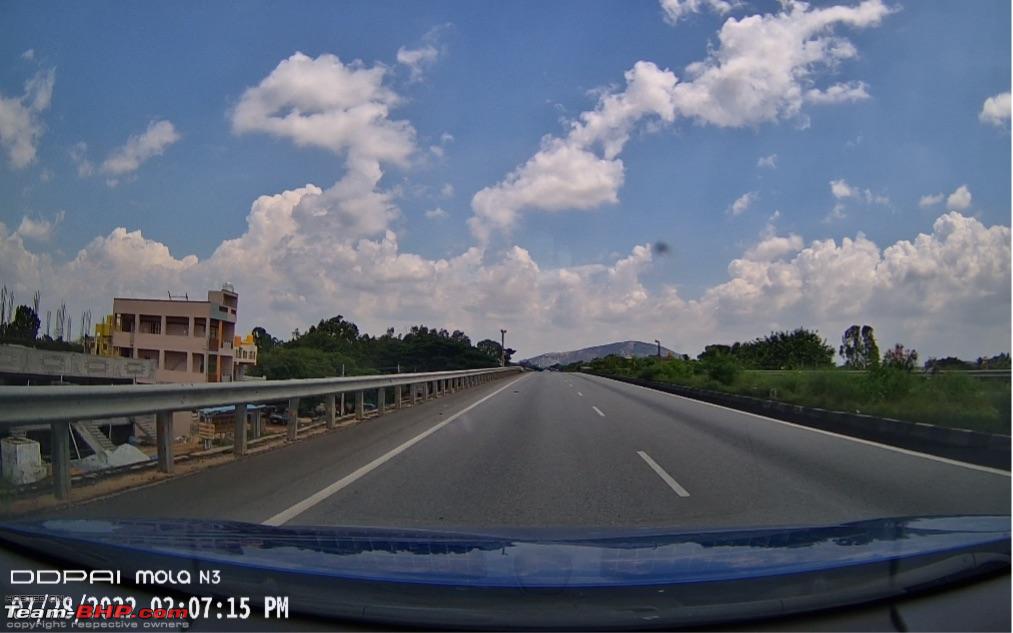 Good roads, inspiring you to go crazy
12:50 PM – Location – Marur toll plaza ; Range – 220 Kms ; Distance to next charging point – 212 Kms
That little manoeuvre is gonna cost us 51 years. Immortal lines from Cooper in Interstellar.
I was explaining this to my friend when he was driving in the morning. How, even little overtaking manoeuvres, could impact the overall range when done at high acceleration or high speed. But, I had forgotten about it and had now turned off the cruise control. While I didn't ever cross the speed limit of 120 Kmph, I was definitely above 100 Kmph now. I drove this way for about 20 minutes. Then decided to get back to cruising at 90 Kmph.
The clouds had now fully gone, and the sun was shining. The temperature was now above 30 degrees, and the range had been impacted due to this rise in temperature. By the time we reached Penugonda, the distance to Nexus mall was ~150 Kms but the range was now only 150 Kms. Between my spirited driving and the weather, the buffer of 25 Kms had been eaten away. Still, we had another charger at Bengaluru airport and didn't have to drive into the city. We were still comfortably placed, and we accordingly changed our plans. The target was now Click Hotel Sadahalli. Distance of 113 Kms, and I had a range of 130 Kms. Things were about to get very hairy.
2:00 PM – Location – Bagepalli toll plaza ; Range – 90 Kms ; Distance to next charging point – 74 Kms
We crossed into Karnataka by 2:00 PM, and my buffer of ~20 Kms to the revised target had also been eaten away. It was only now, that I was realizing that I was on a gradual uphill climb. My consumption had increased from 11.5 KWH / 100 Kms to 12.8 KWH / 100 Kms. At this point in time, my friend started asking about the range. We were about to start feeling the impact of my foolishness earlier in the afternoon. Cruise was reduced to 80 Kmph, as we were now in Karnataka and knew that anything above 80 Kmph was likely to get us a speeding challan.
Range – 70 Kms ; Distance to next charging point – 60 Kms
By this time, I had to take drastic measures. There was no point turning off the AC, since we had been using it since morning even by turning it off now we would only get an increase of a couple of kms. The cruise control was further reduced to 70 Kmph.
Range – 53 Kms ; Distance to next charging point – 50 Kms
This was the inflexion point. 3 Kms was too little a buffer for me to be comfortable. I switched to eco mode, from the comfort mode I had been using since morning. Cruise was now off. The roads continued to be generally sloping uphill, but now there were also prominent downhill sections. I started using the regen to add to the range. Maximum speed was limited to 60 Kmph. We were now close to the airport, and traffic had also started.
Range – 40 Kms ; Distance to next charging point – 30 Kms
The measures had worked. We were no longer worried about traffic police interceptors. If anything, they would probably fine us for being <60 Kmph. I was also constantly checking the Tata Power app to ensure that it was free. There are multiple chargers available at Taj Airport, but it was slightly more distant and hence I decided to stick to Click hotel as the target.
Range – 30 Kms ; Distance to next charging point – 10 Kms
My efforts had succeeded, and I had now brought the buffer back to 20 Kms. The car was now showing a low battery warning and told me to charge right away. That was my plan.
Range – 22 Kms ; Distance to next charging point – 1 Kms
I crossed the Devanahalli toll plaza at 3:15 PM. Things were looking good again. We just had to reach the charger, plug in, and eat while the range is topped up and we would be on our way. All I had to do was take a right.
I was confused at the junction. There is a flyover under construction, and I couldn't see the almost Y turn into the Sadahalli main road. There was a cop, and not wanting to get ticketed, I decided to drive straight and take a near U-turn. I was not prepared for Bengaluru. The next U-turn was 3 Kms away. By the time we were back at Sadahalli junction, an unplanned trip of almost 6 kms, my car had done something new. I was seeing a turtle symbol on the dashboard, and the range was no longer visible. Confident I would reach the charger before the car stopped, I turned into the Sadahalli main road.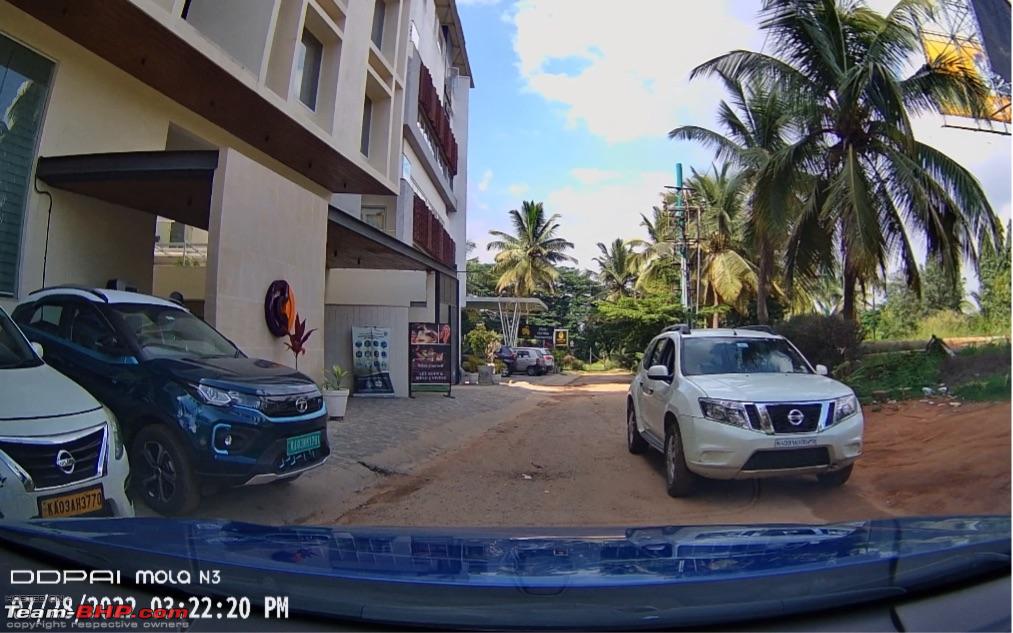 Oh no, how long am I going to wait?
Just as we were entering the hotel lane, we saw a Nexon EV being parked and the owner getting out to plug in the charger. The unnecessary detour because of my confusion at the signals had cost us. There was no way I could go to the airport either, I had no option but to wait. We parked the car, and waited for him to finish his charging. Luckily, the owner was doing a quick top-up and used the charger for only 20-25 minutes. We had a brief chit-chat, and he showed me an app called PlugShare which would list all the available chargers along a particular route. This was very useful, and I thanked him a lot for sharing this with me.
Finally, at 3:50 PM (almost 30 minutes after Devanahalli toll), we plugged in my car. We called up the Jio BP contact and told him we were delayed, and would use the charger around 5:00 PM. We were just settling for a brief break when the charging stopped. We had no clue what happened, barely 2.6 KWH units had been consumed in 6 minutes. Maybe there was an error, we plugged in and started the charging again. This time, it lasted 3 minutes before ending the session by itself.
We were beyond frustrated. Plugged in again, and started charging. 2 more minutes of charging, and then again it stopped by itself. Each interruption needed 2 minutes before we could start charging again. We were losing time, and we were hungry and frustrated. We also knew that the evening rush hour in Bengaluru was going to start soon. We decided to keep charging till we reached at least a 20% charge level. After the 5th disconnect, we gave up and decided to head to Nexus mall. We were wondering if we had arrived first and this error had happened would the gentleman with the Nexon have waited for us or just asked us politely to leave?
4:20 PM – Location – Click Hotel Sadahalli ; Range – 75 Kms ; Distance to next charging point – 36 Kms
As soon as we exited the hotel road, we realized that our fears of Bengaluru traffic were going to be realized. All the way till we crossed KR Pharm, it was heavy traffic. We dropped off the relative of our friend at KR Puram and headed off. We arrived at Nexus Shantiniketan Mall by 5:25 PM, and after a bit of discussion with the security who weren't aware of the newly installed Jio charger, we finally managed to plug in the car by 5:30 PM.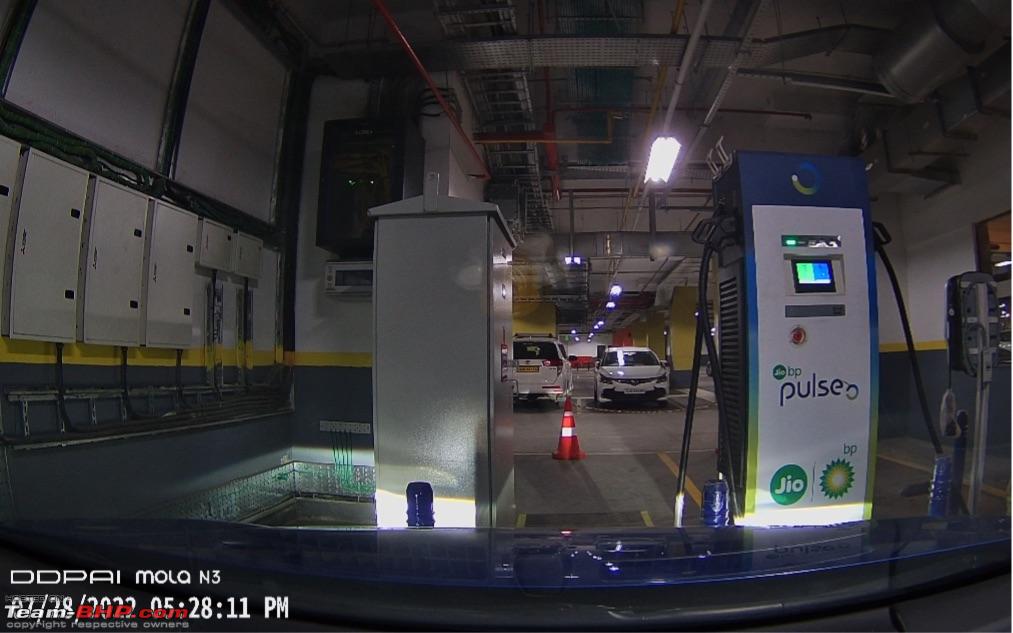 Brand new fast chargers
5:40 PM – Location – Nexus Shantiniketan Mall ; Range – 40 Kms ; Distance to next charging point – 0 Kms (or so I hoped)
The charger refused to work, it kept giving an error. I called the service technician, he asked me to wait on the call while he worked with the backend support team. My friend was very frustrated with Bengaluru now (traffic, Click hotel charger troubles, now this charger not working). He went into the mall to charge his laptop and also to get something to eat. I stayed on the call for another 10-15 minutes.
The technician and his backend support both were in a conference call with me. They recommended various steps but unfortunately, none of the steps worked. After trying everything for 30 minutes, we gave up. They recommended that I go to another mall nearby and try the chargers there. I was hungry and went into the mall to have something to eat. We had some lunch / snacks / dinner and then with a full belly reviewed our options. We still had 40 kms range, and reviewed the PlugShare app. It showed me a couple of new options I wasn't aware of as I had only reviewed Tata Power, Jio BP and Zeon. However, we were in no mood for further experimentation and decided to go to a Tata Power charger at KHT Brookefield (distance of 6 Kms from the mall). We left from the mall around 6:40 PM.
7:10 PM – Location – KHT Brookefield ; Range – 34 Kms ; Distance to next charging point – 0 Kms
Luckily, we didn't have too much traffic and were able to find the showroom easily. All the while we were praying that no one would be using it and we could straight away plug in. However, the showroom had parked one of the cars at the entrance and we weren't able to access the charger. I was blocking the traffic and hence moved ahead to let the traffic flow. My friend got off, and by the time I completed a U-turn and came back to the charger he found a way to get in from another side. I managed to plug in the car and we were crossing our fingers desperately hoping it wouldn't disconnect after a couple of minutes like the earlier charger. Luckily it didn't.
The time to charge was 2 hours (we were taking no more risks and would get the full charge). My friend needed to work, and therefore we called our friend at whose place we were to stay for the night and asked him if the charger's location was familiar to him. He said yes and was there in 5 minutes on his scooter. He had been following our adventure on phone through the evening and had just one line to say – If we needed to reach his house, why go through all these other chargers when we could have just charged here which was so close to his place? I didn't have any reaction to share, apart from realizing that I'd been greedy about the 60 KW fast charger.
Very crowded parking, no separate slot for EV charging
My friend left, and I told him I'd come after completing the charging as I didn't want to leave the car unattended. Just 15 minutes into the charging, an MG ZS EV arrived at the charger wanting to charge. I got out and explained that I had just started charging and would need at least 2 hours for the full charge. I did offer to share the locations of other chargers, but the driver was insistent on waiting. Around 8:40 PM, I had reached 85% charge. I had kept myself busy by watching the final episodes of Suzhal the vortex (off topic but that was such a disappointment), and now on this note decided I had charged enough and unplugged my car.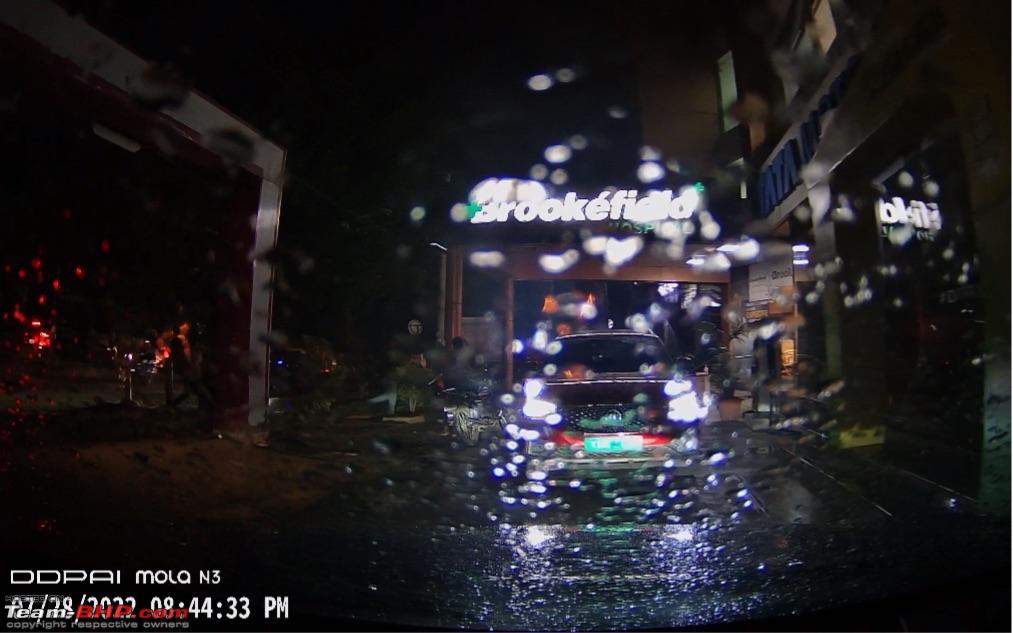 MG ZS actually waited more than an hour for me to finish charging
9:00 PM – Location – Thubarahalli ; Range – 280 Kms ; At Destination
The first day of our travel, which we had planned would end by 4 – 5 PM, had finally ended much later than what we had planned. But the surprises were still not done. As there were 5 of us traveling, we had planned that the three of us (me, my friend who travelled with me from Hyderabad, my friend at whose place we were staying and was the owner of Compass) would do a backseat test to decide if we needed to take the Kona to Udupi.
As soon as I entered my friend's home, we got a call. The friend we met in the morning in Kurnool, was so excited about meeting us that he made alternate arrangements and upon confirmation had booked a bus to Bengaluru and would be coming along with us to Udupi. This meant we needed a second car irrespective of how many fit in the back seat of the Compass. I was ready to propose the Kona and was confident in its ability to do the trip. I had already done the review of the route and knew which chargers to use. However, my friend who had experienced his first-ever range anxiety was no longer supportive. I had significantly scared him, and my other friends who were following our journey through phone calls were also more than entertained with our adventure. We did have a debate, but one point won me over. If we were to take the Kona, then we would definitely need additional time to charge and that may not be the best way to spend the limited time we had. We decided to take one other friend's Seltos diesel as the second car.
Considering that there are so many wonderful detailed threads about Bengaluru to Udupi / Mangalore I will not attempt to recreate another one. But, will do a very brief summary of our trip.
Day 2 – 29 July 2022
Our destination was Paradise Isle resort at Udupi (decent – fantastic location, but the food was horrible, rooms were semi-decent and needed a spruce up). We used the Hassan, Charmadi ghat route to Udupi. After setting off at 7 AM from Bengaluru, we reached our destination by 5 PM. We stopped for breakfast at a place called Food Culture (very good). Spent the evening lounging at the resort.
Charmady Ghat road – rolling clouds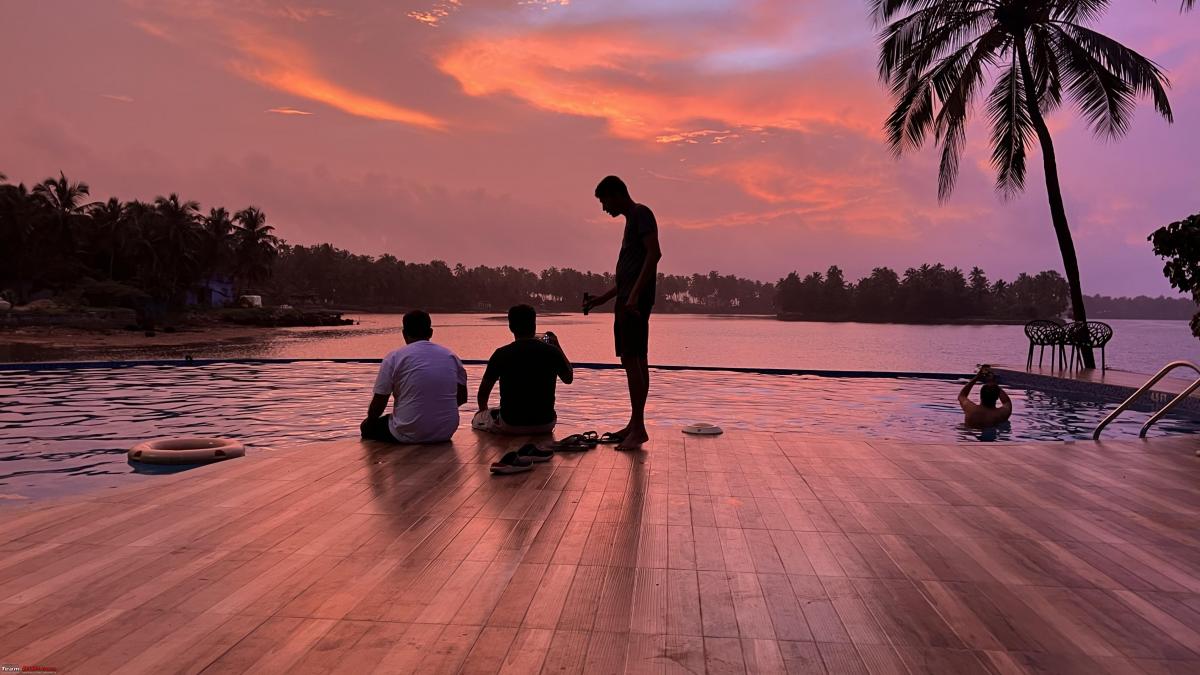 Lounging by the pool, the river in the background gives it a feel of an infinity pool
Day 3 – 30 July 2022
The whole trip had no specific agenda and we went with our mood. Started by going kayaking at a place called Zone 51 Kodi (wonderful experience – did everything from getting stuck on shallow banks to almost flipping over to getting dog tired – under weather that started shiny and hot and ended with cloudy and overcast). The rest of the day was visiting the famous places of Udupi. Lunch at Machili (good), ice cream at Diana (massive disappointment – I actually found a human hair in my gadbad, apart from the dish itself not tasting good). Following this, we went for a boat ride in the river and then a trip to Sea Walk Malpe. Though Malpe Beach was officially closed, there were many people who were in the water after having crossed the nets. We ended the day with dinner at Woodlands (fantastic – best experience of the trip).
Kayaking at Kodi
Sight from a boating trip, up close with mangroves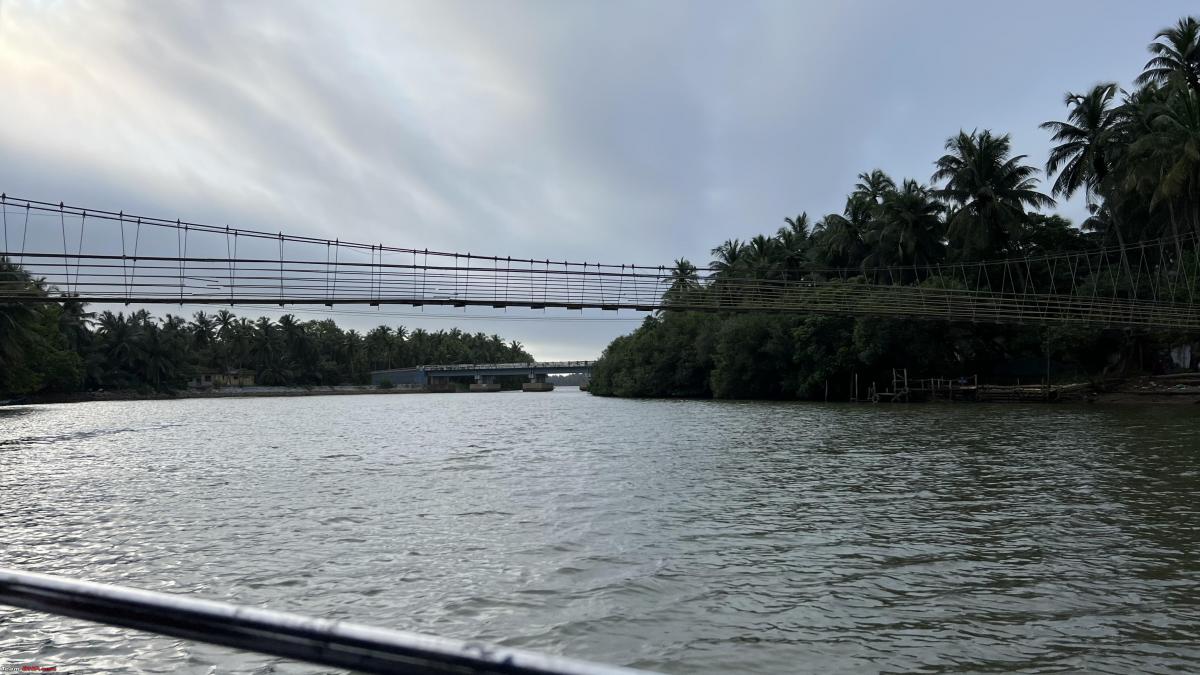 Hanging bridge, from the boat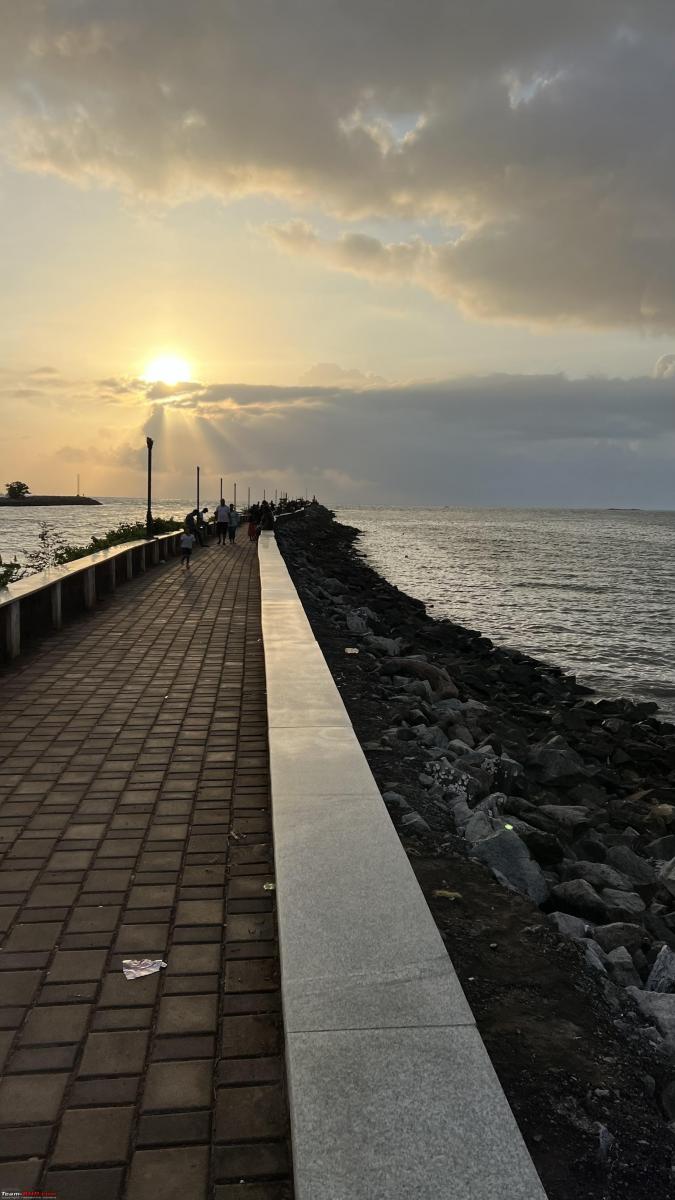 Malpe Sea Walk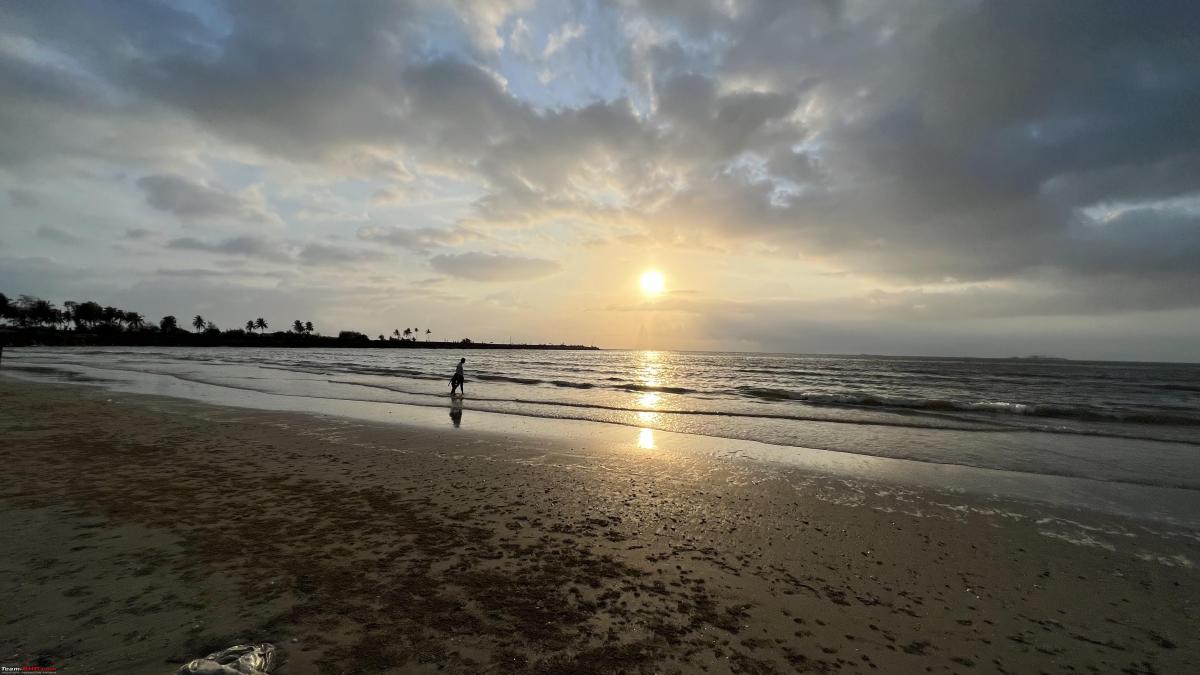 Sunset at Malpe Beach
Day 4 – 31 July 2022
Early morning drive to Maravanthe beach, enjoyed the experience of the road between the river and the beach. After this, we were debating what to do, had breakfast at Paakashala (good) and then decided to go to Mangalore. Stopped by Panambur beach, but looking at the industries around decided to go further for a better experience. Finally ended at Som Beach. Then went to Gajalee for lunch but it was closed for renovations and was doing only takeaway. Finally had lunch at Pallkhi (decent). The best part of the day was ice creams at Pabba's (awesome – second best experience of the trip, gadbad was fantastic here). Ended the day with dinner at MTR in Udupi (okay).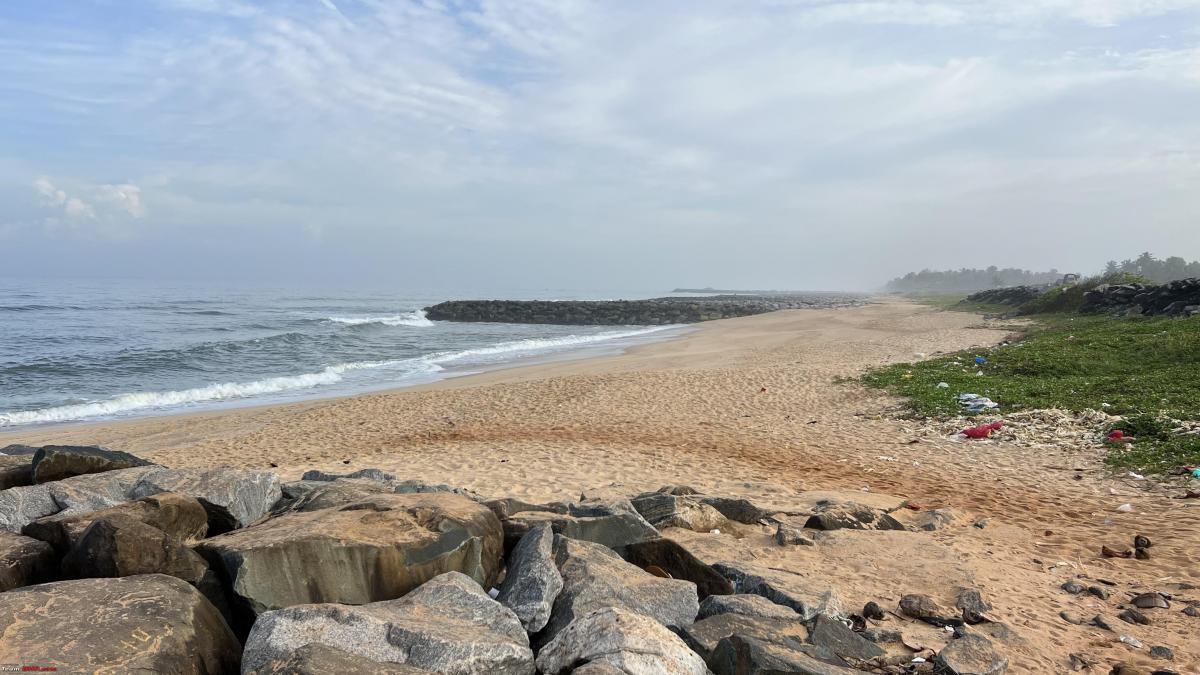 Maravanthe Beach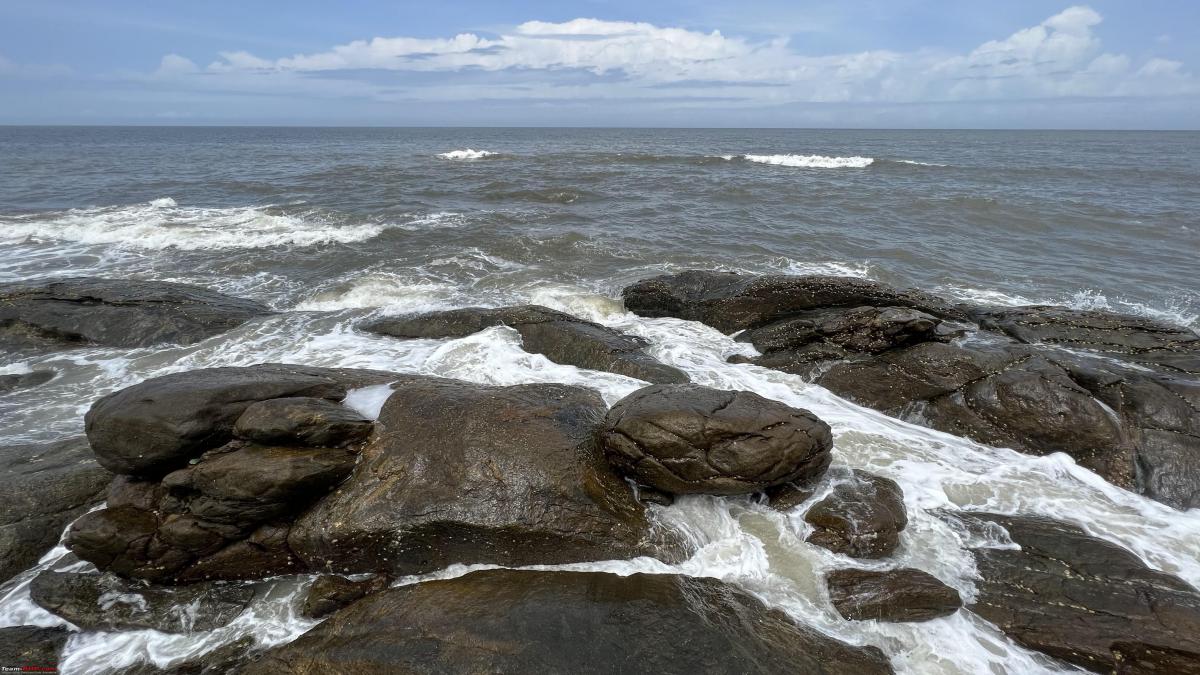 Som Beach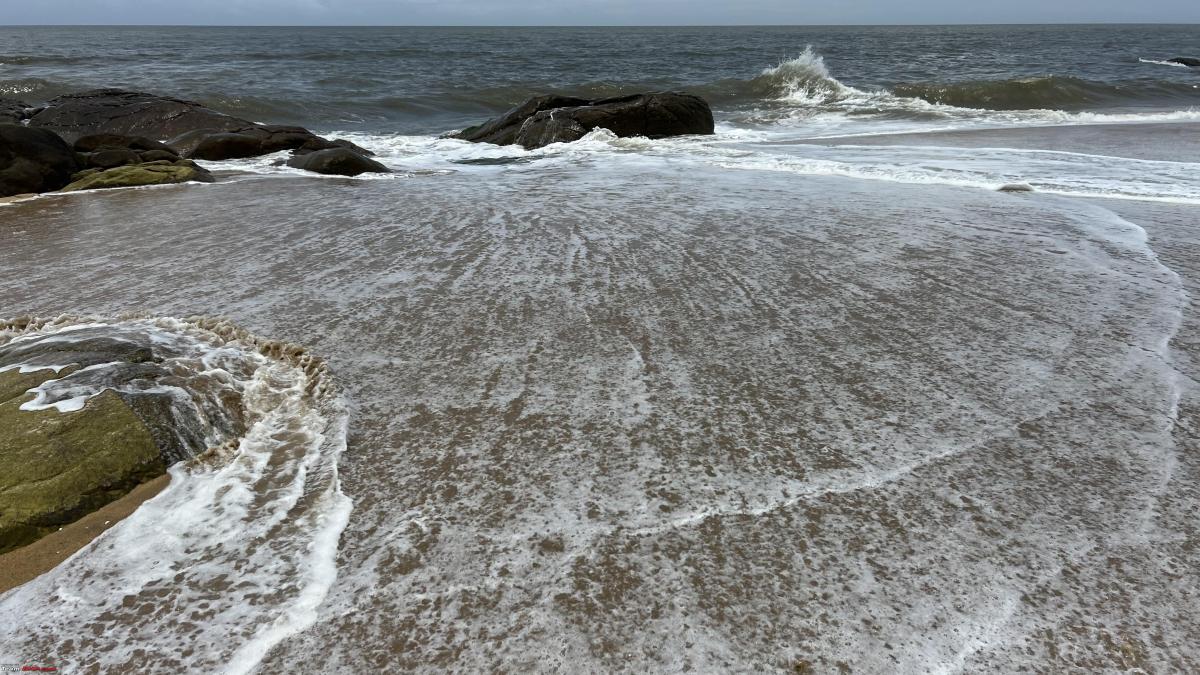 Day 5 – 1 August 2022
Early morning start (started at 5 AM), took the Agumbe road via Hiriyur. We had breakfast at Agumbe and then stopped for lunch at Udupi Grand Veg in Dabaspet (Special mention – this hotel had spotless clean toilets. These were the cleanest toilets on the entire trip including the ones from the resort). We were back at my friend's home by 2:45 PM. We started off for Hyderabad by 3:10 PM (me, my friend who drove down with me from Hyderabad and the friend from Kurnool).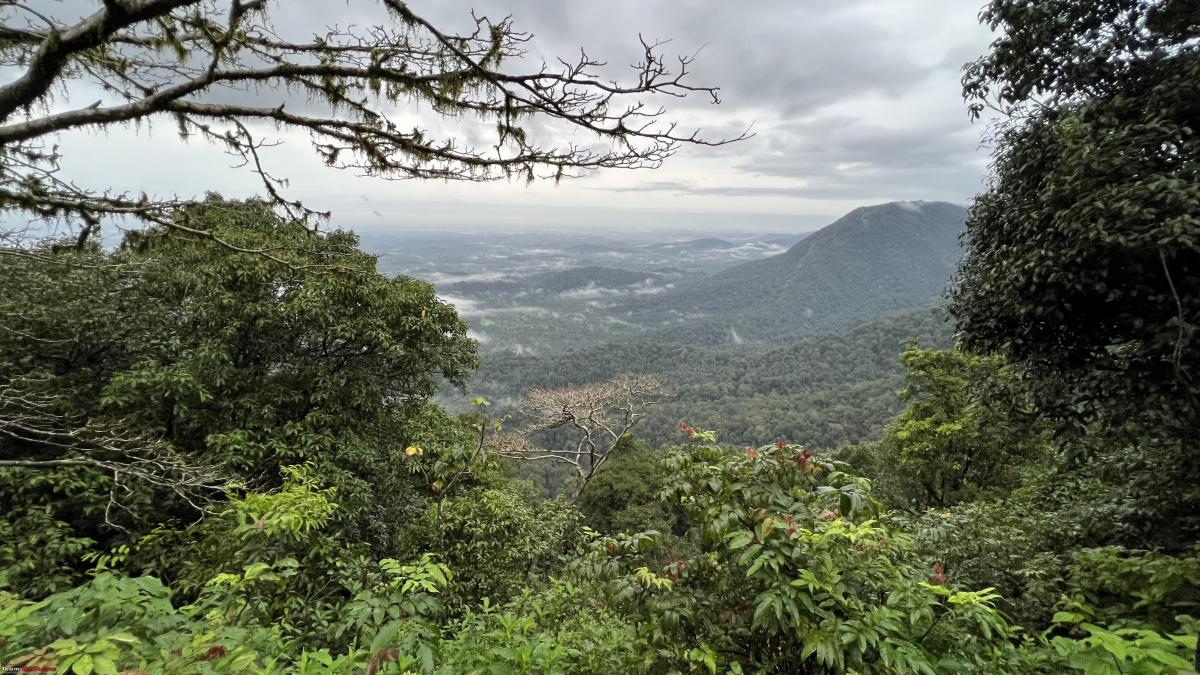 Agumbe Sunset view point
Shift in perspective
I will now share additional details of the trip in an EV. While the above experiences were in a Kia Seltos and Jeep Compass, I was all through the trip checking and wondering how the Kona would have done on the trip.
From Bengaluru till about Jogipura on the Hassan highway I would have been left behind by the others as the roads are very good and I saw everyone maintaining speeds of 100 KMPH while I would have been restricted to 80 KMPH. But, there is road work after this and from Hassan onwards it's a single-lane highway or ghat road all the way till Udupi (only the last bit was on the Mangalore Udupi highway). I would have been easily able to keep up or even cross the others. The only stop would have been at Hassan where I would have needed to stop for an hour and a half to charge the car. It would have meant a delayed breakfast.
There are two chargers at Hassan, and when we were crossing it one of them was not working but the other was working and also free. I could have slowly charged at the resort, but that meant we wouldn't be able to do the local travel. Alternately, there's a fast charger at Udupi as well. In the return, I would have to charge at Hiriyur (charger was working when we were crossing the town). The only place I would have lost time again would be on the Pune Bengaluru highway where I would have to restrict speed and others could go faster.
On the whole, I was confident in the ability of the car to do this trip. But, definitely would have lost a lot of time for charging. I will try it with family next time I drive this route (as with family and kids you anyway need to have longer stops and this works perfectly for charging stops).
3:10 PM – Location – Thubrahalli ; Range – 280 Kms ; Distance to next charging point – 225 Kms
The plan was to charge at Anantapur at a new location that we had discovered using the PlugShare app and charge enough to get to Kurnool. Then drive to Matsya Amazon kitchens and use the 50 KW charger to reach 90% charge while we had dinner (it was back online just today, after being offline the last entire week). And having learnt from our experience before, not do any crazy drives. We set off by 3:10 PM, and reached the airport by 4:15 PM. We maintained cruise speeds of 80 KMPH till we crossed into AP following which we increased the cruise to 90 KMPH. As the drive was mostly downhill I managed to get consumption figures of 10.9 KWH / 100 Kms.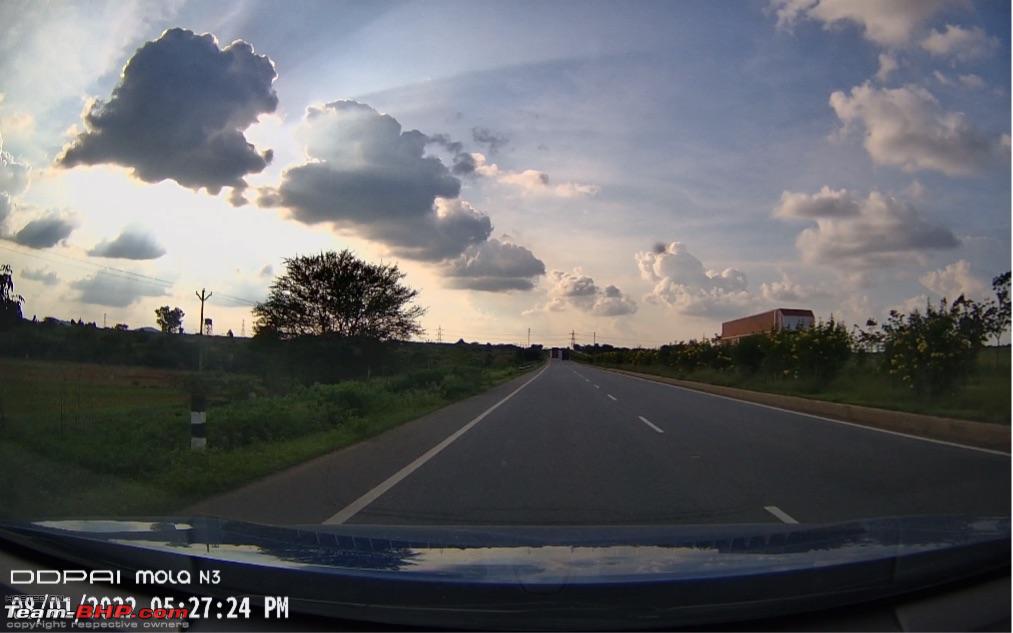 Beautiful skies
6:30 PM – Location – Marur toll plaza ; Range – 90 Kms ; Distance to next charging point – 22 Kms
We had made good progress, and the range was also looking good. The charger at Exotikka in Anantapur was from a company where I would have to create a new account (Lion Charge), whereas Blue Moon Hampi delight hotel was only 62 Kms away and we had used the charger before and knew that it worked perfectly. So, we changed the plan and drove ahead to Blue Moon Hampi. The only prayer was that no one would be using it at the time we arrived. Considering it was a weekday and early evening we were sure that it would be free. We arrived there 7:20 PM and the charger was free. We plugged in and went to have something light while we waited for the charging to be complete. Matsya Amazon kitchens was only 74 Kms away, so we only needed a quick top up. We did a 30-minute session and topped up for 11 KWh units and left by 7:55 PM. While leaving we again remarked at how empty the restaurant was. It was very unlikely that someone would drive till here leaving the glitzy restaurants at Anantapur. The place is likely going to be closed soon.
Charger that was used the most
7:55 PM – Location – Blue Moon Hampi Delight, Miduthuru ; Range – 115 Kms ; Distance to next charging point – 74 Kms
We set off and cruise set to 85 Kmph. We arrived at Matsya Amazon kitchens by 9:00 PM and plugged in our car. We weren't too worried about the charger being unavailable as there is also a 30 KW Tata Power charger here. We used the 50 KW charger, and it gave a peak current of 34 KW. We went into the restaurant to have dinner while the car charged. The only funny thing, though the car was charging the Zeon app itself didn't show the status. I wondered if it was a design flaw of the app, as it was the first time I was using it. I was wondering how would someone know that the car had completed charging or how much charge was consumed if the app didn't show it. Also, the app still showed me the option to initiate the charging again. Wondering about the poor design of the app, I went and had dinner (food was good at the restaurant). Toilets were not good at all. We checked the status of charging after about 90 minutes and we had reached 94%.
Almost had me worried, before quick thinking saved the day
10:30 PM – Location – Matsya Amazon Kitchens, Veldurthi ; Range – 320 Kms ; Distance to home – 280 Kms
Deciding this was enough to reach home, I tried to stop the charging. This is where I realized there was a problem. It wasn't a design flaw with the app, it was an error. Since the app didn't detect the charging session, I couldn't stop it from the app. The charger itself was throwing an error when I tried to stop or cancel it using the buttons on it. The charger plug was locked and I couldn't disconnect it. Either I could wait another 30 minutes to reach 100% or find an alternative. I simply turned on the car, accessed the EV menu and set charging limit for DC current to 90%. The charger immediately stopped as I had already exceeded the limit. Disconnected the charger and set off. Best part, as the app hadn't detected the charging session I wasn't billed. I did write to the customer care team the next morning and shared the details of the charging session including the number of units consumed asking them to bill me offline. I got a response that due to a network issue the charger worked on free vending mode and therefore I couldn't be billed. Dropped off my friend at his home in Kurnool by 11:20 PM, and then started the drive back to Hyderabad after a brief stop of 5 minutes.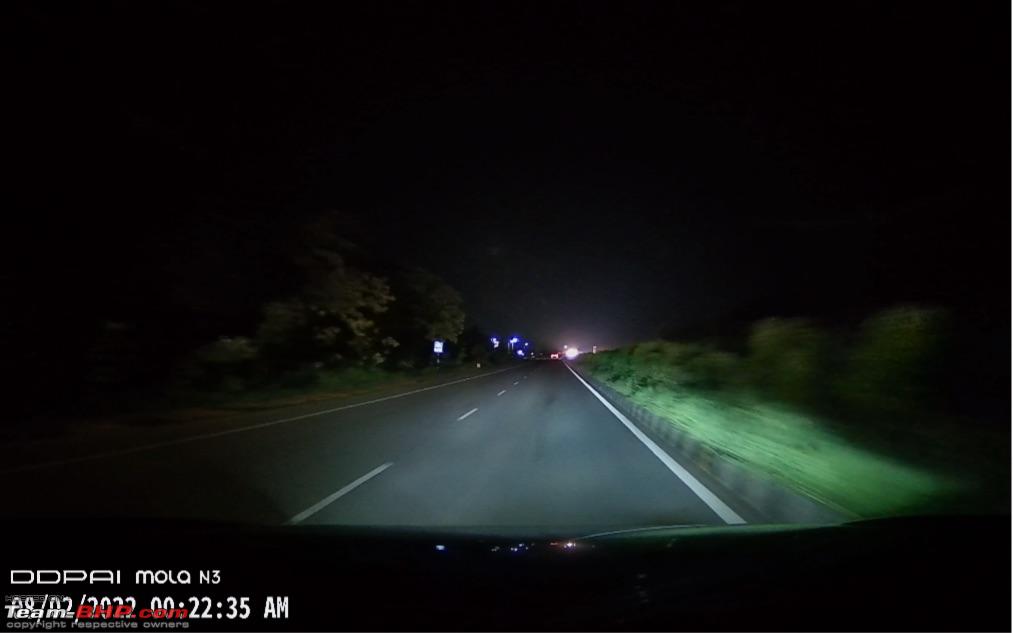 Night view
Night drives aren't something that is recommended, and I completely agree. However, I also realized that most truck and commercial vehicle drivers are very disciplined, especially at night. It is much more peaceful to drive at night, as long as you ensure that you've had adequate rest and are not feeling sleepy. I had slept through the morning drives from Udupi to Bengaluru to ensure I was well prepared for this drive. However, am very sure I don't want to do a night drive again. The one thing I didn't expect was a crazy two-wheeler cutting across traffic at 2:00 AM in the morning. But that's what happened, and the best part was that they were triple riding and cutting across an intersection on the highway not considerate of oncoming traffic. Apart from this incident, and a few crazy cars going at 120+, the overall drive was uneventful. I kept my cruise at 85 KMPH or 90 KMPH depending on traffic. I was on the Hyderabad ORR by 1:45 AM. Dropped off my friend at his home by 2:15 AM, and then reached home by 3:00 AM. As you can see from the last few lines, I have not spoken at all about range. Unlike the first time around, my friend had no stress and was very relaxed throughout the drive. Because there were no surprises the range was true to my calculations and I reached home with 45 kms range still left. Consumption was 11.4 KWH / 100 Kms.
Continue reading about bgt_titan's road trip experience for BHPian comments, insights and more information.
Source: Read Full Article